L'Escalier, Mauritius: International City of Peace

We welcome Chelvin Ramsamy and the citizens of L'Escalier, the first City of Peace in Mauritius. Chelvin is a young peacemaker with global connections and a firm commitment, along with his family and friends, to fostering a culture of peace in this island community.
Note: Introduction page with information primarily at the time of joining International Cities of Peace. For updates, please contact the liais
---
VISION
We envision building resilience by cultivating a culture of tolerance, inclusivity, interfaith harmony, co-existence, love and social peace-building across the border. We believe that this is possible by organising peace camps in LEscalier in educational institutions and interactive sessions as well as peace talks with society stakeholders, diplomats and ambassadors, UN officials, religious scholars, and community-based groups/organizations. The engagement of these individuals is crucial to cultivating this culture of tolerance, inclusivity, and co-existence in L'Escalier.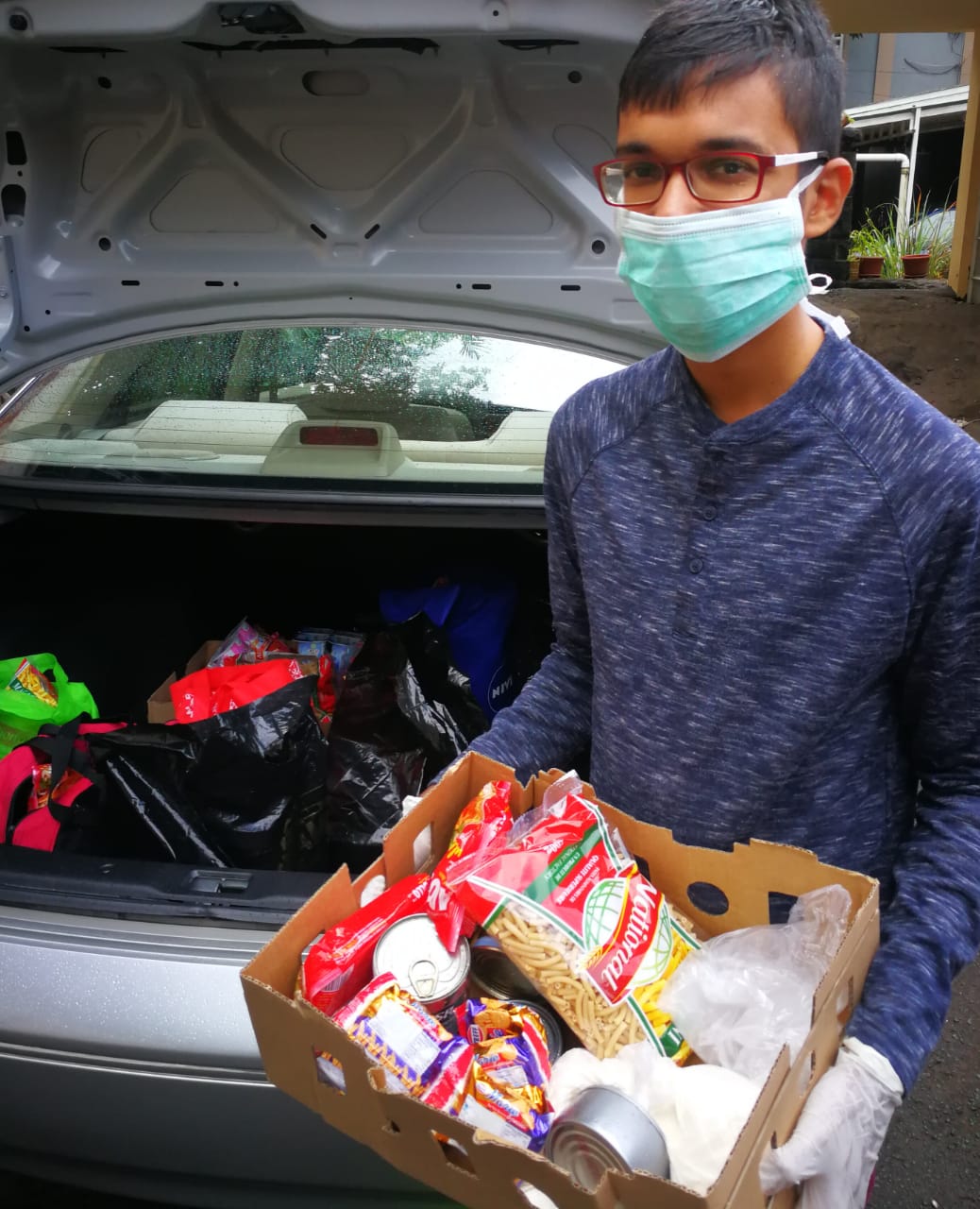 Chelvin Ramsamy with a food pack to distribute to needy families during the Covid-19 time in L'Escalier Village.
---
MISSION
Our goal is to provide equal opportunities to all in L'Escalier including youth and women to bring solutions for peaceful and inclusive world by visiting any community school, college, university, cultural, religious institutions and deliver a short motivational lecture on importance of peace and coexistence.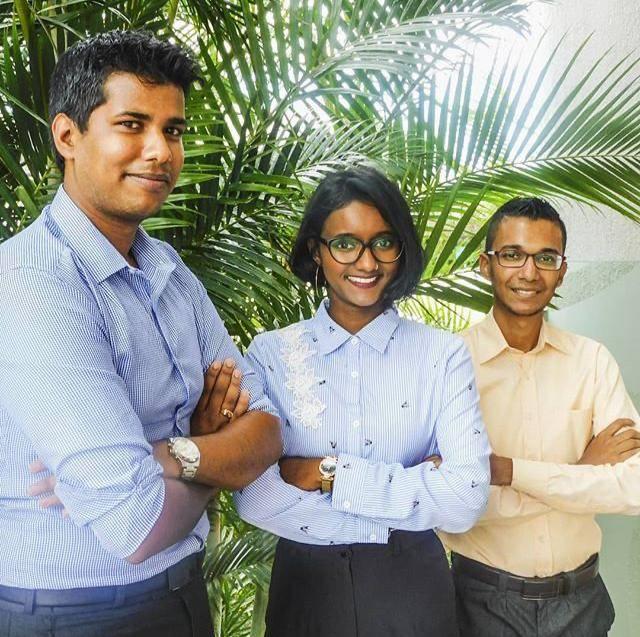 Mandeep Nobeen, Ashwina Thakooree and Chelvin Ramsamy (From Left to Right) are striving to contribute to a better Mauritius.
Mostly importantly, we seek to encourage all to endorse that terrorism and violence has nothing to do with any caste, race, ethnicity, religion.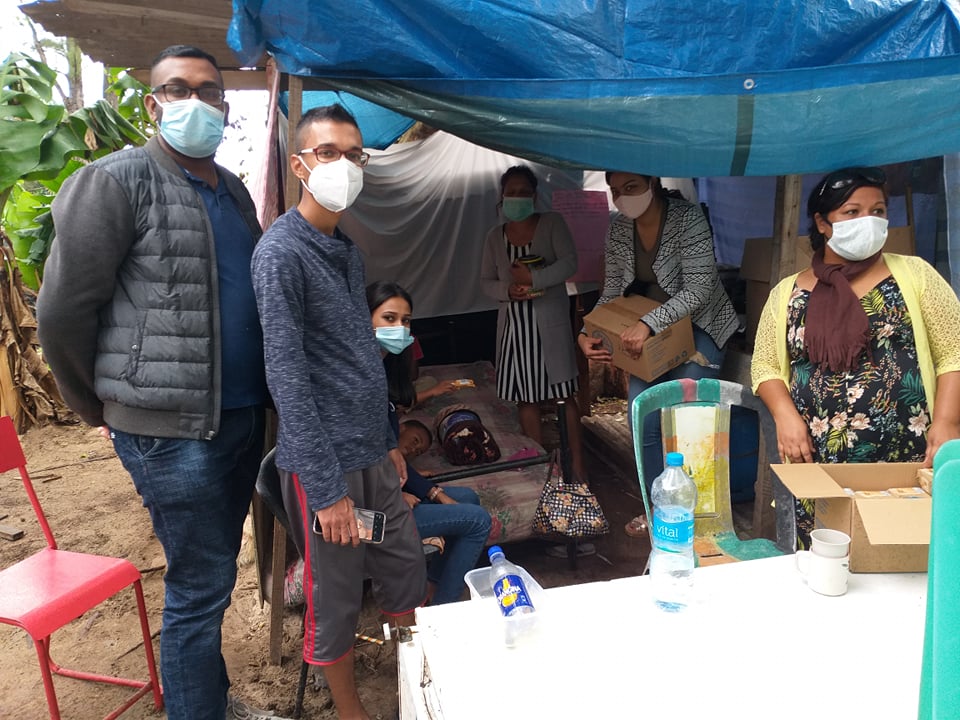 ---
LETTER OF INTENT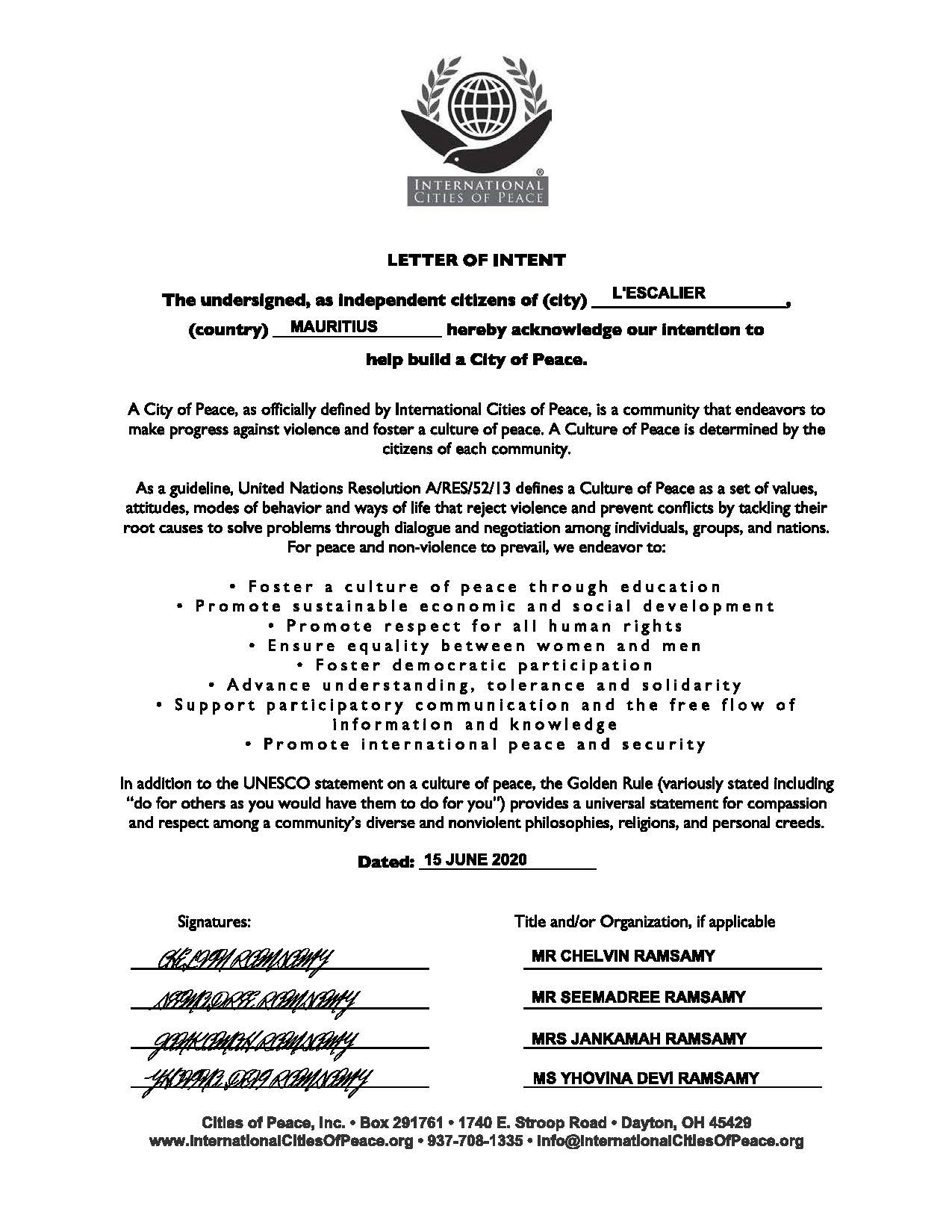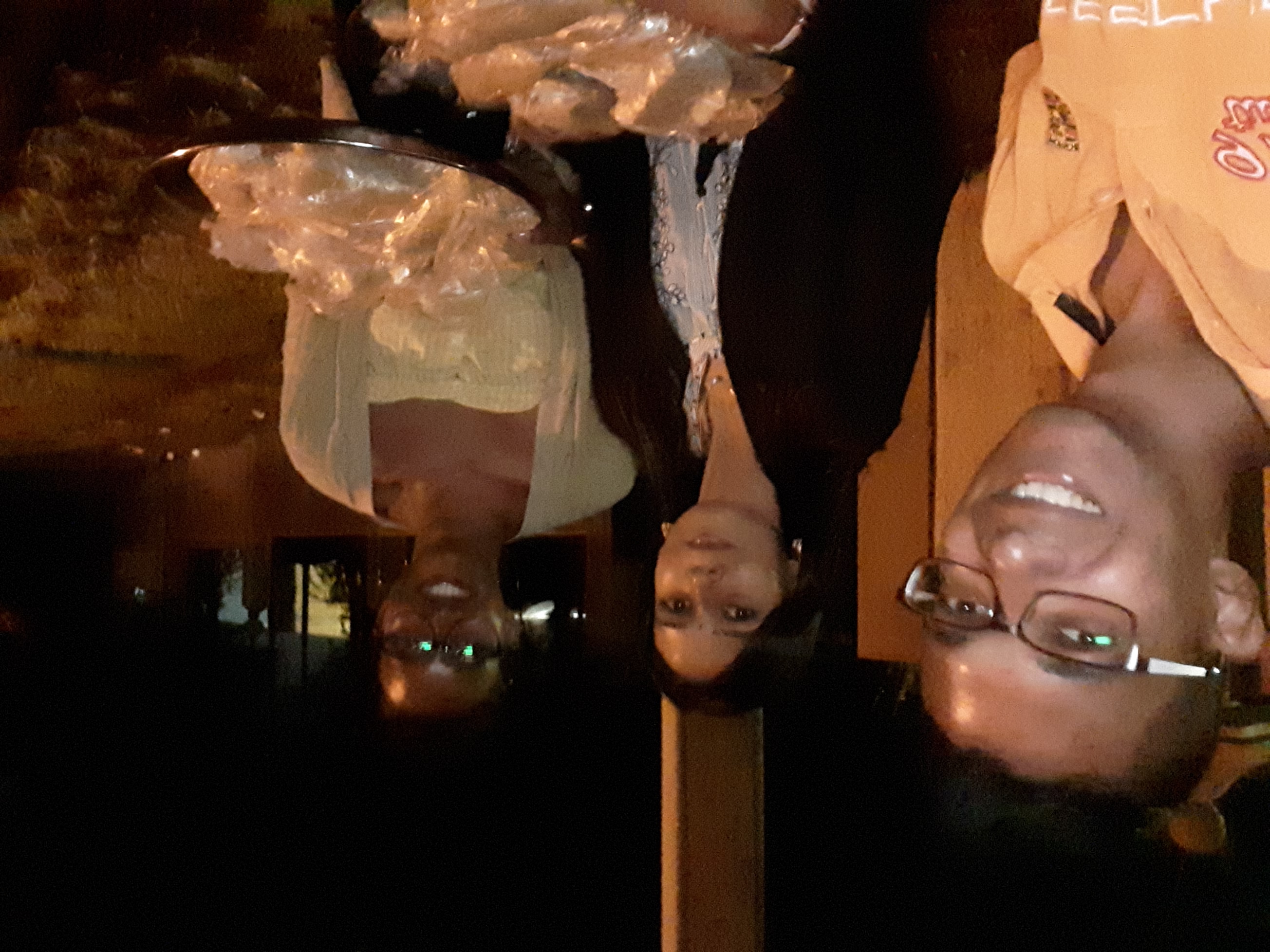 Chelvin Ramsamy, Yhovina Devi Ramsamy and Ashwina Thakoree (From Left to Right) serving holy food to pilgrims of the Maha Shivratree Festival in L'Escalier Village.
---
L'Escalier International City of Peace held its first meeting with all relevant stakeholders on Tuesday 28 July 2020 at the L'Escalier Social Welfare Centre including: Police, Hospital Directors, Post Masters, HeadMasters of Schools, Leaders of Social Cultural Groups, CEOs, District Council representatives and fellow citizens. On this occasion, there was the official unveiling of the distinction of L'Escalier International City of Peace.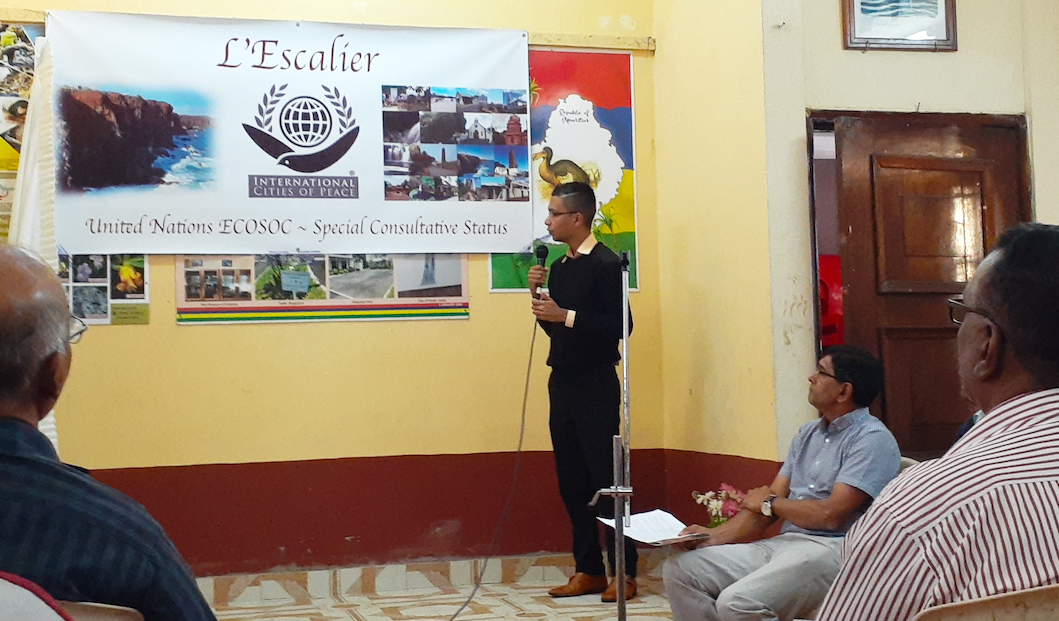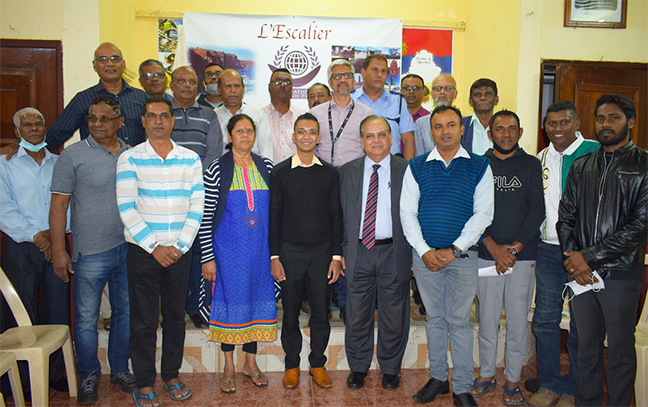 ---
ACTIVITIES IN 2020 AND 2021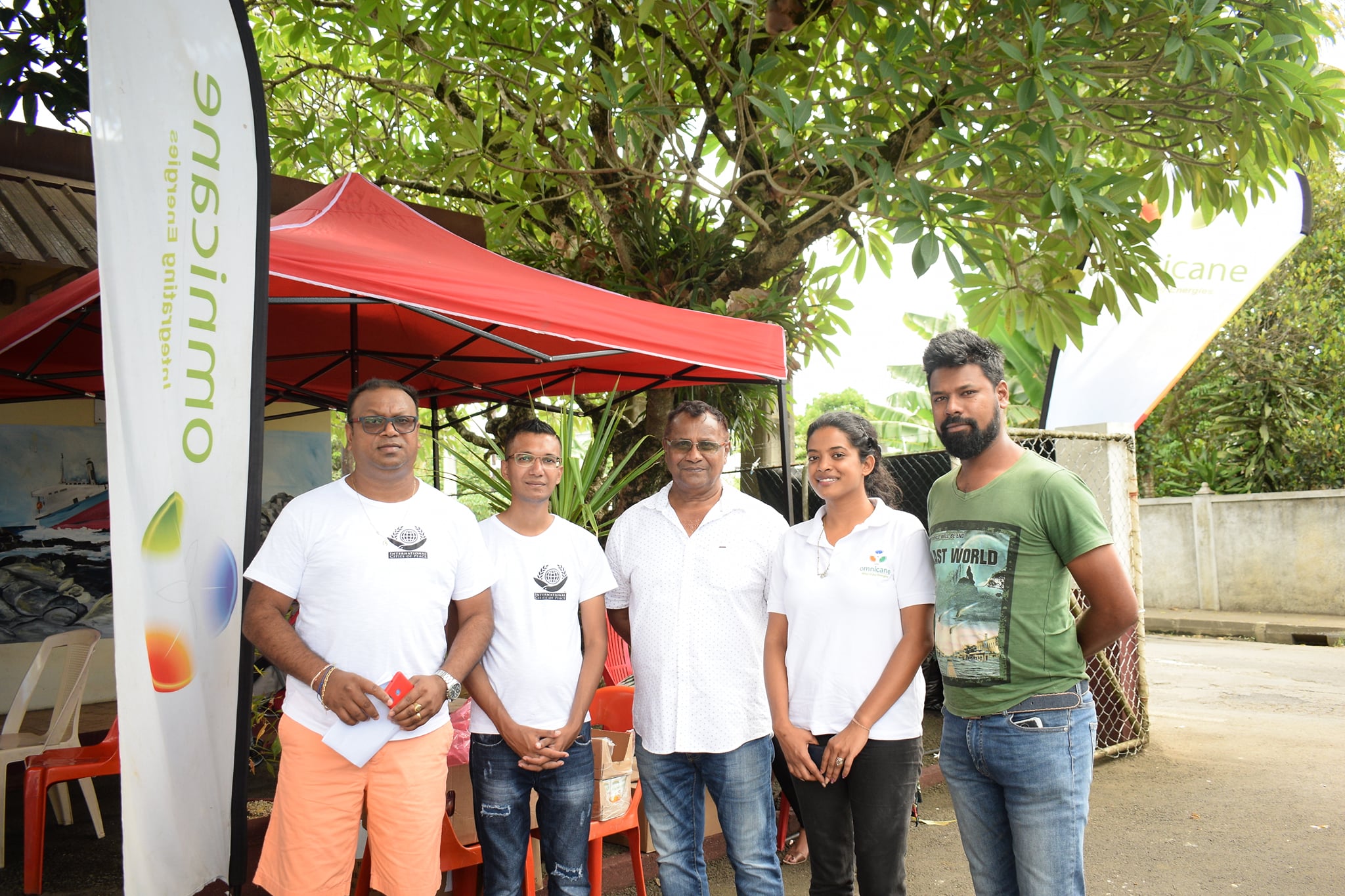 ACTION PLAN UPDATE, APRIL, 2021
The following are the latest examples of activities held during 2020 and 2021 in L'Escalier: International City of Peace. The activities were organized by International City of Peace Liaison Chelvin Ramsamy who serves as the single point of contact between the Association and L'Escalier. This page is updated once a year to include community peacebuilding  throughout Mauritius.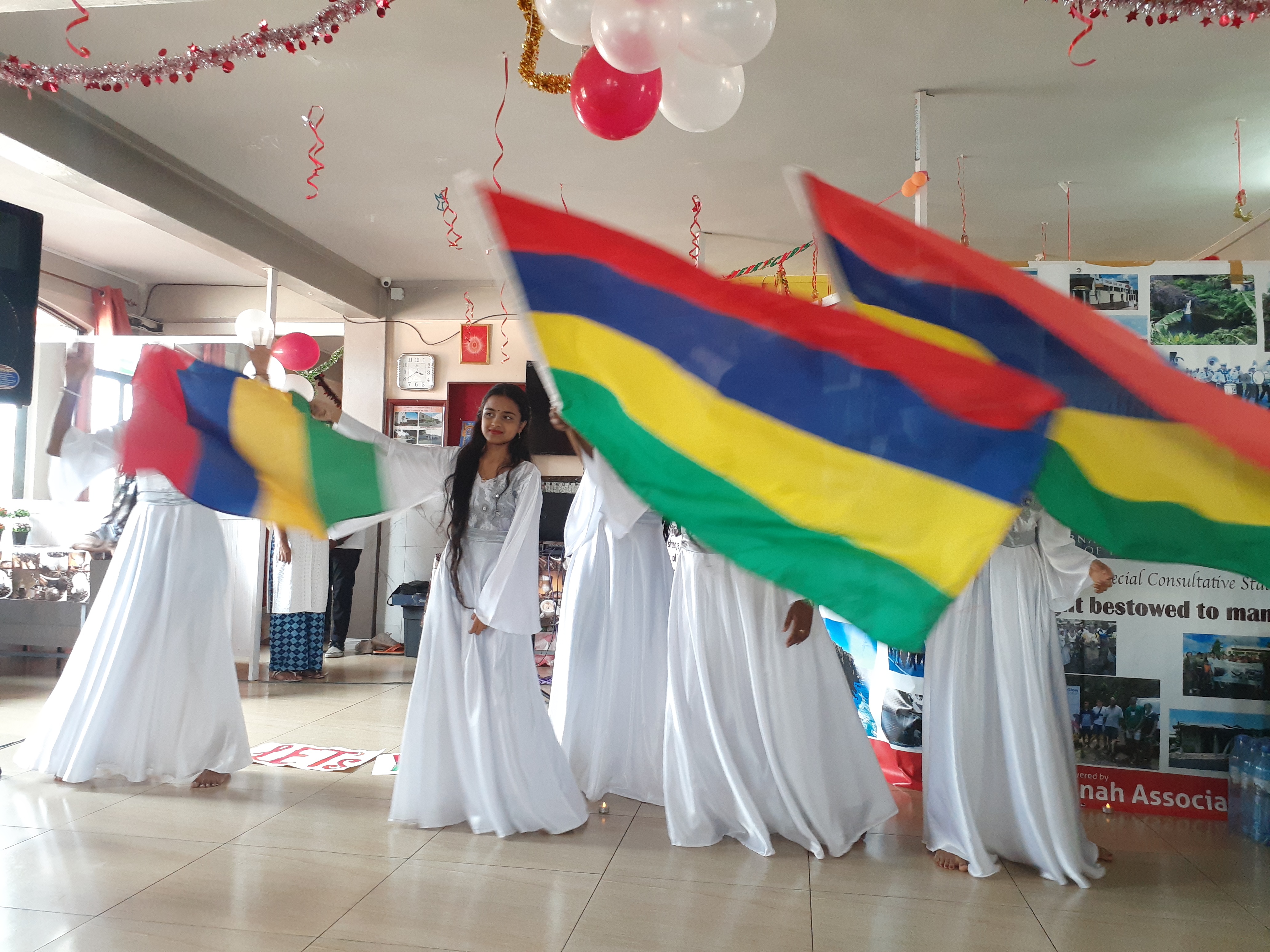 Covid 19 Symposium 16.08.2020
– Symposium on the environmental, health and economic impacts of the global pandemic
– Key speakers: Dr Neerunjun Gopee (Mauritius Times Author) & Mr Seemadree Latchayya (PRO MTMS)
– 100 youth attended coming from various regions of the island
– Venue Domaine Dalais was obtained free of charge from Mr Dalais
– Refreshments for participants was sponsored by Omnicane Foundation
Painting Exhibition 27.09.2020
– A 1 week painting exhibition organised at the Mandiram (Telugu) of L'Escalier
– Paintings were done by students below 18 as communicated 1 month before & mostly by the 2 primary schools of the village
– Around 75 persons visited over a week as they passed through the village of L'Escalier
– No cost.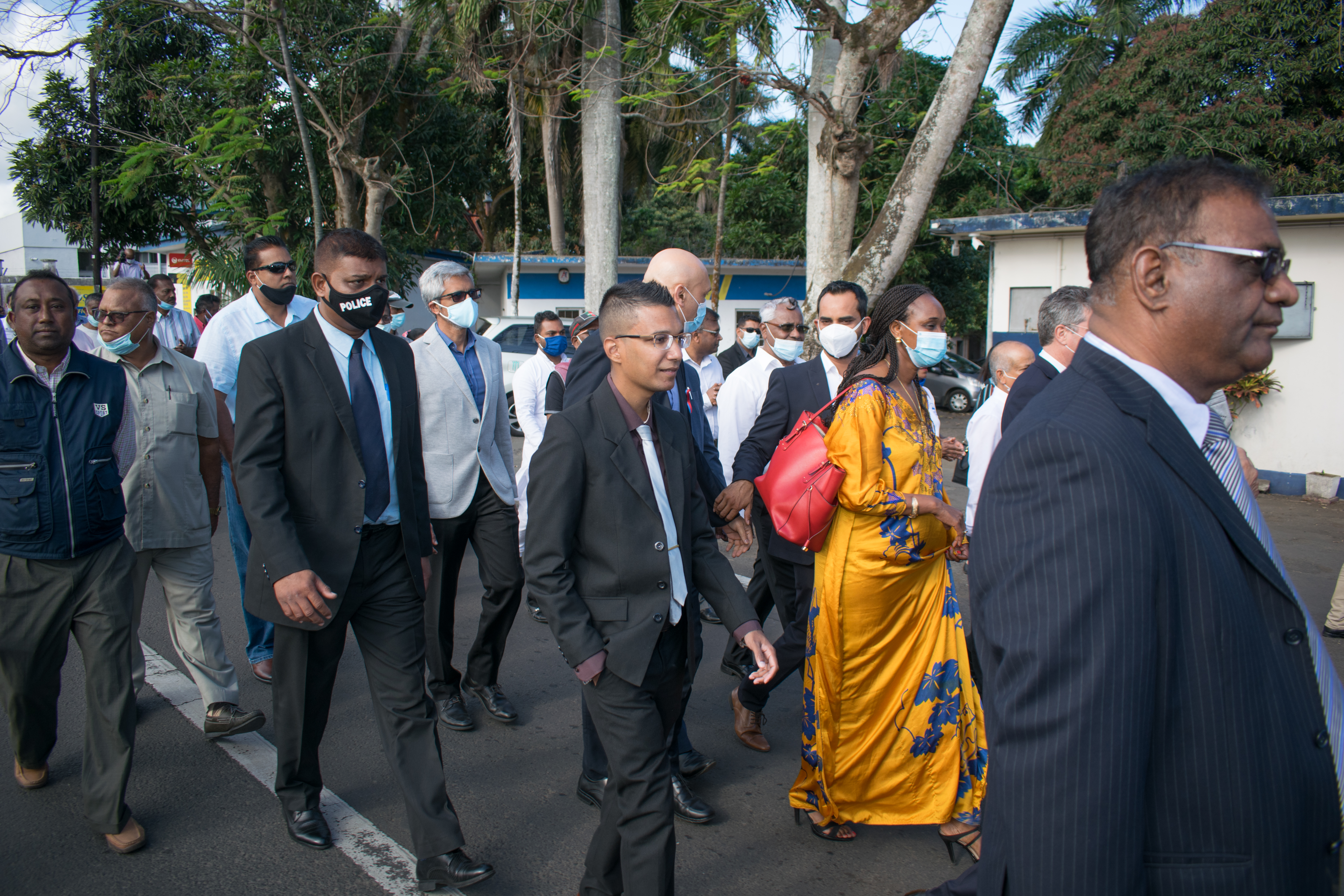 International Day of Peace 21.09.2020
– Ceremony organised to celebrate the International Day of Peace including a Peace march, cultural programs and an interfaith prayer
– Special Guests: H.E Eddy Boissezon (Vice President Mauritius), Dr R. Padayachy (Minister of Finance), Dr K. Jagutpal (Minister of Health)
– Nearly 800 people attended the event
– Sponsored by Omnicane Foundation (Logistics and Tent services), King Savers (Refreshments), Emboss Ltd (Printing), GPC Mauritius (Shield)
Plant Distribution and Sensitisation Event L'Escalier 10.10.2020
– Distributing 200 plants for free to the inhabitants upon donation from the Ministry of Environment.
– Objective was to encourage people to plant trees.
– 200 inhabitants of all ages of L'Escalier benefitted.
– Venue: Shelter of L'Escalier Market Place obtained  free of charge from District Council of Savanne.
– No cost.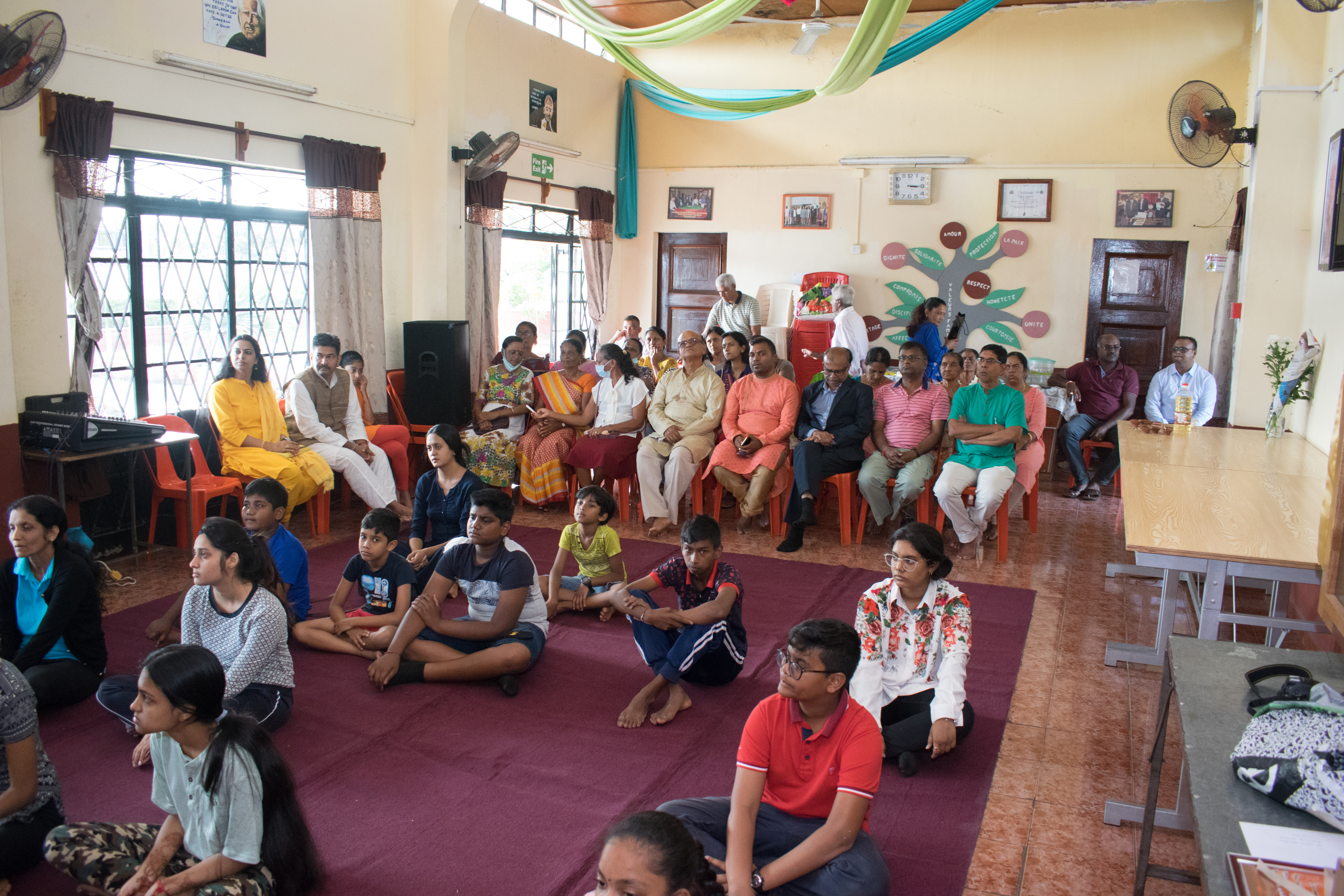 Rangoli Display, Yoga Workshop & Cake Sharing 07.11.2020 
-In view of the annual celebration of Divali, participants were encouraged to bring colour and rice, and draw the traditional indian Rangoli.
– The then Director of the Indira Gandhi Centre for Indian Culture also delivered a free workshop on the benefits of practicing yoga.
– Participants were finally encouraged to bring and share sweets in view of the festival.
– A total of 100 participants. including over 50 youths. were noted.
– Venue: Social Welfare Centre of L'escalier obtained free of charge.
– No cost.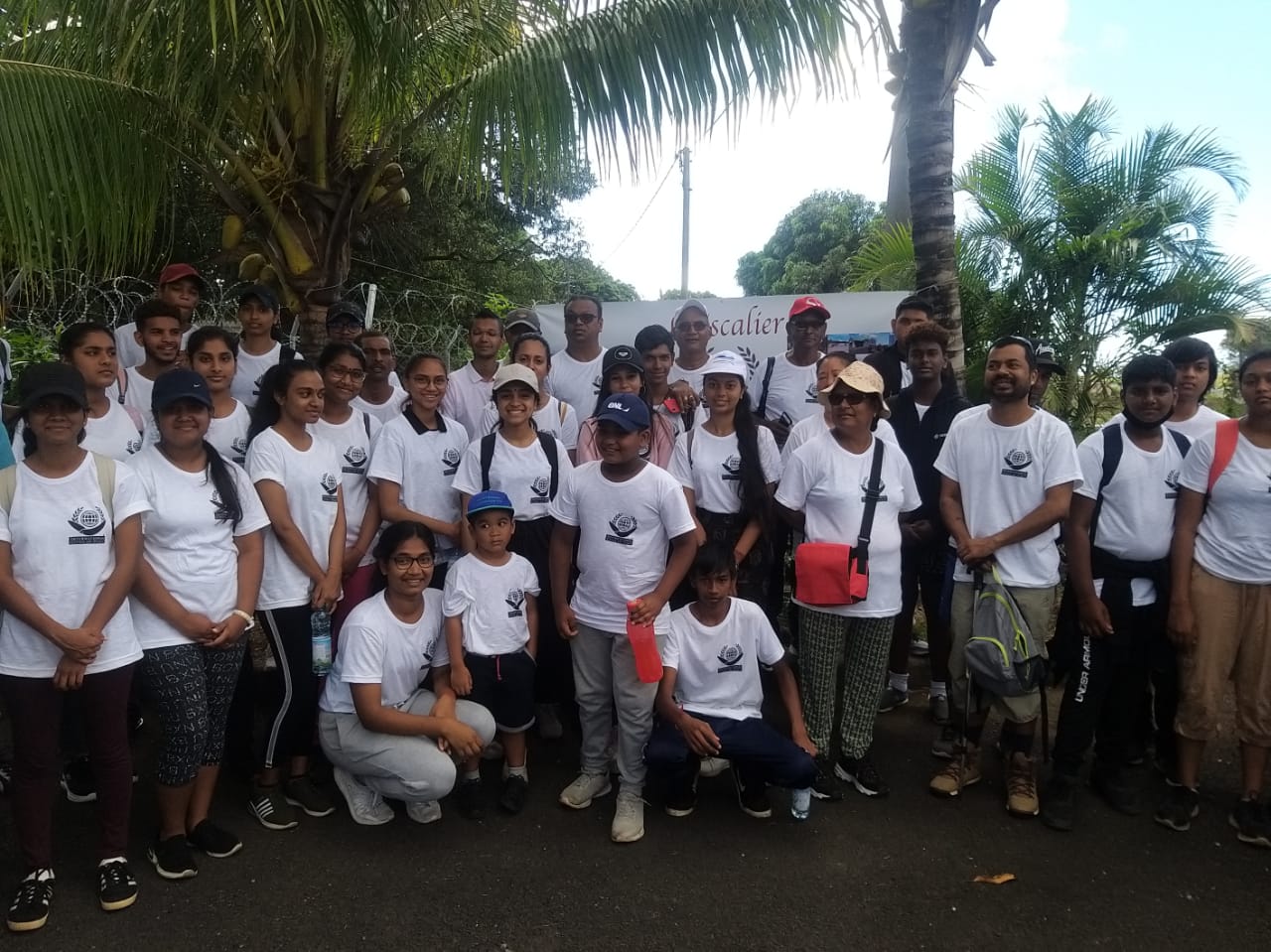 Trek and Youth Workshop 05.12.2020
– Participants conducted a trek from Le Bouchon to Pont Naturel to Souffleur to Savinniah
– Objective was to encourage them to experience the peaceful nature along the southern coast of Mauritius
– The event culminated in a youth workshop at Savinniah
– Venue: Apartment of ENL, obtained free of charge from ENL
– A total of 110 participants. including around 90 youths. were noted.
– Free t-shirts were sponsored by Landcorp Limited
– Lunch & transport (from L'Escalier to Le Bouchon & Savinniah to L'Escalier) were sponsored by Omnicane Foundation & Let's Glow Organisation (around Rs 7,500)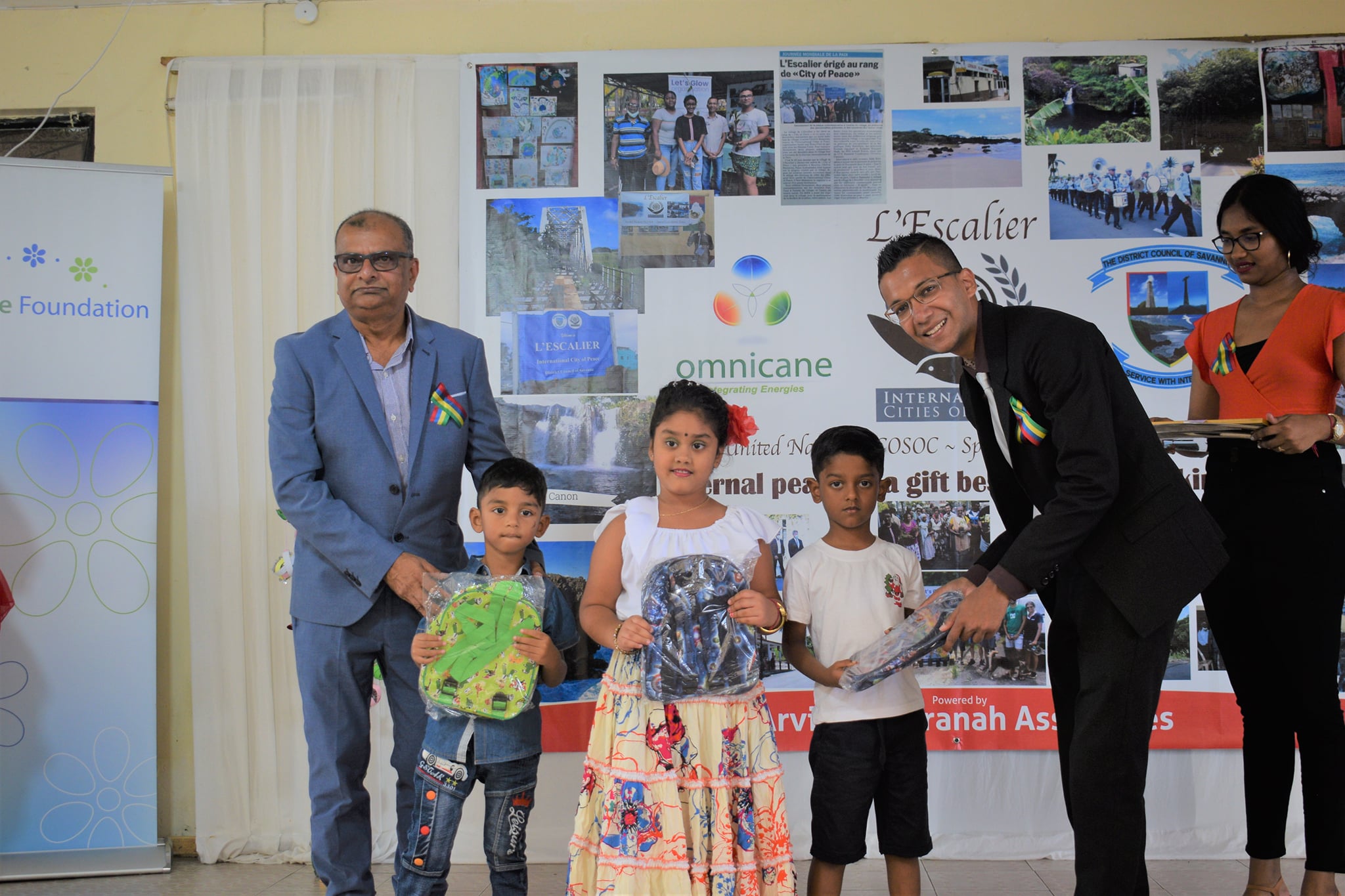 Pre Primary School Bags Distribution 12.12.2020 
– School bags were distributed to all the 170 pre-primary school children who come to school in the village of L'Escalier
– The children were given the opportunity to perform and show their talent
– Event was organised in response to rising cases of youth delinquency in the country and we believe children should be inculcated with proper moral & societal values since a very young age
– Around 300 participants were noted (parents & children).
–  Bags & Refreshments were sponsored by Omnicane Foundation & Let's Glow Organisation (around Rs 20,000).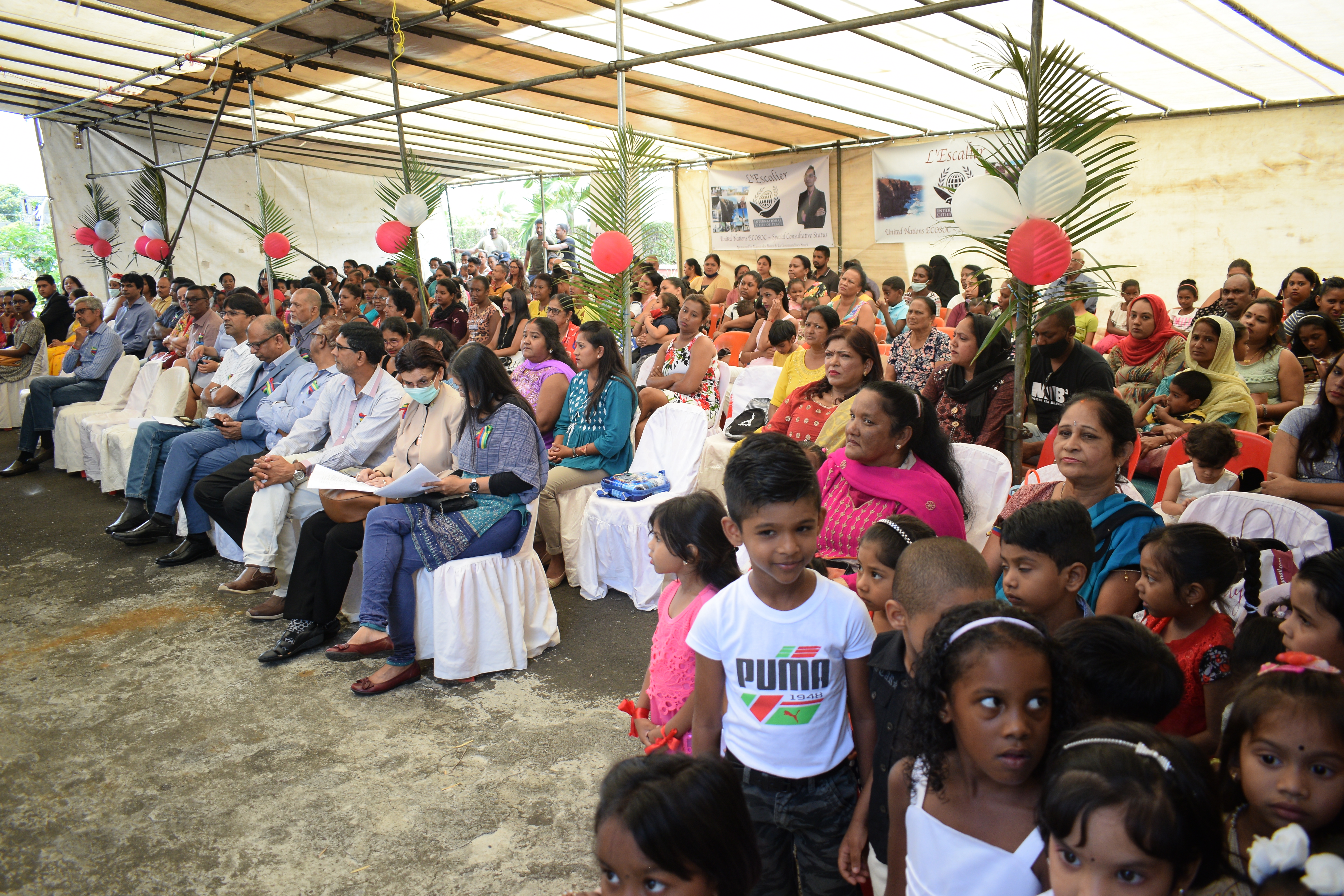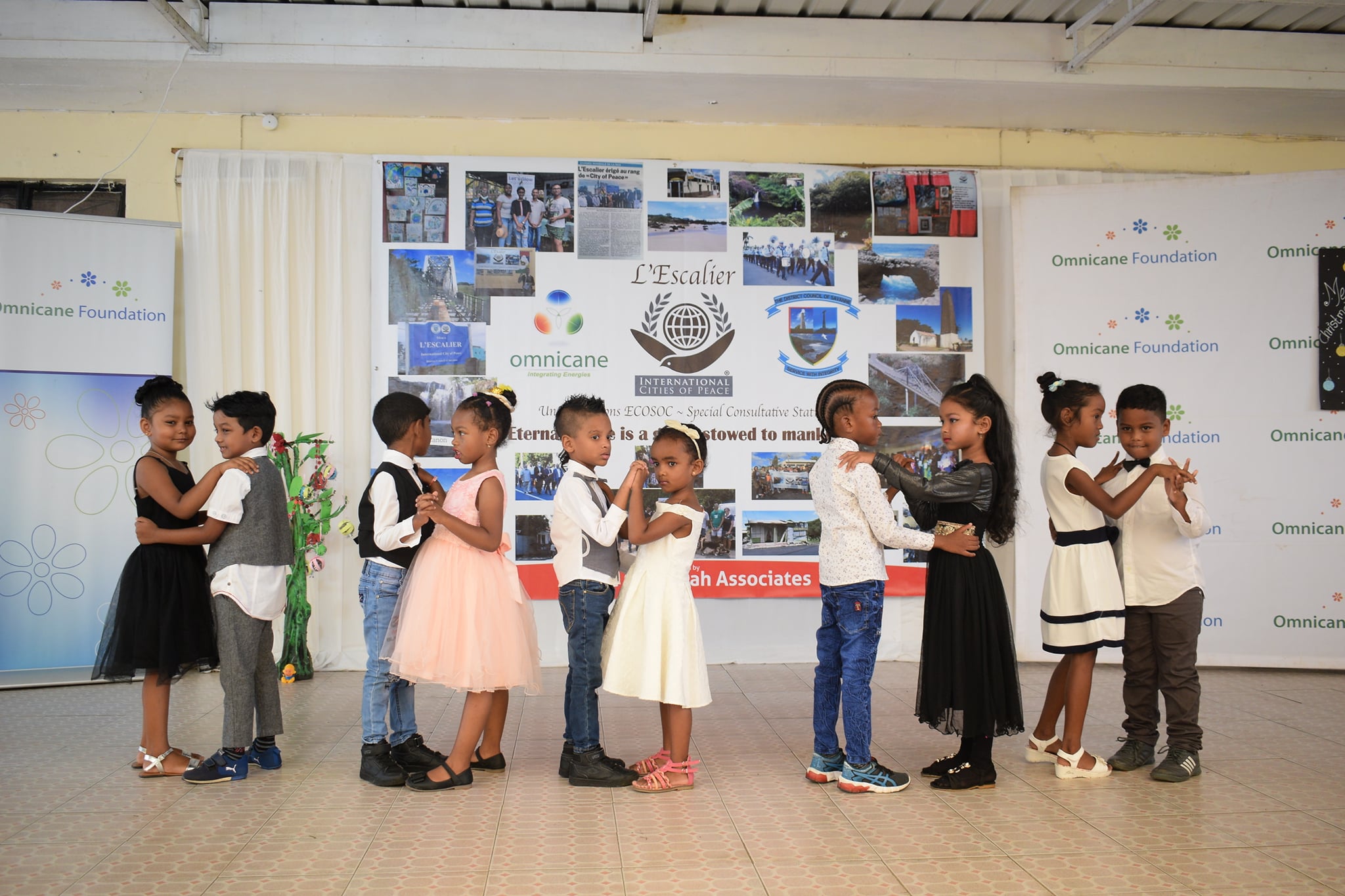 Demystifying the History of Savinia 27.12.2020
– Secondary school and tertiary students of L'Escalier & Trois Boutiques came to walk and discover the history of Savinniah and the old sugar mills that existed (formerly property of ENL and now Omnicane)
– No cost.
Smt LP Govindramen Ashram 29.12.2020
– Secondary school and tertiary students of L'Escalier & Trois Boutiques were encouraged to present different programmes including songs, dance & sketch to entertain the residents of the residential home
– Around 20 youths participated.
– No cost.
Blood Donation & Heart Screening 07.02.2021
– Inhabitants of the southern part of the island (L'Escalier, Trois Boutiques, Plaine Magnien, Camp Diable, Riviere Des Anguilles, Benares, Batimarais)
– Activity organised in collaboration with Mauritius Heart Foundation & Mauritius Blood Association
– 87 blood pints collected & 103 heart screenings conducted
– Around 250 participants in total
– No cost as token bag (fruit, juice, t-shirt) was sponsored by Mauritius Blood Association and venue (Social Welfare Centre) is free of charge
Covid 19 Challenge 10.03.2021-31.03.2021
– Competition organised following the lockdown announced in Mauritius
– Questions were set out every alternate day and inhabitants of the village of L'Escalier were encouraged to email their answers
– 3 winners were announced on 1 April 2021
– No cost.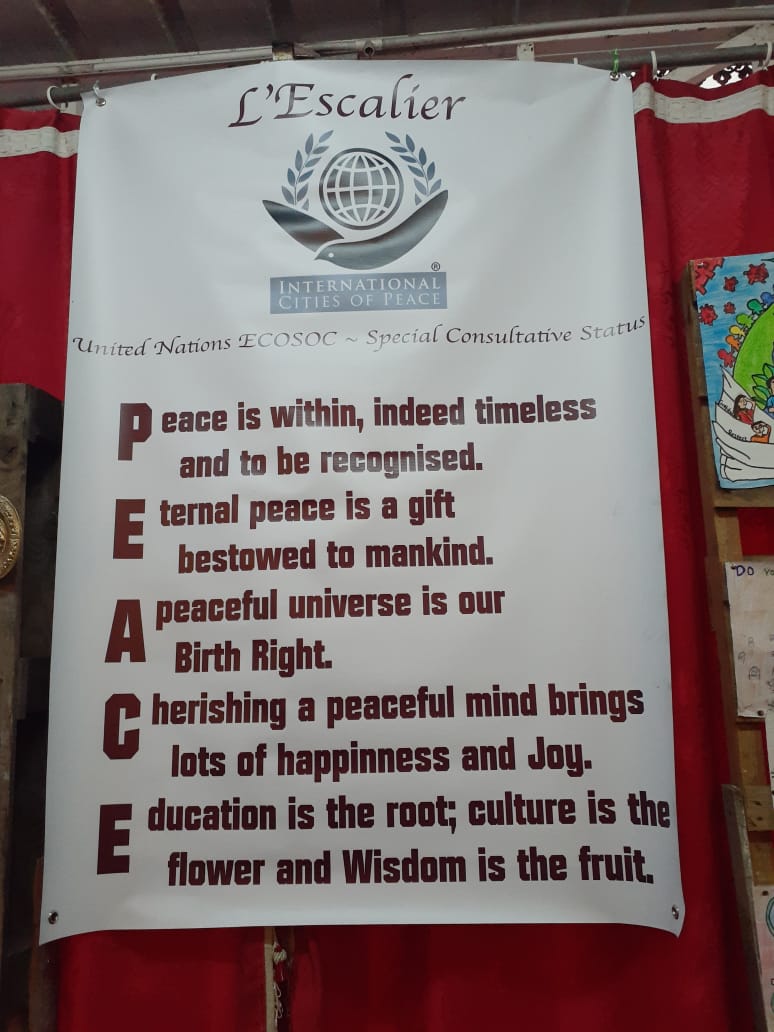 Introductory Session on AfCFTA 11.04.2021
– Presentation on the benefits of the African Continental Free Trade Agreement and its relevance to Mauritius with the assistance of the YALI Mauritius Chapter
– Session organised via StreamYard and displayed live on Facebook
– 15 youths were watching live and session was recorded for others to watch later on
– No cost.
---
ABOUT THE LIAISON
A Global Peace Ambassador, Chelvin Ramsamy sits on International Executive Boards of Africa-Asia Youth Foundation (AAYFO) as Continent Director and Youth Alliance for Leadership and Development in Africa (YALDA) as Regional Associate Southern Africa. Assistant Country Director for International Youth Society (IYS), Chelvin serves as Country Representatives for African Youth for Development Commission (AYDEC), Innovation for Empowerment and Development (IFED) and BIMUN. Chelvin is co-founder of Let's Glow Organisation, and AAYFO, YALDA and AYDEC Mauritius Chapters.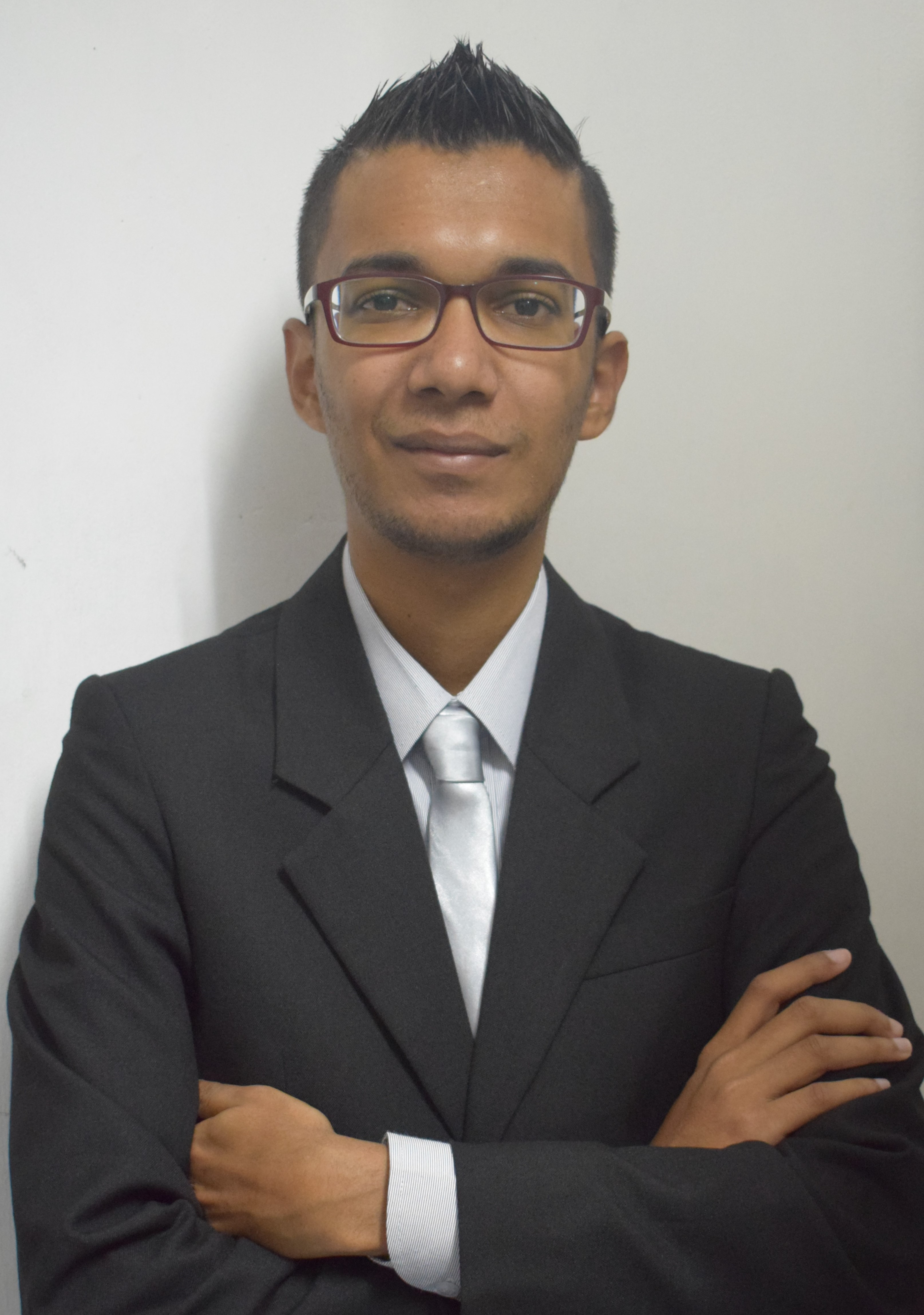 Recruited as African Union Special Assistant Advisor to the Chairperson on Regional Integration (AUYV), Chelvin previously worked as Tax Consultant at 'Big Four' accounting firm KPMG, winning KPMG Standing Ovation Award after six months and before that, at the Financial Services Commission, directly assisting the Chief Executive and Chief Operating Officer in spearheading financial projects nationally.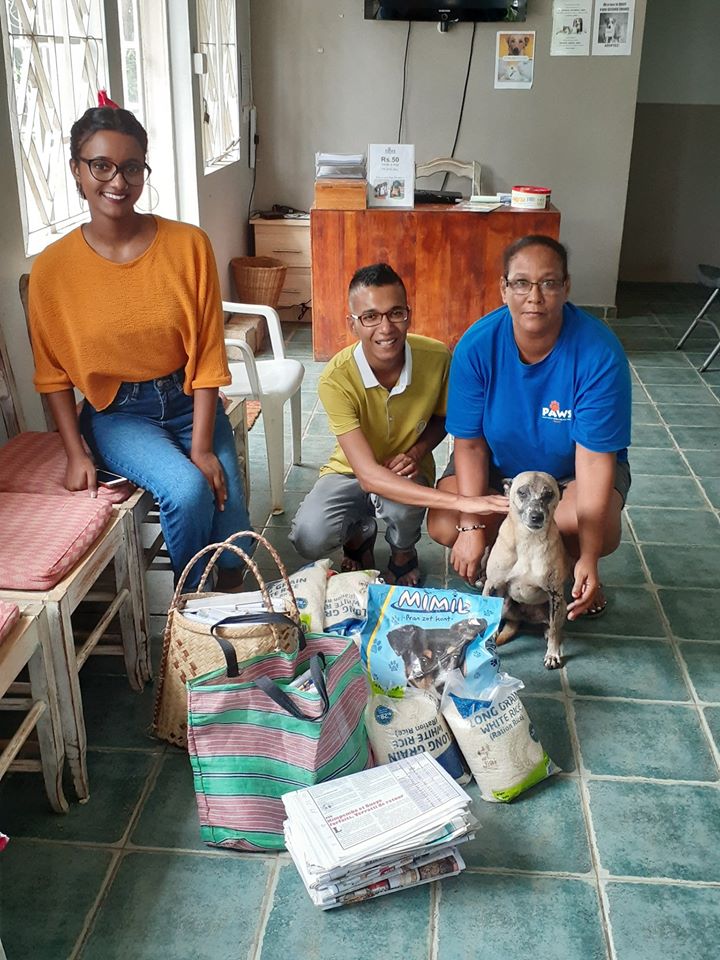 An alumnus of President Obama's YALI with a First-Class Bachelor of Laws and Master of Laws (LLM) International Business Law from Middlesex University London, Chelvin is recipient of the Most Outstanding Student Award, Postgraduate Alumni Scholarship and UNICAF Scholarship. Hitherto, he was University of Cambridge A-Level Scholarship Ranked Candidate.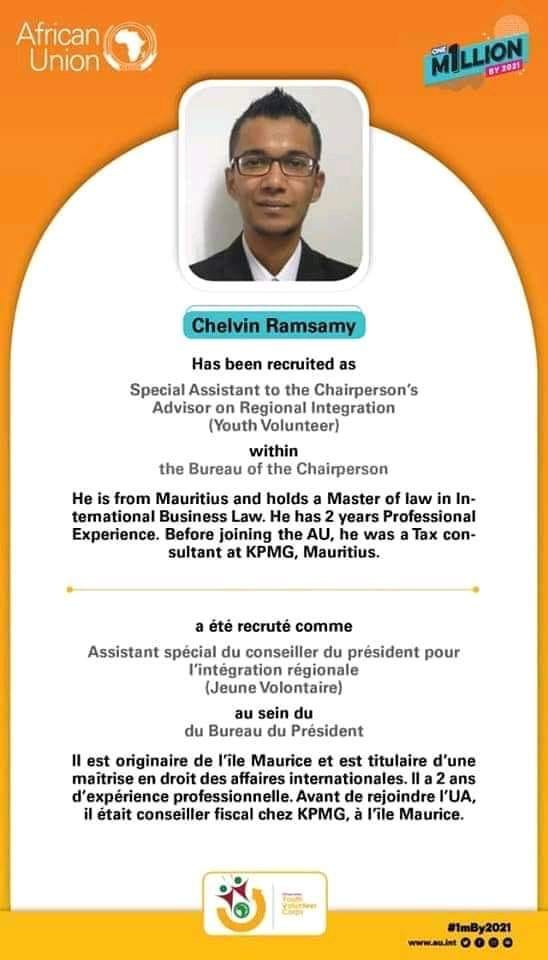 Winner in 2020 of Noble Citizen, Outstanding Management Committee Member, Global Recycling Hero and Best NGO Awards, Chelvin is striving towards realising the UN SDGs, UN Vision 2030 and AU Agenda 2063, thus contributing to a better world.
As a leader of tomorrow, Chelvin is a leader of today who has the responsibility to cultivate a culture of tolerance, inclusivity, interfaith, harmony, co-existence, love and peace in my home village of L'Escalier on the island of Mauritius, African continent. Chelvin seeks to build a consensus network of business, government a
---
CONTACT INFORMATION
To contact or support this initiative:
L'Escelier International City of Peace
Facebook Page:
National Organising Committee, L'Escalier International City of Peace | Facebook
---
ABOUT L'Escalier, Mauritius (from Wikipedia)

L'Escalier is located in the district of Grand Port on the island of Mauritius. It is a village near the mouth of the Rivière du Poste in the center of the triangle Savinnia, Savannah and the shack. This village is named after Daniel L'Escalier, civil commissioner during the French Revolution, and councilor of state in the metropolis.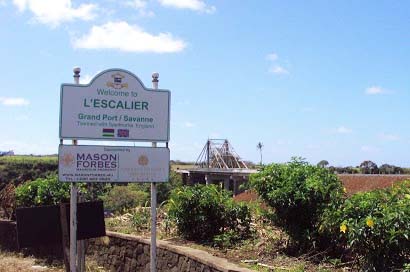 Mauritius, officially the Republic of Mauritius is an island nation in the Indian Ocean about 2,000 kilometres (1,200 mi) off the south-east coast of the African continent. The country includes the islands of Mauritius, Rodrigues, Agaléga and St. Brandon. The islands of Mauritius and Rodrigues form part of the Mascarene Islands, along with nearby Réunion, a French overseas department. The capital and largest city, Port Louis, is located on the main island of Mauritius. The country is 2,040 square kilometres (790 sq mi) in area, while its Exclusive Economic Zone covers 2.3 million square kilometres.
The village of L'Escalier is in the Grand Port, a district of Mauritius, situated in the east of the island. The name means "large port" in French. The district has an area of 260.3 km2 and the population estimate was at 112,997 as of 31 December 2015.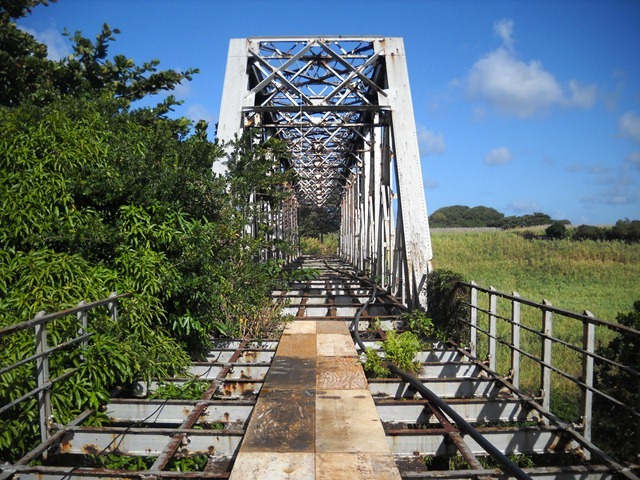 The special thing about this little village is that it is really peaceful and there is an unparalleled solidarity among the inhabitants. The village boasts a peaceful beach called "Le Souffleur" which is a hidden attraction known mostly to locals and a nature site where a steep coastline forms interesting rock formations such as the bridge-like "Pont Naturel". This geological anomaly is a half-formed grotto on the side of a cliff, which spouts a geyser of water up to 20 metres in the air when seas are rough.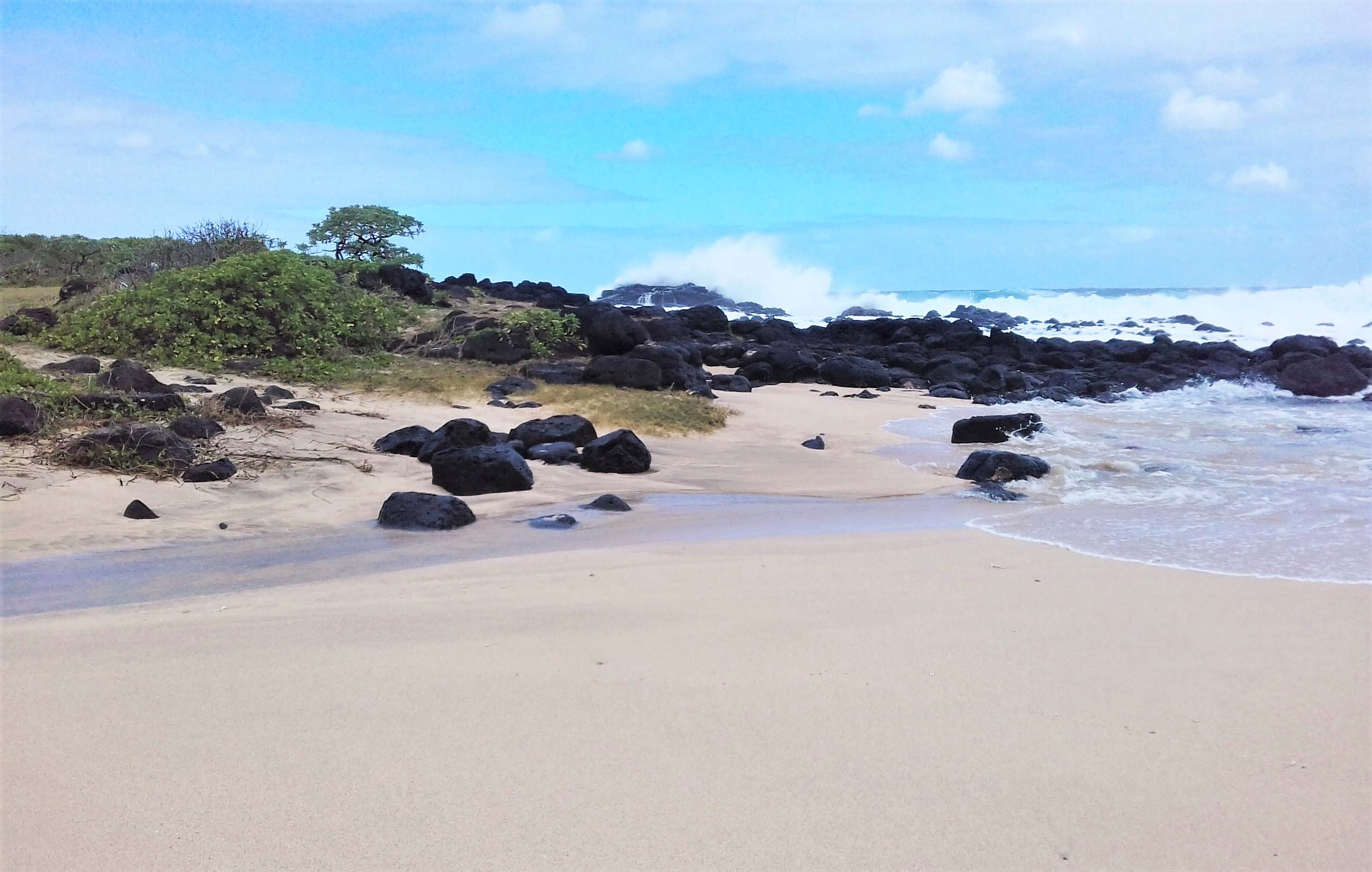 L'Escalier itself is a typical serene Mauritian village with a police station, a post office, a social welfare centre and a village hall. The inhabitants lead a peaceful life together, help one another like one big family, and are very welcoming to foreigners. At L'Escalier, sugar cane is still grown, and the mill that threshed and grounded it for several decades is still in service. The village has the Omnicane company which was launched in July 2009 through a strategic rebranding of Mon Trésor & Mon Désert Limited and it has since specialised in making optimal use of the whole cane, engaging in the cultivation of sugarcane and the production of refined sugar, bioethanol, thermal energy, and electricity.
Note: If information or photos used here are copyrighted, please contact us and we will immediately delete the copyrighted material.