Los Angeles, California, U.S.A.: City of Peace
We welcome Scotty Bruer, founder of PeaceNow, as well as Dr. Vicki Radel, and Stephen Fiske who have established Los Angeles as an International City of Peace by virtue of their work for peace and a Proclamation by the City Council. The "City of Angels" has been at the forefront of movements for human rights, including migrant worker and emigrant rights.
Note: Introduction page with information primarily at the time of joining International Cities of Peace. For updates, please contact the liaison.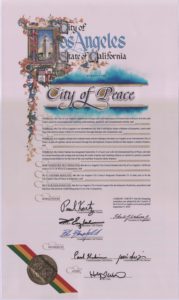 The Los Angeles International City of Peace Resolution adopted September 9, 2014. (See full text at the end of this page)

 
VISION
Los Angeleons envision a community where joy, harmony, truth, freedom, prosperity and peace become their global identity.
---
LETTER OF INTENT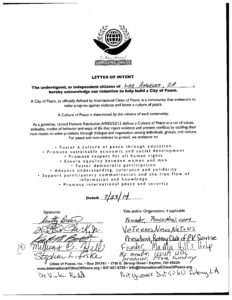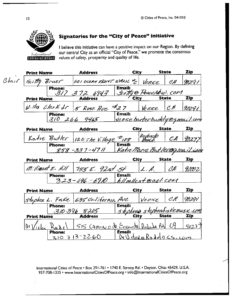 ---
MISSION STATEMENT
Los Angeleons will work to create peace through participatory peaceful initiatives. We will joyfully celebrate the 21st of September, the international day of peace as an inspirational day offered as a gift to ourselves and our world family so we will be inspired to live and practice peaceful compassionate behavior during rest of the year.
---
GOALS
To enact "The Global Resolution for the Establishment of Infrastructures to Support the culture of Peace."
To encourage other international cities to become International Cities of Peace and thus to co-create peace by empowering their citizens to offer solutions, ideas, and initiatives that support sustainable economic and social development, respect for all human rights, advance understanding and tolerance through participatory communication.
---
ABOUT THE PEACENOW INITIATIVE

The mission of PeaceNow is to gather One Billion Signatures in support of the creation of Ministries, Departments & Infrastructures for Peace in all governments worldwide. Furthermore. we endeavor to establish September 21st as a national U.S. holiday for peace in support of The International Day of Peace occurring annually on that day.  Each of our initiatives – The United States Day of Peace, Peace Education and Films for Peace  – are designed to build a grassroots constituency that works together to enact "The Global Resolution for the Establishment of Infrastructures to Support the Culture of Peace" through the United Nations General Assembly.  #OneBillionSignatures4Peace
---
ABOUT THE LIAISONS
SCOTTY BRUER

Scotty Bruer is the founder and president of PeaceNow.com, a non-profit organization that he formed with the intention of gathering one billion signatures for supporting the enactment of "The Global Resolution for the Establishment of Infrastructure to Support the Culture of Peace."

Scotty continues to create initiatives to support the creation of peace and the success collection of signatures as quickly as possible. These include the peace practitioner's course, the Peace as an Economic Engine Symposium, and Business Peace Certifications.

He earned his degree in Forest Management from Purdue University. He is a father, grandfather, entrepreneur, author, and philanthropist.

In 2012 Scotty became a volunteer at the Veterans Administration Hospital in Indianapolis, working with the Chaplains Services office. He resides in Los Angeles where his community service includes being an active Playa Venice Sunrise Rotarian.
---
DR. VICKI RADEL
Dedicated her life to the Gandhi principle of
"THE BEST WAY TO FIND YOURSELF IS TO LOSE YOURSELF IN THE SERVICE OF OTHERS"
Conflict Resolution & Anger Management Private Practice (Ph.D. Graduate UCLA)
Holds positions in the these community Peace oriented organizations: PeaceNow; Mama Hill's Help; People for Community Improvement; Mediators Beyond Borders; So. Coast Interfaith Council; Rotary Club of Redondo Beach Community Foundation of Rotary Cub Redondo Beach.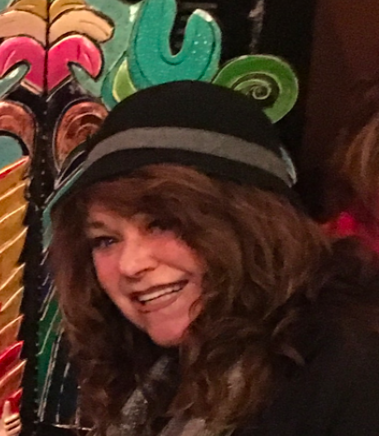 Member of Rotary Club of Redondo Beach since 1989: 1st female President 1994-95
District Governor LA Rotary International 2000-01, 2nd Female District Governor.
So Bay Woman of the Year 2001
LA County Humanitarian of the Year 2014
Rotary International "Champion of Peace" 2018 Nominee.
Created numerous local and international programs to address disparity.
Convened Anti-Violence Forum at CSUDH
Founded "Shoot Cameras NOT Guns"
Holds post Graduate Certificates in "Non-Violence Studies" from Harvard and the Metta Center.
2017-18 Co-Founded "Peace Conversation Facilitators" certificate training program to teach lay people how to conduct conversations on delicate topics in the community to create Good Will and Better Understanding among those with whom you might disagree. Those sensitive discussions include: Human Trafficking; Immigration; Community Tribalism; Is Religion a Pathway or an Obstacle to Peace?; Erase Hate and Foster Acceptance in the LBGTQ Community; Forgiveness and several others.
Honors the dignity of all people and sincerely believes that "there is nothing that you can't talk about if you do it with respect and allow all voices to be heard."
Has worked with Desmond Tutu and Dalai Lama in separate by invitation only peace-building small groups.
Led a group meditation for World Peace in a presentation with the Dalai Lama.
Escorted 8 separate groups of teens on Peace Missions to Hiroshima, Japan. Then learned to speak Japanese as a gesture of reconciliation and friendship.
---
STEPHEN FISKE
One of the first individuals to add his support to the effort to receive the Los Angeles City of Peace resolution, Stephen Fiske conducts weekly peace meeting in the City each Sunday.  He is the protege of Leland Stewart and heads the Unity & Diversity World Council (https://udcworld.org), The Jerusalem Prayer Project, and Peace Sunday, a Los Angeles September 21st Peace Day event held annually.
---
CONTACT INFO
For more information please contact Scotty Bruer

Scotty Bruer <Scotty@PeaceNow.com>
317-372-6943

For more information or to sign the Petition, go to their website:

1101 Ocean Front Walk, Suite 2, Venice, California 90291

Ph: Toll Free: 855-315-2100
---
ABOUT LOS ANGELES (from Wikipedia)
Meaning The Angels, the City of Los Angeles is often known by its initials L.A.. It is the most populous city in the U.S. state of California and the second-most populous in the United States, after New York City, with a population at the 2010 United States Census of 3,792,621. It has a land area of 469 square miles (1,215 km2), and is located in Southern California.
The city is the focal point of the larger Los Angeles–Long Beach–Santa Ana metropolitan statistical area and Greater Los Angeles Area region, which contain 13 million and over 18 million people in Combined statistical area respectively as of 2010, making it one of the most populous metropolitan areas in the world and the second-largest in the United States. Los Angeles is also the seat of Los Angeles County, the most populated and one of the most ethnically diverse counties[14] in the United States, while the entire Los Angeles area itself has been recognized as the most diverse of the nation's largest cities. The city's inhabitants are referred to as Angelenos.
Los Angeles was founded on September 4, 1781, by Spanish governor Felipe de Neve. It became a part of Mexico in 1821 following the Mexican War of Independence. In 1848, at the end of the Mexican–American War, Los Angeles and the rest of California were purchased as part of the Treaty of Guadalupe Hidalgo, thereby becoming part of the United States. Los Angeles was incorporated as a municipality on April 4, 1850, five months before California achieved statehood.
Nicknamed the City of Angels, Los Angeles is a global city, with strengths in business, international trade, entertainment, culture, media, fashion, science, sports, technology, education, medicine and research and has been ranked sixth in the Global Cities Index and 9th Global Economic Power Index. The city is home to renowned institutions covering a broad range of professional and cultural fields and is one of the most substantial economic engines within the United States. The Los Angeles combined statistical area (CSA) has a gross metropolitan product (GMP) of $831 billion (as of 2008), making it the third-largest in the world, after the Greater Tokyo and New York metropolitan areas. Los Angeles includes Hollywood and leads the world in the creation of television productions, video games, and recorded music; it is also one of the leaders in motion picture production. Additionally, Los Angeles hosted the Summer Olympic Games in 1932 and 1984.
---
City of Peace Resolution
Los Angeles, California
WHEREAS, the City of Los Angeles supports providing a safe and nurturing environment that embraces diversity and fosters peace by encouraging and inspiring understanding, goodwill, and compassionate actions, and
WHEREAS, the City of Los Angeles is an international city that is striving to create a balance of prosperity, justice and hope that nurtures peace within it's communities through dialogue and cooperation, and
WHEREAS, Los Angeles citizens have helped create and are helping to develop Los Angeles as an International City of Peace, as part of a global, social movement through the development of peace initiatives that support a culture of peace, and
WHEREAS, the United Nations has designated 21 September of each year to be the International Day of Peace, devoted to commemorating and sowing and nurturing the seeds of peace and inspiring citizens to commit to practice peaceful compassionate behavior for the rest of the year and thus living the ideals of peace, therefore be it
RESOLVED the city of Los Angeles council and mayor proclaims the City of Los Angeles, California to be a City of Peace in perpetuity, and be it further
RESOLVED that the city of Los Angeles council and mayor designates 21 September of each year to be the Los Angeles Day of Peace in perpetuity, and be it further
RESOLVED that the city of Los Angeles council and mayor support the development of policies, procedures and practices that promote establishing peace in our city in perpetuity.
PASSED, APPROVED, AND ADOPTED
DO YOU THINK YOUR COMMUNITY CAN BE A CITY OF PEACE? SEND AN EMAIL!
Note: If information or photos used here are copyrighted, please contact us and we will immediately delete the copyrighted material.