Luweero, Uganda: City of Peace
Welcome to Mwesigwa Julius and his colleagues in Uganda who have initiated Kasana-Luweero: City of Peace. The group from the Alpha & Omega Development Organization is supporting the needy children, including orphans, at-risk youths, older people and single mothers.
Note: Introduction page with information primarily at the time of joining International Cities of Peace. For updates, please contact the liaison.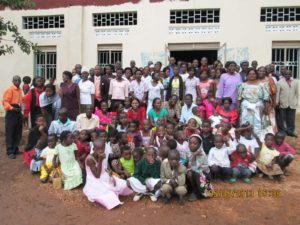 This Community Based Organization IS registered by the Luweero District Development Office in Uganda. It was set up in 2012, by a group of youth, who are involved in a number of voluntary work and activities in the dilapidated area of Luweero which was badly shuttered by the 1980-86 protracted which ushered in the current ruling government of Uganda. Formal operation of the non-profitable organization began on the 5th day of July 2013, when Kasana Alpha and Omega Development Community Based Organization was duly registered by the District Community officer of Luweero District.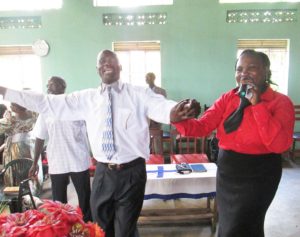 Kasana Alpha and Omega was certified to carry out activities in the fields of aiding the marginalized African people, especially Women, PWDs, Orphans, Elderly and youths, empowering them with information for integral development; encouraging interracial cooperation; advocating enhanced health; environment preservation; and imparting entrepreneurship skills. Based on the United Nations Millennium Development Goals (MDGs), a great percentage of the activities that the Organisation intends to carry out are targeting ending extreme poverty and supporting education for young people.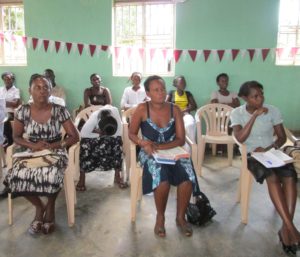 VISION
To organize programmes for the psychological, economic and social empowerment of disadvantaged children and single mothers towards their integral self-sustainability and potential.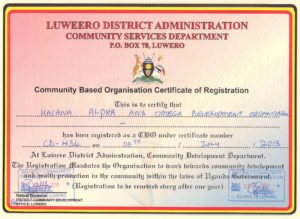 MISSION
• To improve the quality of life and equalize opportunities for orphans and other vulnerable children
• To promote self sustenance of our households
• To develop our talents and equip them with life skills
• To care, support, and foster vulnerable children in target areas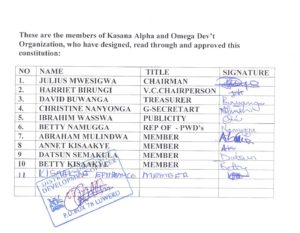 Letter of Intent
OBJECTIVES
1. Advocacy training and sensitization
2. Instituting vocational education for members
3. Support child protection structures in communities
4. Initiate income generating activiies for the members and their households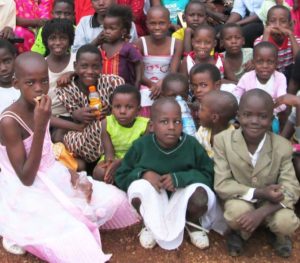 Alpha & Omega Development Organization visits families in rural areas as part of their outreach program.
ACTIVITIES
There are several activities that are being implemented by Kasana Alpha and Omega CBO, with financial support from a number of Partners. These are monitored on the ground by particular project managers, who are among members of the Organization. The activities involve hundreds of beneficiaries, some of them getting direct assistance, and others receiving multiplier effect benefits. Activities are Provision of School Fees for 20 orphaned girls; Environment Conservation or tree planting campaign; Agriculture focusing on food security; as well as the promotion of Cultural Exchanges.
2.1 Agriculture
With land measuring close to 5 acres at Kasana in Luweero, availed to Kasana Alpha and Omega by one of the members, the Organization is implementing an agricultural project for organic farming of food crops to promote food security in Uganda. The objective of the project is to enable poor people, especially women, to plant food towards sustainability and ending extreme hunger in their homes. So far the land has had crops like maize, cassava, sweet potatoes and beans planted and sold after. Two pigs were also acquired for breeding. Kasana Alpha and omega pays wages to several casual labourers in the vicinity, to clear the land, burn the spoils, plant and tend, as well as harvest and pack the produce for sale. This has been pilot project that has been successful, and plans are underway to involve more labourers and turn it into commercial farming.
2.2 Tree Planting
The planned area for this project is Kiwogozi in Luweero District. It will cover several hectares of land, offered to us by the community. We plan to plant Tens of thousands of Eucalyptus trees in but in phases. All work at the site will be done by volunteers from Kasana Alpha and Omega Based Organization and casual labourers, who are residents of the area.
The CBO shall carry out periodic sensitization seminars and hands-on workshops on the dangers of deforestation. The residents have their livelihood in making and selling charcoal, so they are allowed to cut very old and dried up trunks, for firewood and/or burn them for charcoal. In their stead, they will be assisted to plant a number of new trees and when the firewood is sold, the proceeds will be given to the workers to assuage the poverty in their homes.
The Organization intends to use over Euro8, 510.63 in bits and phases, pooled together with other members of the Environmentalist Association, over a couple or so of years.
2.3 Orphans
Kasana Alpha and Omega has identified 20 primary school-going girls, who are sponsored by the volunteers within the organization. The girls were selected randomly from several cases of orphans that have contacted the Organization for support for their education. The girls, who are all in different boarding schools in and around Luweero, are provided school fees and money for other scholastic materials like books and pens, besides personal effects including, but not limited to beddings and clothes.
Many cases remain unattended to because of shortage of funds to support them. But, with a constantly running project, added to a substantial funding from different other partners, more children will be taken care of.
2.4 Cultural Promotion
These promotions have basically had some members of CBO lead groups of people for cultural or expedition visits in neighbor countries. The Organization also plans to host other groups from other countries, for cultural exchange.
OTHER ACTIVITIES ARE INCLUDED IN THE GROUP'S DOCUMENTATION, AVAILABLE UPON REQUEST
---
ABOUT MWESIGWA JULIUS
"My name is Mwesigwa Julius. I was born on January 1, 1988 in a village
called Kasana in Luweero District, one of the poorest village in
Luweero District the Republic of Uganda (East Africa). My father was a
Ugandanorigin, and my mother also a Ugandan. I am the first born to my parents, we are three children, two boys and one girl, each of us here has his own mother but to one father.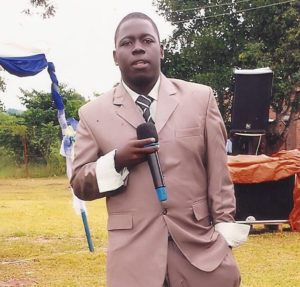 "From that point on, it was just the three of us. My mother was unable to meet our needs because there was no way for her to get any money because at time our father was already dead to take care of the family. I started to look for small odd jobs to get food, and also meet our other basic needs. Back then, it was extremely hard for us to get basic needs. From that time we became orphans after the death of our father. Here we struggled with lifelike going to school, getting clothes, getting food, health care and clean water. I would look for work to do in order to earn some money so that I could afford to continue going to school. I want to learn and I did the best I could, and kept hope for the future.
"In 2012, I and the church of Goshen Gospel Ministries were moved with compassion for the many parent less children, and we started Alpha & Omega Development Organization Uganda (A.O.D.O.U) to address the orphan crisis in country and community. You see Uganda has endured the scourge of civil war, and suffered with the AIDS epidemic. Approximately 2 million in Uganda have been orphaned by these calamities. Sadly, there are about 880,000 children living here as orphans as a result of AIDS alone.
"Then in 2013, our dream finally came true, we started by adopting children away from streets to our church. The number has been steadily increasing since then. Today we have adopted 5 wonderful children. The rang in age from 1 to 10 years old. All together we have 60 children to support and taking care of them. Even though it is difficult to provide for all the children at times, we are up for the challenge. We are committed to our family and everyone in it. Our love for tem is limitless.
HOPES AND DREAMS
It is our goal for Alpha & Omega Development Organization Uganda to buy 100 acress of land to plant food and farm. On that land, we also hope to build on the following:
1. To build on homes for orphans and street children who don't have
homes to stay from (homeless children).
2. To build on a primary schools.
3. To build on a secondary schools.
4. To build on a vocational institute schools for children, youths and
single mothers.
5. To build on a community health care clinic (Hospitals).
6. To build on staff Quarters for the teachers and Nurses.
---
CONTACT INFO
For more information, contact the leaders through email:
Goshen Gospel Ministries Church,
Kasna Luweero-Uganda,
P.O.BOX 152,
Luweero, Uganda
Phone number [+256772587950, +256756004446, +256702845743}
Email Address: alphaomegaorg81@gmail.com
PAYPAL ACCOUNT
Entebbe Alpha & Omega Development Organization Uganda alphaomegaorg50@gmail.com
---
ABOUT LUWEERO, UGANDA (from Wikipedia)
Uganda is divided into 111 districts and one city (the capital city of Kampala), which are grouped into four administrative regions.
Most districts are named after their main commercial and administrative towns, known as 'chief towns'. Since 2005, the Ugandan government has been in the process of dividing districts into smaller units, with the most recent change in August 2010. This decentralization is intended to prevent resources from being distributed primarily to chief towns and leaving the remainder of each district neglected.
Luweero District (sometimes spelled Luwero) is a district in Central Uganda. Like many other Ugandan districts, it is named after its main municipal centre, Luweero. The correct phonetic spelling is with two "e"s. However, literature exists where it is spelled with one "e". In fact, the road signs in Uganda spell it with one "e" too.
Luweero District was the site of a fierce insurgency by the rebel group National Resistance Army and a brutal counter-insurgency by the government of Milton Obote, known as the Luweero War or the "Bush War", that left many thousands of civilians dead during the early to mid-1980s. The area affected by the war has come to be known as the Luweero Triangle. In 2005, Nakaseke County was split from Luweero District to form Nakaseke District. Luweero District is administered by the Luweero District Administration, with headquarters at Luweero.
DO YOU THINK YOUR COMMUNITY CAN BE A CITY OF PEACE? SEND AN EMAIL!
 Note: If information or photos used here are copyrighted, please contact us and we will immediately delete the copyrighted material.