Mataki, Phillipines: City of Peace
The leader of the peace cities movement in Mataki is Paula Zayco Aberasturi who has a vision of creating cities of peace on every one of the 7000+ islands of the Philippines. Paula's work to create a culture of peace in her country focuses on child welfare.
Note: Introduction page with information primarily at the time of joining International Cities of Peace. For updates, please contact the liaison.
---
From Paula Zayco Aberasturi, Advisory Council of Leaders…
"I am a mother of two beautifulchildren: Ainara (6) and Domeka (3). I am also a lawyer although for the last 2 years, I have put my profession on the back burner, as I yearn for a more transformative justice system- one that recognizes our common humanity and heals rather than condemns.  I would like to see my work unfold in transforming our justice system for juvenile delinquents (ages 14-17) .  We call them Children in Conflict with the Law.   
"There are thousands of children in prison and in juvenile detention centers. While we have laws that supposedly protect these children who have committed crime (petty crimes, theft, vagrancy, car theft), the system is such that they are treated as criminals, and are forced to be imprisoned, under conditions that are almost inhumane and violative of the rights of children. They sleep on the floor (40 to a small cell), do not have enough food to eat (food is rationed and they only eat a cup of rice or noodles every day), soap is a luxury, and they do not get to go outside, staying locked up in the small cells. Not only that, there is little capacity left for healing and these children usually are scarred for life, often repeating the cycle of violence throughout their lifetimes.
"Since I began writing to you, several avenues have opened up, or I have thought of some ways I could begin. First, what I would like to do is start a dialogue with the Department of Social Welfare and Development and begin work with just a small center. The DSWD has a unit called the Council for the Welfare of Children.  Yearly, they have a Presidential award system that awards Child Friendly Municipalities and Cities.  
"I mention this as it reminds me of Cities of Peace. I might be able to begin there. Another alternative I see is to work with the Juvenile Justice Network, another organization that was formed in the 1990's, when the plight of our juvenile delinquents was made a big issue by Unicef and other humanitarian agencies.  
"The reforms were done, the laws were passed, but I have yet to see a real transformation of the system.  What we have now is a strict adherence to law, but without really ensuring the rights and dignity of the child.  I have written the Juvenile Justice Network but I am yet to really see how I could go from there. A third opening I saw was just today when I read from my research that an old friend of mine who is now a mayor, has just signed a Memorandum of Agreement with an NGO to run a rehabilitation facility for juvenile delinquents in Valenzuela.  I might be able to work hand in hand with him and make his city a City of Peace! My only problem would be that it is a few hours from Makati (and if this is the project I start with, I would have to change the city.) Still, I will be meeting with him this weekend to talk to him about it.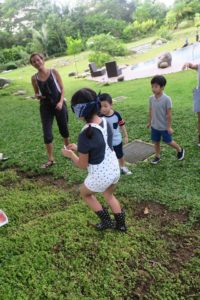 "The two organizations I am affiliated with are MISSION (for more information http://www.imaginalmission.net/newjoomla) and GLACC.  I am active with MISSION and I am a part of the core group and a founding member. I see a lot of work with MISSION, as the City of Peace is clearly congruent to its vision.  
"GLACC (Global Legal Action on Climate Change) was a group formed by an environmental lawyer, Antonio Oposa.  We initially formed it with the intention of using the Initiative process to go against local governments for environmental damage, or to ensure the implementation of environmental laws.  The group has been inactive the last few years though.  I have spoken to its founder Atty. Tony Oposa and he consented that I reactivate its membership again. The group might be a good venue so I could network with more lawyers who might want to take on work for the City of Peace, although I still do not know the extent of this group's participation.
"Aside from these, my husband is a farmer and we have a Biodynamic flower and vegetable farm in Bukidnon. We grow flowers and vegetables with a backdrop of the mountain ranges of Mt. Kitanglad. We also have grass fed beef, our cattle is raised 100% on pasture and have some pigs raised on pasture as well. Our farming methods is biodynamic (treating the entire farm, plants, animals, farmers, the cosmos as an entire ecosystem), we follow sustainable practices and practice indigenous methods of farming.  I run a blog on the farm too and if you would like to check it it's http:flowerdepot.wordpress.com.  I also have a deep fondness for the sea, my country having among the world's most magnificent beaches. Aside from a love affair with nature, I have a passion for writing, and express my creativity through the gift of the written word."
Philippines History (from Wikipedia)
The Philippines is a country in Southeast Asia in the western Pacific Ocean, its north across the Luzon Strait lies Taiwan. West across the South China Sea sits Vietnam. It is bounded on the east by the Philippine Sea. Its location on the Pacific Ring of Fire and its tropical climate make the Philippines prone to earthquakes and typhoons but have also endowed the country with natural resources and made it one of the richest areas of biodiversity in the world. An archipelago comprising 7,107 islands, the Philippines is categorized broadly into three main geographical divisions: Luzon, Visayas, and Mindanao. Its capital city is Manila.
With an estimated population of about 94 million people, the Philippines is the world's 12th most populous country. The arrival of Ferdinand Magellan in 1521 marked the beginning of an era of Spanish interest and eventual dominance. Manila became the Asian hub of the Manila–Acapulco galleon fleet. Christianity was widely adopted. As the 19th century gave way to the 20th, there followed in quick succession the Philippine Revolution which spawned the short-lived First Philippine Republic, the Spanish-American War, and the Philippine–American War. In the aftermath, the United States emerged as the dominant power. Aside from the period of Japanese occupation, the United States retained sovereignty over the islands until the end of World War II when the Philippines gained independence. The United States bequeathed to the Philippines the English language and a stronger affinity for Western culture. Since independence the Philippines has had an often tumultuous experience with democracy, with popular "People Power" movements overthrowing a dictatorship in one instance but also underlining the institutional weaknesses of its constitutional republic in others
DO YOU THINK YOUR COMMUNITY CAN BE A CITY OF PEACE? SEND AN EMAIL!
Note: If information or photos used here are copyrighted, please contact us and we will immediately delete the copyrighted material.