Making History. The Mayor of Mesa, John Giles, and the Mesa City Council, formally recognized Mesa as an International City of Peace at their official Council meeting on August 29, 2022.  Co-liaisons, Dr. Ruth Lim and Paula Osterday, were in attendance, along with members of the Mesa, Arizona International City of Peace task force.  Dr. Lim addressed the Mayor and Council, highlighting the mission, goals and benefits of being designated as an International City of Peace and asked for their continued support and cooperation.

Mesa, Arizona, United States: International City of Peace

We welcome Ruth Tan Lim, Paula Osterday and the entire team that have established Mesa, Arizona in the United States as an International City of Peace. Their mission is  "to create a community that is caring, compassionate, respectful, inclusive and equipped to serve its citizens, the surrounding communities, and the world."
Note: Introduction page with information primarily at the time of joining International Cities of Peace. For updates, please contact the liaison.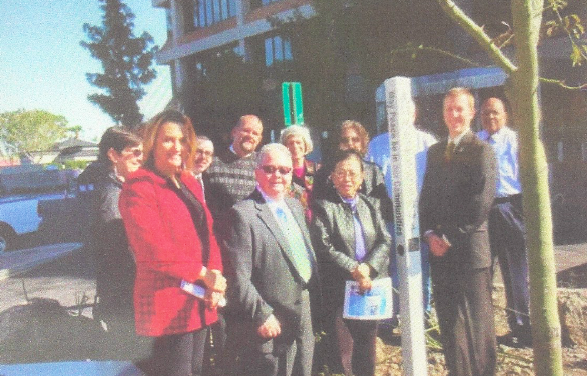 Dr. Ruth Lim speaks at the dedication of a Peace Pole on Feb. 25, 2013 at Mesa City Hall. Other speakers included Councilman Dennis Kavanaugh, Mesa Sunrise Rotary President Rory Gilbert and incoming Mesa Sunrise Rotary President Glen Steiner.
---
 VISION
To promote a diverse and inclusive community where each of our citizens reaches their fullest potential; we are a community known for its citizen engagement, volunteerism, and commitment to a high quality of life with peace and non-violence for all.
---
MISSION
To create a community that is caring, compassionate, respectful, inclusive and equipped to serve its citizens, the surrounding communities, and the world.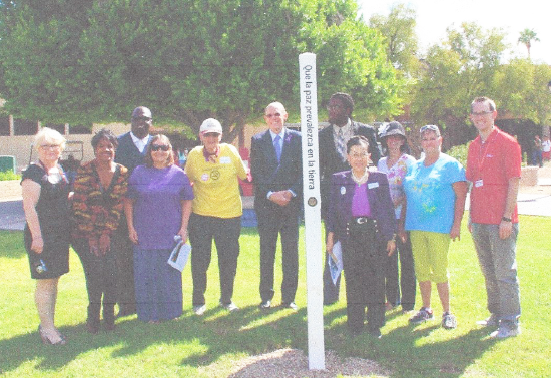 Mesa Community College dedicated a Peace Pole, located in front of the Library, on Oct. 7, 2013.
---
GOALS
To promote programs and advocacy events to empower children and families.
To launch activities that empower youth to be champions for peace.
To expand the Proclamations for Peace and Non-violence throughout the community.
To bridge the divides that separate people and neighborhoods.
To create space to explore and promote peace through educational programs and
community events.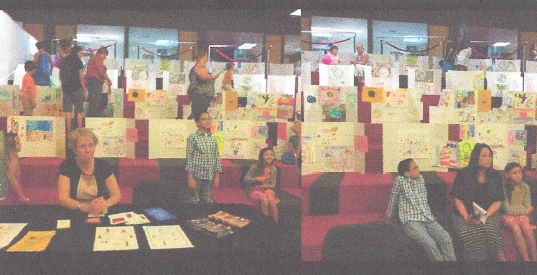 Winning art work displayed in the lobby of the Performing Arts Center.
---
FOUNDING PEACE COMMITTEE
Ruth T. Lim, M.D., Executive Director, Childrens Benefit Foundation, Co-Liaison
Theresa Carmichael, President, Mesa Sunrise Rotary
William Peters, Lieutenant, Mesa Police Department
Lori M. Berquam, PhD, Interim President, Mesa Community College
Brooke lsingoma, Senior Pastor, St. Matthew United Methodist Church
Paula Osterday RN, Founder and Owner, Inner Health Now, Co-liaison
---
Local Mesa Events Promoting a Culture of Peace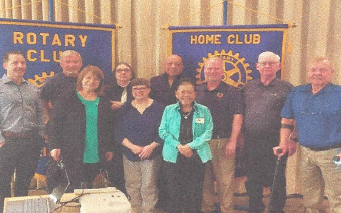 Since 2005, the Children's Benefit Foundation invited the Mesa Sunrise Rotarians and other community leaders to form and take leadership of a task force for a community advocacy event promoting a culture of peace and nonviolence (see task force member logos below). A focus of the task force is to develop youth leaders who will be the future peacemakers of the Mesa community .
For detailed information on community groups and organizations, see the PDF below:
Children's Benefit Foundation
Mesa Community College
St. Matthews Methodist Church
Mesa Police Department
Annual Week Without Violence
Alston House Center for Peace and Solstice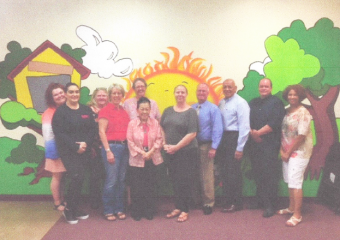 The Mesa, Arizona City of Peace is a unity proposition with participating organizations and individuals in every aspect of their community. Above is one of the groups, the Children's Benefit Foundation, a task force for developing youth leaders as peacemakers.
---
ICOPMesaAPP07.07.22

A Safe Community is a COOL and GOOD place to live!
---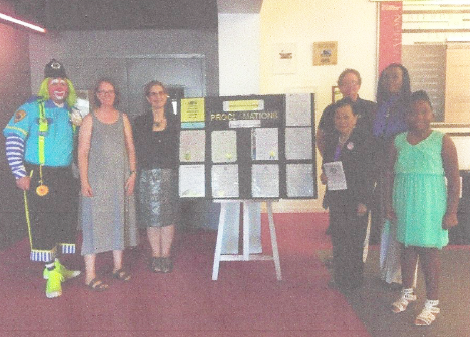 Proclamations for peace and non-violence acknowledging this effort received from the governor of Arizona and the mayors of Mesa, Tempe, Chandler, Gilbert, Avondale, Scottsdale, Phoenix and Glendale. Displayed at the Week Without Violence event, Oct. 2019.
---
Events Related to Peace Week and Beyond, 2022
Douglas A. Ducey, Governor of the State of Arizona, signed a Proclamation for October 2 – 8 whereby Arizona will  observe a "Week Without Violence".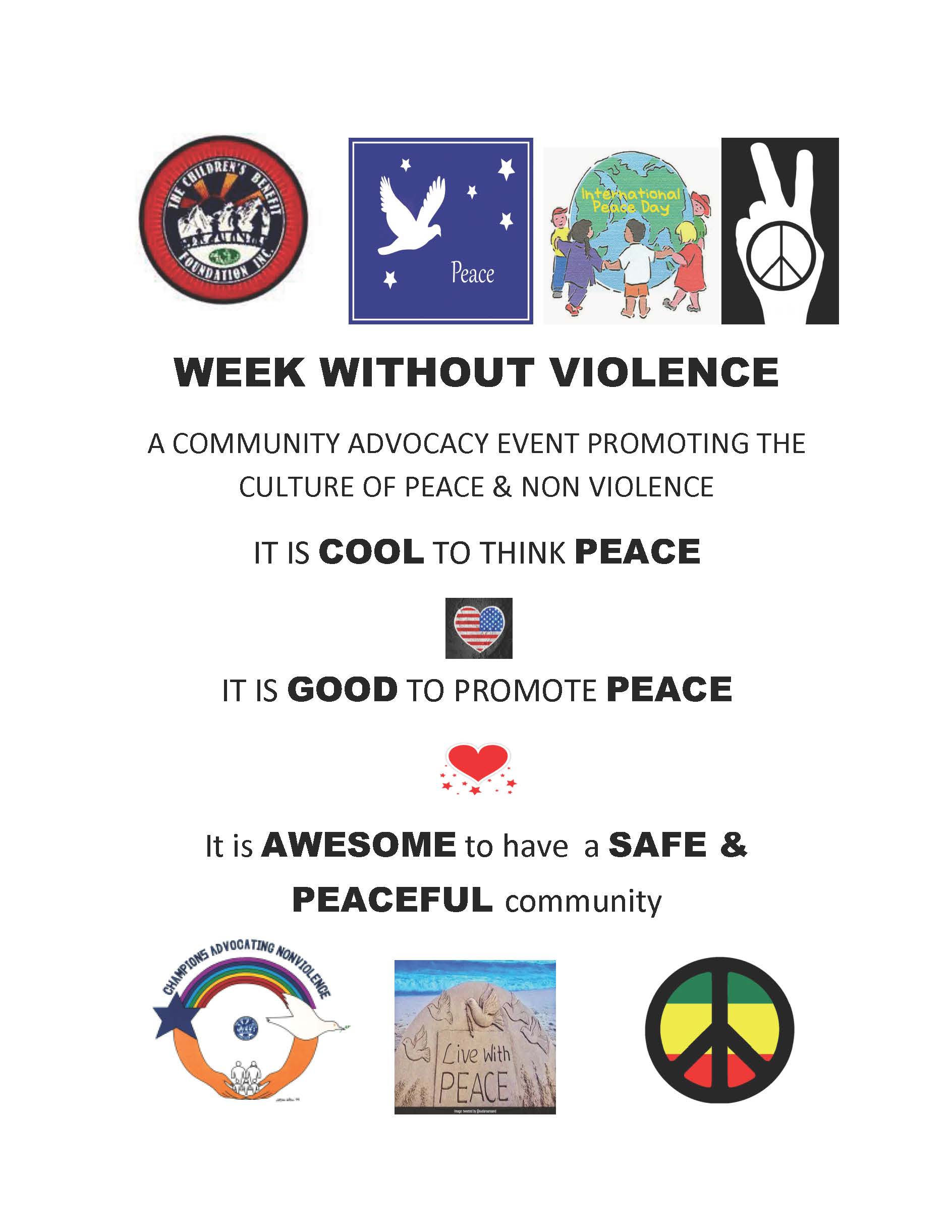 Week Without Violence 2022

---
 Letter of Intent with Signatures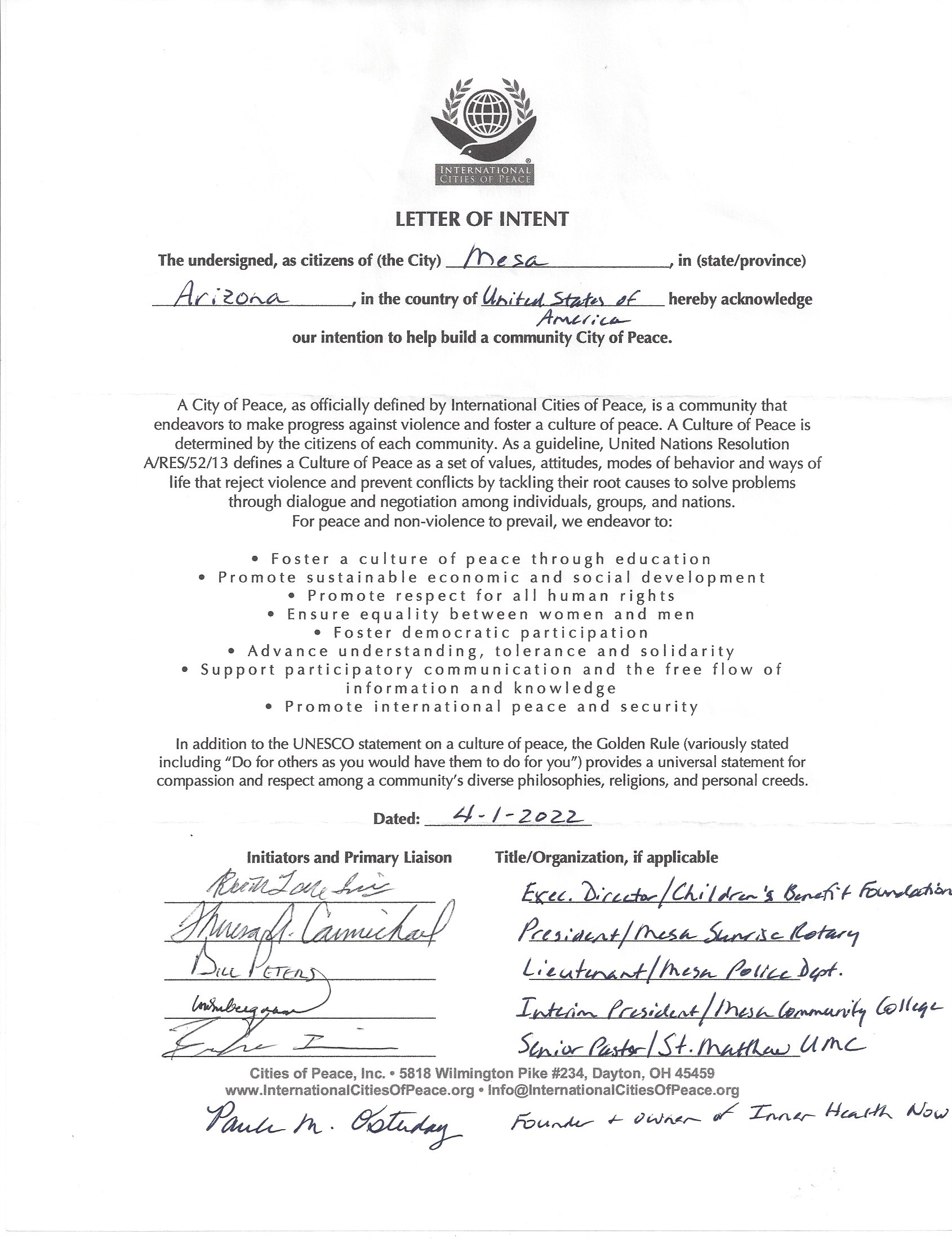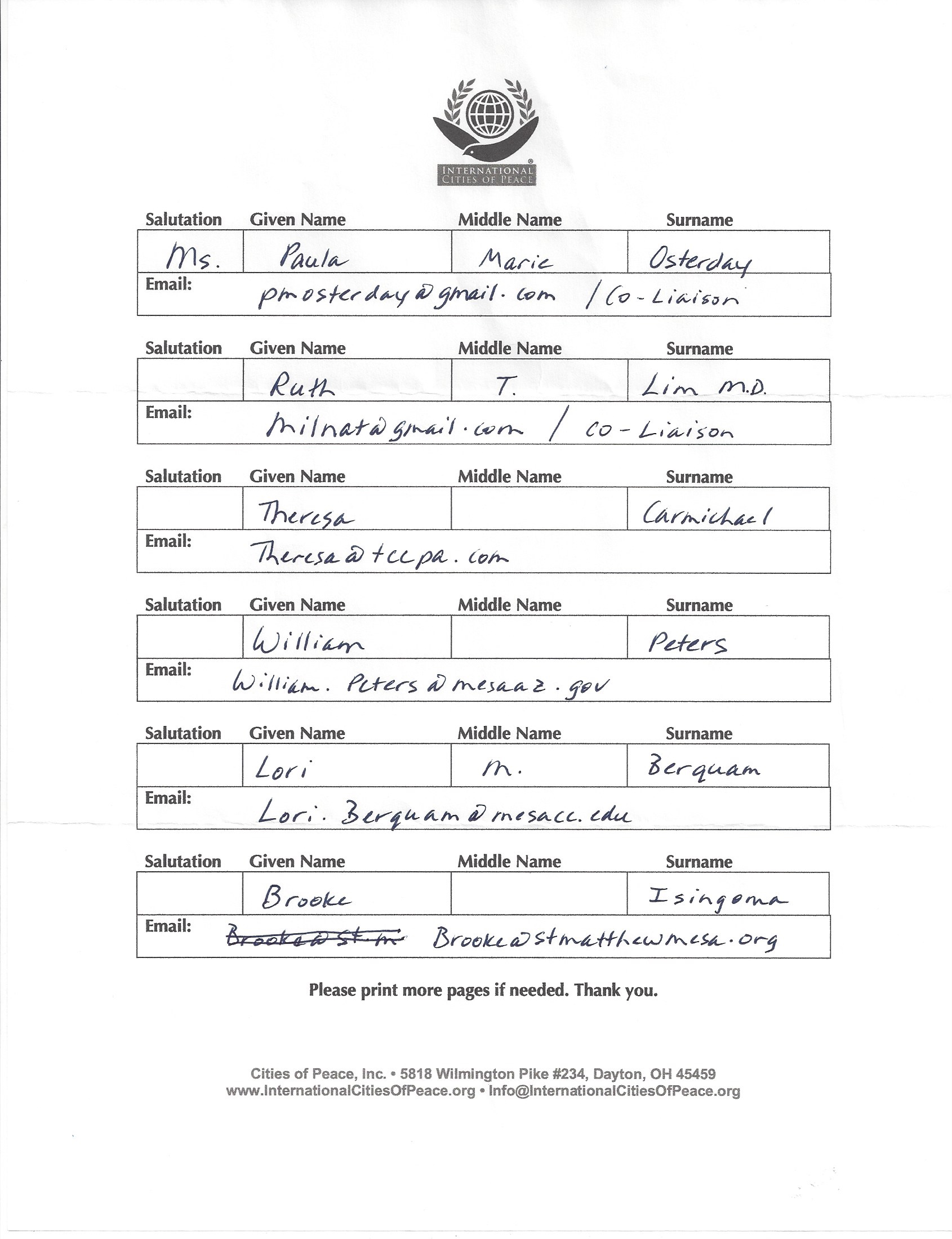 ---
ABOUT THE LIAISONS
Ruth Tan Lim MD, MD(H), ND (Hon)
"Dr. Ruth "is a practicing physician in Mesa, Arizona since 1980. She is the founder of Dobson Integrative Medical Center. Her practice provides primary care services including newborns and adults in allopathic medicine, homeopathy, and botanical medicine. The goal is to optimize function and prevent diseases.
She served in Operation Desert Storm and retired with the rank of LTC from the active reserves in 2003. In 1992, she founded and is the volunteer director for the Children's Benefit Foundation (CBF Inc., a 501c3 charity) whose mission is to enhance every child's journey through life; champion wellness and preventative care for all children
Since 2005 she has been the volunteer chair of the Task Force for the Week Without Violence, a community advocacy event, organized by the CBF INC. The mission is to empower children and families to champion peace and nonviolence ensuring a safe community for all. The event is supported by proclamations from the Governor of Arizona, Mayors of Mesa, Tempe, chandler, Gilbert, Phoenix, Avondale, Scottsdale, Glendale.
She is a devoted peace and arts champion, donor and volunteer. She is also a passionate advocate board member and volunteer of organizations addressing health care for uninsured children, the homeless, migrant workers, and have participated in 23 medical missions in over 10 countries.
She serves/has served on many boards across the valley, including Mesa Arts Center Foundation, Idea museum, Mesa Sunrise Rotary, Southwest College of Naturopathic Medicine, Health care consortium, Parenting Arizona, Starlight foundation, Development Board of Mesa Community College, Chicano Por La Causa HHHS Board, Chandler Domestic Violence Commission.
She recently received the 2022 Rotary District 5495 Champion of Peace Award. Other awards include the Woman of Distinction award from Soroptimist International (1994), Hon Kachina Award (2001) Mesa Woman of the year (2011), Governors Arts Award 2015, Heroes of Education Award from Mesa Community College, and APCA Lifetime Achievement Award (2016).
With the initiative from the CBF Inc., board, the organization has placed Peace Poles with the words "May peace prevail on earth." Peace poles have been placed at the City of Mesa Main Plaza in 2013, Campus of Mesa Community College in the Rose Garden and library, East Valley Institute of Technology,
Mesa Arts Academy school, Montessori School, Queen of Peace School, Chandler Boys and Girls Club, and several domestic violence shelters in Arizona as far as Winslow and Navajo Nation. In 2012, a peace pole was placed at the Queens Park, a world Heritage site in Barbados.
Since 2005, the Peace Poster and Poetry Contest for Children from ages 6-18 is another activity to recognize children for their peace advocacy efforts …… creating the new future peace thought leaders for the community.
---
Paula Osterday, RN, CH, RET
Paula is a registered nurse, Reiki Master Teacher, a Consulting Hypnotist and Rapid Eye Technician. She has also worked as a professional community organizer with the Industrial Areas Foundation, inspiring ordinary people to believe in themselves and to join together, across race and class, to build pbwer for change in their churches, schools, neighborhoods and communities. In addition, she provides fund raising consulting to schools and churches who have a vision for their children and families that inspire the gifts of time, talent and treasure required to make positive change possible.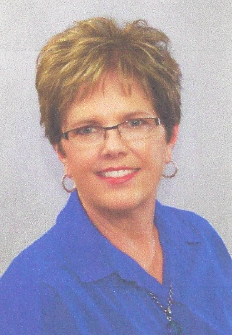 Currently, she is the owner and founder of Inner Health Now, a practice to promote physical, emotional and spiritual healing and balance to clients who desire it. Standing on the Western Medicine skills from her nurse's training, she now embraces Eastern Medicine practices and the new frontier of energy medicine. Through the intersection of these two perspectives, she arms people with the knowledge and practices they need to promote their own healing and to live happy and fulfilled lives.
Paula has been married for 46 years and has three grown children and 4 grandchildren.
---
CONTACT INFORMATION
To contact or support this initiative:
Ruth Tan Lim MD, MD (H), ND(H)
2058 South Dobson Road Suite 6, Mesa, Arizona, 85202.
Phone: 480-820-4507(office) 480-363-8366(cell)
E mail: Milnat@gmail.com
Paula Osterday
3853 N. Barron St.
Mesa, AZ 85207
(480) 236-3173 (mobile)
paula@innerhealthnow.com
---
ABOUT MESA, ARIZONA, UNITED STATES

Historical and Current Peace Legacy and Challenges
Mesa is a city in Maricopa County, Arizona. It is the most populous city in the East Valley section of the Phoenix Metropolitan Area.
Mesa is the third-largest city in Arizona after Phoenix and Tucson, and is home to 504,258 people as of 2020 according to the Census Bureau.
The City of Mesa has a long history of peace and continues to make it a priority today. Mesa established the Alston House Center for Peace and Solstice, a public community space for convening and sharing ideas. They installed a peace pole with the support of City Council and the Human Relations Advisory Board in 2013. The pole is in front of Mesa City Plaza, so employees and visitors see it on their way into the building. They also participate in the annual Regional Unity Walk where seven local communities gather to celebrate their differences together. Their most recent accomplishment is passing a non-discrimination ordinance for the City of Mesa.
In addition, they are launching a new diversity initiative 'Together Mesa' that showcases the voices that make up their dynamic city across media platforms, to foster the awareness and understanding that strengthens them as a community. All of this shows their commitment to diversity, equity and inclusion for all residents and visitors. They have committed to continue to take every opportunity to meet the challenges ahead to ensure a healthy and peaceful community.
Note: If information or photos used here are copyrighted, please contact us and we will immediately delete the copyrighted material.