The Cities of Peace Mentored by Mil Milenios de Paz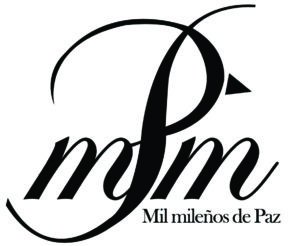 ARGENTINIAN CITIES COMMITTED TO PEACE

http://citiesofpeace.blogspot.com.ar/
By Proclamation or Resolution
Note: Introduction page with information primarily at the time of joining International Cities of Peace. For updates, please contact the liaison.
• Buenos Aires
• Vicente Lopez, Prov. de Buenos Aires
• Tigre, Prov. de Buenos Aires
• Moron, Prov. de Buenos Aires
• Escobar, Prov. de Buenos Aires
• Junin, Prov. de Mendoza
• Rivadavia, Prov. de Mendoza
• La Paz, Prov. de Mendoza
• San Rafael, Prov. de Mendoza
• Neuquen, Prov. de Nuequen
• Villa de Merlo, Prov. de San Luis

• Carpinteria, Prov. de San Luis

• La Carolina, Prov. de San Luis
• Los Molles, Prov. de San Luis
• Rosario, Prov. de Santa Fé
• San Miguel de Tucuman, Prov. de Tucumán
• Monteros, Prov. de Tucumán
• Pilar, Prov. de Buenos Aires
• San Isidro, Prov. de Buenos Aires
• Goya, Prov. de Corrientes
• Adrogue, Prov. de Buenos Aires
• Neuvo de Julio, Prov. de Buenos Aires
• San Lorenzo, Prov. de Santa Fe
URUGUAY CITIES COMMITTED TO PEACE
• Paysandú, Uruguay
INTERNATIONAL CITIES OF PEACE
(With the major goal of becoming a City Committed to Peace)
• Merlo, Prov. of Buenos Aires, Argentina
• San Martín, Prov. of Buenos Aires, Argentina
• Igarassu, Pernambuco, Brazil
• Ituzaingó, Prov. of Buenos Aires, Argentina
• Santiago de Cali, Valle del Cauca, Colombia
• Suipacha, Prov. of Buenos Aires, Argentina
• Santa Ana, Francisco Morazán Municipality, Honduras
• Puerto Madryn, Chubut, Argentina
• Curitiba, Paraná, Brazil
• Sangolqui, Pichincha, Ecuador
• Ushuaia, Tierra del Fuego, Argentina
• Quito, Pichincha, Ecuador
• Martini, La Pampa, Argentina
• Central District, Lima, Peru
• Merida, Venuezuela
---
NOTE: International Cities of Peace is seeking funding for an upgrade in operational software for the website. When we are able to attain that upgrade, each City of Peace in South America will have a free web page that will highlight photos and stories, as well as their vision and goals. In the meantime, each City has been highlighted on our dynamic Facebook site as well as within the umbrella organization Mil Millenios de Paz. Accolades to all of the Liaisons in South and Central America!
---
Inés Palomeque is Founder of Mil millennia of Peace (MMP), Thousand Millennia of Peace, and on the Boar of Directors of International Cities of Peace. The network organization in Argentina has helped establish many peace cities across the continent. When a Cities becomes a City Committed to Peace, they are automatically added to the listing of International Cities of Peace. When a City first becomes an International City of Peace, the major goal of that City is to achieve the criteria for also becoming a City Committed to Peace.
A THOUSAND FLAGS FOR A THOUSAND ORGANIZATIONS INSTITUTIONS AND PERSONALITIES is a Project for NGOs, schools, and people. Mil Milenios de Paz has delivered more than 2000 Peace Flags to different organizations in Argentina and 21 countries. This project designates Embassies and Ambassadors of peace.
CITIES COMMITTED TO PEACE is a Project for Cities and Municipalities with more than 100,000 citizens / inhabitants.
To be a "City committed to peace", the highest authority – mayor – mayor or president of the council or congressman, after communicating with Mil Milenios de paz, must record in a legal and public document, the actions to be carried out in his city in favor of peace.
Note: Introduction page with information primarily at the time of joining International Cities of Peace. For updates, please contact the liaison.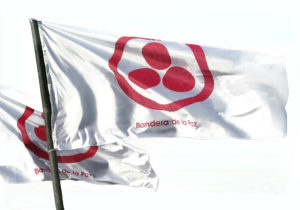 VISION
A safe, just, free, reliable and Peace. Cities that value and respect life in all its forms and aspects under the Banner of Peace of Nicholas Roerich.

MISSION
Generate and promote culture of peace locally, nationally and internationally through programs, projects and actions that help and bequeath Awakening Conscience of Peace and Unity.

MOTTO

There will peace in the world when there is peace in the heart of every person.

MMP works for years in promoting and building peace, promoting a shift from the heart of each person and the organizations with which it interacts. Cultivate a peaceful communication, intercultural dialogue open.
They maintain the paradigm of peace on three pillars:
1) Positive Thoughts
2) Words harmonious
3) Actions constructive
"Words that reflect what we want, crave and love." As UNESCO says: "Since wars begin in the minds of men, it is in the minds of men that the defenses should stand up for peace."

"Our position is not to be against … We favor …. Instead of using the fight or struggle against violence, promote work for peace, we say yes to peace, to security Yes, Yes to conviviality. "

Letter of Intent

OBJECTIVES
• Implement daily life in the following values​​, behaviors and attitudes to realize a culture of peace: peace, tolerance, compassion, love, kindness, freedom, respect, care, joy, generosity, cooperation and honesty.

• Disseminate and promote the Millennium Development Goals

• Disseminate and promote the 10 manifestos produced by the Young Messengers of Peace, in H. Senate of Argentina: "For Peace" (2000), "For Life" (2001), "On the Future of the World" (2002), "For the common good '(2003)" Road to Integration "(2004), "Youth Education and the New Millennium" (2005), "the Young and the Environment" (2006), "Youth Justice and Peace" (2008), "Young People, Politics and Peace "(2009)" the role of youth in today's society "(2011).

Delivery of the Banner of Peace, the Nobel Peace Prize Adolfo Pérez Esquivel.
From left to right: Odino Faccia, The Voice of Peace, Prof. Agnes Palomeque, President of MMP; architect Adolfo Perez Esquivel, Peace Smith and Ms. Nancy Ducuing, Foundation President PEA.
http://milbanderasparamilescuelas.blogspot.com.ar/

If there is no Justice Peace. If Justice No Peace

---

REQUEST

"That the Argentine by law, agrees with the Culture of Peace, a right for all"

We need your support to achieve this goal
If you accept and like the idea, please come and sign the petition:

http://www.change.org/es-AR/peticiones/le-pedimos-al-poder-ejecutivo-y-al-poder-legislativo-que-por-ley-el-estado-argentino-se-comprometa-con-la-cultura-de-paz

Thank you! We can all be peacemakers

---

DICTIONARY OF PEACE

The Dictionary of Peace, arises from the call made by the Peace Council of Argentina (ABLE) to civil society organizations, educational institutions and individuals interested in cooperating with the investigation, search and collection of voices, expressions and words identified with Culture of Peace, in the framework of the "Culture of Peace lexicon." Here is the link:
http://diccionariodelapaz.blogspot.com.ar/

For more information contact: Ines Palomeque

 

---
ABOUT Inés Palomeque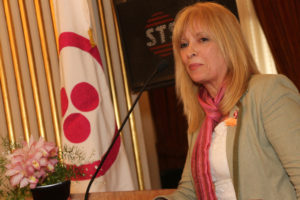 Highlight of Inés Palomeque's extensive resume of accomplishments and experience:

• President of Millennia Thousand Peace Peace and Solidarity Movement associative

• Project Director for the Culture of Peace Art Ecology and Peace Foundation

• Founding member of the Peace Council of the Ministry of Foreign Affairs of the Republic of Argentina and the Peace Council of Argentina

• Active member of the Peace Council of Argentina

• Chairman of the Commission on Integration International Peace Council "Women FAEOPAL

• Representative of the International Day of Cultures Argentina

· President of Mil Millennia of Peace and Solidarity Movement Associative Pacifist

· Project Director Peace Culture Peace Foundation Ecology and Art

· Founding member of the Peace Council of the Foreign Ministry of Argentina and Peace Council of Argentina

· Active member of the Peace Council of Argentina

· President of the International Integration Commission for Peace "Council Woman FAEOPAL

· Representative in Argentina of the International Universal Day of Culture
FOR MORE INFORMATION, CONTACT: 
inespalomeque@gmail.com
milmileniosdepaz@gmail.com
and the page www.milmileniosdepaz.org
---
ABOUT BUENOS AIRES, ARGENTINA
The capital and largest city of Argentina and the second-largest metropolitan area in South America after Greater São Paulo, Buenos Aires is located on the western shore of the estuary of the Río de la Plata on the southeastern coast of the South American continent.
The city of Buenos Aires is an autonomous district and rated one of the 20 largest cities in the world. People from Buenos Aires are referred to as porteños (people of the port). The majority of porteños have European origins, with Italian and Spanish descent being the most common, from the Calabrian, Ligurian, Piedmont, Lombardy, Sicily and Campania regions of Italy and from the Andalusian, Galician, Asturian, and Basque regions of Spain. Other populations include immigrants from many other parts of the world.
Strongly influenced by European culture, Buenos Aires is sometimes referred to as the "Paris of South America". The city has the busiest live theater industry in Latin America, with scores of theaters and productions. Buenos Aires is the site of the Teatro Colón, an internationally rated opera house.
Tango music's birthplace is in Argentina. Its sensual dance moves were not seen as respectable until adopted by the Parisian high society in the 1920s, and then all over the world. In Buenos Aires, tango-dancing schools (known as academias) were usually men-only establishments.
---
Peace Legacy in Buenos Aires (from Wikipedia)
President Franklin D. Roosevelt's concern over the rise of fascism in Europe prompted him in early 1936 to suggest a meeting of the American republics to discuss the maintenance of peace in the Western Hemisphere. Such a meeting would allow Roosevelt to promote his "Good Neighbor Policy" toward Latin America, which drastically limited U.S. definitions of intervention. Latin American leaders agreed to a conference, and they placed neutrality, arms limitations, and foreign intervention high on the meeting's agenda.
Argentina's Minister of Foreign Affairs and Nobel Peace Prize winner Carlos Saavedra Lamas presided over the Inter-American Conference for the Maintenance of Peace, which met at Buenos Aires from 1 to 23 December 1936. U.S. Secretary of State Cordell Hull led the American delegation. As a show of good faith, the United States gave up some of its intervention rights. The American republics agreed to a policy of nonintervention toward one another, and to collaborate on responses to disagreements. Lamas, however, clashed with Hull when the United States attempted to form a block of nations opposed to European fascism. Unlike the isolationist United States, Argentina had crafted a foreign and economic policytied to Europe. The nations reached no agreement on the American initiative. (From the Gale Encyclopedia of US History)
About Nobel Peace Prize Winner Lamas
Carlos Saavedra Lamas (November 1, 1878 – May 5, 1959) was an Argentine academic and politician, and in 1936, the first Latin American Nobel Peace Prize recipient.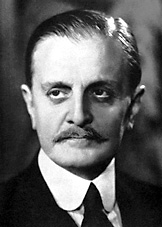 A long-smoldering Bolivian-Paraguayan boundary dispute led to the Gran Chaco War (1932-1935), which defied the peacemaking efforts of Latin American nations and the United States and enabled Saavedra Lamas to assert Argentina's influence in hemispheric affairs. After failing to terminate the conflict by relying upon the League of Nations conciliation machinery, he engineered a permanent truce in 1935. Although the United States-Argentina rivalry probably prolonged the settlement, Saavedra Lamas, with Secretary Hull's support, received the Nobel Peace Prize for his efforts. Several European and Latin American governments also honored him for contributions to peace.
DO YOU THINK YOUR COMMUNITY CAN BE A CITY OF PEACE? SEND AN EMAIL!
Note: If information or photos used here are copyrighted, please contact us and we will immediately delete the copyrighted material.