Multan, Pakistan: City of Peace
Welcome to Magdline Walter and her colleagues who have created the Multan, Pakistan: City of Peace initiative. Magdline is Executive Director of the Organization of Peace & Gender Development.
Note: Introduction page with information primarily at the time of joining International Cities of Peace. For updates, please contact the liaison.
The Organization for Peace and Gender Development (OPGD) is a non-governmental and not–for-profit organization registered under Societies Act XX1 of 1860 with its offices in Multan Vehari and Abbottabad districts.

OPGD strives for a peaceful society through continuous human development efforts undertaken by its various components. We make efforts to sensitize communities by promoting awareness and advocacy and to harness their potentialities and channelize them into progressive ways to achieve our goal of peace and integrated rural development

The organization is closely working with Farmer and daily wage communities especially with Women group to engage them in livelihood and other Income generation activities. Our focused objective is working with Youth and school children for Peace and harmony. From 2011-2014, the organization has conducted several awareness seminars and training workshop for women on Kitchen Gardening, Tree plantation, Fuel Efficient stove, Peace building and Human Rights education on self-help basis.

       

VISION

Build a Peaceful and Just society without any discrimination and Violence.

Exposure visit to Old Mosque with Peace Club Members

MISSION

Engaging youth (Female & male) in dialogue, culture exchange, formation of peace clubs and peace building awareness with local communities.

Building networks of knowledge, support, and advocacy in cities experiencing communal violence and hatred.




Magdline Walters for the International Campaign of Peace on World Peace Day

 

OBJECTIVES

• Establish coordination mechanisms initiative the project with wider Christian and non-Christian communities in Multan
• Engagement and activisms of the Students to play their active part as peace agents in their communities.
• Promoting peace exchange opportunities for students and teachers to learn from the religious composites for better acceptance of each other
• Document success stories and sharing with other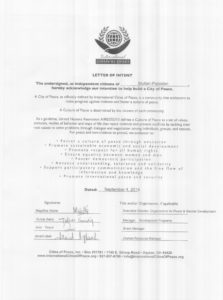 Letter of Intent
STRATEGIES

1. Formation & Training of Peace Clubs
2. Exposure visits (local)
3. Annual Peace Festivals
4. Peace walks
5. Sports Gala for Peace Promotion
---
ABOUT MAGDINE WALTER
Magdline Walter is the Executive Director of the Organization of Peace & Gender Development in Multan, Pakistan. She is the 5th child of her parents and resides with them.

Magdline holds a Masters Degree in Social Sciences as well as a Bachelor's Degree. Since 2000, she has worked in the social and humanitarian sector with CARITAS Pakistan Multan, UN HABITAT, AWAZ FOUNDATION and CARE INTERNATIONAL IN PAKISTAN.

As volunteer Executive Director, Magdline is working in the Organization for Peace and Gender Development (OPGD) as the group strives to make Multan A City of Peace from the International Cities of Peace platform.
---
CONTACT INFO
For more information, contact the leaders through email:

Magdline Walter <opgd.pakistan@gmail.com>

 
---
ABOUT MULTAN, PAKISTAN (from Wikipedia)
Multan is a city in Punjab, Pakistan. It is Pakistan's fifth largest city by population and has an area of 133 square kilometres (51 sq mi). The city is located on the banks of the Chenab River in the geographic center of the country.

Multan is known as the City of Sufis or City of Saints and Madinat-ul-Auliya because of the large number of shrines and Sufi saints from the city. The city is blanketed with bazaars, mosques, shrines, and ornate tombs. It is the birthplace of Fariduddin Ganjshakar (popularly known as "Baba Farid"), recognized as the first major poet of the Punjabi language. Multan is located in a bend created by five rivers of central Pakistan.

The Sutlej River separates it from Bahawalpur and the Chenab River from Muzaffar Garh. The city has grown to become an influential political and economical center for the country, with a dry port and excellent transport links. Multan is famous for its crops: wheat, cotton and sugar cane, mangoes, citrus, guavas, and pomegranates.
DO YOU THINK YOUR COMMUNITY CAN BE A CITY OF PEACE? SEND AN EMAIL!
 Note: If information or photos used here are copyrighted, please contact us and we will immediately delete the copyrighted material.