Nakuru, Kenya: City of Peace
Welcome Stanley Kariuki of the Life Focus Group and leader of the Nakuru, Kenya: City of Peace initiative. Stanley and his colleagues have created a wonderful vision of teaching peace throughout their community and beyond.
Note: Introduction page with information primarily at the time of joining International Cities of Peace. For updates, please contact the liaison.
ABOUT LIFE FOCUS GROUP IN NAKURU CITY

VISION
To be a leading organization in the education sector that transforms the minds of young people in schools to become peace ambassadors within our county so that education will be for and about peace.

MISSION STATEMENT
To work with like minded people to develop a culture of peace through peace education in all schools within Nakuru City and beyond by focusing on changing mind sets of students and pupils for they are the future of Kenya.


GOALS OF LIFE FOCUS GROUP

• To promote peace which will lead to a culture of peace by teaching students, pupils and teachers peace education using a peace education module given to us by TEACHERS WITHOUT BORDERS
• To make different tribes co-exist peacefully even during and after elections where democratic principles will be respected by all peoples

A BRIEF PROFILE OF LIFE FOCUS GROUP THAT AIMS TO CULTIVATE A CULTURE OF PEACE IN NAKURU CITY
The CBO is 3 years old and was formed on 12/02/2010 by 17 teachers who came from TUMAINI HOUSE SECONDARY in NAKURU TOWN of KENYA. The CBO spent the first year getting capacity training in areas of peace building to make teachers empowered. The Program Director connected the CBO to FEMINENZA INTERNATIONAL which is a grouping of women across the world who belief in "Forgiveness, Fear management and Reconciliation" as ingredients of peace. The organization did train two of our lady teachers .The Program Director in 2010 october, connected the CBO to TEACHERS WITHOUT BORDERS INTERNATIONAL to introduce peace education in Kenya beginning in Nakuru and that happened between March-April 2011 where 112 teachers of both secondary and primary schools of Nakuru District were trained by our CBO.The profile is such that we have been recognized by our education Ministry. The program director was able to link the school to James Brindley School at Birmingham City in UK to partner in global theme of "peace and conflict". The partnership is ongoing. We are seeking greater partnership so that people, who think, act and decide like we do can help us achieve our goals, missions and visions. We are committed into making our city be bacon of peace in a sea of turbulent continent of Africa where peace has eluded it for ages.

THE TEACHERS WITHOUT BORDERS "DR. JOSEPH HUNGWA MEMORIAL PEACE EDUCATION PROGRAM"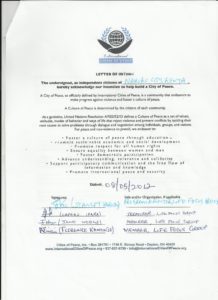 Letter of Intent
APPEAL FOR FUNDS
To achieve our goals in order to create a culture of peace in Nakuru City we need a huge financial resource to the tune of $130,000 and are appealing to potential donors to come to our aid .The money is to cover: food and drinks for workshop participants, transport of participants, hiring Public Address system and power point projector,stationeries.facilitation fees, organizing artistic competitions by students with peace themes, organizing study groups and other activities that will be made specific later.
---
ABOUT LEADER STANLEY KARIUKI
Stanley Kariuki is a teacher of Geography and History subjects at Tumaini House Secondary, Head of department of Guidance and Counseling and also Program Director of –LIFE FOCUS GROUP. He was born in 1965 and wishes to see students focus on their lives and be true ambassadors of peace for the future are great. He believes that peace and war should be taught in schools and colleges for that is where most youth are.Mr.Stanley Kariuki has connected –Life Focus Group to two International Organizations and a UK SCHOOL-JAMES BRINDLEY .He has travelled to England between 03/01/2012 to 11/03/2012 to promote peace and conflict between Tumaini House Secondary and James Brindley at Birmingham city in UK.He is willing to work with like minded people and organizations to promote peace education so that a culture of peace is globally promoted right from each city.

Contact information: STANLEY KARIUKI stanleykariuki43@yahoo.com
---
About Nakuru, Kenya (from Wikipedia):
Kenya, officially the Republic of Kenya, is a country in East Africa that lies on the equator. With the Indian Ocean to its south-east, it is bordered by Tanzania to the south, Uganda to the west, South Sudan to the north-west, Ethiopia to the north and Somalia to the north-east.
Nakuru, the provincial capital of Kenya's Rift Valley province, with roughly 300,000 inhabitants, and currently the fourth largest urban centre in the country, lies about 1850 m above sea level. It is also the capital of Nakuru District.
Nakuru is populated by people from the whole of Kenya and from many regions of the world. The town has a sizable population of Kenyans of Indian origin and a few of the original settler families also remained in the area. Although the town's population is predominantly African, the town has a cosmopolitan feel. People from different regions of the country have added a unique flavor to the town. The people and their politics make Nakuru a vibrant town. As per 1999 Kenya Population Census, Nakuru had the third largest urban population in Kenya.
DO YOU THINK YOUR COMMUNITY CAN BE A CITY OF PEACE? SEND AN EMAIL!
 Note: If information or photos used here are copyrighted, please contact us and we will immediately delete the copyrighted material.