Norwich, Connecticut, U.S.A.: City of Peace
We welcome Bonnie Hong and the citizens of Norwich, Connecticut: City of Peace.
As an International City of Peace we are proclaiming our shared desire and values with other Peace Cities. We believe that every citizen in our Community deserves equality, justice, and prosperity. Differences will always exist. Do we embrace as part of the whole that makes us stronger, or do we continue with bigotry, prejudice, and conflict? Differences often disappear when we get to know the person. Conflict can usually be resolved with a non-violent solution. It is this mindset that we are working toward. The Rotary Family in Norwich includes members from all interested groups in the Celebrate Diversity Committee (they have been responsible for spearheading this event).
Note: Introduction page with information primarily at the time of joining International Cities of Peace. For updates, please contact the liaison.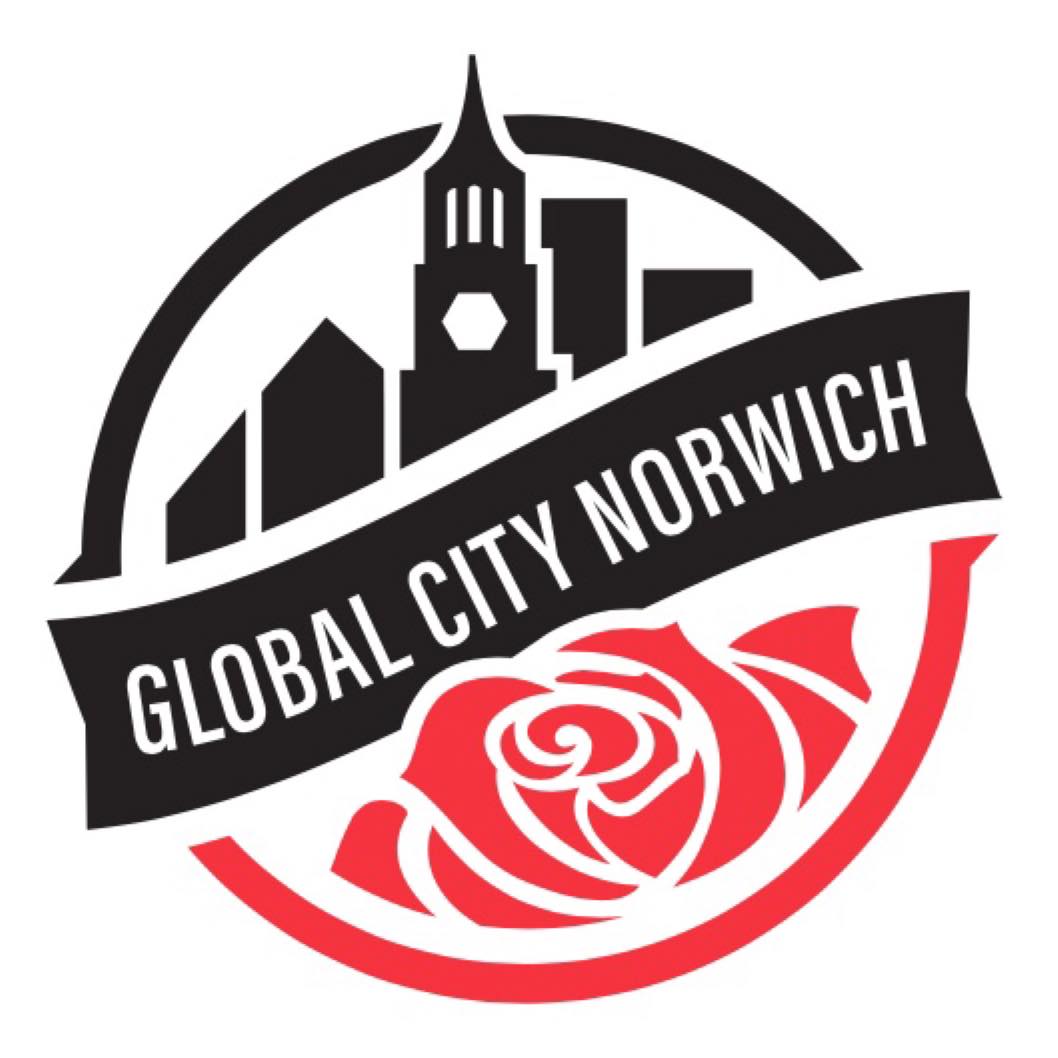 MISSION STATEMENT
We are a community of diverse cultures that at its heart is a unifying culture of peace in both mind, spirit and action.
We wish to maintain a strong and powerful identity for the City of Norwich and its residents, in being a Welcoming City. Together we can build a future of hope, prosperity, respect and responsibility.
We want to encourage a community that connects with and knows and respects its neighbor of all ages, backgrounds, abilities.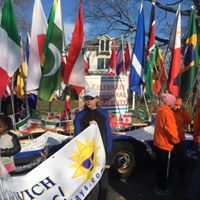 OBJECTIVE
We have established a peace park at Howard Brown Park at the Norwich Harbor which contains Four Peace Poles each with 8 Languages for a total of 30 foreign languages spoken in the homes of Norwich Residents.
We want to develop and encourage Norwich students and young adults to look at Peace building as starting in our Community. We intend to focus on peace building skills as well as other leadership and communication skills by actively including them in our projects,
We will continue to honor the International Day of Peace on September 21 on an annual basis with the Celebrate Cultural Divisity, expanding it from a one day event to a week long series of activities
We work connecting residents across neighborhoods and generations to preserve the stories, cultures and history of Norwich and its incredible legacy of immigrants for future generations.
To unify causes, programs, people and organizations for the greater good of civil society.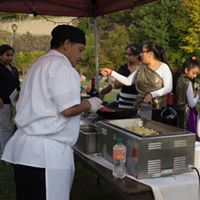 VISION
Our Vision is to spearhead sustainable peace and teamwork among our immigrant population and assist them in making Norwich a home where they feel safe and welcome.
We want to encourage all our Residents to become involved with the greater community by using their talents with other community members
To restore and regain back the culture of peace through dialogue and action among community members, and by providing for basic human needs…. Food, Shelter, Clothing, Education, and good paying jobs for economic security.
To maintain future collaborations with other Community organizations with similar interests in the regard of peace building. The Cultural Diversity Committee which started with the Norwich Rotary Club and has spear-headed the work to make Norwich an International City of Peace, currently includes members from the 5 Rotary groups,( Norwich Rotary Sunrise, Norwich Rotary Club, 2 Rotary Interact Clubs and The Rotary Community Corp), The Power of Purple, Norwich the Global City, Bully Busters, NAACP, and The Norwich Clergy Association.
To act as a unified peace building platform
---
THE PEACE POLE DEDICATION at Howard Brown Park
The Norwich Community is installing four Peace Poles, sponsored by the four Rotary Groups in the community.  The Peace Poles have the message MAY PEACE PREVAIL ON EARTH, with 8 languages on each of the poles.  These languages make up most of the Norwich Community,  Our Rotary District Governor will be coming to this event to personally present to YOU and the other 3 Rotary Groups your certificate commemorating the Peace Pole you have sponsored.   The Mayor of Norwich will be Presenting a Proclamation designating Norwich as an International Peace City, and our State Senator will be Presenting a Citation for all the work our City, Rotary, and other groups do to promote a non-violent resolution to conflict within our Community.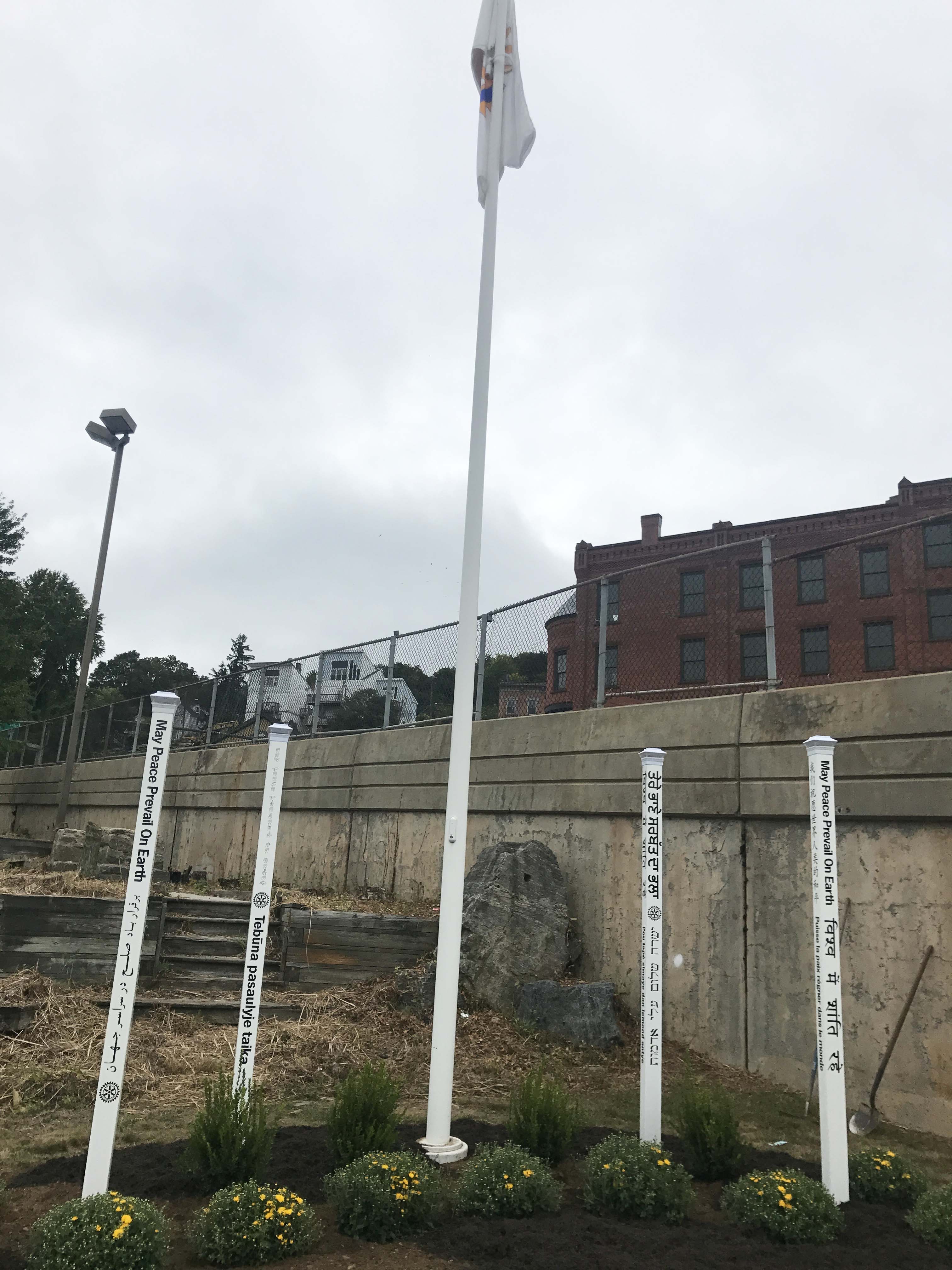 9/18/17 … Dedication of the PEACE POLES 6 PM Howard Brown Park at the Rotary Flag…  
A Peace Pole is an internationally-recognized symbol of the hopes and dreams of the entire human family, standing vigil in silent prayer for peace on earth. Each Peace Pole bears the message May Peace Prevail on Earth in different languages on each of its four sides that represent the languages and cultures that make up our City. There are tens of thousands of Peace Poles in nearly every country ( 180 ) in the world dedicated as monuments to peace and our shared values. People of all faiths have been involved in Peace Pole dedications, including the XIV Dalai Lama, Mother Teresa, President Jimmy Carter, Deepak Chopra and John Denver, as well as mayors, clubs and Girl Scouts. The Mayor of Norwich will be presenting a Proclamation in support of Norwich being an International City of Peace, proclaiming Norwich as a community strives for understanding, harmony, equality, fairness, and friendship in our communities.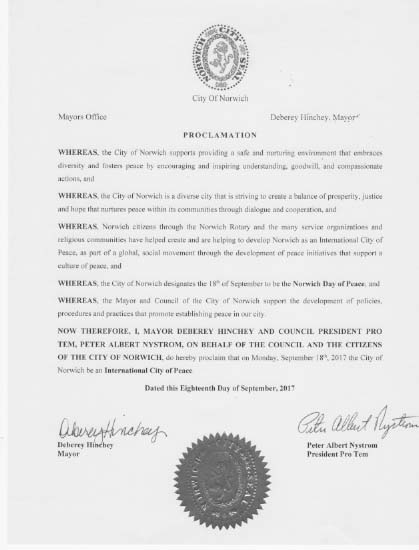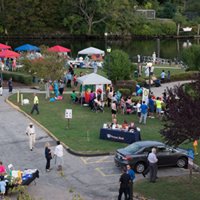 Flash Mob Flyer (1) (1).pdf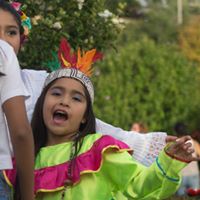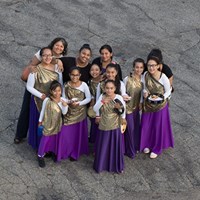 ---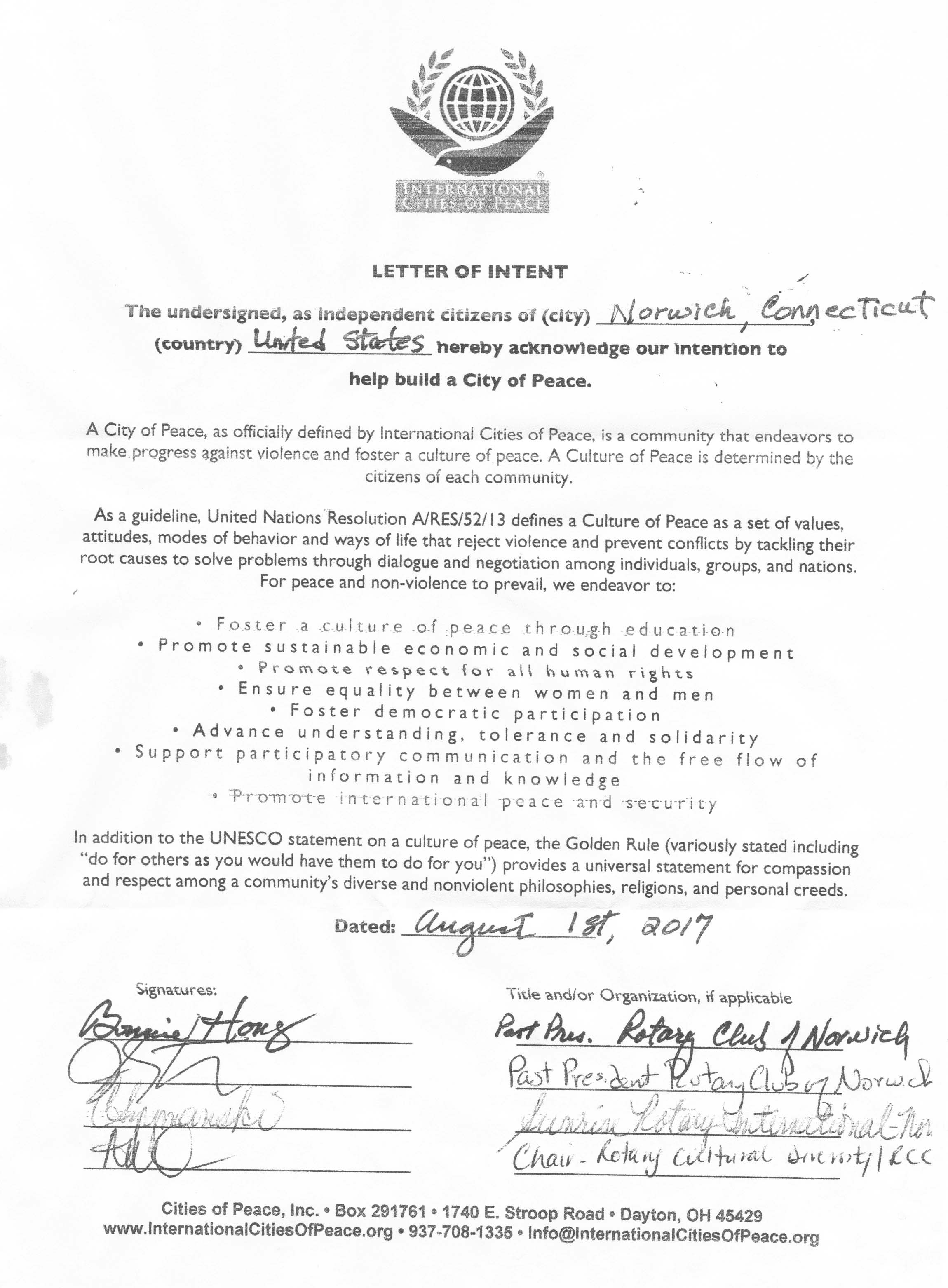 ---
ABOUT THE LIAISON
Bonnie Hong is a Registered Nurse, set up a private medical practice, served on the Norwich City Council from 1987 to 1979, and launched a company that provides Medical Office Software systems.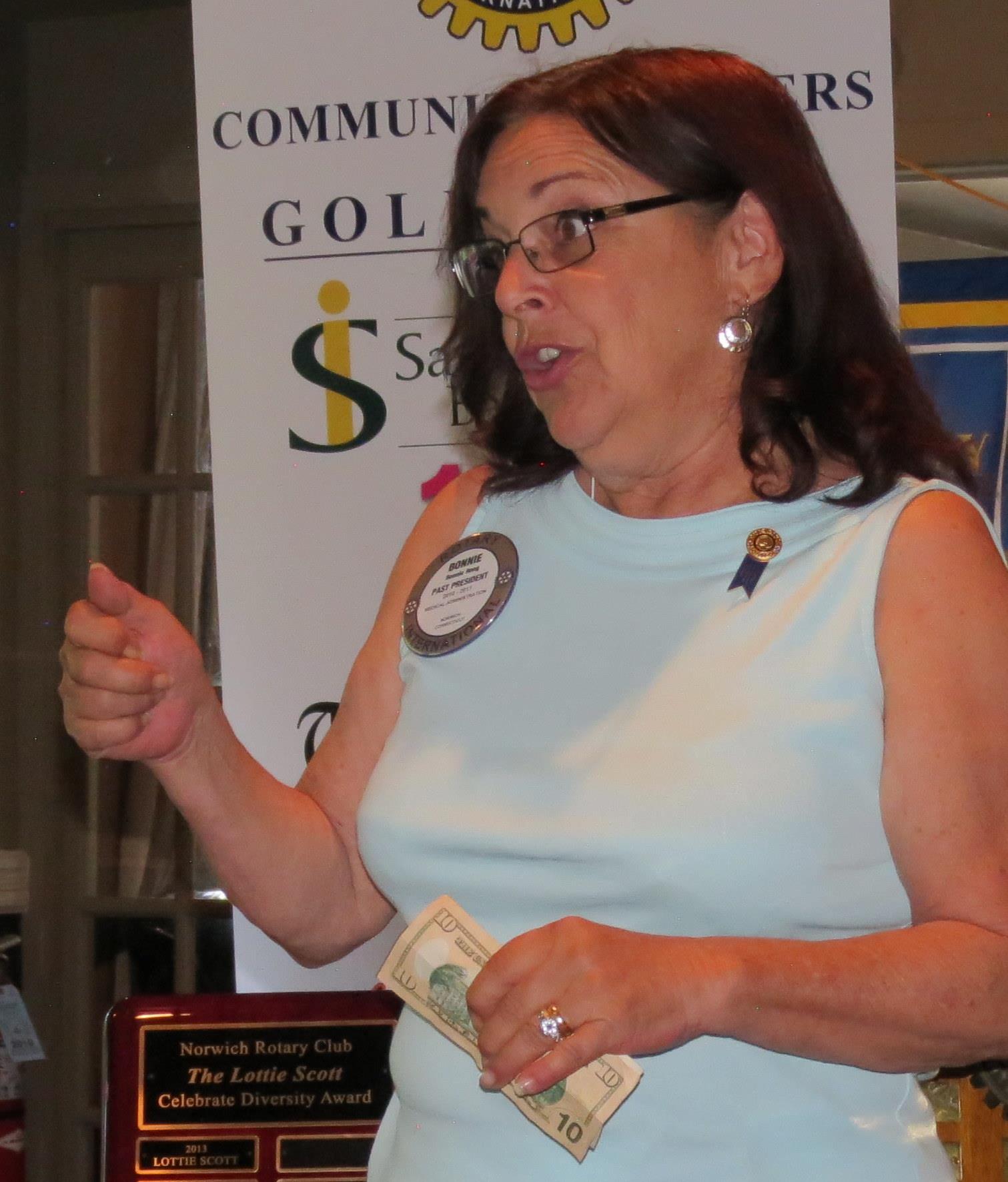 Major Accomplishments
1967: Obtained my RN degree
1967-1977 : Worked as a Registered Nurse in various positions, including Industrial Nursing, School Nurse, Long Term Care Nursing, Hospital Staff Nurse, including Head Nurse, and Cardiac ICU
1977: Designed and set up a Physician's Private Practice Office, overseeing construction and remolding, purchase of all equipment, and organized a file, appointment and billing system. Functioned as the Office Administrator
as the practice grew to six staff physicians from 1977 until 2008.
1978- 1979: Started a Housing cleaning service, which was sold to an employee one year after establishing a
profitable Company.
Early-Mid 1980's: Recognized the efficiency of electronic claims submission; I worked with our local Medicare
office and submitted the First electronic claim to Medicare in the State of Connecticut.
1987-1991: Served on the Norwich City Council, and as the Chief Elected Officer for the City of Norwich.
1989-2000: I designed and developed a completely computerized medical office software system that included a complete EMR (electronic medical record) that electronically orders and tracks all medications, tests and lab results, and provides for electronically receiving, filing and tracking of lab and test results.
ADMINISTRATOR
C.R.Hong MD Jan 2009 to present
The mission of the practice i s to provide quality medical healthcare and personal attention in a comfortable
setting to the homebound and shut-in patients who have no other easy access to medical care.
---
CONTACT INFORMATION
Bonnie Hong
---
ABOUT NORWICH, CONNECTICUT (from Wikipedia)

Norwich, known as 'The Rose of New England', is a city in New London County, Connecticut, United States. The population was 40,493 at the 2010 United States Census. Three rivers, the Yantic, the Shetucket, and the Quinebaug, flow into the city and form its harbor, from which the Thames River flows south to Long Island Sound.
Connecticut is the southernmost state in the New England region of the northeastern United States. As of the 2010 Census, it has the highest per-capita income, Human Development Index, and median household income in the United States.
It is bordered by Rhode Island to the east, Massachusetts to the north, New York to the west, and Long Island Sound to the south. Its capital is Hartford and its most populous city is Bridgeport. It is part of New England, although portions of it are often grouped with New York and New Jersey as the Tri-state area. The state is named for the Connecticut River, a major US river that approximately bisects the state. The word "Connecticut" is derived from various anglicized spellings of an Algonquian word for "long tidal river".
A Brief History of Norwich
Norwich was founded in 1659 by settlers from Saybrook led by Major John Mason and Rev. James Fitch. The land was purchased from the local Mohegan tribe, led by their Sachem (Chief), Uncas. The early settlement was around the Norwichtown Green. Supplies were brought from a landing near the base of Yantic Falls. By 1684, settlers authorized a new public landing at the head of the Thames River, site of the present downtown.
Of historical interest Norwich holds a prominent position. It has an aboriginal as well as an English and American history. The first planters were a body of men who displayed much of the genuine old English character, and left the impression of their origin deeply stamped upon our laws and regulations.
Since the Nine-miles-square was bought from the Native American Indians, no battles were fought and good relations were maintained with our Native American neighbors.
The original center of the town was a neighborhood now called Norwichtown, an inland location chosen to be the center of a primarily agricultural farming community. By the latter 18th century, shipping at the harbor began to become far more important than farming, especially when industrial mills began manufacturing on the three smaller rivers.
By the early 19th century, the center of Norwich had effectively moved to the Chelsea neighborhood. The official buildings of the city were located in the harbor area, such as the City Hall, courts, and post office, and all the large 19th-century urban blocks. The former center is now called Norwichtown to distinguish it from the current city.
Norwich merchants were shipping goods directly from England, but the Stamp Act of 1764 forced Norwich to become more self-sufficient. Soon large mills and factories sprang up at the falls on the rivers which traverse the town. The ship captains of Norwich and New London who were skillful at avoiding Imperial taxation during peacetime later were just as successful eluding warships during war.
During the American Revolution Norwich supported the cause for independence by supplying soldiers, ships, and munitions. Norwich was also a center for activity for the Sons of Liberty.
Hello, with that spelling, was first used in publications in the US as early as the 18 October 1826 edition of the Norwich Courier of Norwich, Connecticut.  Norwich has always been a destination for immigrants, and is not only a part of our history but a strength in our growth.  From the early French, German, Irish and Polish immigrants that came to work in our factories to the African American slaves that came from the southern states to find freedom.  More recent immigrants have come from Haiti, South America and Asia seeking a better life.  We now have over 30 different languages spoken in homes here in Norwich.
Note: If information or photos used here are copyrighted, please contact us and we will immediately delete the copyrighted material.