Young people using community work as a tool for promoting cooperation to foster a culture of peace
Nyiragongo, North Kivu, D.R. Congo: International City of Peace

We welcome to Kubuya Mulindwa Dieuavu (Diavy Kubuya) and his colleagues who have established Nyiragongo, North Kivu, D.R. Congo as an International City of Peace. The community lives in the shadown of Mount Nyiragongo as well as the violence of war and conflict. Now they rise together to create an Action Plan and work for greater peace.
Note: Introduction page with information primarily at the time of joining International Cities of Peace. For updates, please contact the liaison.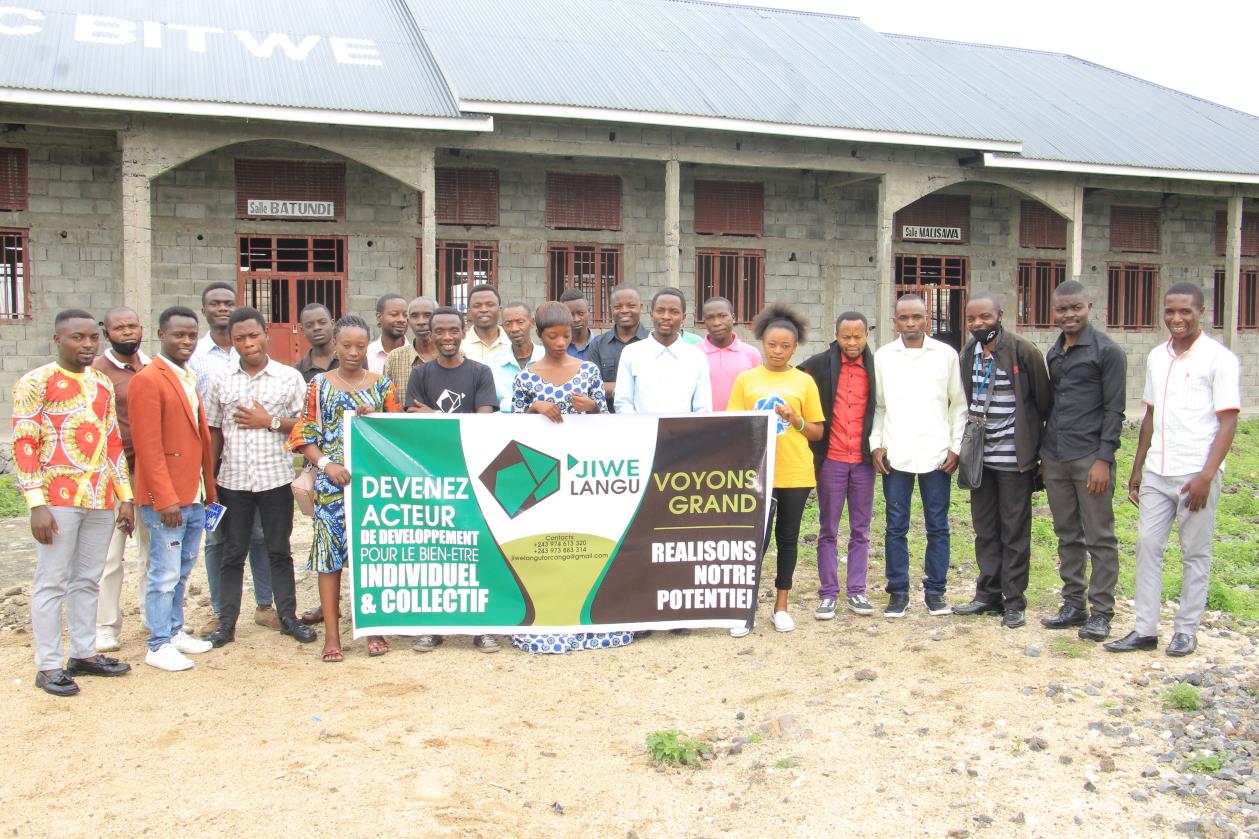 Members of JIWE LANGU after a session of discussion on peace building 
---
---
CHALLENGES
For more than two decades, the Eastern part of DRC in general and the North Kivu province in particular have experienced war and violence. Several crimes have been committed: rapes, mass killings, etc .According to some reports, more than 12 million persons have lost their lives.
In this context, the territory of Nyiragongo was not spared. The consequences of the passed armed conflicts are still visible up to now: Internally Displaced Persons, permanent insecurity and malnutrition.
To face these challenges, Jiwe Langu has committed to contribute to organize peace building workshops to help young people strengthen their resilience and contribute building a long-term peace based on harmony, compassion and team spirit.
---
---
VISION
To contribute to a lasting, positive peace in our community through education, community activities and dialogue.
---
---
MISSION
To foster a culture of peace amidst youths for sustainable peace in our community. This will be achieved by a set of actions, which follow:
Community activities;
Leadership Training sessions;
Groups of discussion on peaceful coexistence;
Peace building workshops;
Sport and cultural events.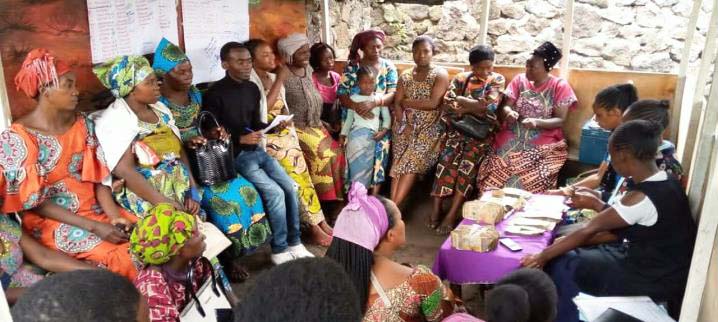 Session of the Village saving and loans association to help women empowerment and peaceful coexistence
---
---
GOALS
To organize community activities(planting trees, clean-up activities) to sensitize on the importance of working in team to reach greater results by an effective nonviolent communication;
To hold leadership training sessions to teach the youth how to take initiative and influence their communities;
To encourage young people to be ambassadors of peace in the community in order to become role models;
To organize peace building workshops to help young people build their capacity;
To help young people use sports and other cultural activities as tools to contribute building a long-term peace based on harmony, compassion and team spirit.
---
---
LETTER OF INTENT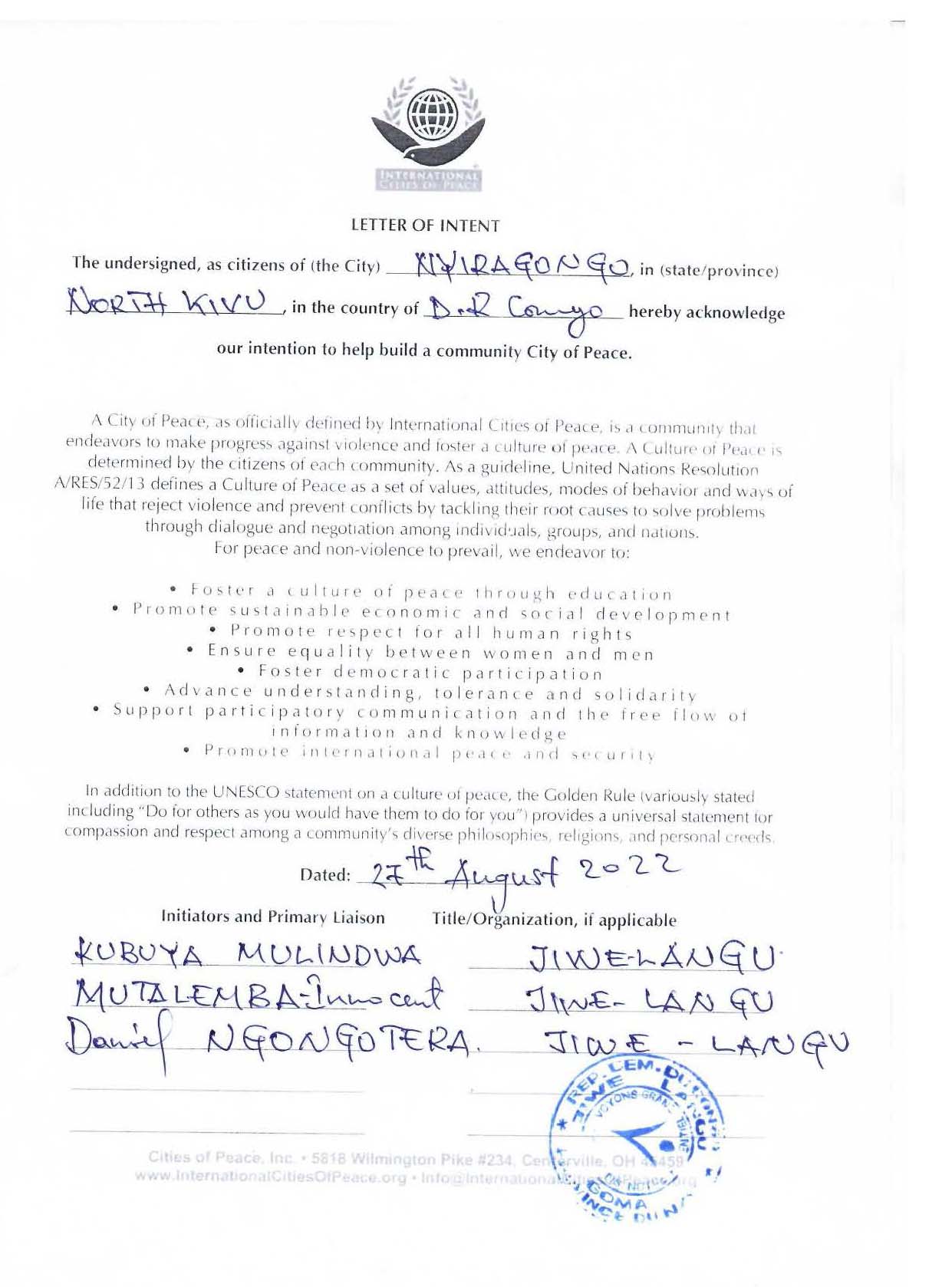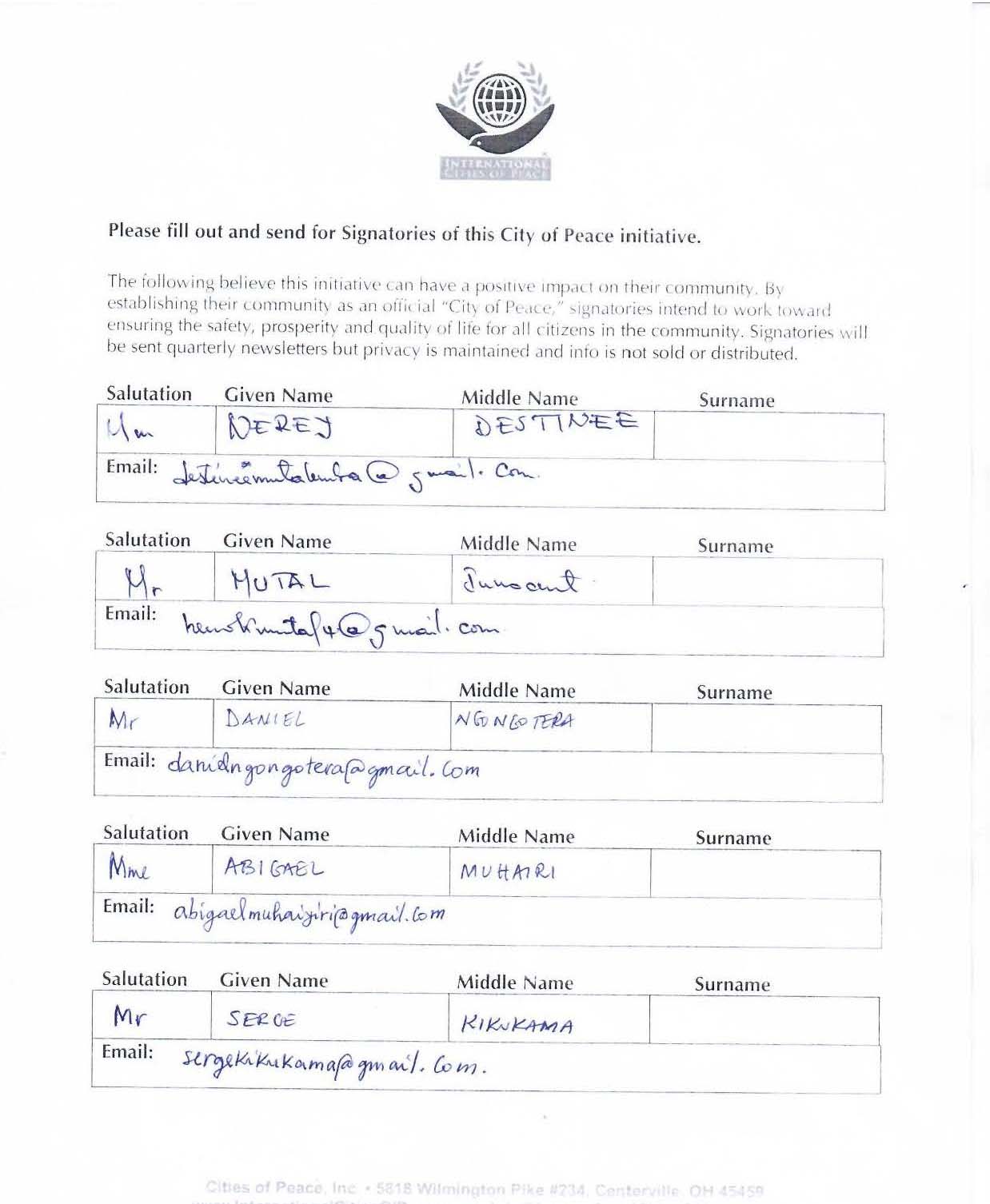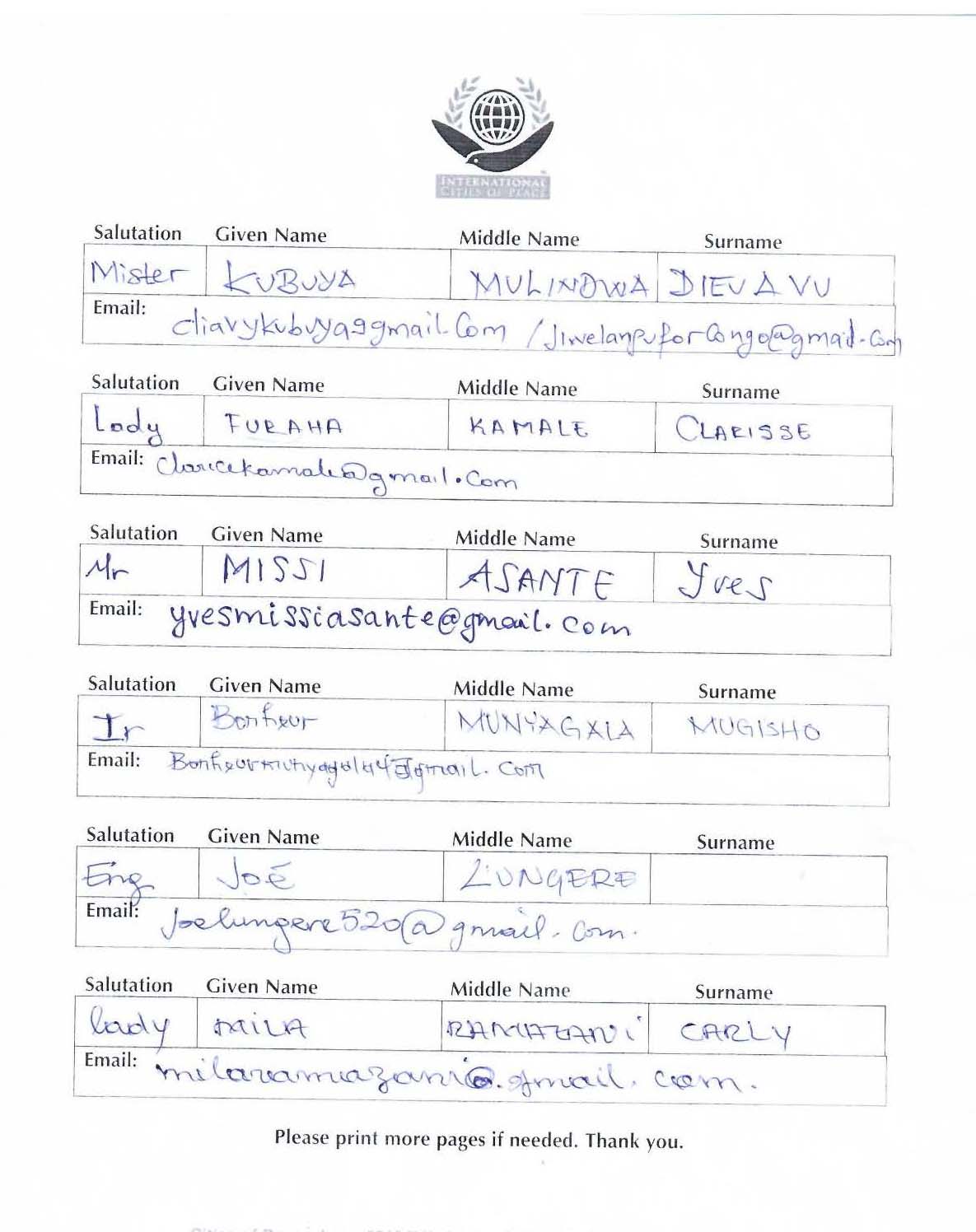 ---
ABOUT THE LIAISON
Kubuya Mulindwa Dieuavu (Diavy Kubuya)
Born in 1991 in Goma/DRC, KUBUYA MULINDWA DIEUAVU, also known as Diavy KUBUYA,is one of the founders of the nonprofit called JIWE LANGU (my stone). After obtaining a bachelor degree in management at ULPGL (Free University of the great lakes region), he dedicated his life to youth and women empowerment ,by creating Village Saving and loans Associations in Goma town and Nyiragongo territory.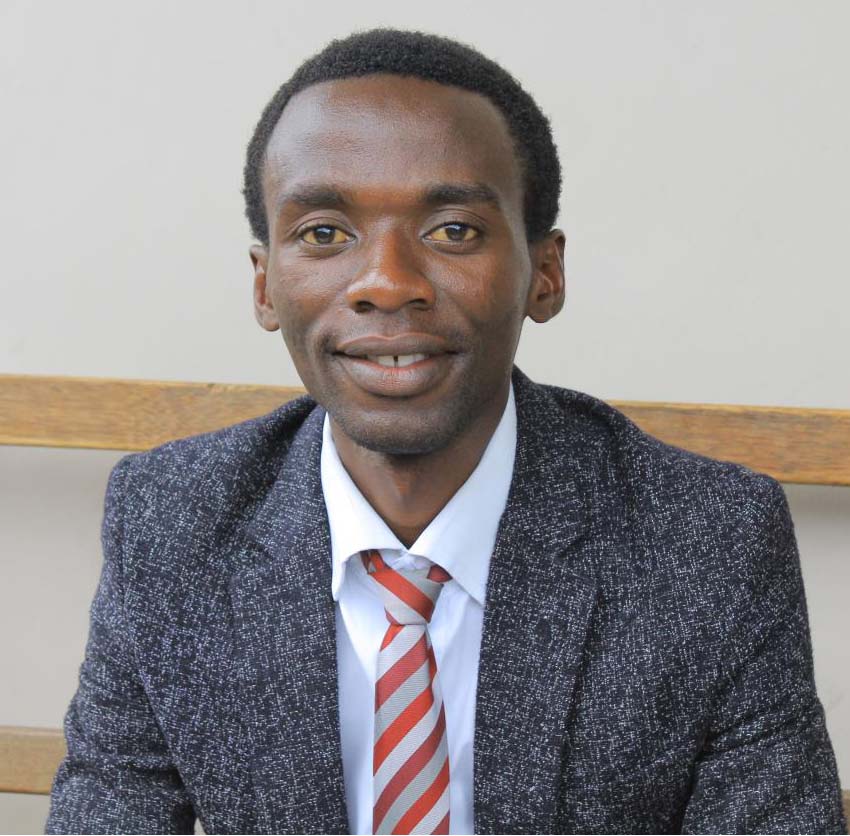 Diavy KUBUYA has been elected as vice president of the youth council of Goma since November 2020. Besides, since 2016 KUBUYA is a facilitator of youth discussion groups in gender equality and non violence. He also work as volunteer and consultant in several youth organization in the Eastern part of the Democratic Republic of Congo.
---
CONTACT INFORMATION
---
ABOUT Nyiragongo, North Kivu, D.R. Congo (from Wikipedia)

Mount Nyiragongo is an active stratovolcano with an elevation of 3,470 m (11,385 ft)[1] in the Virunga Mountains associated with the Albertine Rift. It is located inside Virunga National Park, in the Democratic Republic of the Congo, about 12 km (7.5 mi) north of the town of Goma and Lake Kivu and just west of the border with Rwanda.
The main crater is about two kilometres (1 mi) wide and usually contains a lava lake. The crater presently has two distinct cooled lava benches within the crater walls – one at about 3,175 m (10,417 ft) and a lower one at about 2,975 m (9,760 ft).
Nyiragongo's lava lake has at times been the most voluminous known lava lake in recent history. The depth of the lava lake varies considerably. A maximum elevation of the lava lake was recorded at about 3,250 m (10,660 ft) prior to the January 1977 eruption – a lake depth of about 600 m (2,000 ft).
Following the January 2002 eruption, the lava lake was recorded at a low of about 2,600 m (8,500 ft), or 900 m (3,000 ft) below the rim. The level has gradually risen since then.[3] Nyiragongo and nearby Nyamuragira are together responsible for 40 per cent of Africa's historical volcanic eruptions.
Note: If information or photos used here are copyrighted, please contact us and we will immediately delete the copyrighted material.