Ogamo, Kenya: City of Peace
Welcome to Raymond Orenda and his family and neighbors who have initiated Ogamo, Kenya: City of Peace. They have started the Organic Food Kenya program to help create a more prosperous and safe community of peace.
Note: Introduction page with information primarily at the time of joining International Cities of Peace. For updates, please contact the liaison.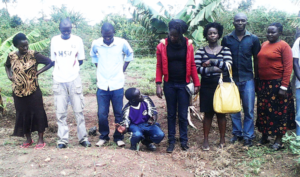 ORGANIC FOOD KENYA


The group is a non-profit-organization located at Ogamo village in Kokech location, Homa-Bay County in Nyanza Province Kenya.

It was registered under ministry of gender, sports, cultural and social services. The certificate number is SRD|YG|148|2013.

We are a young, small organization and our growth is strategic and carefully planned. We expand our effort by developing networking, training groups of farmers to work independently within their communities. We want to promote the utilization of natural resources they depend on by advancing the practice of sustainable Agriculture.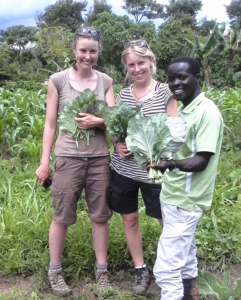 VISION
A situation where small scale farmers are recognized in the community with their innovation as well as their strength which is fully utilized for their owns and the society's good. Hence the community moves towards a sustainable development.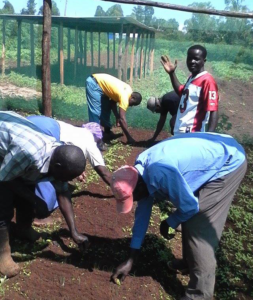 MISSION
Rural communities in which organic farming is recognized as an environmentally friendly, economically viable and socially approach to sustainable food production.
OBJECTIVES
food security

water conservation

improvement of incomes

maintained of biodiversity

preservation and promotion of agriculture on smallholdings

Education and health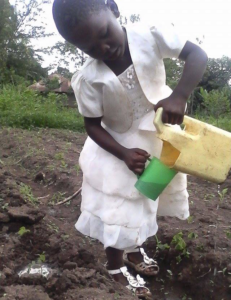 STRATEGIES
trainings

technology, information access and transfers

networking and collaborations

institution strengthening and capacity building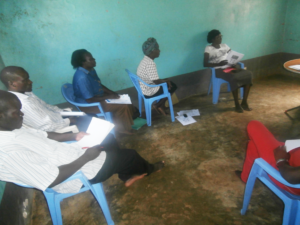 CORE VALUES
honesty

dedication

integrity

democracy

transparency and accountability

respect for all stakeholder

zero tolerant for corruption

fairness

justice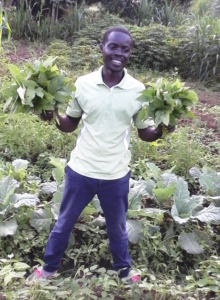 ACTIVITIES
Current:
Training young farmers on techniques of farming

demonstration farm with crop husbandry

intercropping

Rural enterprises (soap making, cake baking, yoghurt making, juice and jam)
Future:
ECDE/ OVC Centre

kitchen gardening (bio intensive farming)

saving and credits

tree nursery and planting

compost making

fodder establishment and management

Fish farming/acquiponics

Green energy ( Solar lamps)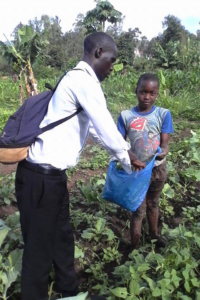 Outreach Programmes:
farmers learning center (demonstration farm)

farmers education exchange visits

training on training for all communities groups
---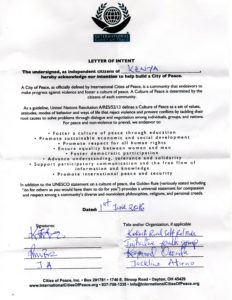 Letter of Intent
ABOUT RAYMOND ORENDA
From Raymond: We are young couples staying at Ogamo village Kokech location which is outside a small town called Oyugis in Homa-Bay County in Nyanza Province Kenya.
My family is blessed with one sweet baby boy called Allan and my wife and I are both the founders and the lead champions of ORGANIC FOOD KENYA which is a nonprofit making organization formed to reach out to vulnerable people in the community.

The village has a population of 52,433 and the area does experience climate changes and due to this agriculture is viewed by the populace as a total failure. Youths roaming around in the villages with quite negative attitude about agriculture .Older males migrate from our villages leaving behind plenty of unutilized land, for search of employment in cities. To many in this region agriculture is viewed as an old colonial practice that never pays back.

As a young man who had gone through challenges in life and fully understands what it feels for someone going through the same in life. After my agricultural College I thought it wise to give back to the community and we are setting example that improved Agriculture can be a sure source of livelihood.

Again due to cereal crops failure and rapid climate changes, farmers need to be trained in sustainable organic farming, irrigation at least to make use of the Lake Victoria water and drip lines.

We are training and empowering young farmers on agricultural techniques in our community to be self-reliant in our food supply. We have also initiated a program FAITH GARDEN (FOOD ALWAYS ON THE TABLE) with the community young farmers and we are planning to give out starter kits (assorted seeds and drip line) to motivate them after the trainings.

There is a great need to train young farmers here farmers here thus promoting one day peace. My wife Jacky is a trained ECDE (Early Childhood education) teacher and we are looking forward to start an OVC Centre where the orphans and vulnerable Children can get education and learn.

We are committed to this and doing it voluntarily without any support from any organization. It is always our prayers and desire to reach out to as many young farmers as we can thus continue impacting many lives! We welcome individuals, organizations well-wishers who may have interest to support our work to reach out to as many people as we can!

We are open and easy to work with!
Otherwise may God bless you may God bless Kenya!
---
CONTACT INFO
For more information please contact:

MR AND MRS RAYMOND AND JACKY ORENDA
P.O. BOX 118-40222, OYUGIS, KENYA,
EAST AFRICA.
E-mail: orendaraymond@gmail.com

Phone: +254705204424

 
---
ABOUT OGAMO, KENYA (from Wikipedia)

Ogamo is situated in Kodera sub location, 10 Km away from Oyugis town. It has 280 households. Kenya is a country located in AF region. The city capital is Nairobi.

The area that experience drought due to climate changes. It has poor soil that make it hard for many people to grow enough food for their families. And most families here depend on subsistence farming especially on groundnut, maize and potato production.

Too many in this area always find it very hard to provide for their families due to high poverty level. Thus many go without food in this region. There is shortage of water and many people move for a long distance to look for clean water and because of this many people here get infected with water borne diseases thus leading to many deaths!
Healthwise there is only one health facility, which is located at a point and many people who come from far though with this community find it a bit hectic reaching at health Centre in time especially when there is a gent need!

There are quite a number of Orphans, widows, widowers due HIV/ AIDS disease that killed many in this region.

Educationwise, many children walk for a distance to go to public schools which is a bit far from the village. We have come out to bridge the gap by empowering young farmers on techniques of farming to raise more healthy foods hence becoming self-reliant! We therefore calling upon well-wishers and friends to stand with us and continue to reach out as many people in this region as we can.
DO YOU THINK YOUR COMMUNITY CAN BE A CITY OF PEACE? SEND AN EMAIL!
Note: If information or photos used here are copyrighted, please contact us and we will immediately delete the copyrighted material.