Ogume, Nigeria: International City of Peace
We welcome HRM Dr. Valentine Sunday Akpati to our Leadership Council. He is establishing his home town of Ogume, Nigeria in the Delta State as an International City of Peace. He will be connecting his network of traditional spiritual leaders in Africa as a movement to extend a Culture of Peace in cities and countries on the continent. Dr. Valentine is a specialist in counseling, alternative health care, and conflict resolution.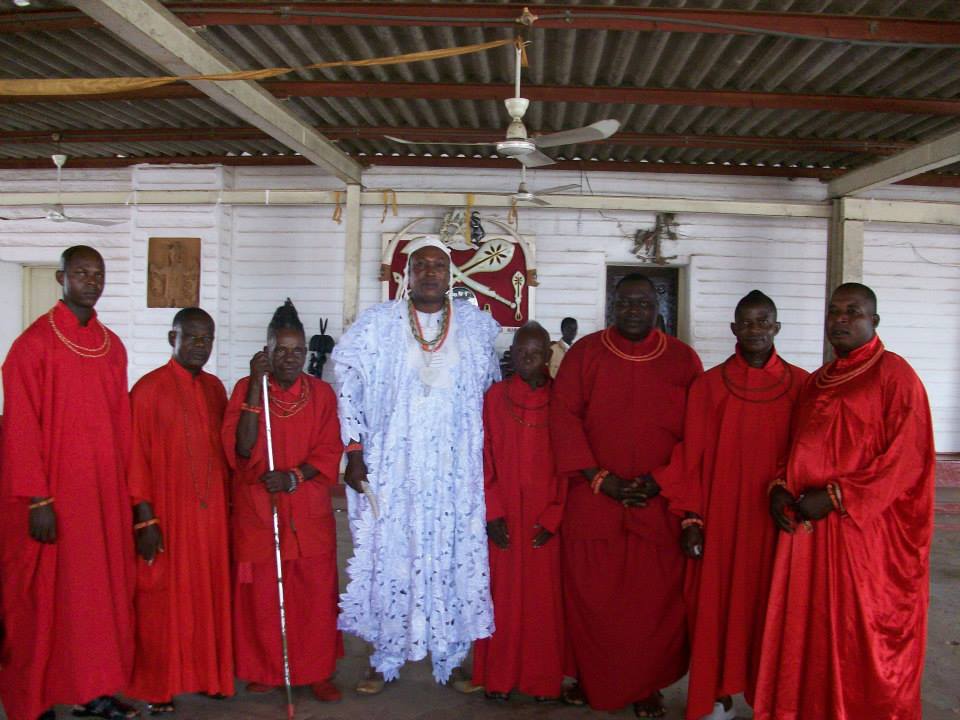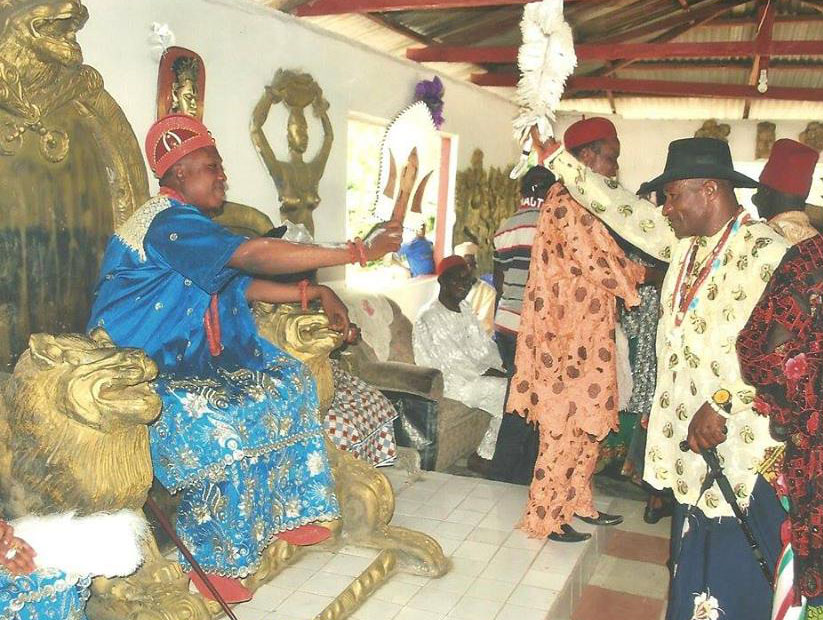 HRM/HE Dr. Valentine Sunday Akpati is a recipient of many distinguished Awards including: Ambassador for peace UPF/UN Peace ambassador of Ndokwa Nation African People Leadership Gold Award ACPA from Edo legacy foundation. Award of Excellence from SUG University of Benin custodian of culture from Ogbondokwa concepts. Pillar of African Tradition – Royal Africa Director of Goodwill Ambassador from Foundation of integrity in Governance in Africa – FIGAINC Directorate degree of Philosophy Doctor of Excellence honoris causa Among many others. ROYAL TITLES HRE – Osele-Uku of Anioma (Delta North) Representative/Spiritual leader HRE – Osele-Uku of Ogume land Spiritual leader/Royal regent of Ogbe-Ogume Traditional Council HRM – Aare Oba Ogboni of Delta State President/Traditional Ruler of AOFN Delta State HSM – Oba Onide Aje worldwide High Golden King of Aje Worldwide HSM – BALORO OF IGBORE – ABEOKUTA HRM – Oba Risa of South-South Nigeria –   Ndokwa West is a Local Government Area of Delta State, Nigeria. Its headquarters are in the town of Kwale (Utagba-Ogbe).  It has an area of 816 km² and a population of 149,325 at the 2006 census.
Note: Introduction page with information primarily at the time of joining International Cities of Peace. For updates, please contact the liaison.

---
PROPOSAL TO HOST INTER RELIGIOUS GLOBAL PEACE SUMMIT
Our world is heading towards destruction, the main cause of this is the battle for supremacy by the religious paradigms, religious extremists have to tally polluted the earth, wasting human life, killing and maiming people in the name of religion – this is so sad. Religious intolerance gave birth to terrorism, it continues like this, soon there will be no life left to continue practicing any type of religion.
Looking around us in nature we see the beauty in the various different species and sub-species of life forms, all harmoniously living according to their homogeneous soil. The united nations charter encourage freedom of association – it is in the search for the solution to ending this inter-religious global war that the Royal Traditional Priesthood Federation in Partnership with the prestigious academy for universal global peace have agreed to host an inter-religious global peace summit to be held in December 2nd 2018 in Ogume land, Ndokwa West Local Government Area Nigeria.
The paramount leader of the royal priesthood His Royal Eminence Dr. Valentine S. Akpati is the official peace ambassador representing academy of universal global peace/united nation university for global peace in Nigeria and has been commissioned to that office being the first Nigerian to be award Nobel peace leadership from the ANGP/UNUGP the founder and chairman of the AUGP His Eminence, Most Revd. Dr. Madhu Krishan will deliver the keynote address supported by Eminent Global Peace Icons. This message is to seek your support and sponsorship/participation towards hosting this great event. We are calling  upon religious groups, churches, mosques, religious organization to come and let us reconcile to save our word, our country from destruction.
---
LETTER OF INTENT
DELTA STATE NIGERIA
HRM/HE AMB. DR. VALENTINE SUNDAY AKPATI ROYAL REGENT OF OGBE-OGUME TRADITIONAL COUNCIL PARAMOUNT RULER OF ROYAL TRADITIONAL PRIESTHOOD FEDERATION CHIEF OLUSEGUN JIRE OGUNWALE PALACE CHIEF OF RTPF 20TH AUGUST, 2019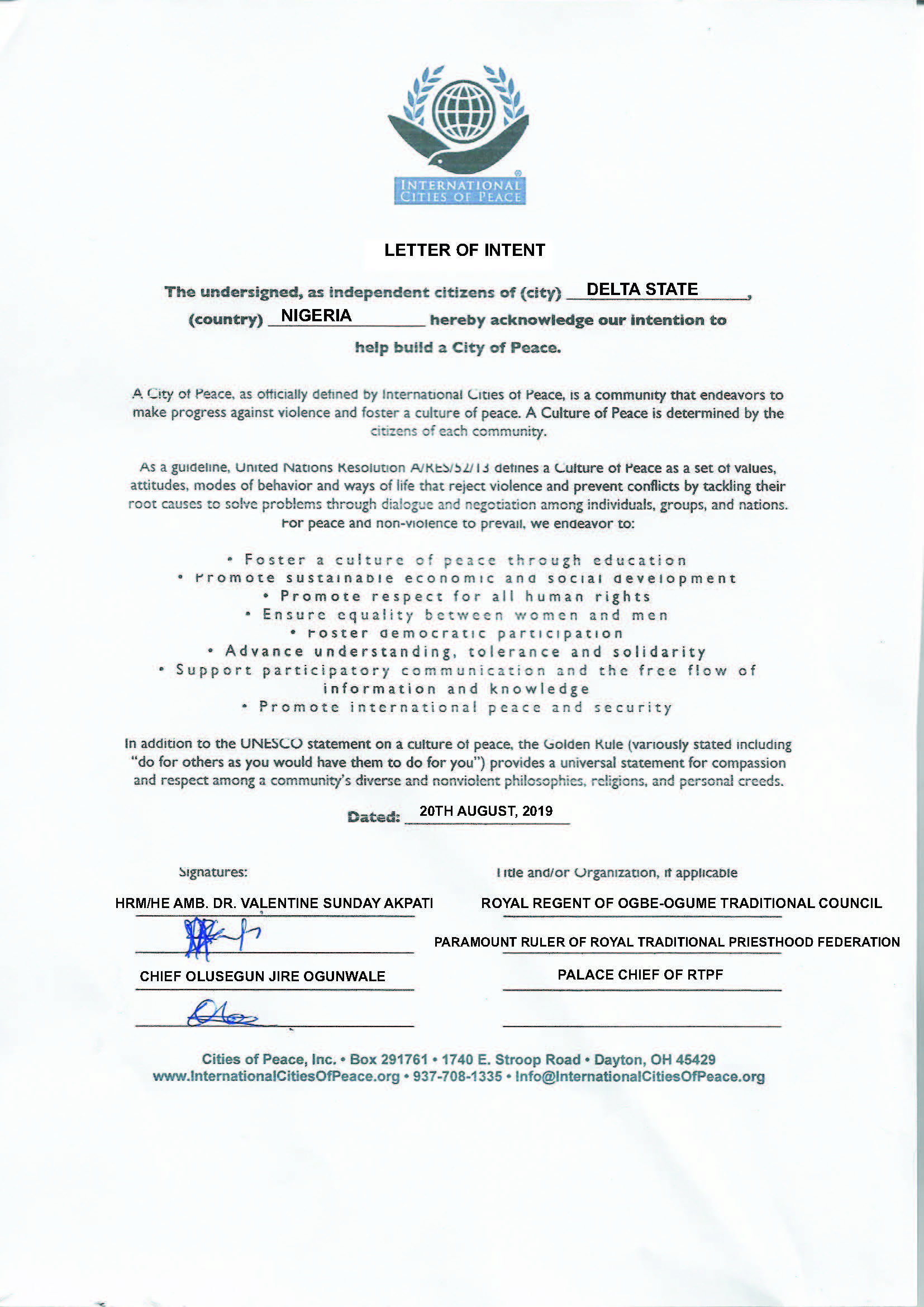 ---
THE LOVING SYSTEM
BY HRM. DR. VALENTINE SUNDAY AKPATI
My people. My beloved People… looking at myself I see you all inside me…. The Hierophant feels the wisdom of his fathers….. the loving system…. The latest and yet the oldest system of creation… the only system that recognizes all the religious .. accepting each others independence …. Every body should be free to decide how to live his life spiritually and physically as long as he does no harm to others…. The loving System… the original system of my forefathers that united us into homogenous groups.. Tradition… all united by loving principles.. bind people together to love and accept themselves as a people,,,. The diseases, jealousy is finally destroyed…. WE ARE ALL EACH OTHER … one unit in many … In My Own paradigm… I have submitted totally to the loving system ….. I am swimming in love.. totally protected by living love.. everybody starts realizing that they are all one…. They feel … they feel love deeply… so deep that transformation takes place… transmutation takes place…. The arrival of Man.. the priest king of creation. The image of Divine love… leading creation to the golden age of awareness.. pure communication.. light streaming forth … the sweetness of all life existing manifests…. And the bitterness in the air disappear.. the air is sweet and fresh with love divine … the loving system … Allah is great … Jehovah is great… Olodumare is great.. Chukwu is great … etc. Jesus. Mohammad,, Buddha.. all are great symbols of love.. all the religions have love interwoven into the fabric of their system.. so the love system interconnects all religions … all existing as beacons of light … beacons of truth.. my heart is so tenderly loving my people.. inter religious peace will install political peace.. the loving system … the system of loving.. when you attack me with hatred.. I smile.. my smile produces great love for you.. changing you to a loving being…. For you are a child of love too…. Stop looking at your brothers system as bad… if he likes your system he will come by himself according to the law of attraction of homogenous species… love is my power… my life.. my soul.. my everything.. the system of loving…the loving system.. my people start laughing more and more… dancing spirits arrive… bringing sweet songs of love from creation.. ooohhh.. a beautiful, powerful wave of sweetness descends on earth….gentle sweetness.. healing sweetness..i am a living image of sweetness…a sweetness that cannot be sick.. immune to all forms of negative attacks both spiritual and physical.. the loving system.. my system.. our system.. the system of immorality…. The religion that loves all religions of truth eternal… the religion of Love.
       

---
ABOUT THE LIAISON
HIS ROYAL MAJESTY/HIS EXCELLENCY DR. VALENTINE S. AKPATI TWLF INTERNATIONAL EXECUTIVE DIRECTOR ROYAL AFFAIRS AFRICA AUGP/UNUGP DIPLOMAT DIPLOMATIC CHIEF PEACE AMBASSADOR, NIGERIA UNITED NATIONS UNIVERSITY FOR GLOBAL PEACE/ACADEMY OF UNIVERSAL GLOBAL PEACE PARAMOUNT RULER ROYAL TRADITIONAL PRIEST HOOD FEDERATION
HRE/HE  AMB.DR .Valentine Sunday Akpati was born on September 11 1966 in Ogume. Ndokwa west LGA Delta State Nigeria. He was brought to Lagos state Nigeria, attended Primary and post primaries school in Lagos state. Then from childhood, he was having spiritual experiences that prompted his mother to carry him to many churches and spiritual homes for solution.

He was recalled home to Ogume land and passed through a lot of challenges, going to the holy forest, spending three years, and later more weeks and months untill he dug out from the earth the staffs of office of the ancient High Priest of Ogume.
In 2004, he was installed as the Osele uku of Ogume at the Udonmiri holy forest in June 2000, the regent of the Onotu uku in council. He left the country to travel and further his education. Travelling to many countries, he furthered his studies and received a Diploma in Conflict Management from Stonebridge Associated Colleges (SAK), in the United Kingdom. He also earned a Diploma in Clairvoyance as well as an Advance Diploma in Stress Management Consultant from SAC UK.
He was recalled in 2007 by His Imperial  Majesty Oluaiye Dr Mobolaji Naibi, Paramount ruler of the Aborigine African Traditional Religion, and installed as HRM world Royal representative of the ATR. Later, he was honored as the HRM President and high king of the AOAN for Delta state Nigeria, High golden king of Aje. Osele uku of Anioma, and many others positions.
He is an ambassador for peace of many U.N. recognized organizations, such as the Academy of Universal Global Peace and the United Nations University for Global Peace. He has participated in the World Leaders Forum, the Universal Peace Federation, to name a few.
In 2013, His Royal Eminence/Excellency Dr V Akpati founded Royal Traditional Priesthood Federation and was installed as the High Priest King of the Royal traditional priesthood federation kingdom on September 20th of that year. He was recalled home to Ogume to lead his people and installed as the Regent (Onochieze) of the Ogbe Ogume Traditional Council. Ogume is a land of seven villages, which trace their origins from the great Benin kingdom.
HRE Dr V Akpati Main occupation is counseling, alternative healthcare, and conflict resolution.
---
CONTACT INFORMATION
---
ABOUT OGUME, NIGERIA (from Wikipedia)

The town of Ogume is in the Delta State, an oil and agricultural producing state in Nigeria. It is situated in the region known as the South-South geo-political zone with a population of 4,112,445 (males: 2,069,309; females: 2,043,136). The capital city is Asaba, located at the northern end of the state, with an estimated area of 762 square kilometres (294 sq mi), while Warri is the economic nerve center of the state and also the most populated. It is located in the southern end of the state. The state has a total land area of 16,842 square kilometres (6,503 sq mi).
Delta State was defined out of the former Bendel State on 27 August 1991. The state was actualized following agitations for the realization of a separate distinct state by the peoples of the old Delta Province. There was yet another state request proposed as "Niger State" comprising the Asaba and Aboh divisions of the old Midwest region. The then Military President, Gen. Ibrahim Babangida, recognized Delta state but chose "Asaba" a prominent town within the "Northwestern lower Niger" as capital city. The proposed capital was a virgin land in the heart of the two constituent divisions that constitutes the Northwestern lower Niger. Delta state was once integrated in the Mid Western state from 1963 to 1976 and later Bendel state, from 1976 to 1991. The name "Bendel" (Ben-Del) coined from the old Benin and Delta Provinces of Western Region-Delta to reflect the integration of Benin and Delta provinces.
Delta State is predominantly inhabited by the Edoid Urhobo-Isoko; the Igbo, the Ijoid Izon and the Yoruboid Itsekiri and Olukumi . The population of other groups in the state are negligible. The Edoid Urhobo-Isoko are the most predominant people inhabiting the state and currently are more than 3 million people. The Igbo populating Delta State and Onitsha or nearby are referred to as people of the good land (Igbo : Anoma) and reside throughout the state mostly because of trade. The Itsekiri speak a language very closely related to Yoruba but have been culturally influenced by the Edo from neighbouring Edo state, as well as the Urhobo, Ijaw and Portuguese. The Izon are a group of people related to the predominant people of neighbouring Bayelsa State while the Olukumi are becoming culturally and linguistically extinct due to acculturation and assimilation.
Note: If information or photos used here are copyrighted, please contact us and we will immediately delete the copyrighted material.