Recognition of outstanding youths as part of the activities marking International Youth Day in 2019
Oluyole, Oyo State, Nigeria: International City of Peace

We welcome Bunmi Otunuga who with his colleagues and citizens establishes Olyyole in the Oyo State of Nigeria as an International City of Peace. Bunmi Otunuga is an author and a media professional with many academic degree experiences.
With an assemblage of media practitioners, he hopes to use media to further promote the activities of Cities of Peace in Oluyole, Oyo State, Nigeria and worldwide.
Note: Introduction page with information primarily at the time of joining International Cities of Peace. For updates, please contact the liaison.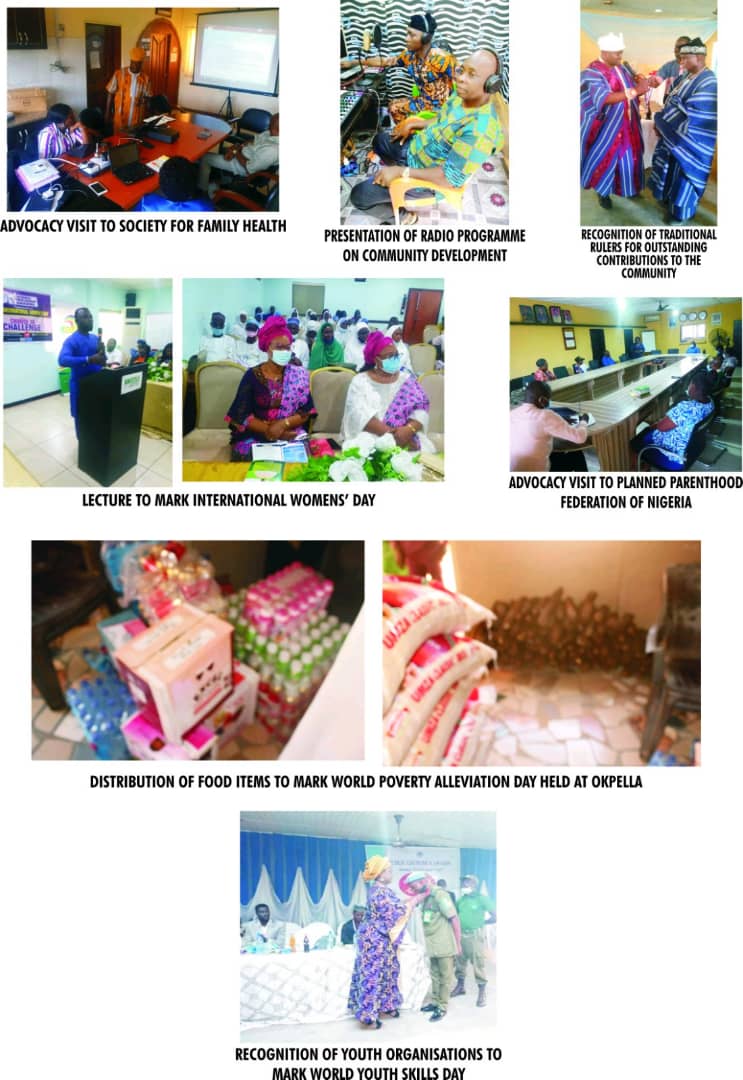 ---
VISION
To make the city a world where human rights are observed and respected, everyone is accorded the same opportunity without respect to tribe, religion or color. A place where good governance is given topmost priority and residents of the city are further empowered and motivated to contribute to the development of the city.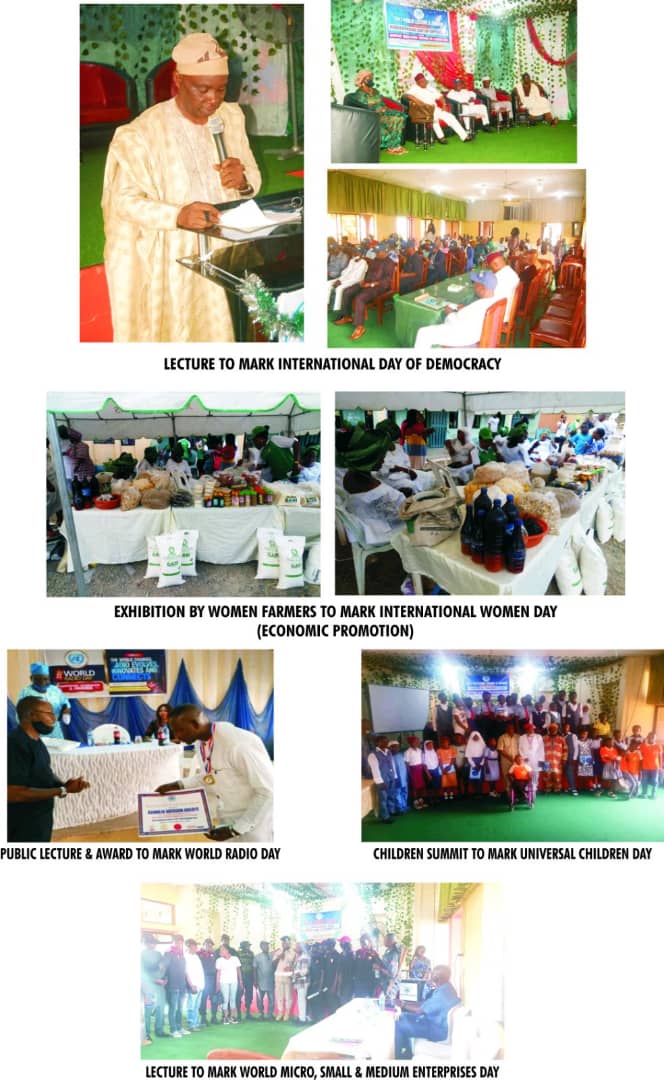 ---
MISSION
To establish, develop and maintain an enabling environment for people of peace to be so empowered, motivated and committed toward working to establish peace in our city.
---
GOAL
To have a society where rule of law is strictly observed and the fundamental human rights of citizens guaranteed.
---
LETTER OF INTENT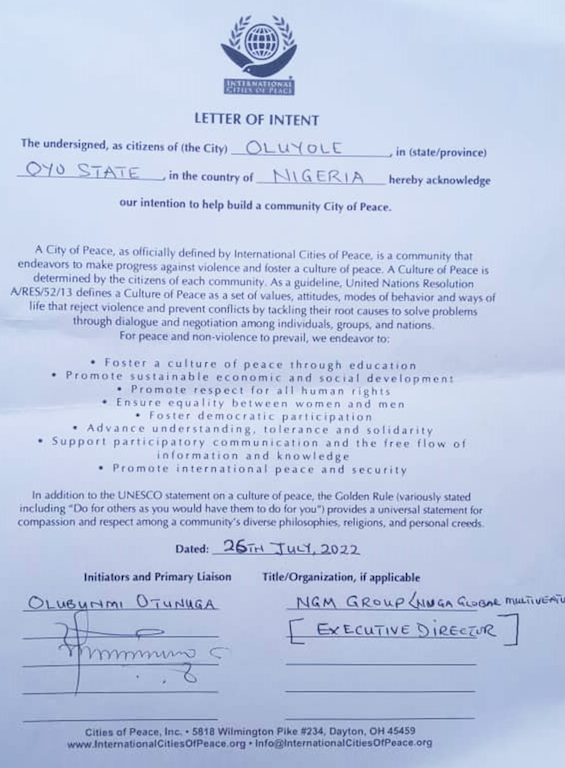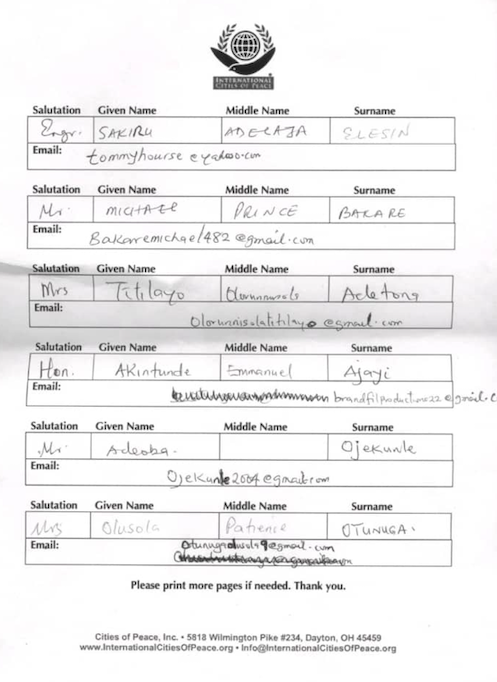 ---
ABOUT THE LIAISON
Bunmi Otunuga is a media practitioner with over 40 years experience in the Broadcast Industry. He holds a Master's Degree in Business Administration from Ladoke Akintola Univerity of Technology and an Honarary doctorate Degree in Media Communications.
He is a fellow of the Institute of Master industrial Management Entrepeneurship and a member of the National Institute of Marketing of Nigeria (NIMN). He is an Associate member of Advertising Practitioners Council of Nigeria (APCON) and the institute of Chartered Management Account.
He was National Vice President of Radio, Television, Theatre And Arts Workers Union of Nigeria (RATTAWU). He is author of "Radio Broadcasting — Principles and Practice. He also wrote "Handbook on Trade Union Administration".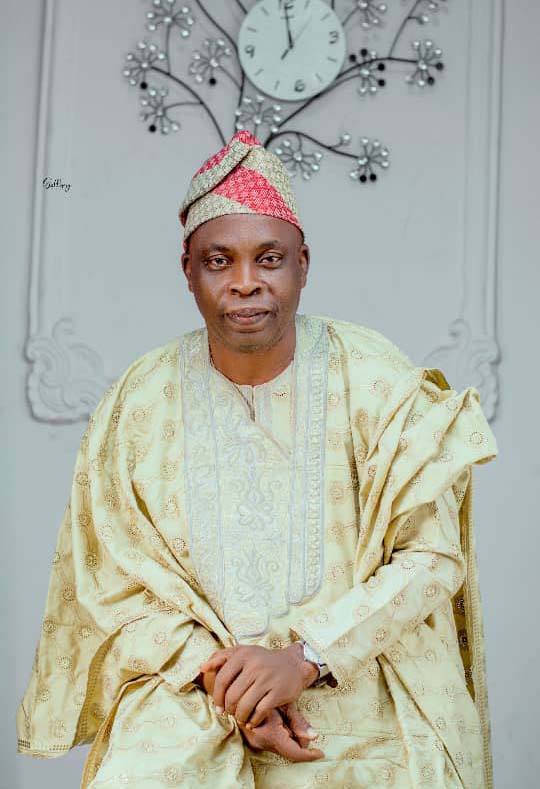 He is a community leader and thus honored with the Chieftaincy title of OTUNBA GBOBANIYI OF AYEGUNLE EKITI in 1993. He is a recipient of several awards which include Peace Award presented by the Federal Radio Corporation of Nigeria (FRCN) to mark the station's 50th anniversary; Merit Awards by RATTAWU, BCOS chapters, OYCAC chapter & Paramount FM, Abeokuta chapter as well as Peace Award by NUJ, FRCN Ibaan Chapter.
He belongs to several professional and community based organizations. He sits as the Executive Director of NGM Group, an organization that seeks to educate Nigerians on the ideals of effective leadership and good governance through organizing various seminars, workshops and symposia to commemorate United Nations Observance Days.
Happily married to a broadcast journalist Olusola and blessed with children.
---
CONTACT INFORMATION
To contact or support this initiative:
---
ABOUT OLUYOLE, OYO, NIGERIA (from Wikipedia)

Oluyole is a Local Government Area in Oyo State, Nigeria. Its headquarters are in the town of Idi Ayunre.
It has an area of 629 km2 and a population of 202,725 at the 2006 census. It shares boundaries with four Local Governments, viz.: Ibadan South West, Ibadan South East, Ona Ara Local Government and Ido Local Government – all within Ibadan metropolis. It also shares boundaries with Ogun State through Obafemi Owode, Odeda and Ijebu North Local Governments.
Note: If information or photos used here are copyrighted, please contact us and we will immediately delete the copyrighted material.