Oyugis, Kenya: City of Peace
Welcome to Simon Okelo and his colleagues who are working in Oyugis, Kenya to promote a culture of peace. Simon's organization, the Wire Soccer Academy, is a nonprofit organization that helps the youths to improve their soccer talents especially the underprivileged ones.
The Wire Soccer Academy uses soccer to promote life change for some orphans in Kenya. The group organizes tournaments for young kids who come from different communities. They play and as you know most kids are drug addicts because of lack of somethings to do especially during the Holy Days so when they play soccer they get tired so they can not think of anything else like prostitution or stealing of other people properties as this can lead to violence. The Academy encourages them to think only about soccer and school. Simon and the Academy has managed to pay for some kids who are coming from underprivileged background their school fees.
Note: Introduction page with information primarily at the time of joining International Cities of Peace. For updates, please contact the liaison.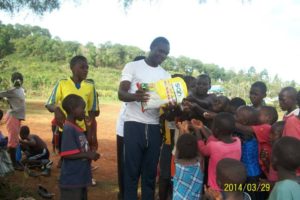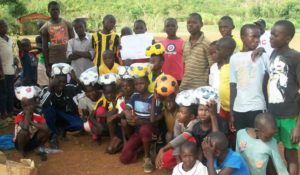 Simon Okelo founded the Wire Soccer Academy several years ago and now it is helping kids go to school by paying fees.
MISSION STATEMENT
Our Mission is to help break the cycle of poverty by building strong communities by working with various partners and communities to empower individuals and families with opportunities for the furtherance of education, healthcare and skills needed to affect life change within their communities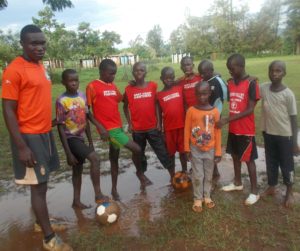 With minimal funding, the Wire Soccer Adademy can assure that the kids of Oyugis have balls and uniforms.
THE OBJECTIVES
We are working to promote life change in the east African country of Kenya. We are currently operational in the town of Oyugis and will eventually expand to the surrounding areas. Our programs provide resources and hope to those caught in the cycle of poverty. We are Bridging Kenyans to Education, Healthcare and Life Change.
We are volunteers from various commmunities coming together with the commitment to see life change for the impoverished and underprivileged orphans, children and families of Kenya.
We believe the Scriptures are clear concerning helping those in need. We are commanded to do good to all people, to be generous and willing to share our resources with compassion and generosity. This is true as an organization as well as for each of us individually. As a basic aspect of the practice of our faith, we will share our material goods with those in need and will minister to them to the best of our abilities.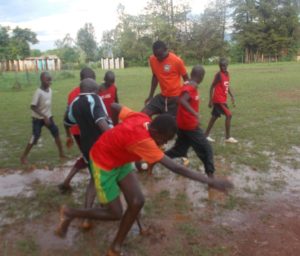 THE POWER OF SPORTS!
---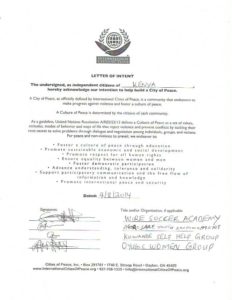 Letter of Intent
ABOUT SIMON OKELO (In his words)
"Before i started wire soccer academy I saw kids in the streets collecting garbage and it really hurt me and one day i went to them i bought some sweets for them so that I could share with them some stories. Most of them told me that their parents died in the 2007 post election violence which occurred in Kenya but I went to my father. He was Little bit hard to reach since he was a businessman, so when i went to my father I talked to him about those kids. I shared with him some videos i took in the street with those kids and those videos really attached him and he asked me what I was planning to do for those kids.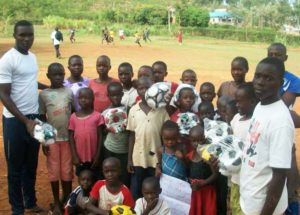 "I told him that I wanted to come up with idea of forming asoccer academy since that was the only option which could bring them together and also keep them away from bad memories of their dead parents. I also told my father that after they came together I would like to take them back to schoo,l which my father supported. So three years after that my beloved father and mother died in a road accident. It was painful to lose both of them in the same day, but that did not stop me from helping those kids. So i was left with my elder brother to run the business so that's why i keep on asking for some partnership which can get in and help me help this underprivileged kids in Kenya."
---
CONTACT INFO
For more information please contact Simon Okelo at:
SIMON OKELO <simonkokelo@gmail.com>
+254 728 885636
simonkokelo@gmail.com
P.O.BOX 50, Oyugis
---
ABOUT OYUGIS, KENYA (from Wikipedia)

Oyugis is a town in Kenya. It is the commercial and financial centre of Rachuonyo South District in Homa Bay County of the former Nyanza Province, whose administrative headquarters are located some twenty kilometres away at Kosele. Oyugis is located 20 kilometres north of Kisii town along the major A1 Highway (that runs from Isebnaia border with Tanzania and Lokichoggio border with South Sudan). There is also an inter-county road (C26) connecting Oyugis to Kendu Bay while C18 road links Oyugis with Homa Bay Town via Rangwe. Oyugis had a town council with a population of 52,433, of whom 9,084 are classified urban.
Kenya, officially the Republic of Kenya, is a country in the African Great Lakes region of East Africa. Its capital and largest city is Nairobi. Kenya lies on the equator with the Indian Ocean to the south-east, Tanzania to the south, Uganda to the west, South Sudan to the north-west, Ethiopia to the north and Somalia to the north-east. Kenya covers 581,309 km2 (224,445 sq mi) and has a population of approximately 44 million as of July 2012.
Oyugis area forms Kasipul Constituency ( together with Kabondo- Kasipul carved out of the previous Kasipul-Kabondo Constituency). It has five County Assembly wards: West Kamagak Ward, East Kamagak Ward, West Kasipul Ward, Central Kasipul Ward and South Kasipul Ward. Administratively, Oyugis is in Kasipul division which, together with Kabondo, form the Rachuonyo South District.Though small in comparison to Kisii, Oyugis is the major commercial centre for both Rachuonyo South and Rachuonyo North districts and has recently registered fast growth especially since the creation of the district and increased use of the town by NGOs operating in the area and the Sondu Miriu Electricity Generation project on the border with Nyando district. The town also hosts several important academic institutions like the Agoro Sare High School and Oyugis Craft Training Center.Other notable institutions include Wire Secondary School, Nyabola Girls,Buoye Secondary School among others. It is also the home to one of the oldest primary schools in Kenya, Wire Primary School, established in 1912.
DO YOU THINK YOUR COMMUNITY CAN BE A CITY OF PEACE? SEND AN EMAIL!
 Note: If information or photos used here are copyrighted, please contact us and we will immediately delete the copyrighted material.