Patchogue, Long Island, New York, United States: International City of Peace

We welcome the citizens of the Patchogue Peace Project as they establish their community as the first International City of Peace in Long Island, New York. Liaisons Jen Brady Cotter and peacemaker John Baum have worked with local community partners to develop a vision, mission, and goals for community efforts to increase the safety, prosperity, and quality of life for all in their region.
The Patchogue Peace Project was launched in 2020 to initiate and support educational, advocacy, and collaborative efforts that foster a culture of peace in the community. An extensive overview of Patchogue and the peace community is attached below in a PDF that is downloadable or readable online.  The collage is also used as the header for this page.
Note: Introduction page with information primarily at the time of joining International Cities of Peace. For updates, please contact the liaison.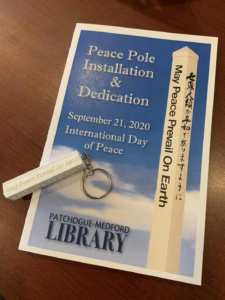 Patchogue is home to several peace poles at pubic and private schools, the local university, and libraries.
---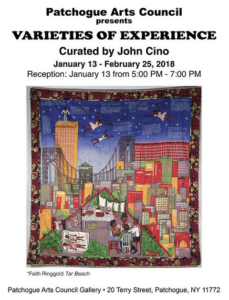 A vibrant grassroots arts community plays a pivotal role in promoting a culture of peace.
---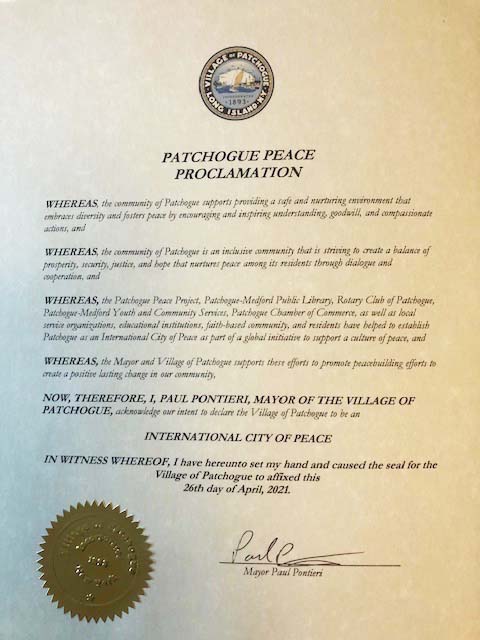 ---
PATCHOGUE PEACE PROJECT
VISION
To foster a lasting culture of peace that promotes and supports understanding, inclusivity, nonviolence, safety, and compassion in Greater Patchogue.
---
Engage each sector of the community to establish a network dedicated to nurturing peace among our residents through education, advocacy, and collaboration.
---
Promoting peace in action by initiating and supporting efforts to:
Facilitate dialogue between diverse groups to identify shared values and principles
Foster compassion towards neighbors of all ages, backgrounds, abilities, and beliefs
Teach social-emotional learning, conflict management, compassionate communication, and other proven peacebuilding skills
Cultivate personal peace through such methods as mindfulness, empathy, and stress reduction
Inspire goodwill among residents through the arts and cultural exchange
Encourage appreciation for diverse spiritual practices and explore their underlying unity
Identify peaceful solutions to conflicts in the community
Highlight examples of successful peacebuilding approaches in international conflicts
Build awareness of each other's struggles to nurture greater empathy and understanding
Document and publicize Patchogue's legacy of peacebuilding
Become a model city of peace for all of Long Island
---
OVERVIEW OF PATCHOGUE: CITY OF PEACE
---
---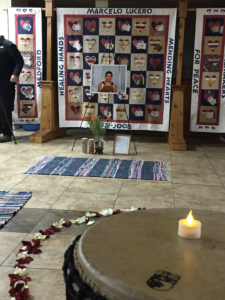 After the hate crime killing of Marcelo Lucero, Patchogue united to fulfill his family's wish to initiate efforts to build respect and understanding among its diverse community.
---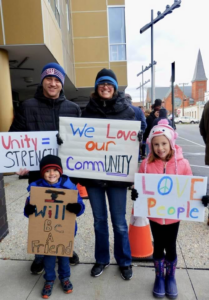 Over the years, Patchogue has repeatedly come together to reject hate and promote unity in the community.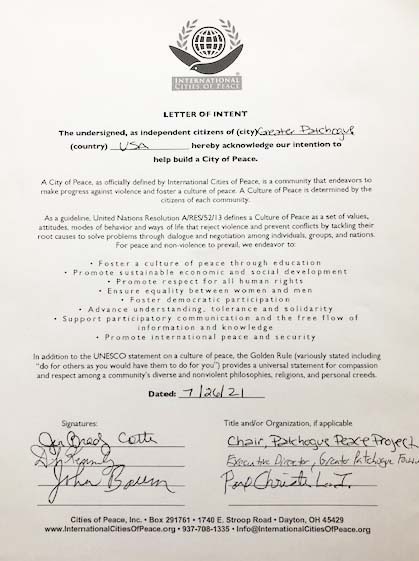 ---
ABOUT THE LIAISON
Jen Brady Cotter, Chairperson for the Patchogue Peace Project, has been actively engaged in violence prevention, community building, and other peacemaking efforts for the past 25 years. In 2001, she cofounded National Youth Violence Prevention Week, a campaign now adopted by Sandy Hook Promise, that engages all sectors from the community to work hand-in-hand with youth to raise awareness and collaboratively develop violence prevention programs and solutions.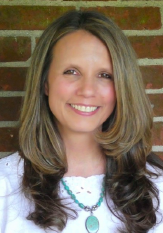 Ms. Brady Cotter also created and managed an award-winning online magazine, GuidanceChannel.com, focusing on social, emotional, and educational issues facing K-12 students. Its investigative reporting on targeted school violence was recognized at the National Press Club with a Distinguished Achievement Award from the Association of Educational Publishers for the best online publication in education. Over the past ten years Ms. Brady Cotter has focused on peacebuilding efforts in her local community. As a board member for SEPA Mujer, a Latina advocacy organization, she's had the opportunity to support programs assisting immigrant women who are victims of domestic violence and human trafficking through legal assistance, counseling, support groups, and leadership training.
As Literary Chair for the Patchogue Arts Council, Ms. Brady Cotter partnered with Herstory Writers Workshop to host a weekly social justice memoir writing workshop. By giving voice to the hidden communities on Long Island, the initiative helped to cultivate empathy and a deeper understanding of the challenges confronting them. The writings from these workshops were featured in several public readings, including in Freedom Forums hosted at the local public library and Stony Brook University. Ms. Brady Cotter also developed resources to highlight how personal testimony can be used initiate dialogue, offer perspective into one another's struggles, and change hearts, minds, and public policies.
Ms. Brady Cotter is also a cofounder of People Power Patchogue, a local civil rights organization that strives to build community awareness and advocate for social justice, including supporting the local immigrant community, promoting criminal justice reform, and campaigning for equitable access to the ballot box. As an active member of Building Bridges in Brookhaven, she works to help build friendships and alliances among the diverse communities of Brookhaven Town. In this capacity she's helped to organize annual MLK celebrations dedicated to building Dr. King's vision of the Beloved Community.
As part of the LI Peace Project, Ms. Brady Cotter is now delighted to join in the efforts to bring 100 Peace Poles to Long Island. She and her husband recently hosted a Peace Pole dedication honoring John Lennon. Held in a Patchogue music school, The Rock Underground, students performed anthems of the peace movement, such as "Imagine" and "Give Peace a Chance." With several poles scheduled to be planted and other local communities also seeking to be designated as International Cities of Peace, Ms. Brady Cotter  and the Patchogue Peace Project looks forward to growing a sister city network that will unite peacebuilding efforts across Long Island.
---
CONTACT INFORMATION
---
ABOUT PATCHOGUE, NEW YORK (from Wikipedia)
Patchogue is a village in Suffolk County, New York, United States. The population was 11,798 at the time of the 2010 census. Patchogue is part of the town of Brookhaven, on the south shore of Long Island, adjoining Great South Bay. It is officially known as the Incorporated Village of Patchogue.
Patchogue and the adjacent hamlet of Medford share a school district and library. There are primary, middle and high schools, plus continuing education programs for adults. The school district, library, and St. Joseph's College provide a variety of educational opportunities. In 2010, the Patchogue-Medford Library was awarded the 2010 National Medal for Museum and Library Science for the library's work in bilingual programming.
Note: If information or photos used here are copyrighted, please contact us and we will immediately delete the copyrighted material.