Pathuthani, Thailand: City of Peace
Welcome to the ICP Advisory Council: Ping Ping Worakate Thangsurbkul, Program Director at Peace Revolution/ World Peace Initiative Foundation, Thailand.

Peace Revolution is an online platform for self-development and meditation. We have a peace equation of
"Inner Peace+Outer Peace=Sustainable World Peace" or "Peace in Peace out" (PIPO) for short.
Note: Introduction page with information primarily at the time of joining International Cities of Peace. For updates, please contact the liaison.
---
We also provide fellowship programs to young peace activists, educators, and media professionals worldwide to come to deepen their understanding toward the peace building process.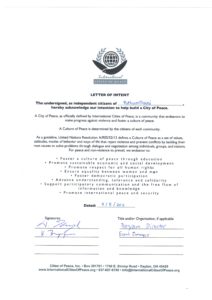 Letter of Intent
You can visit our website for more details: www.peacerevolution.net
About Thailand (from Wikipedia):
Formerly known as Siam (Thai: สยาม; RTGS: Sayam), Thailand is a country located at the centre of the Indochina peninsula and Southeast Asia. It is bordered to the north by Burma and Laos, to the east by Laos and Cambodia, to the south by the Gulf of Thailand and Malaysia, and to the west by the Andaman Sea and the southern extremity of Burma. Its maritime boundaries include Vietnam in the Gulf of Thailand to the southeast and Indonesia and India in the Andaman Sea to the southwest.
The country is a kingdom, with most recorded reigns in the world. It is a constitutional monarchy with King Rama IX, the ninth king of the House of Chakri, who has reigned since 1946, making him the world's longest-serving current head of state and the longest-reigning monarch in Thai history.[8] The king is officially titled Head of State, the Head of the Armed Forces, an Upholder of the Buddhist religion, and the Defender of all Faiths.
Thailand is the world's 51st largest country in terms of total area (slightly smaller than Yemen and slightly larger than Spain), with a surface area of approximately 513,000 km2 (198,000 sq mi), and the 21st most-populous country, with approximately 64 million people. The largest city is Bangkok, the capital, which is also the country's center of political, commercial, industrial and cultural activities. About 75% of the population is ethnically Thai, 14% is of Chinese origin, and 3% is ethnically Malay;[9] the rest belong to minority groups including Mons, Khmers and various hill tribes. The country's official language is Thai. The primary religion is Buddhism, which is practiced by around 95% of all Thais.
DO YOU THINK YOUR COMMUNITY CAN BE A CITY OF PEACE? SEND AN EMAIL!
Note: If information or photos used here are copyrighted, please contact us and we will immediately delete the copyrighted material.