PEKANBARU, SUMATRA, INDONESIA: International City of Peace

We welcome the citizens of Pekanbaru and the organizational leadership of Scale Up, including liaison Irfan Miswari, which has established their City on Sumatra Island, Indonesia as an International City of Peace. In 2007, the leaders Ahmad Zazali, Harry Oktavian, M. Rawa El Amady, and Dan Iwan Tjitradjaja (Alm) formed a service organization that has succeeded in facilitating 16 conflicts resolutions in Riau. Scale Up is also active strengthening and assisting communities to get access managing natural resource.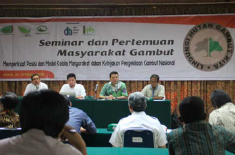 Note: Introduction page with information primarily at the time of joining International Cities of Peace. For updates, please contact the liaison.
---
MOTTO
Transforming conflict into equal partnership
Scale Up has established as a follow-up of the advocacy process carried out by many parties especially Non government organizations in Riau Province. purposed to implement accountable and sustainable social development through dynamic partnerships among civil society, government and private sector.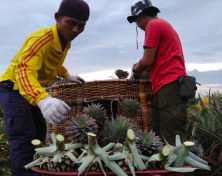 VISION
Establishment of social life good governance and just social prosperity through accountable and sustainable social development based on dynamic partnership among civil society, government and private sector.
---
MISSION
1. Developing accountable and sustainable social development models based partnership among multi-stakeholders;
2. Improving knowledge, understanding, and commitment of stakeholder for supporting the process of improvement the accountable and sustainable social development;
3. Encouraging the improvement of policy and social responsibility multi-stakeholders.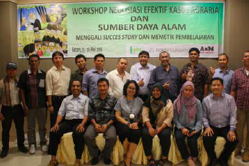 ---
STRATEGY
1.Research and human resources development;
2.Assistance and strengthening the social community institution;
3.Facilitating the development of socio-cultural responsive governance from private sector institutions;
4.Facilitating participatory social development policy process.
Scale Up has been an activator of natural resources conflict resolution through ADR in Indonesia for more than 10 years. Scale Up has succeeded facilitating 18 conflicts resolution in Riau Province.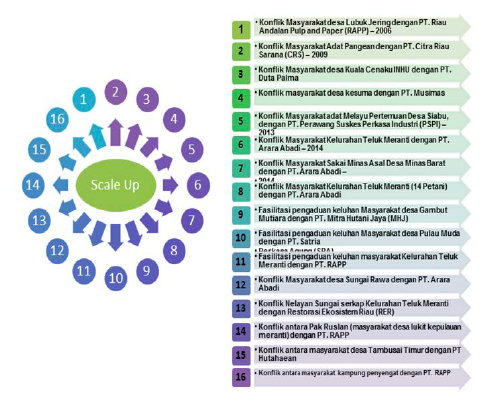 In attempting conflict resolution through ADR, Scale Up improves multi-stakeholder's capability to resolve conflict and distribute ADR as the conflict resolution mechanism.
ADR mainstreaming as mechanism of natural resource conflict resolution
Mainstreaming ADR as a conflict resolution mechanism is deemed necessary so that adequate information distribution is needed. In regard to this matter, Scale Up build a campaign strategy through workshops, seminars, and building campaign media, printed and digital, related to ADR.
Community empowerment
In addition to concern in conflict resolution issue, Scale Up also do community empowerment. Particularly peat land community through partnership with Scale Up's partner.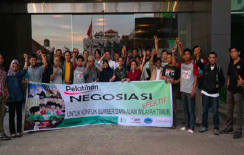 Women empowerment
Women as vulnerable group to the conflict's impact. While conflict happens, access to natural resource is limited. That is why Scale Up do women empowerment mainly in conflict area to ensure the livelihood access is keep guaranteed. Scale Up have assisting Suka Maju and Mekar Jaya women groups, Teluk Meranti – Pelalawan and also Bina Harapan women group, Kampung Adat Penyengat, Siak.
CAPACITY STRENGTHENING
Discussion to enhancing staffs' capacity regularly. Lots of themes sharing in the discussion with presenting experts related to Scale Up activities.
Scale Up attempts to do discussion and information sharing related to natural resource conflict resolution from various sectors.
The next three years, Scale Up will focus on 4 issues :
• Palm oil plantation conflict
• Industrial Timber Plantation (HTI)
• Strengthening institutions of conflict handling
• Strengthening community post-conflict
---
ALUR PENANGANAN KONFLIK
Conflict Resolution procedure in Scale Up :
1. Receive complaint from community.;
2. Collecting primary and secondary data;
3. Verification subject and object in field;
4. Internal meeting (Whether the case is eligible to facilitated or not);
5. If it is not, Scale Up gives the letter to the community who report complaint;
6. If it is possible, Scale Up are going to facilitate started by desk research and in-depth field study, capacity building in order to the community understand the process of resolution conflict;
7. Delivering grievance to the company;
8. Assisting conflict resolution process according to the agreement of the parties
---
Letter of Intent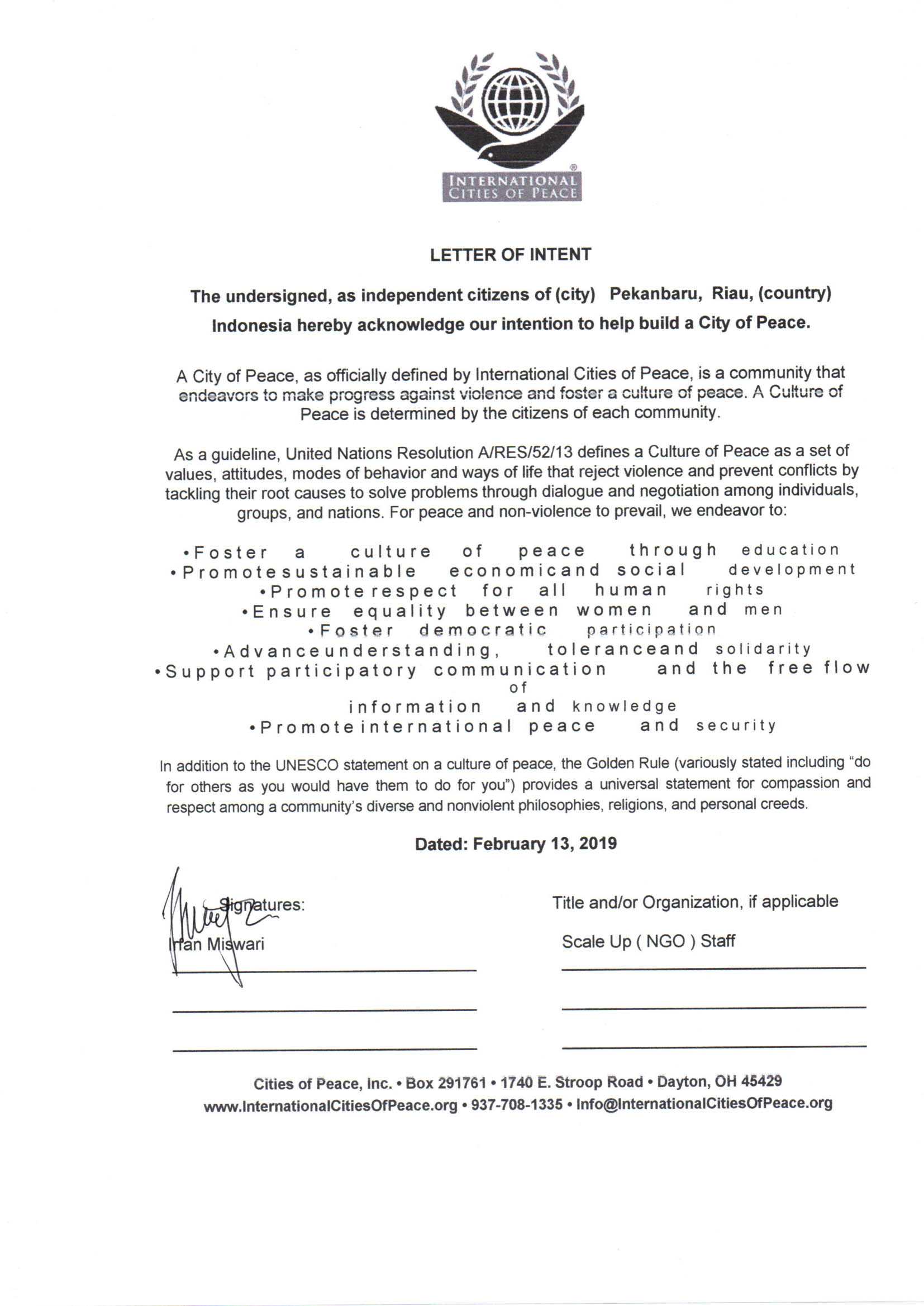 ---
 ABOUT THE LIAISON: IRFAN MISWARI
Home Minister – World Bank 2006.
• Monitoring and Evaluation on PNPM – MP Poject Research Training, Pattiro, Jakarta.2010.
• Creative writing for Journalist, Intermedia, Bandung 2011.
• Media Business Management for Mdoa Owner, SPS, Bandung 2013.
• Research Training on National Educatioan Aid Monitoring, Bandung Institute For Governance Studies, BIGS 2014.
• Local Interprise Incubation Workshop with Science and Technology Center, University Padjajaran, 2017.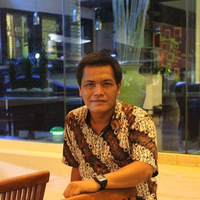 Working Experience
1. Director LPAD from 2004 – 2006
2. Riau Province Coordinator, Transparency International Indonesia. 2004 -2006
3. Rural Facilitator PNPM – MP ( National Program for Rural Economic Development ) , West Sumatra, 2006 – 2010.
4. Local Adviser for Head of 50 Kota Municipal Government. 2008 -2010.
5. Freelance interviewer for University of Chicago Researcher on Indonesian Government Procurement policy. 2010.
6. Chief of Editor, Rural Monthly Tabloid ( Jendela Desa ) , 2013 – 2015
7. Foreign Correspondent at Netralitas.com for Timor Leste 2015 – 2017
8. Director JP Global Transtech from 2015 – 2017. Current position as Research  Staff.
Education
• Bina Muda High School, Science Class, Cicalengka Bandung, 1995
• University of Indonesia, History Dept, Jakarta, 1998 ( Drop Out )
• University Of Delhi, BA ( Hons ) Political Science, New Delhi, 2001
• Indian Academy Of International Law and Diplomacy, Post Graduate Dipl, New Delhi, 2001.
• University of Trisakti, CSR Magister Management
Courses
– Energy and Environment Course, University of Delhi, 3 Months, 2000.
– NGO Management Certificate Course, NDI – Social and Political Science Faculty, Univ.
Indonesia, 2 weeks 2002 .
Training
• Local Parliament Monitoring and Advocacy Training, NDI – INSIST Jogjakarta, 2001.
• Social Analysist and Movement Training, USC Satunama – CIDA, Jogja, 2001.
• Media ant Content Analysis, ISAI Jakarta, 2001
• Gender Mainstreaming, KapalPerempuan Indonesia ( KPI ), 2002
• Local Democratic Actor Research Training, NORAD 2003
• Investigative training on Election Fundraising, Transparency International Indonesia, 2003.
• Indonesian Election Law 2004 AdvocacyTraining , CETRO – NDI 2004.
• Human Right and Local People Advocacy Training, WALHI Riau, 2005.
• ToT of National Program for Economic EconomicEmporment Training, Indonesian
---
CONTACT INFORMATION
To contact or support this initiative:Scale Up Office:
15 Kenari street, Sukajadi- Pekanbaru -Riau,
Post Code 28124
Website : www.scaleup.or.id
Email : infoscaleup@yahoo.com
Telp : (0761) 7891 677,0812-6856-1786
Fax : (0761) 78916
Email for the liaison:
miswariirfan@gmail.com
---
ABOUT PEKANBARU, SUMATRA, INDONESIA (from Wikipedia)

Pekanbaru is the capital of Indonesian province of Riau, and a major economic center on the eastern part of Sumatra Island. It has an area of 632.26 km² with a population of 1,093,416. [1] Located on the banks of the Siak River, which drains into the Strait of Malacca, Pekanbaru has direct access to the busy strait and was long known as a trading port. Pekanbaru was originally built as a market by Minangkabau merchants during the 18th century. Its name is derived from the Malay words for 'new market' ('pekan' is market and 'baru' is new).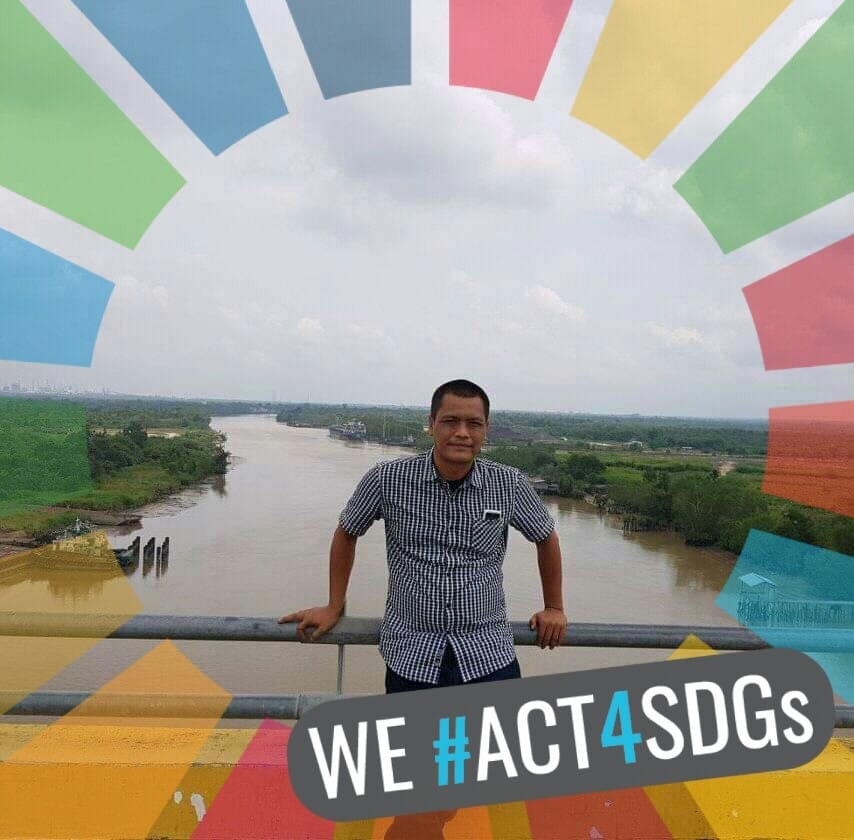 The city is divided into 12 subdistricts (kecamatan). This city is served by the Sultan Syarif Kasim II International Airport and Sungai Duku Port that is located by the Siak River. A settlement has existed on the site since the 17th century. In the late 19th century, the city was developed to serve the coffee and coal industries, and the Dutch built roads to help ship goods to Singapore and Malacca.
Note: If information or photos used here are copyrighted, please contact us and we will immediately delete the copyrighted material.