The dedication of a peace space at a local high school brought out the community. The space is now used by the students for peer mediation, and it is maintained by a student club on campus.
PEORIA, ARIZONA, UNITED STATES: International City of Peace

We welcome the citizens of Peoria, Arizona who have established their community by Proclamation and continuous peacebuilding as an International City of Peace. Liaison Chuck Fitzgerald is active in many nonprofit organizations as well as serving as Sergeant at Arms for the Arizona House of Representatives. He is a long time Rotarian and countless volunteers, such as Chuck, are involved in community projects.
Note: Introduction page with information primarily at the time of joining International Cities of Peace. For updates, please contact the liaison.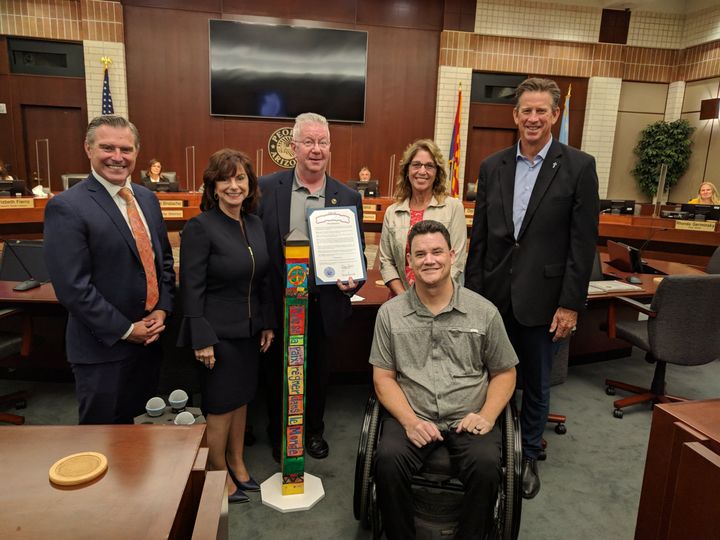 At the Peoria City Council meeting, the Mayor read a proclamation which announced the city's designation as an International City of Peace. From left are Peoria Unified School District Superintendent Dr. Jason Reynolds, City of Peoria Mayor Cathy Carlat, ICoP Liaison Chuck Fitzgerald, Peoria Diamond Club's General Manager Roz Shanley, Peoria Chamber of Commerce President Scot Andrews, and Retired Peoria Police Officer Bill Weight (front). The artistic Peace Pole was a gift to the City Council and will remain in the Council Chambers as a visible reminder to all that peace is possible!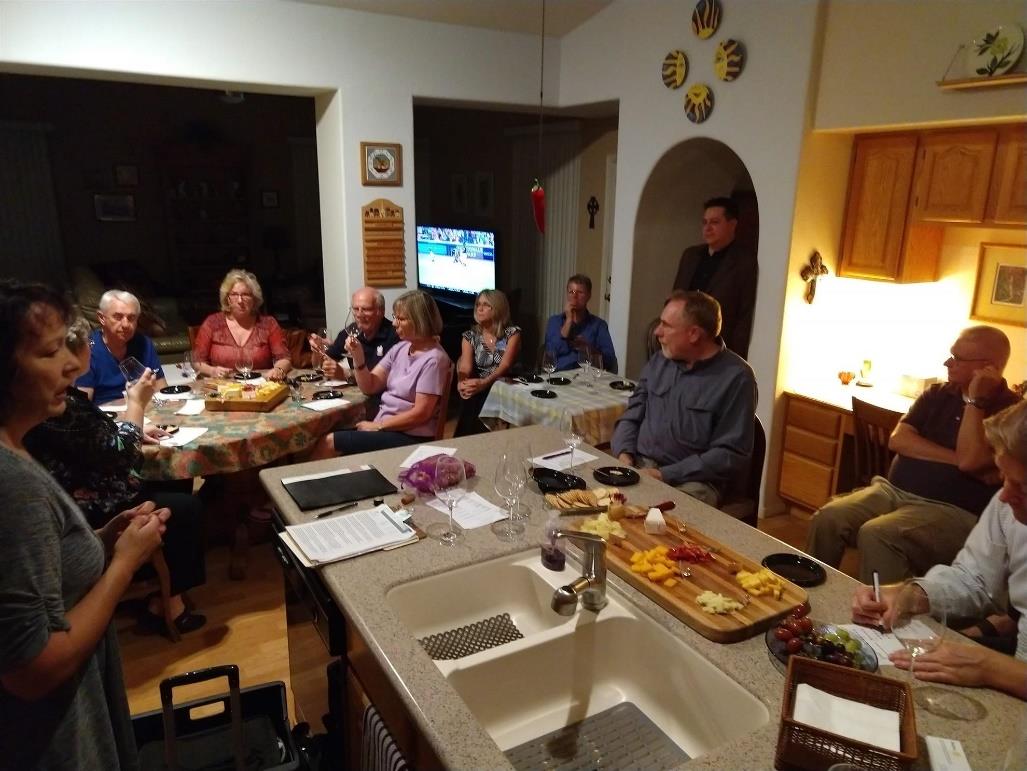 Above: Community members raise money for the Quiet Room peace project while attending a Wines for Humanity tasting event.
Below: Water safety brings peace instead of tragedy. Josh the Otter encourages families with small children to learn how to float.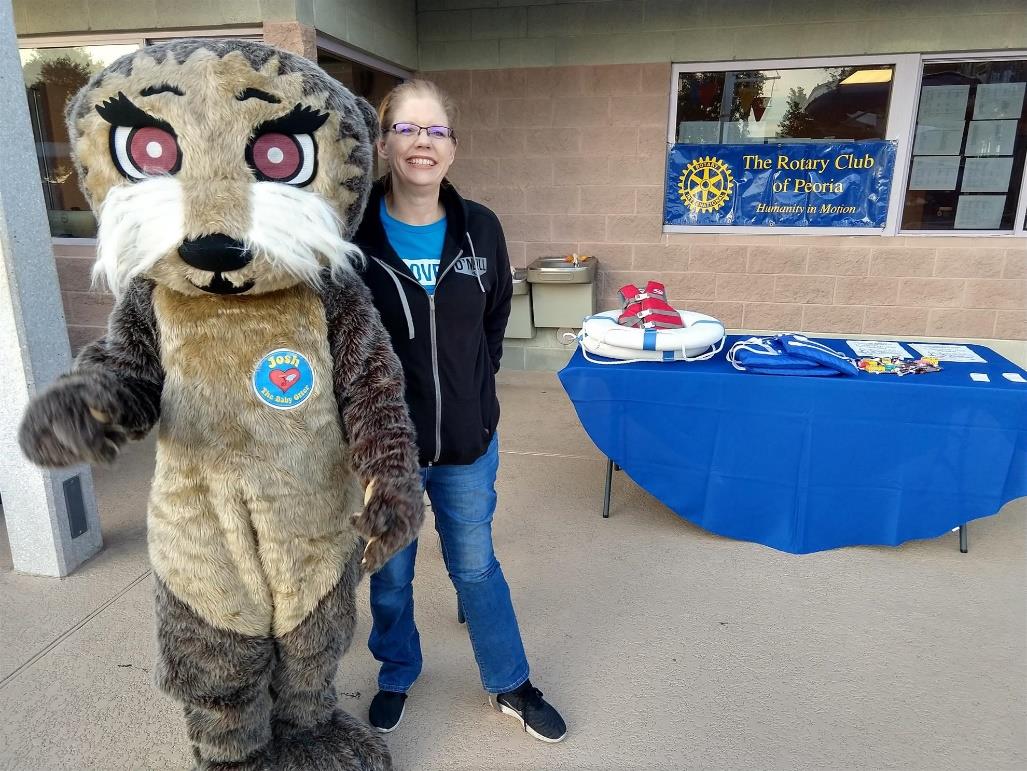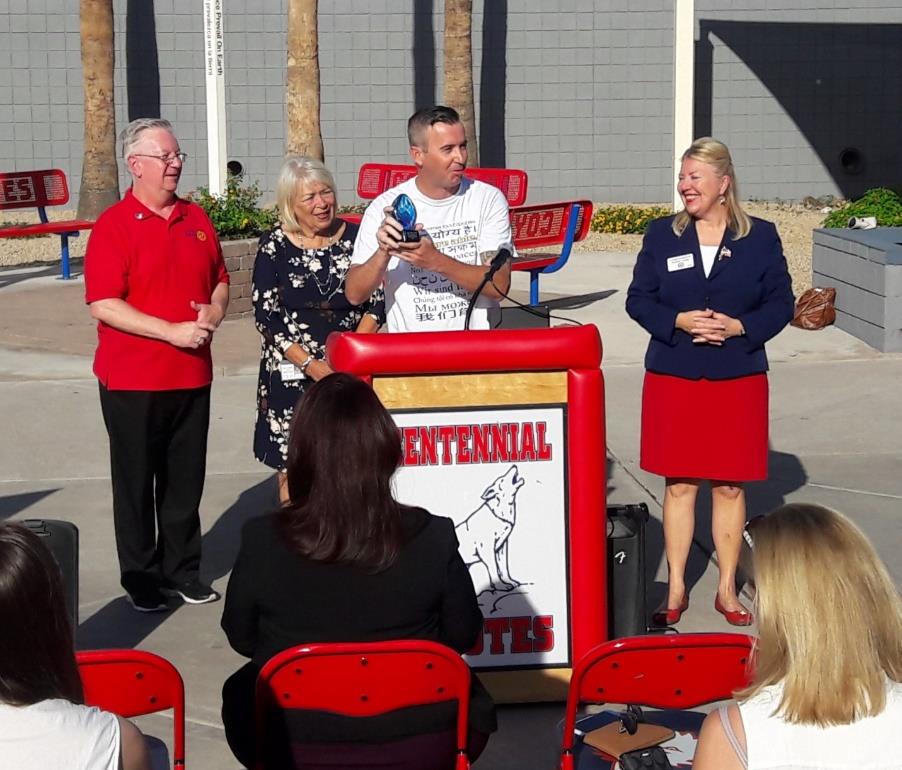 A Congresswoman (right), a school district Superintendent (2nd from left) participate in the presentation of the "Peacemaker of the Year" award to a unified sports coach in front of the Peace Pole Space at a local high school.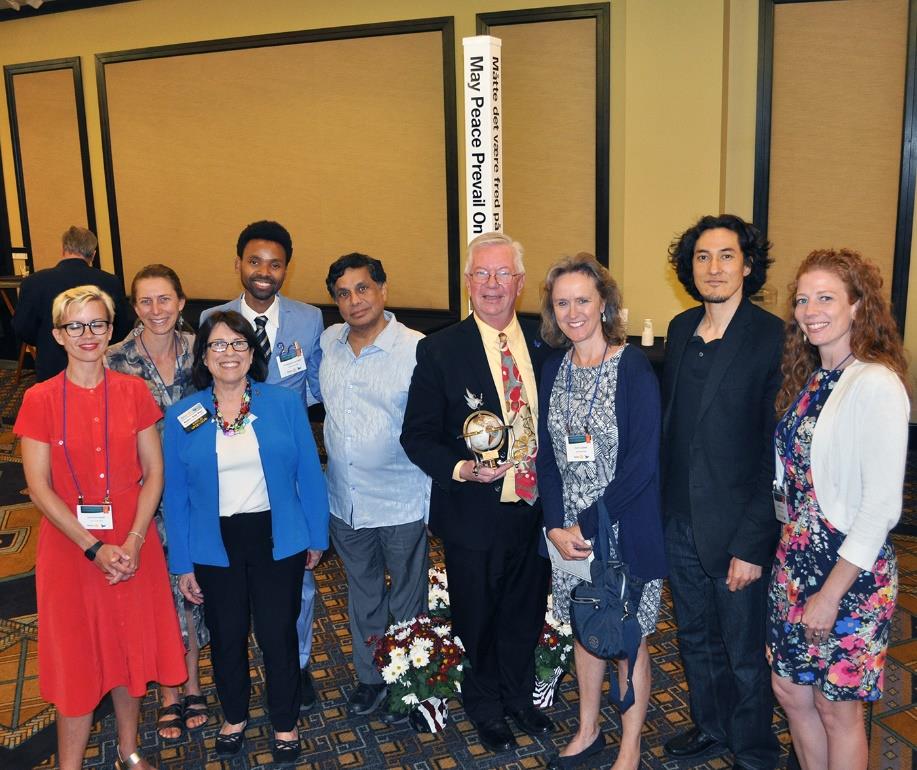 The conclusion of the Pursuing Peace Conference brought a welcome sense of accomplishment. Five Rotary Peace Fellows, a UN representative, a peace literacy champion, and a couple of Rotary District Governors!
---
VISION
The City of Peoria is a community where conditions allow for each of our citizens to reach their fullest potential; we are a community known for its acts of service and compassion, and its depth of gratitude.
---
MISSION
To create a society that is caring, compassionate, respectful, inclusive and equipped to serve its citizens, the surrounding communities, and the world.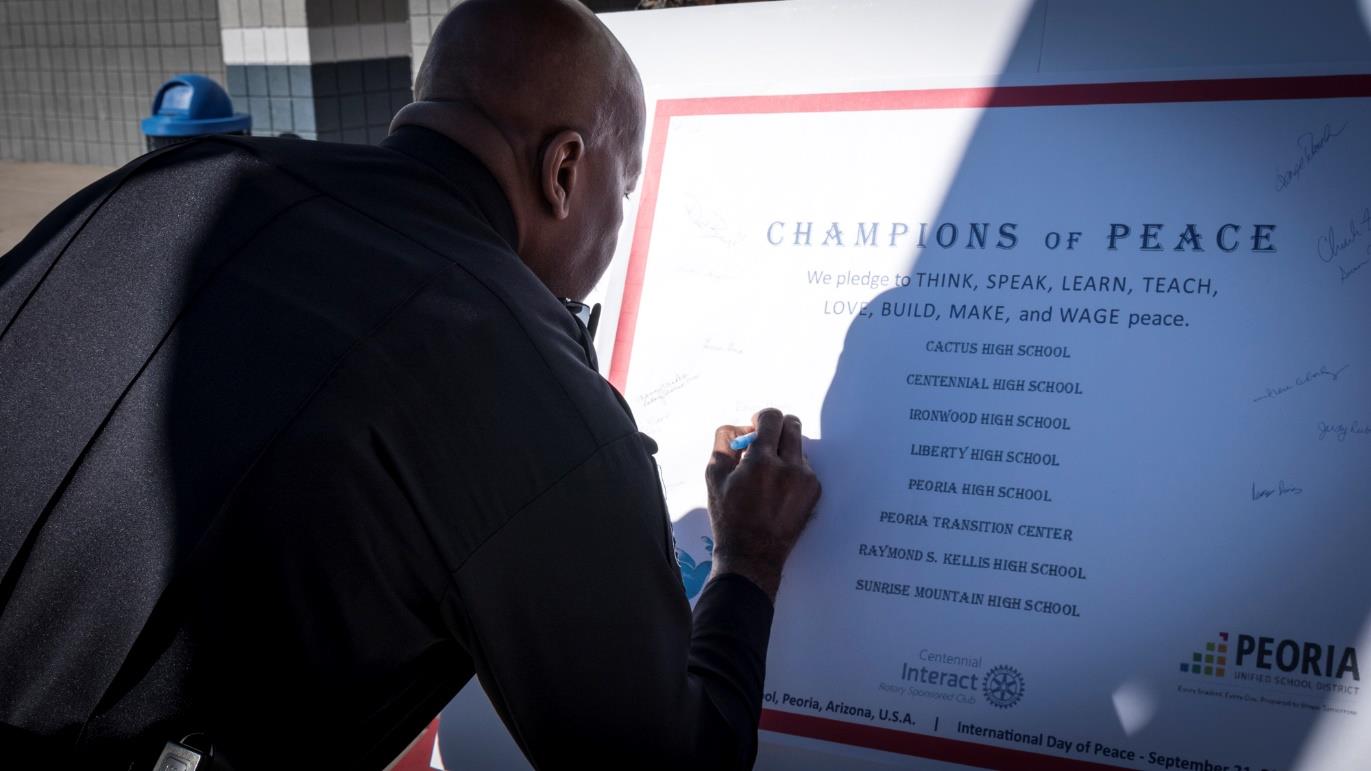 A local Police Chief offers his signature as a commitment to championing peace in the community!
---
GOALS
• To develop stronger systems of care and compassion
• To consistently launch children and youth into their fullest potential
• To build a thriving business, entertainment, and employment infrastructure
• To achieve better performance on environment stewardship
• To achieve high levels of resilience and adaptability
• To create space to explore peace through educational programs and community events
• To continually strengthen the importance and reputation of the Peoria Peace Initiative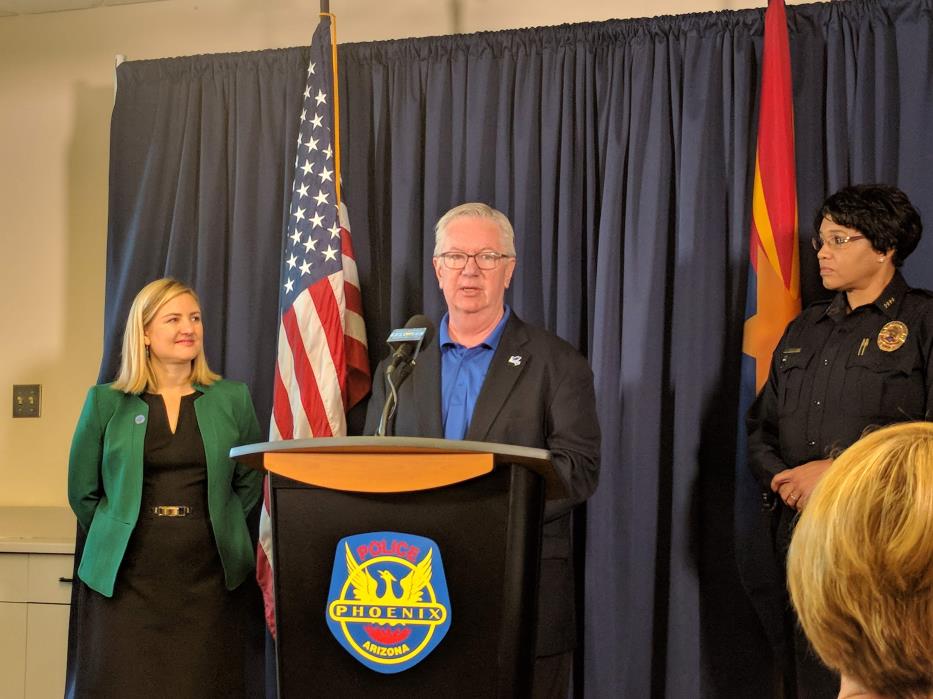 The Mayor of Phoenix (left) and her Chief of Police (right) listen to why the community was compelled to support the 911 call center operators by constructing a Quiet Room which provides a peaceful space to reset after traumatic calls.
---
LETTER OF INTENT WITH SIGNATURES
---
Liaison to the International Cities of Peace
Chuck Fitzgerald
Chuck Fitzgerald currently serves as the Sergeant at Arms for the Arizona House of Representatives where his primary task is to "maintain decorum and civility" on the chamber floor. Before this appointment, he served as the Executive Director of Vineyard Community Charities which supports the poor and vulnerable in Phoenix and its surrounding communities.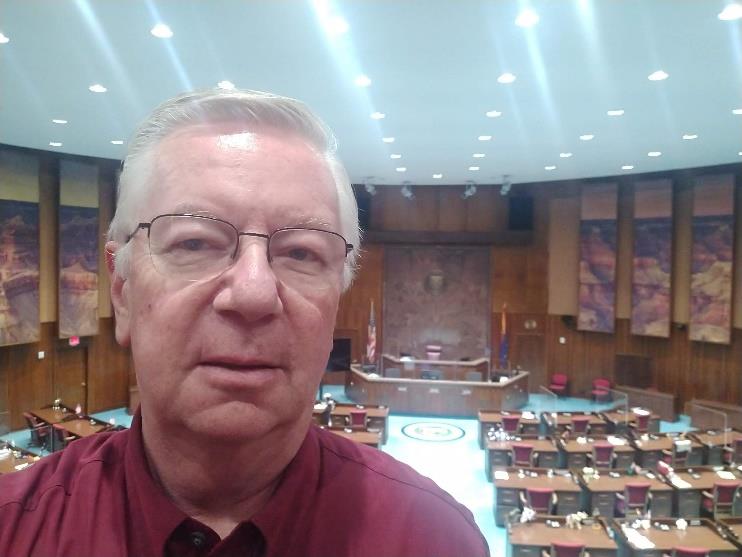 Chuck previously served as the Director of the Governor's Office of Faith and Community Partnerships for the State of Arizona where he led the state's faith initiatives, including ArizonaSERVES, and served as a member of Arizona's Human Trafficking Council. He is the founder of the Children's Heart Gallery (www.childrensheartgallery.org) which has found forever adoptive homes for more than 750 Arizona foster children, and he is the founder and continues as the director of Arizona Blue Ribbon which honors and celebrates Arizona foster and kinship families. Before working for the state, Chuck spent over twenty years as a sales professional specializing in custom software solutions for large call centers.
When not at work, Chuck can be found in the community helping others. He has served on many local nonprofit boards, to include: Neighborhood Ministries, 2-1-1 Arizona, CityServe Arizona, Communities in Schools, Leadership West, and Shoebox Ministries. He has facilitated the Arizona Faith Council (www.godenriches.org) for over twelve years and has co-led the West Valley Human Services Alliance (www.wvhsa.org) for fourteen years. He serves as a regional First Things First council member, the advisory board Chair for ASU's Center for Child Wellbeing, and an executive committee member of the Glendale Strong Family Network.
Chuck is a long-time member of the Peoria Rotary Club and has served as a Board member of the Rotary Ethics Initiative (now part of the Rotarian Action Group for Peace) and served as a Board Member of the Rotarian Action Group Against Slavery. He is the convener of an Annual Arizona Water Summit which connects funding with water projects in developing countries, and he has served as the Dean of Arizona's Rotary Leadership Academy. He has sponsored four Rotary Clubs, while remaining a member in Peoria. Chuck served as a Rotary International District Governor in 2014-2015 and has received Rotary's prestigious "Service Above Self" award.
Chuck is the founder of the Peoria Peace Initiative (www.peoriapeaceinitiative.org) which "Creates Space to Explore Peace" on public school campuses, within public school curriculums, and throughout the community. His latest project was to provide a "Quiet Room" at the City of Phoenix Police Department's 911 call center for use by operators who need to reset and refresh following traumatic calls. He believes peace starts in one's heart and spreads from there into all personal relationships (family, friends, colleagues, etc.). Chuck believes every act of service to others creates peace and he tries to live by Psalm 34:14 which states, "Turn from evil, and do good. Seek peace and pursue it." Chuck is the founder of the annual Pursuing Peace Conference (www.pursuingpeace.org) which elevates the conversation of peace in government, education, and business organizations. Chuck has been a sought-after public speaker on the topics of serving the vulnerable and impoverished, building the capacity of the community, and promoting peace.
Chuck and his wife Susan have lived in Peoria since 1992 and are active members of Vineyard Church North Phoenix. They have three adult children, six grandchildren, and a rescued Maltipoo dog named Oliver.
---
CONTACT INFORMATION
---
ABOUT PEORIA, ARIZONA, UNITED STATES (from Wikipedia)

Peoria is a city in Maricopa and Yavapai counties in the state of Arizona. Most of the city is in Maricopa County, while a tiny portion in the north is in Yavapai County. It is a major suburb of Phoenix. According to 2020 Census Bureau estimates the population of the city is 191,000 Peoria is currently the sixth-largest city in Arizona in land area and the ninth largest in population. It was named after Peoria, Illinois. The word peoria is a corruption of the Miami-Illinois word for 'prairie fire'. It is the spring training home of the San Diego Padres and Seattle Mariners, who share the Peoria Sports Complex.
According to the United States Census Bureau, the city has a total area of 141.7 square miles (367 km2), of which 138.2 square miles (358 km2) is land and 3.5 square miles (9.1 km2) (2.44%) is water. Peoria has annexed over 170 square miles (440 km2) and is in two counties: Maricopa County and Yavapai County. It is technically the largest incorporated city in Yavapai County, even though almost all of Peoria's current population resides on the Maricopa County side. As of the census of 2000, there were 108,364 people, 39,184 households, and 29,309 families residing in the city. The population density was 784.0 people per square mile (302.7/km2). There were 42,573 housing units at an average density of 308.0 per square mile (118.9/km2). The racial makeup of the city was 85.0% White, 2.8% Black or African American, 0.7% Native American, 1.9% Asian, 0.1% Pacific Islander, 7.1% from other races, and 2.5% from two or more races. 15.4% of the population were Hispanic or Latino of any race. There were 39,184 households, out of which 37.7% had children under the age of 18 living with them, 62.0% were married couples living together, 9.1% had a female householder with no husband present, and 25.2% were non-families. 20.5% of all households were made up of individuals, and 10.3% had someone living alone who was 65 years of age or older. The average household size was 2.73 and the average family size was 3.16. In the city, the population was spread out, with 28.4% under the age of 18, 6.7% from 18 to 24, 30.6% from 25 to 44, 19.8% from 45 to 64, and 14.4% who were 65 years of age or older. The median age was 36 years. For every 100 females, there were 92.5 males. For every 100 females age 18 and over, there were 88.0 males. The median income for a household in the city was $52,199, and the median income for a family was $58,388. Males had a median income of $40,448 versus $29,205 for females. The per capita income for the city was $22,726. About 3.3% of families and 5.3% of the population were below the poverty line, including 5.8% of those under age 18 and 6.3% of those age 65 or over.
Note: If information or photos used here are copyrighted, please contact us and we will immediately delete the copyrighted material.