Ms. Kainat Khan's visit to Dayton, Ohio, U.S.A.: City of Peace for the 2016 International Day of Peace celebration. Pictured in the Dayton City Commission offices are Executive Director Fred Arment, Kainat, and Dayton City Commissioner Matt Joseph.
Pirwadhai, Rawalpindii, Pakistan: City of Peace
Welcome to Kainat Khan, peace ambassador and author, who has formed Pirwadhai, Pakistan: City of Peace. Kainat is a ranked tennis player in Pakistan and has written four books. Her NGO does work for poor and youth in her area and beyond.
Note: Introduction page with information primarily at the time of joining International Cities of Peace. For updates, please contact the liaison.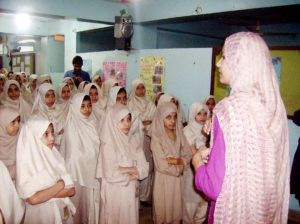 VISION
Education for all.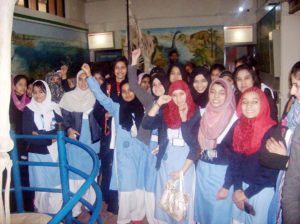 MISSION
Help girls who are prison in their own houses, to see them free. To see books in their hands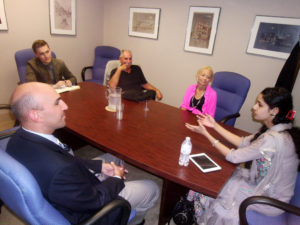 GOALS
* Reduce Usage of Drug in Young generation
• Redice the Lack of Education in Pakistan
• Increase Women's Rights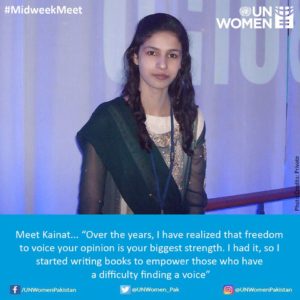 ---
Work for Peace During The Flood in Pakistan

"When I was 12 years old (during School Life)," writes Kaiant Khan, "our village Nowshehra KPK, Pakistan was flooded. This flood destroyed our homes, schools and everything very badly. When i saw school bags and books and toys of children's in flood first I feel too much hurt but an aim developed in me that time. I stand up and wish rebuild our schools.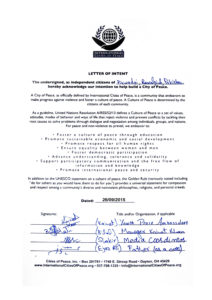 Letter of Intent
"With the help of some government's institutions and with the help of my Father i do this, I provided school bags and school books and toys to the children, re furbished and reopened Schools and convince the children to get education for their better future. I faced too much problems that time, first of all i was just 12 years old, I started a campaign door to door to aware the people of different villages to provide their children education for the bright future of their children specially i started this campaign for girls. My main agenda was to provide them education.

 

"I am also a sports girl and it was very difficult to continue my game
but i spent my mostly time to this Campaign. i am still a Junior Tennis Player of Pakistan but i spend my mostly time to working for Peace and for women rights. i have also faced too much critical financial issues, but I am still working. During this campaign i observed that every 2nd girl in village is a prisoner in her own home. Her parents don't allow her to go out and go to school. Basically i stand up for those Prisoners girls who are prisoner in their own houses.

"That was very difficult but i do, and still i am working. I also received Threats day by day but i don't afraid form any thing else. i don't care any thing, i am still continuing my mission. I know i don't have a long life, but its my wish to make a girl strong even she's belong to any country of the world.

 

"Those Children who don't have financial support for education, they don't get education and they are converted in to criminal works, using of drugs, I wish to change their mind to get the education for their bright future. Their are a lots of hotels in Pirwadhai, in these hotels majorities of employees are children and youngsters, who are using as a sweeper and wash the dishes, and using in sexual harassment, when i saw these cases i can't stop my Tears, I wish to see them independent. These children are mostly belongs to poor families. The parents who don't have financial support they don't sent their children to school to get education, they sent their children for labor but they don't know their the employers misuse their child's.

"So my basic aim is how to free these children on their choice, I have surveyed. Most want to study but due to lack of financial issue they can't."
---
ABOUT KAINAT KHAN
Kainat Khan was born on 25th of May 1998 in Rawalpindi. She belongs to Noshera (Khyber Pakhtun Kuwa), Pakistan and attended schooling at the Jinnah Public School, Rawalpindi. Kainat completed her religious education from one of the leading madras of rawalpindi. Her interest and struggle brought her to a world of tennis. She is doing practice regularly in sports complex, Islamabd. She also participated in tournament at ITC, Islamabad.

According to Kainat, "I have memorized the HOLY QURAN at the age of 11 when I was 11, I started working for peace among children. At the age of 12, Nowshera (KPK) is my village, when it was flooded, I worked to solve the problems and helped the people of my village.

 

"When I was 13 years old, I established an NGO on my name, the KAINAT WELFARE ORGANIZATION. I am against terrorist who brainwash the children and make them criminal minded and use them for their purpose. I do not want to see guns in the hand of children; I want to see the hands of children in education. I taught more than seven hundred children about what is the best way to be human. I am the youngest girl in the world who is the chair person of an NGO and deal.

"At the same time, I am tennis player at Pakistan level. I started playing tennis while was 12. I also played Malaysia Field Cup and wrote a book on tennis which title is "TENNIS AND KAINAT". I got first prize for this book. After that I wrote a book on "Peace" which title is "Aman and kainat". I distributed this book in countless numbers in schools so that it can bring peace to our children. In English language my book is "WAY TO PEACE" in which I tried to build a positive image of Pakistan and which has positive messages for children children of World.

"I am voice to those women who are murdered in the name of honor and face oppressions. I am kainat khan. Actually I want to work and see peace in Pakistan as well as in all over the world. I have faced many challenges in my life and I hope you people will encourage me. I am also a leacutrer of peace in school and madaras."
---
CONTACT INFO
For more information please contact:

Kainat Khan
E-mail: info@kainatpakistan.org

Phone: 0321-5469997

 
---
ABOUT PIRWADHAI RAWALPINDII, PAKISTAN (from Wikipedia)

Pir Wadhai, is a town in Rawalpindi District, Pakistan. Pir Wadhai has a population of around 100,000, which includes a majority of Paharias Pothoharis and Pathans and a minority of Punjabis, Kashmiris and others.

Rawalpindi District is a district of Pakistan in the northern region of the Punjab province. The district has an area of 5,286 km2 (2,041 sq mi). It was part of Rawalpindi Division, until the year 2000 when the division was abolished. It is situated on the southern slopes of the north-western extremities of the Himalayas, including large mountain tracts with rich valleys traversed by mountain rivers. The chief rivers are the Indus and the Jhelum, and the climate is noted for its health benefits.

The district of Rawalpindi was created during British rule as part of Punjab province. The district obtained its current boundaries in 1904 when Attock District was created as a separate district. According to the 1901 census of India the population in 1901 was 558,699, an increase of 4.7% from 1891.

Pakistan, officially the Islamic Republic of Pakistan is a sovereign country in South Asia. With a population exceeding 191 million people, it is the sixth most populous country and with an area covering 796,095 km2 (307,374 sq mi), it is the 36th largest country in the world in terms of area. Pakistan has a 1,046-kilometre (650 mi) coastline along the Arabian Sea and the Gulf of Oman in the south and is bordered by India to the east, Afghanistan to the west, Iran to the southwest and China in the far northeast respectively. It is separated from Tajikistan by Afghanistan's narrow Wakhan Corridor in the north, and also shares a maritime border with Oman.

The territory that now constitutes Pakistan was previously home to several ancient cultures, including the Mehrgarh of the Neolithic and the Bronze Age Indus Valley Civilisation, and was later home to kingdoms ruled by people of different faiths and cultures, including Hindus, Indo-Greeks, Muslims, Turco-Mongols, Afghans and Sikhs. The area has been ruled by numerous empires and dynasties, including the Indian Mauryan Empire, the Persian Achaemenid Empire, Alexander of Macedonia, the Arab Umayyad Caliphate, the Mongol Empire, the Mughal Empire, the Durrani Empire, the Sikh Empire and the British Empire. As a result of the Pakistan Movement led by Muhammad Ali Jinnah and the subcontinent's struggle for independence, Pakistan was created in 1947 as an independent nation for Muslims from the regions in the east and west of Subcontinent where there was a Muslim majority. Initially a dominion, Pakistan adopted a new constitution in 1956, becoming an Islamic republic. A civil war in 1971 resulted in the secession of East Pakistan as the new country of Bangladesh.

 

Pakistan is a federal parliamentary republic consisting of four provinces and four federal territories. It is an ethnically and linguistically diverse country, with a similar variation in its geography and wildlife. A regional and middle power, Pakistan has the seventh largest standing armed forces in the world and is also a nuclear power as well as a declared nuclear-weapons state, being the only nation in the Muslim world, and the second in South Asia, to have that status. It has a semi-industrialised economy with a well-integrated agriculture sector, its economy is the 26th largest in the world in terms of purchasing power and 45th largest in terms of nominal GDP and is also characterized among the emerging and growth-leading economies of the world.

The post-independence history of Pakistan has been characterised by periods of military rule, political instability and conflicts with neighbouring India. The country continues to face challenging problems, including overpopulation, terrorism, poverty, illiteracy, and corruption. Despite these factors it maintains strategic endowments and development potential while it has made substantial progress in reducing poverty giving it the second lowest headcount poverty rate in South Asia. It is ranked 16th on the 2012 Happy Planet Index. while its stock exchange has been among the highest performing in Asia.
DO YOU THINK YOUR COMMUNITY CAN BE A CITY OF PEACE? SEND AN EMAIL!
 Note: If information or photos used here are copyrighted, please contact us and we will immediately delete the copyrighted material.