Port-au-Prince, Hinche, Fort Liberté, Haiti: Cities of Peace
Welcome to Jean-Claude Dorsainvil, leader of the Port-au-Prince, Haiti: City of Peace initiative. In addition, welcome to Mrs. Izelle Dubuisson of the Hinche, Haiti: City of Peace and H. Slim Diouff Dorsainvill, Fort-Liberte, Haiti: City of Peace initiatives.
1. City of Peace Port-au-Prince, Haiti, Jean-Claude Dorsainvil
2. City of Peace Hinche, Haiti, Mrs. Izelle Dubuisson
3. City of Peace Fort-Liberte, Haiti, H. Slim Diouff Dorsainvil
City of Peace Haiti began after the earthquake of January 12, 2010, when Dr. Jean-Claude, a Doctor of Theology, made a brief visit to the victims of the earthquake . Deeply burdened by the poverty, sickness, social and spiritual need they observed while there, they earnestly prayed for Peace . Guidance as they considered how they might help. They can not have peace with the violence established in the urban areas of Haiti.
Note: Introduction page with information primarily at the time of joining International Cities of Peace. For updates, please contact the liaison.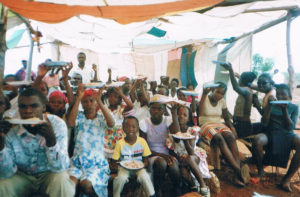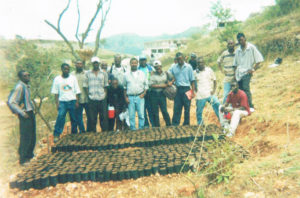 The Students of the School of Agronomy of Queensland University (UQ) Haiti in the City of Hinche, Plateau Central. We continue to help the students in low income families to find Scholarship. When you help a Youth to receive a Scholarship to enter to University, you preach the peace and say No to the Violence.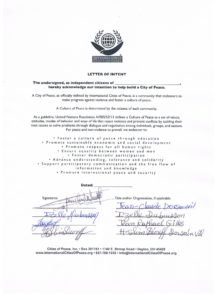 Letter of Intent
In February 2010, City of Peace Haiti the first group of City of Peace Haiti arrived in Hinche , Plateau Central with a group victim of the earthquake just to give mission hands and feet. We began to receive 550 young victims by the earthquake and we are opened a mini Campus of Queensland University (UQ) Haiti and we help them to enter to the School of Agronomy of Queensland University in the City of Hinche, Plateau Central.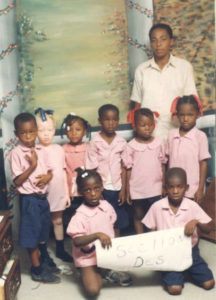 City of Peace Haiti is a Non Profit Association dedicated to connecting, promoting, and encouraging the National City of Peace Movement in Haiti. We fight against Violence in the Rural and Urban areas of Haiti. In 2011, a 1500 square foot medical building was constructed in nearby Treuil to serve the surrounding Village of peace Haiti. The Building has an operational medical treatment areas, a pharmacy, a fully equipped dental clinic with two operatories and private quarters for medical personnel.
VISION STATEMENT
To foster peace as a Consensus value in the City of Peace Haiti and in World.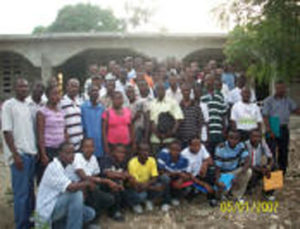 MISSION STATEMENT
To network, encourage, document and provide resources and information for local leaders and organization working to make Peace a Consensus value through the Global Cities of Peace Movement in the Rural and Urban Areas of Haiti.
GOALS
Network individual, villages and City of Peace in Haiti

Provide an independent, unaligned resource for City of Peace Haiti

Encourage, honor, and connect Peace adherent and Organization.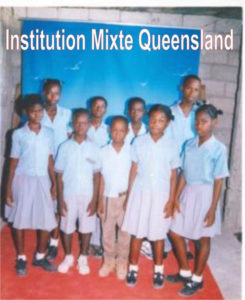 The Institution Mixte Queensland (IMQ) is an Elementary School and High School of Queensland University that City of Peace Haiti opened in Port-au-Prince. After the earthquake all the buildings, material and equipment of this school are completely destroyed. We help some abandoned Children to go to school until University. After their High School, City of Peace Haiti has given some Scholarship for agronomy, nursing, medicine, gestion and management, engineering, Theology and other disciplines.
Please make a Donation via International Cities of Peace (ICP) or City of Peace Haiti. Many thanks for your support.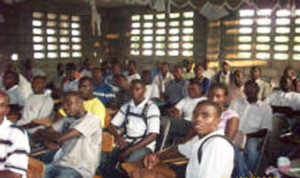 ---
ABOUT JOHN-CLAUDE DORSAINVIL (Port-au-Prince, Haiti)
Jean-Claude Dorsainvil was born Gros-Morne,  Haiti in March 8,  1968. He has earned degrees from Grace Evangelical Theological Seminary (GETS) of Queensland University, Cours de Formation Continue (CFC) France, Paris. Doctorate (Ph.D)  in Ministry and Pastoral Theology from Facultad Cristiana Teologica  de Venezuela .A.C., Venezuela, Caracas.

He has a Bachelor and Master in Agronomy from ISCRA and International Agricultural Centre (IAC) of  Wageningen Agricultural University, Netherlands.
He has a Specialty in Ecotourism and Peace in Tropical Countries from University For Peace (UPEACE) San Jose, Costa Rica.

He has a Specialty in Communication and Social Sciences from Centre Universitaire Haitien de Formation des Journalistes (CHFJ). Haiti He is the Founder and Owner of Grace Hour Radio Television (RTHG) Nord-Est, Haiti. He is the Founder and President of Queensland University (UQ) Haiti,  a Christian University founded in 1996 in Haiti. He was Pasturing the Advent Christian Church of Delmas , Port-au-Prince, Haiti :  2000-2006.

In 2010, he founded City of Peace Haiti a non profit association working against the Violence in the Rural and urban areas of Haiti.
ABOUT IZELLE DUBUISSON (Hinche, Haiti)
Izelle Dubuisson was born in the City of Hinche in November 11, 1968.
She has a Bachelor Degree and a Master in Administration and Gestion at University of G.O.C, Haiti and a Master in Administration from Facultad Cristiana Teologia de Venezuela.

Izelle is married and has four small boys. Since 2013 she is the Coordinator of the City of Peace of Hinche when whe began to work with the victims of the earthquake of January 12, 2010 at School of Agronomy of Queensland, University Hinche and with the Students of School of Gestion of Queensland University Hinche. She is the Coordinator of the City of Peace of Hinche.
ABOUT H. SLIM DIOUFF DORSAINVIL (Fort-Liberte, Haiti)
Heiden Slim Diouff Dorsainvil was born in Port-au-Prince, Haiti. He has a diploma in social sciences. He is a Youth after the earthquake that is interested to work with the Children Victim and abandoned children about the City of Peace Fort-Liberte. He is working with the Youth and abandoned children in Fort-Liberte and seeks international partners to help in scholarship and support the abandoned children in Fort-Liberte. He is the Coordinator of the City of Peace of Fort-Liberte.
---
CONTACT INFO
For more information please contact City of Peace Haiti

P.O.Box 13042 Delmas

Delmas 33, Rue St-Paul # 3

Tel (509) 42 44 93 77 / Email : citypeacehaiti@gmail.com

Port-au-Prince, Haiti

 
---
ABOUT PORT-AU-PRINCE, HAITI (from Wikipedia)
Haiti, officially the Republic of Haiti (République d'Haïti; Repiblik Ayiti), is a Caribbean country. It occupies the western, smaller portion of the island of Hispaniola, in the Greater Antillean archipelago, which it shares with the Dominican Republic. In French, the country's nickname is La Perle des Antilles (The Pearl of the Antilles), because of its natural beauty. It is the most mountainous nation in the Caribbean and the country's highest point is Pic la Selle, at 2,680 metres (8,793 ft).
Port-au-Prince is the capital and largest city of the Caribbean country of Haiti. The city's population was 897,859 as of the 2009 census, and was officially estimated to have reached 942,194 in 2012. The city of Port-au-Prince is on the Gulf of Gonâve: the bay on which the city lies, which acts as a natural harbor, has sustained economic activity since the civilizations of the Arawaks. It was first incorporated under the colonial rule of the French, in 1749, and has been Haiti's largest city since then.
The city's layout is similar to that of an amphitheatre; commercial districts are near the water, while residential neighborhoods are located on the hills above. Its population is difficult to ascertain due to the rapid growth of slums in the hillsides above the city; however, recent estimates place the metropolitan area's population at around 3.7 million, nearly half of the country's national population.
Port-au-Prince was catastrophically affected by an earthquake on January 12, 2010, with large numbers of structures damaged or destroyed. Haiti's government has estimated the death toll at 230,000 and says more bodies remain uncounted.
Hinche is a commune in central Haiti. It has a population of about 50,000. It is the capital of Centre department. Hinche is the hometown of Charlemagne Péralte, the Haitian nationalist leader who resisted the United States occupation of Haïti (1915-1934).
During the earthquake of January 12, 2010. City of Peace Haiti in collaboration with Queensland University (UQ) Haiti have helped the haitian students in low income to find Scholarship in agronomy, nursing, gestation, management, and engineering in the Mini Campus of Queensland University (UQ) Hinche, Plateau Central.
Fort-Liberté (Haitian Creole: Fòlibète) is a commune and administrative capital of the Nord-Est Department, Haiti. Under French rule, it was previously named Fort–Royal and Fort Dauphin. It is close to the border of the Dominican Republic and is one of the oldest cities in the country. Haiti's independence was proclaimed here on November 29, 1803.
The area around Fort-Liberté was originally inhabited by Indians, and later by Spanish colonists, who founded the city of Bayaja in 1578, but abandoned it in 1605. The site was reoccupied by the French in 1732 as Fort-Dauphin; it was captured by Spanish forces in 1794 and then restored to the French in 1801 shortly before the declaration of independence in 1803. The city has undergone a succession of name changes: Bayaja (1578), Fort-Dauphin (1732), Fort St. Joseph (1804), Fort-Royal (1811) and finally Fort-Liberté (1820). The town is the see city of the Roman Catholic Diocese of Fort-Liberté.
Haiti's regional, historical, and ethno-linguistic position is unique for several reasons. Originally inhabited by the indigenous Taíno people, the island was first discovered by Christopher Columbus during his first voyage across the Atlantic in 1492. When Columbus first landed on Haiti (western Hispaniola), he had thought he had found India or Asia. His flagship, the Santa Maria, sank after running aground on December 25 in the north coast of what is now present day Haiti. Deciding to establish a settlement in the area, a contingent of men were left at an outpost christened La Navidad, because the wreck occurred on Christmas day, north from the modern town of Limonade.
Gaining its independence in 1804, Haiti was the first independent nation of Latin America and the Caribbean, the second republic successful in a war of independence against a European colonial power in the Americas, the only nation in the western hemisphere to have defeated three European great powers (Britain, France, and Spain), and the only nation in the world established as a result of a successful slave revolt. The rebellion was led by a former slave and the first black general of the French Army, Toussaint Louverture, whose military genius and political acumen transformed an entire society of slaves into the independent country. Upon his death in a prison in France, he was succeeded by his lieutenant, Jean-Jacques Dessalines, who declared Haiti's sovereignty and later became the first emperor of Haiti, Jacques I.
Its successful revolution by slaves and free people of color lasted nearly a decade; and apart from Alexandre Pétion, the first President of the Republic, all the first leaders of government were former slaves. The Citadelle Laferrière, is the largest fortress in the Americas located in northern Haiti, built by former slave Henri Christophe, who was the drummer boy at the pivotal Siege of Savannah in the American Revolution, along with the French Army and more than 500 Haitian volunteers from Saint-Domingue, later becoming the first king of Haiti, Henri I. It was built between 1805 and 1820 in order to sustain a future European attack and is today known as the eighth wonder of the world.
With 10.4 million people, Haiti is the most populous full member-state of the Caribbean Community (CARICOM). The country is also a member of the Latin Union. In 2012, Haiti announced its intention to seek associate membership status in the African Union. It has the lowest Human Development Index in the Americas. Political violence has occurred regularly throughout its history, leading to government instability. Most recently, in February 2004, a coup d'état originating in the north of the country forced the resignation and exile of President Jean-Bertrand Aristide. A provisional government took control with security provided by the United Nations Stabilization Mission in Haiti (MINUSTAH). Michel Martelly, the current president, was elected in the 2011 general election.
DO YOU THINK YOUR COMMUNITY CAN BE A CITY OF PEACE? SEND AN EMAIL!
 Note: If information or photos used here are copyrighted, please contact us and we will immediately delete the copyrighted material.