An historic day! HW Philip Brown, Mayor of Charlottetown, Prince Edward Island, signs an acknowledgement of Charlottetown as a City of Peace and 21 September as International Day of Peace.
Prince Edward Island, Canada: International Cities of Peace

We welcome the Mayors and peacemaking teams of the communities on Prince Edward Island on the eastern coast of Canada. Each town brings challenges and solutions as well as Proclamations that commit their community toward honoring their legacy of peace and working toward a deeper culture of peacemaking.
• Charlotteville, PEI: Officially Proclaimed as City of Peace, 2022, and joined the association of International Cities of Peace on September 21st
• Stratford, PEI: Proclaimed International Day of Peace, 2022
Note: Introduction page with information primarily at the time of joining International Cities of Peace. For updates, please contact the liaison.
---
CHARLOTTETOWN, PRINCE EDWARD ISLAND, CANADA
The Mayor of Charlottetown, Philip Brown has given an enthusiastic initial nod for Charlottetown to be designated a Peace City. Many organizations and individuals are participating. The photo below show young Rotaract UEPI group as the next generation of community peace builders.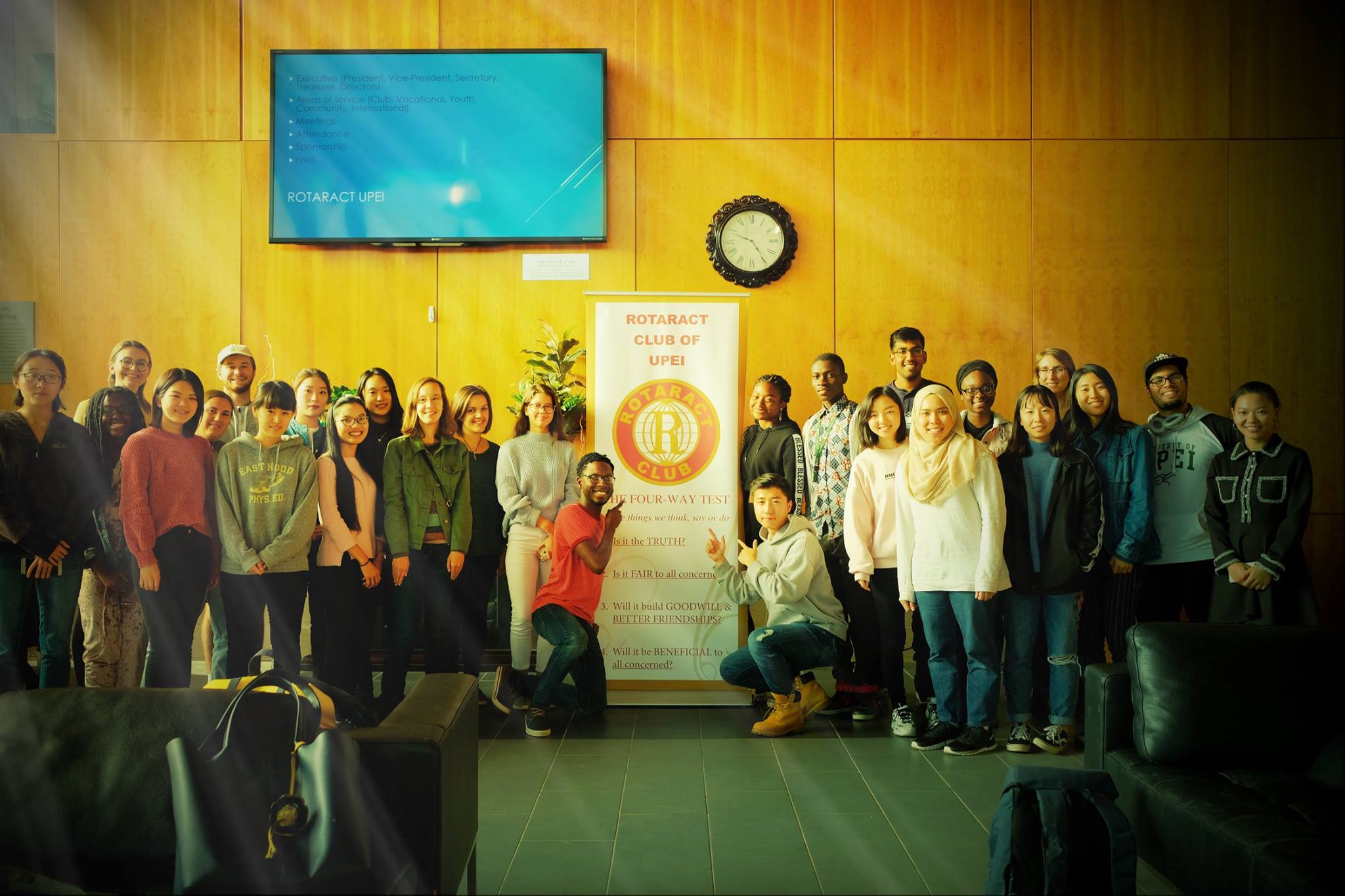 The Proclamation for Charlottetown was signed on Thursday, September 15, 2022.
---
STRATFORD, PRINCE EDWARD ISLAND, CANADA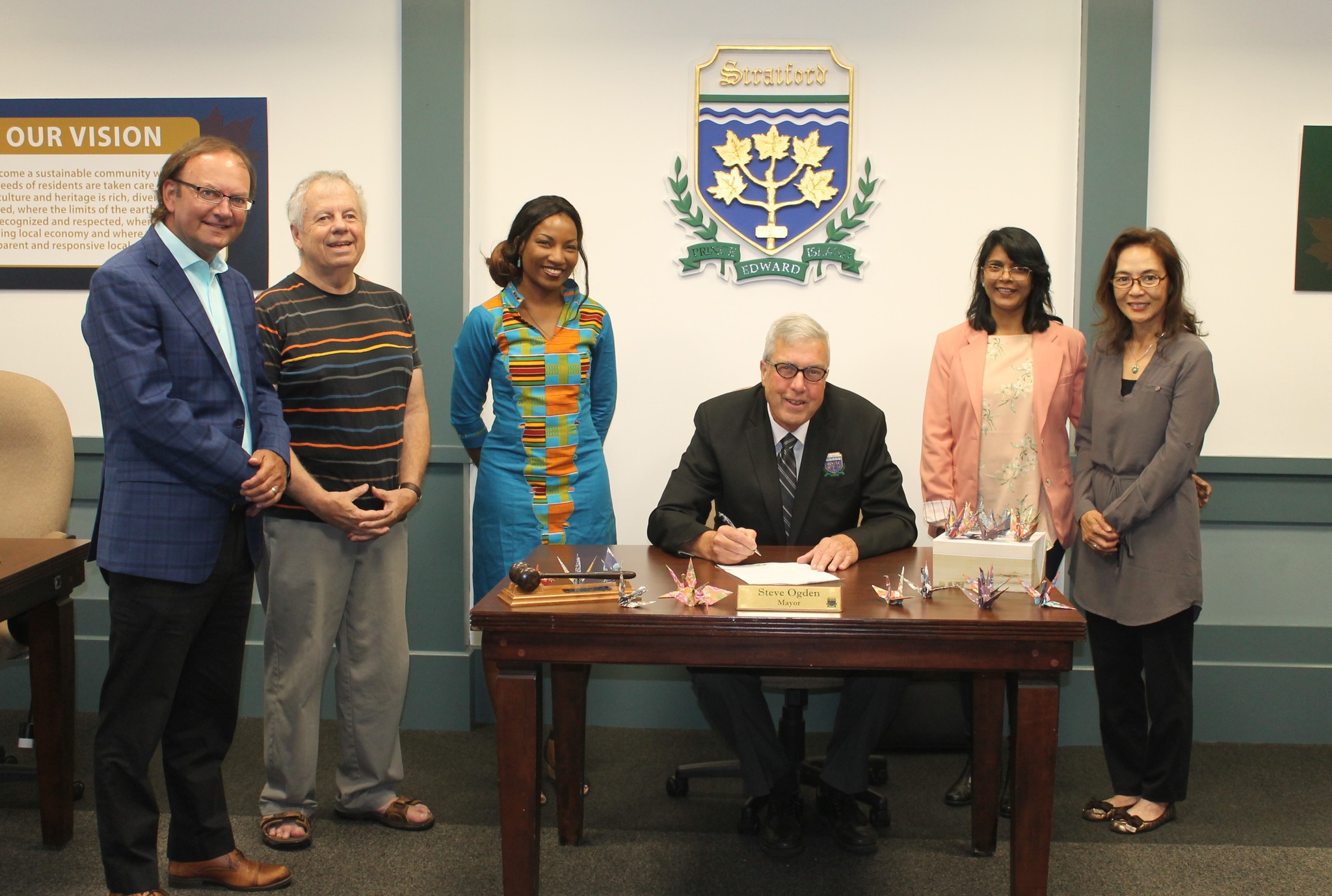 HW Stephen Ogden, Mayor of Stratford, Prince Edward Island, acknowledged through a proclamation that 21 September be commemorated as International Day of Peace. This proclamation also mentioned that the Town of Stratford is a signatory of the Coalition of Inclusive Municipalities and as such, they are committed to upholding the Coalition's commitment for respecting, protecting, and promoting human rights, and diversity.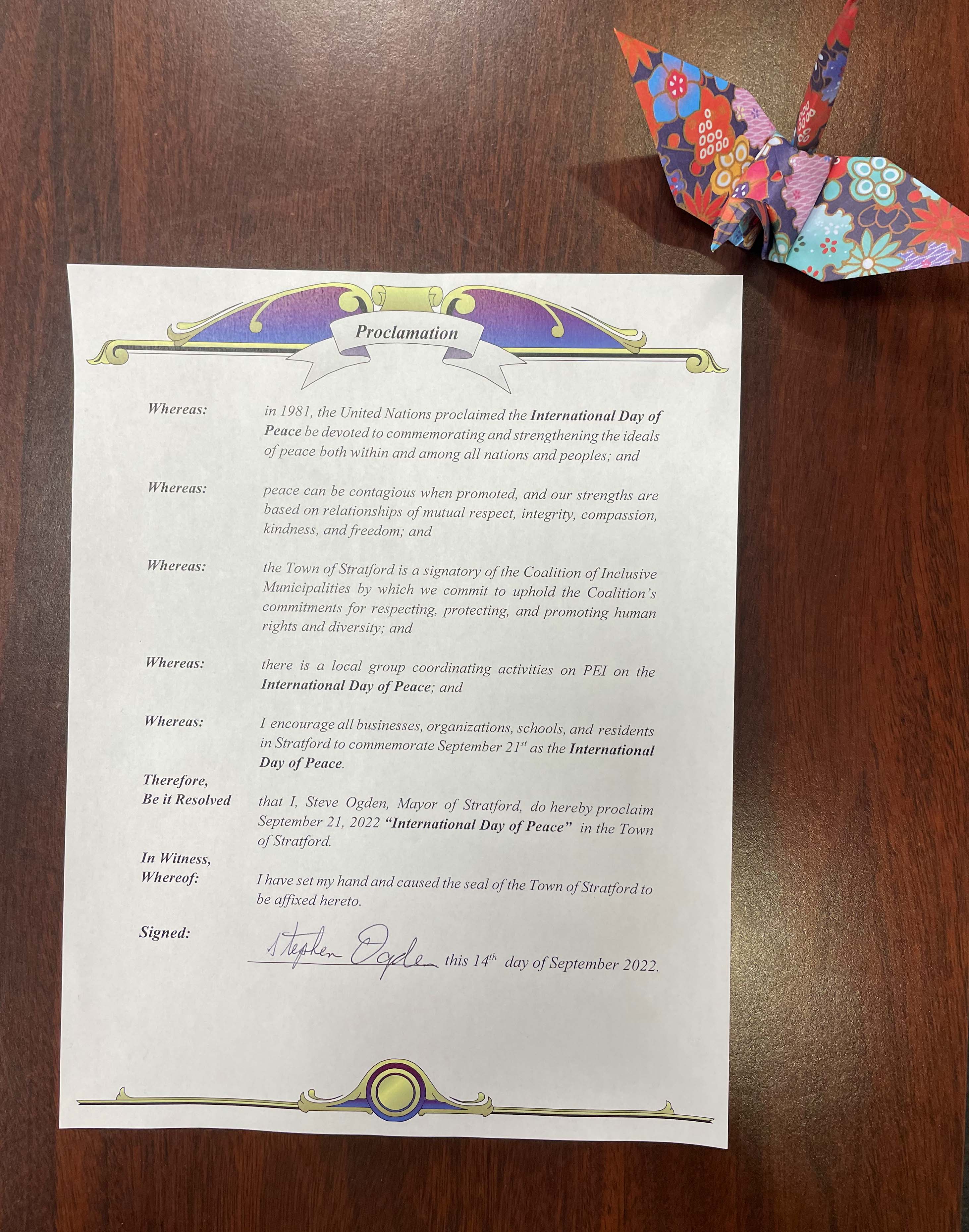 ---
ABOUT THE LEADERSHIP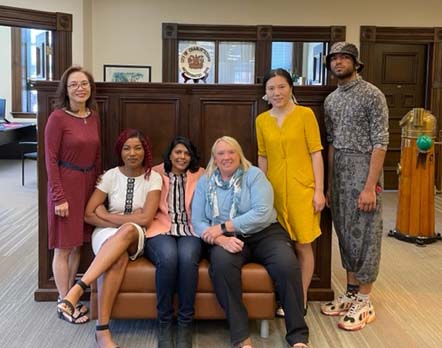 Shown above are just a few of the members of the original peace team in the Region of Prince Edward Island.
---
LETTER OF INTENT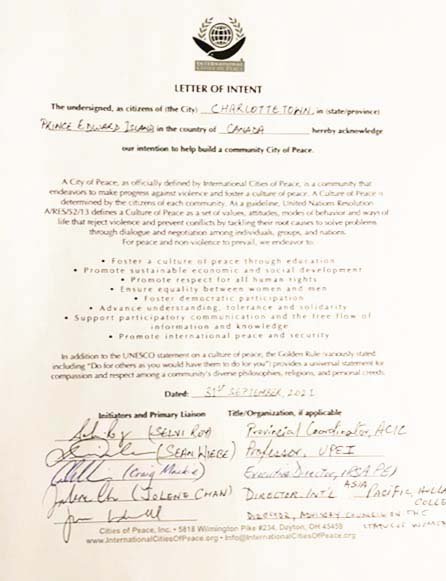 ---
THE PEI PEACE TEAM
JOLENE CHAN
Jolene is the Director of International Joint Ventures (Asia/Pacific Region) of Holland College, and manages the Educational Joint Ventures (EJVs) in China. This project enables the College to jointly deliver programs with twelve post-secondary institutions in China; and recruits students from Asia for enrollment in Holland College and UPEI.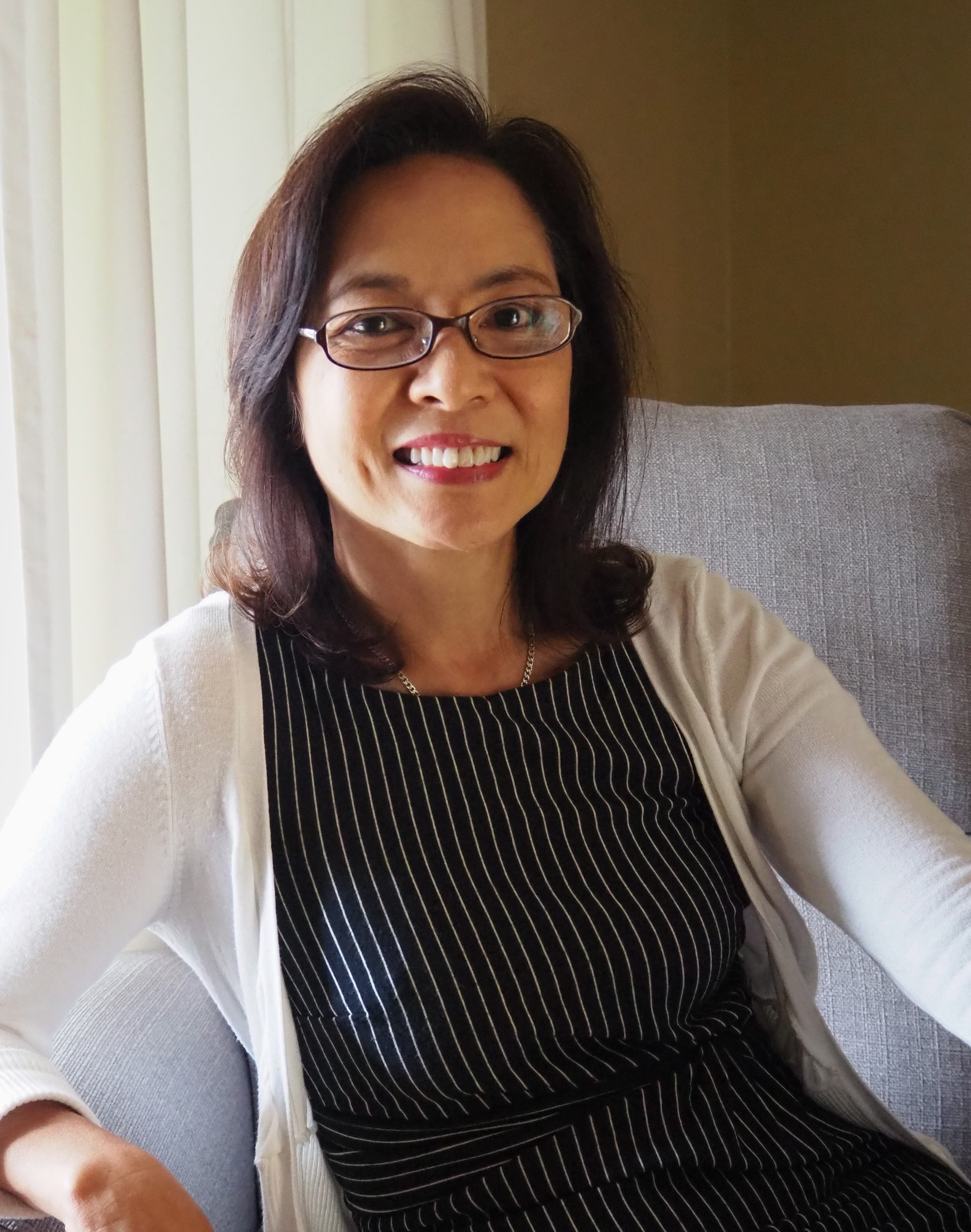 In June 2017, Holland College presented Jolene with the Leadership Excellence Award. In 2020, Jolene was awarded as a top three finalist in the Women's Group in recognition of her invaluable contributions on the 50th Anniversary of Canada-China Diplomatic Relations.  Jolene had been a Director on the Board of the Prince Edward Island Immigrant and Refugee Services Association for 10 years, and currently is the District Leader of the Soka Gakkai International Association of Canada in PEI. Jolene has been living in PEI for 25 years. She is living with her 87 years old mother and her daughter works at the Queen Elizabeth Hospital.
JIM HORNBY
Jim is a native of Charlottetown who worked as a writer/editor in Montreal for Seagram's, and in the Premier's Office in Fredericton, before a legal career as a member of the law societies of Prince Edward Island and Newfoundland and Labrador. He has represented Indigenous people in Provincial Court in coastal Labrador communities for NL Legal Aid.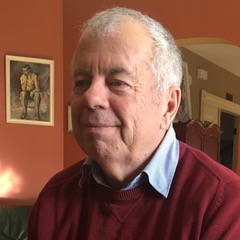 Jim holds master's degrees in Canadian Literature from Concordia of Montreal, and in Folklore from Memorial University of Newfoundland. He has been involved in Island history as the former editor of The Island Magazine for the PEI Museum & Heritage Foundation, as the author of a number of articles, and the books Black Islanders: Prince Edward Island's Historical Black Population, and In the Shadow of the Gallows, both published by UPEI. He has organized public events relating to Island Black history and racism, including "Festival for the Bog," 2017, and "Potato Head Blues," 2018.
He is a longtime member of the board of directors of the Immigrant and Refugee Services Association of PEI, (formerly ANC), and has been involved with the Hillsborough River Association.
As an acoustic and Celtic musician and songwriter, Jim has long enjoyed playing music with friends, and in groups that have included the Belfast Ceilidh Band and the Rambling Pitchforks.
SELVI ROY
Selvi Roy is a social development professional who loves working in the fields of peace promotion, resilience building, primary health, education, and livelihood development. Currently, she contributes as Senior Editor at Get Edits Literacy Training Ltd. and undertakes consultancy work.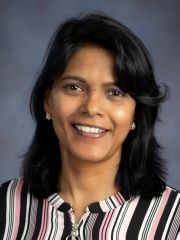 Selvi is Vice President on the Board of the Immigrant & Refugee Services Association, and a member of the Cooper Institute. She worked as Team Lead on Operation Isolation, an initiative by the Chief Public Health Office during the height of the Covid-19 pandemic. She also worked as the Provincial Coordinator (PEI & NB) with the Atlantic Council for International Cooperation.
In 2017, Selvi received a doctorate in Educational Studies from the University of Prince Edward Island, and has delivered over 25 conference presentations.
She and her husband Cyril, and their daughter Cecilia, are animal welfare enthusiasts working on a book with stories based on their experiences growing up with and around animals and birds.
JANE LEDWELL
Jane Ledwell lives in Charlottetown with her family. She works to build peace in the community as a writer and editor and volunteer.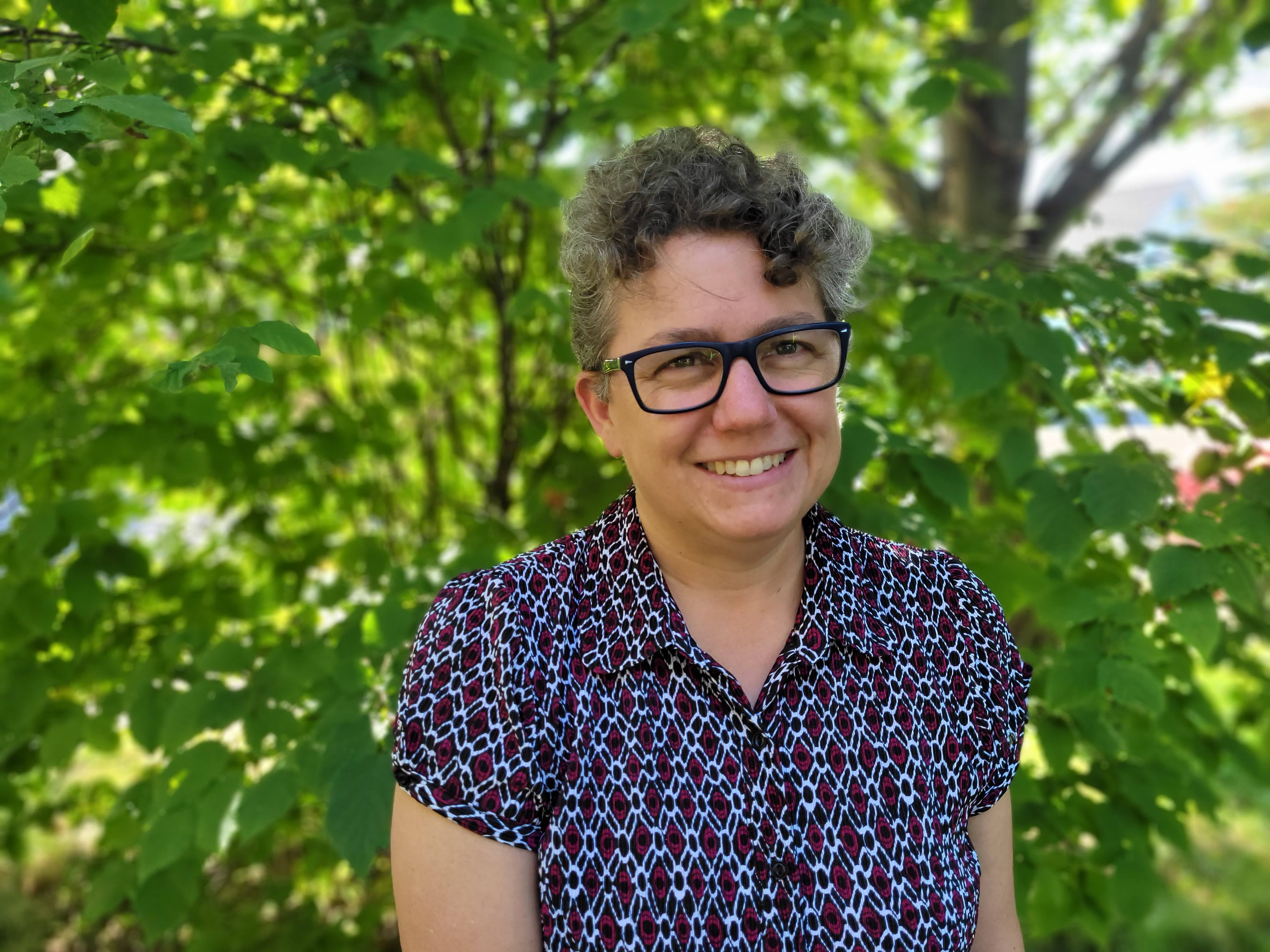 Her paid work is with the PEI Advisory Council on the Status of Women, which leads peace-building campaigns against gender-based violence.
---
CONTACT INFORMATION
To contact or support this initiative:
---
ABOUT PRINCE EDWARD ISLAND, CANADA (from Wikipedia)

Prince Edward Island or Epekwitk is one of the thirteen provinces and territories of Canada. It is the smallest province in terms of land area and population, but the most densely populated. The island has several nicknames: "Garden of the Gulf", "Birthplace of Confederation" and "Cradle of Confederation". Its capital and largest city is Charlottetown. It is one of the three Maritime provinces and one of the four Atlantic provinces.
Part of the traditional lands of the Miꞌkmaq, it was colonized by the French in 1604 as part of the colony of Acadia. The island was ceded to the British at the conclusion of the French and Indian War in 1763 and became part of the colony of Nova Scotia, and in 1769 the island became its own British colony. Prince Edward Island hosted the Charlottetown Conference in 1864 to discuss a union of the Maritime provinces; however, the conference became the first in a series of meetings which led to Canadian Confederation in 1867. Prince Edward Island initially balked at Confederation but, facing bankruptcy from the Land Question and construction of a railroad, joined as Canada's seventh province in 1873.
According to Statistics Canada, the province of Prince Edward Island had 158,717 residents in 2019. The backbone of the island economy is farming; it produces 25% of Canada's potatoes. Other important industries include the fisheries, tourism, aerospace, bio-science, IT, and renewable energy. As Prince Edward Island is one of Canada's older settlements, its population still reflects some of the earliest settlers, with Canadien, Scottish, Irish, and English surnames being dominant.
Prince Edward Island is located in the Gulf of St. Lawrence, about 200 kilometres (120 miles) north of Halifax and 600 kilometres (370 miles) east of Quebec City, and has a land area of 5,686.03 km2 (2,195.39 sq mi). The main island is 5,620 km2 (2,170 sq mi) in size. It is the 104th-largest island in the world and Canada's 23rd-largest island.
Note: If information or photos used here are copyrighted, please contact us and we will immediately delete the copyrighted material.