Ringa, Kenya: City of Peace
Welcome to James Oyugi and the citizens of a rural Village called Kakelo in Ringa Town, Homa Bay County, Kenya. The group is a society of youths who have decided to use football as a way of bringing them together to advocate for gender equality, poverty eradication, fighting illiteracy, promoting peaceful coexistence in our community and beyond, amongst other peace building initiatives.
Note: Introduction page with information primarily at the time of joining International Cities of Peace. For updates, please contact the liaison.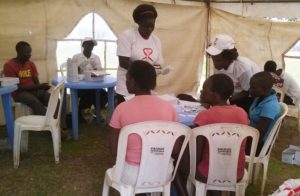 James addressing some of the youths in one of our many local meetings.
VISION
We are involved in Football as a secure means of bringing youths (some of whom are total orphans) together within a stronger circle in order to chat ways forward to improving their lives in terms of poverty alleviation, gender equality, fighting illiteracy, encouraging peaceful coexistence, discovering and nurturing talents with intent to exposure, advocating for behavioral change by discouraging use of drugs and creating HIV AIDS awareness. We also engage the youths in other income generating activities for self-reliance.

Some of the children in the football training ground.

 

MISSION

By partnering with other likeminded organizations or individuals both locally and internationally, we expect to borrow and share ideas that when implemented can broadly expand our knowledge towards meeting our goals. Admitting to the fact that resources are scarce in our impoverished community, we do not hesitate to welcome any kind of donations from well-wishers in order to help us in facilitating the well-being of the youths some of whom are either very young and school going or old enough and jobless. By applying for donations from other organizations, we expect to get enough football kits to help us train and play tournaments as well as facilitate our movements to the tournaments, attend workshops/seminars, pay school fees for the school going, involve the older youths in income generating activities and also organize our local meetings where we invite experts and professionals in the areas that we are involved in.

Some of the Children receiving computer Lessons in my cybercafe.

Being from a County that has the highest HIV infections, we will continue inviting HTC Counselors from related organizations to counsel, test and put the infected to treatment as a way of curbing the HIV pandemic.
Engaging the youths and Children, both boys and girls, deprive them of idleness and therefore encourages Peaceful coexistence, gender equality, limit access to Drugs as well as limiting indulgence in dangerous behaviors. We are determined to improve our lives and also by extension to benefit the community in one way or the other.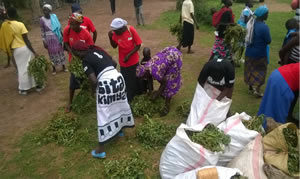 Women receiving potatoes vines in one of the functions we organized with a willing organization.
GOALS

Use football, the beautiful game that is loved by all:

i. To spread and promote the culture of peace within our community and beyond.
ii. To tackle the challenges facing the youths in general within our community.
iii. To encourage girl child education
iv. To help the less fortunate children find a place in the society
v. To discover and nurture talents within the otherwise would have been hopeless Children and youths a like and help promote the same.
vi. To discourage use of Drugs.
vii. To thwart escalation of HIV AIDS, help prevent new infections and help the infected people access medication.
Viii. To denounce violence especially during elections period as was witnessed in the year 2007.
ix. To help alleviate poverty by encouraging active participation in income generating activities such as Agriculture, Sports, small scale businesses etc.
x. To protect the right of a child to education and medication.
xi. To protect, promote and help retain the image of football as the number one loved sport here in the community and world over.
xii. To ensure every child and youth alike is computer literate.

Attending a seminar on governance and leadership thanks to Centre for Multiparty Democracy.

 

One of the youths expressing his views in a meeting.
Letter of Intent
---
ABOUT
I, James Odhiambo Oyugi was born in the year 1977 in a remote Village called Kakelo to a peasant farmer Father and Housewife mother. Both my parents died of HIV related deaths and left me with my other four siblings at the tender age of 14 years, to the care of our already ageing grandmother.

This reduced our lifestyle to one of total suffering. Lack of food was an order of the day and this caused me to do menial jobs like cultivating farms at that tender age to help fend for myself and other siblings and also take care of my education which never went beyond high school

Upon completing my high school and no one to pay for my college education, I decided to fully venture into the menial jobs by getting employed as a farm boy. Out of the little savings from the poor pay, I managed to open a small business which had been my ultimate goal. Since then, I never looked back. Despite my success, something was still a miss. HIV continued wiping the population and the number of orphans increasing. And that is when I decided that despite my business still being an Sme, It was time to give back to the society. To help prevent other children from going through what I underwent.

After thorough soul searching and ground work, it came to my realization that both the young and the old alike enjoyed football. I had no obligation but to answer to the call of starting the Sulwe Football Academy. Sulwe, meaning Stars in my native language, was the best name I could choose for the project. It has served as a dawn risen on mid-noon to many lives. I wish to continue fighting till we reach the level of my dream. Many thanks to whoever has supported us in one way or the other. Feel free to visit and like our facebook page under the same name Sulwe Football Academy. Many thanks to J. Fred Arment, Executive Director, International Cities of Peace for giving us a chance to be with the Global Family by declaring Ringa, international City of peace.
---
CONTACT INFO
For more information please contact:

James Oyugi <oyugijamesy@gmail.com>

 
---
ABOUT RINGA, KENYA (from Wikipedia)

Ringa Town is in Homa Bay, the largest town and capital in the former Nyanza Province of Kenya. Its capital and largest town is Homa Bay. The county has a population of 963,794 (2009 census) and an area of 3,154.7 km

Kenya, officially the Republic of Kenya, is a country in Africa and a founding member of the East African Community (EAC). Its capital and largest city is Nairobi. Kenya's territory lies on the equator and overlies the East African Rift covering a diverse and expansive terrain that extends roughly from Lake Victoria to Lake Turkana (formerly called Lake Rudolph) and further south-east to the Indian Ocean. It is bordered by Tanzania to the south, Uganda to the west, South Sudan to the north-west, Ethiopia to the north and Somalia to the north-east. Kenya covers 581,309 km2 (224,445 sq mi), and had a population of approximately 45 million people in July 2014.
Nyanza Province (Kenyan English pronunciation: [ˈɲaːnzə]; Swahili: Mkoa wa Nyanza), was one of Kenya's eight administrative provinces before the formation of the 47 counties under the 2010 constitution. The region is located in the southwest part of Kenya around Lake Victoria, includes part of the eastern edge of Lake Victoria and is inhabited predominantly by the Luo. There are also Bantu-speaking tribes such as the Gusii, the Kuria and a few traces of the Luhya living in the province. The province derives its name from Nyanza, a Bantu word which means a large mass of water.

The provincial capital was Kisumu, the third largest city in Kenya. The province had a population of 4,392,196 at the 1999 census within an area of 16,162 km², or 12,613 km² of land.
DO YOU THINK YOUR COMMUNITY CAN BE A CITY OF PEACE? SEND AN EMAIL!
 Note: If information or photos used here are copyrighted, please contact us and we will immediately delete the copyrighted material.