Rockford, Illinois, U.S.A.: City of Peace
Welcome to members of the Rockford Peace Coalition and the Rockford Rotary Club who have joined with other partners to establish Rockford as an International City of Peace. Some of the expressions of peace building in the Rockford area include:
• Ethnic Festival representing over 30 cultures in Rockford
• International Day of Peace held for over 1,000 elementary school children
• Planting peace poles around the Rock River Valley
• The Keeling-Puri Peace Plaza as a park to assist and remind all of peace and tranquility through diversity and heritage
Note: Introduction page with information primarily at the time of joining International Cities of Peace. For updates, please contact the liaison.
---
Rockford City of Peace Proclamation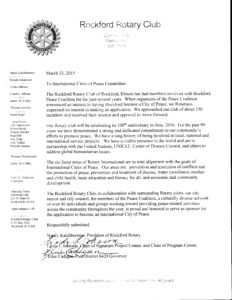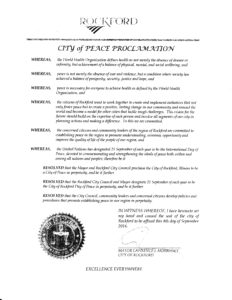 VISION
To foster peace as a consensus value in Cities of Peace around the world.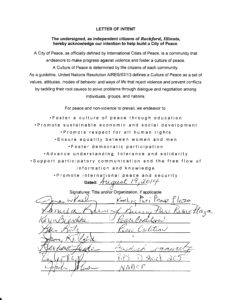 Letter of Intent
MISSION
To network, encourage, document, and provide resources and information to develop a community of leaders and organizations working to make peace, goodwill and understanding consensus values through global Cities of Peace initiatives.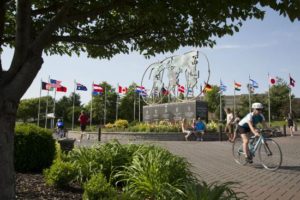 The Keeling-Puri Peace Plaza as a park to assist and remind all of peace and tranquility through diversity and heritage
http://www.keeling-puri-peaceplaza.com/
---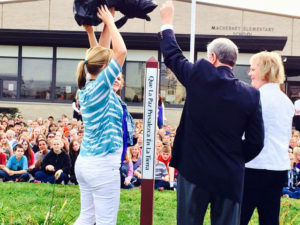 THE ROCKFORD PEACE COALITION
The Rock River Valley Peace coalition (some members shown above) is  a grassroot organization made up of community members who work throughout the year to spread the message of peace.

To learn more about how you and/or your organization can help spread the word and action of peace please contact us at connect2peacerockford@gmail.com.  All are welcome to attend the meetings that are held throughout the year.  Date, time and locations of meetings can be found at http://connect2peace.org/calendar/

---
ROCKFORD BUILDS THE PEACE PLEDGE
The citizens of Rockford, Illinois, including adults and children, have signed the following Peace Pledge:

"I believe that we must and we can BUILD THE PEACE EVERY DAY. Every Person, in Every Family, School, Community, City and Country. I believe that my own thoughts, words and actions make a difference. Therefore from this day forward I commit myself to the United Nations Culture of Peace Pledge: Respect all life; Reject violence; Share with others; Listen to understand; Preserve the planet and Rediscover Solidarity. We must and we can build a 'beloved community.'"
---

ROTARY CLUB OF ROCKFORD
The Rotary Club of Rockford is celebrating its 100th anniversary in 2016. The club has a long history of being involved in local, national, and international service projects. According to Rockford Rotary President Nancy Kalchbrenner and Elise Cadigan, past governor of Rotary District 6420n, "The Rockford Rotary Club, in collaboration with surrounding Rotary clubs, our city Mayor and City Council, the members of the Peace Coalition, a culturally diverse network of over 40 individuals and groups working toward providing peace-related activities across the community throughout the year, is proud and honored to serve as sponsor for the application to become an International City of Peace."
---
The Mayor and City Council of Rockford signed a Proclamation self-defining their community as a City of Peace.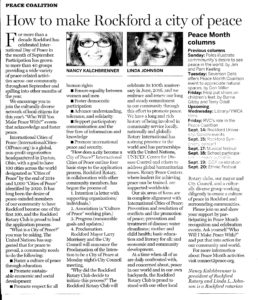 ---
MEMBERS OF THE COALITION

ROTARY Members:
Linda Johnson
Nancy Kalchbrenner
Elise Cadigan

PEACE COALITION Members:
Pamela Keeling
Jim Keeling
Lois Lutz
Karen Bieschke
---
CONTACT INFO
For more information please contact:

The Rockford Peace Coalition

connect2peacerockford@gmail.com

 
---
ABOUT ROCKFORD, ILLINOIS, U.S.A. (from Wikipedia)
Rockford is the third largest city in the U.S. state of Illinois, the 164th most populous city in the United States, and the 148th most populous region in the United States. It is the county seat of Winnebago County and is located on both banks of the Rock River in far northern Illinois. According to 2010 census data, the City of Rockford had a population of 152,871, with an outlying metropolitan area population of 348,360, which was estimated to have decreased to 150,251 and 344,623, respectively, by July 2013.

Settled between 1834 and 1835, Rockford was strategically positioned between Chicago and Galena and thus became suitable for industrial development. Rockford was notable for its output of heavy machinery and tools; by the twentieth century, it was the second leading center of furniture manufacturing in the nation. Its decline, emblematic of other cities in the Rust Belt, led to economic diversification into automotive, aerospace, and healthcare industries, as well as the undertaking of various tourism and downtown revitalization efforts.

Referred to as the Forest City, Rockford is known for various venues of cultural or historical significance, including Anderson Japanese Gardens, Klehm Arboretum, Tinker Swiss Cottage, the BMO Harris Bank Center, the Coronado Theatre, the Laurent House, and the Burpee Museum of Natural History. Moreover, its contributions to music are noted in the Mendelssohn Club, the oldest music club in the nation, and performers such as Phantom Regiment and Cheap Trick.
DO YOU THINK YOUR COMMUNITY CAN BE A CITY OF PEACE? SEND AN EMAIL!
 Note: If information or photos used here are copyrighted, please contact us and we will immediately delete the copyrighted material.