Ruaraka, Nairobi, Kenya: International City of Peace

We welcome Aggrey Kere Nyongesa, Executive Director of the Global Voluntary Development Association, and the citizens of Ruaraka in Nairobi, Kenya as through their work and a community-wide collaboration they have established their Constituency as an International City of Peace. Their efforts are extensive and they are doubling their work for peace through this new avenue of peace cities.
Vision
To have a safer productive society that is conducive for business environment.
Mission
Promote cohesion within our communities in Ruaraka.
Objective
To engage youths and all leaders in peace building.
Note: Introduction page with information primarily at the time of joining International Cities of Peace. For updates, please contact the liaison.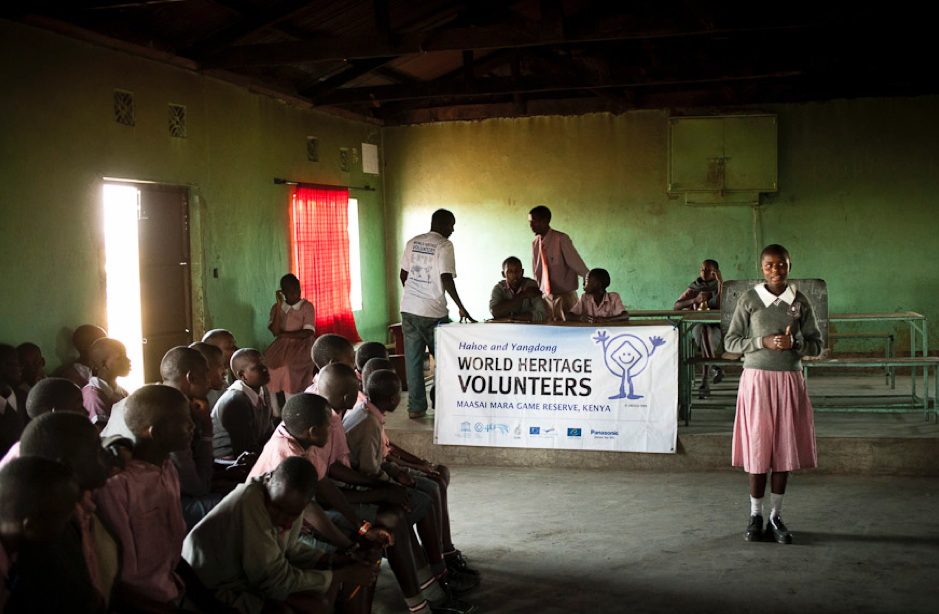 SPECIFIC SHORT-TERM GOALS
women, peace and security
politics and target leaders
Youth, peace and security
protection
safety and security
performance and accountability
peace making and sustaining peace
partnerships
These eight priority commitment areas are anchored in ongoing areas of our work, including the Gender Parity Strategy; the Women / youth, Peace and Security Agenda.
---
INTRODUCTION AND BACKGROUND
Ruaraka is home over 192 620 inhabitants with two major informal settlements, Mathare and Korogocho which has the largest population. Here an average person survives on less than a dollar a day.
Ruaraka is the second largest industrial zone in the country. Yet, it is one of the conflict-ridden regions during electioneering period. It is marked as one of the hot spots by Independent and Boundaries Commission IEBC.
Election period is a critical turning point, and the risk of renewed violence hangs in the balance. At stake in this struggle is political rivalry and inter-tribal clashes in the resource-rich industrial park of Ruaraka.
The sub county was formed for the 2013 election following proposals by the Independent and electoral Boundaries Commission which sought to ease political tensions during elections. It has five wards namely Babadogo, Utalii, Mathare North, Lucky Summer, Korogocho.
The ethnic conflicts. Violence, Instability has been a major constraint to development. Many businesses have been adversely affected and some permanently closed down.
Global Voluntary Development Association GVDA)  advocates for peaceful cohesion. We have mapped youth leads from wards in each location, we have also engaged the administration and brought on board all aspirants and siting leaders. The reason for bringing this people together is to promote community policing and engage in peaceful campaigns. All the youth are peace champions who will be working with youths from here localities.
Among the themes to focus are ethnic conflict, Landlord-tenants engagement, Environment Degradation and more so political rivalry. During this period disputes spiral into larger conflict as exemplified in 2007 – 2008 conflicts. It is therefore imperative to tackle the problem of post-election violence in a creative and innovative way to enhance community participation and commitment towards achieving lasting peace.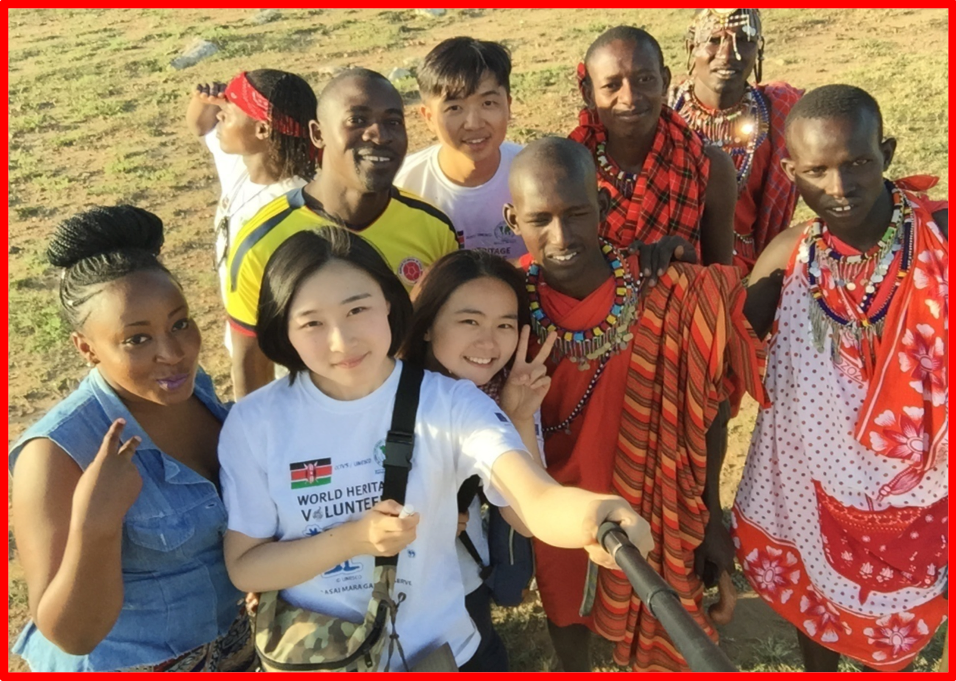 We are determined to address socio-economic and political issues.
All businesses small or large scale, Landlords and community members are victims of violence during this electoral period. Every 5 years Kenyans fear electoral violence hence need for peace processes. Through coordination, aspirants can be engaged, siting leaders, youth groups, community leaders, administration and the business community within Ruaraka to promote peace talks.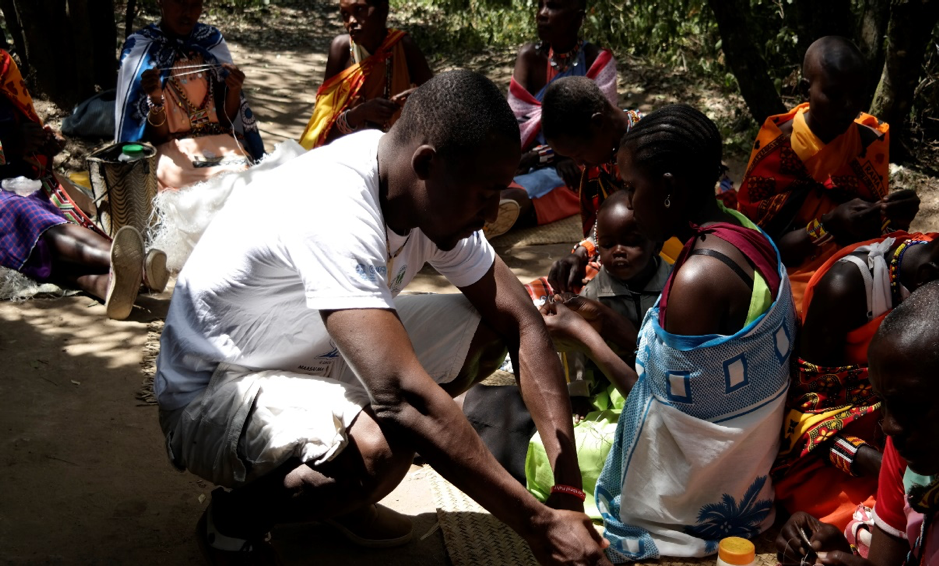 ---
Global Voluntary Development Association Profile
GVDA is a leading International non-profit making organization established in 1997 in Nairobi Kenya a beautiful land in the heart of the savannah.
We build global citizens by enhancing global solidarity
 It is a non-profit making organization that offers exciting activities and life changing intercultural experiences to over 120 partners across the world.
We are global in vision, partners in mission, collaborative in function, nature friendly, youth powered, community mindset and strategic in mobilizing the volunteers and helping them to fulfil their potential.
Cultural exchange programs combines summer camps, WHV, group, home stay, ecotourism,  internship, short, mid and long-term international volunteer positions.
---
Universal vision
We envision a peaceful world where volunteers are mobilised to alleviate global challenges through attitudes of servitude, flexibility, spontaneity, friendliness, hospitality, integration and cooperation for sustainable development.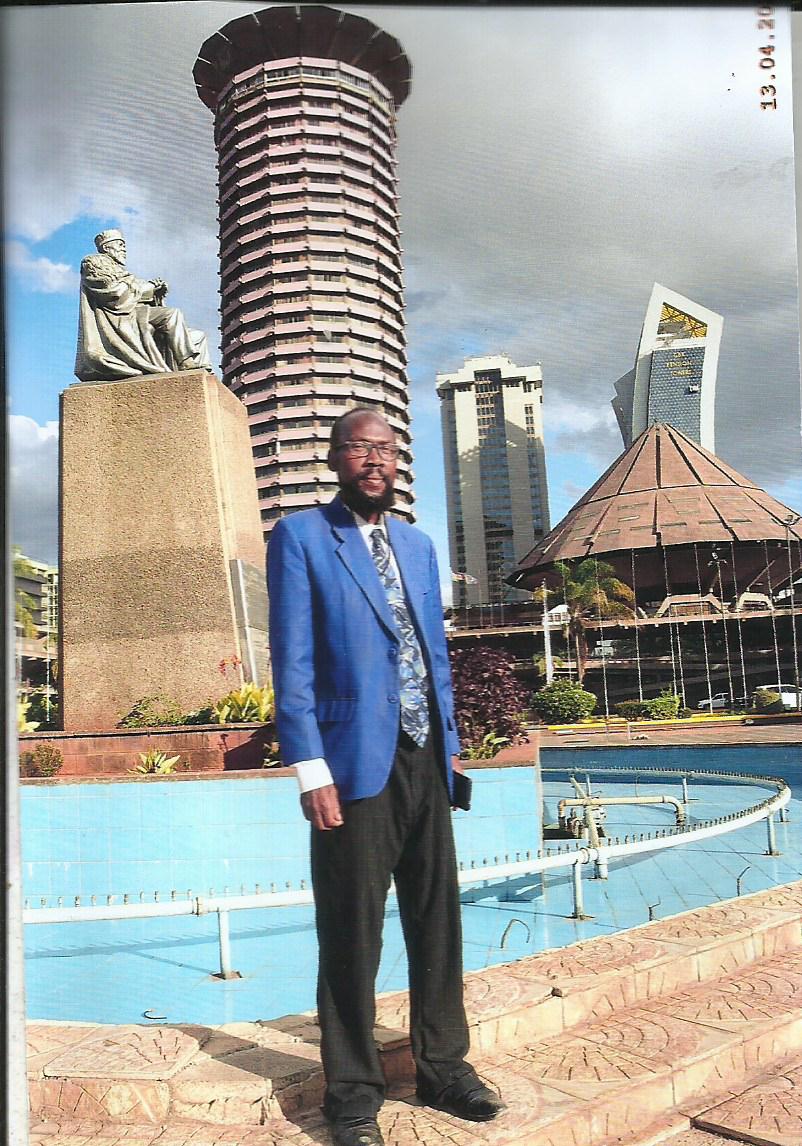 The heart of Nairobi City withAggrey Kere in front of the Nairobi international conference Centre. Behind is Times Towers that houses Kenya Revenue Authority KRA. The monument right in front is for the first president of the Republic of Kenya, the late Jomo Kenyatta, father of the current sitting president Uhuiru Kenyatta.
---
Mission.
To build the spirit of voluntarism which provide integral sustainable human development and encouraging partnership in caring of our shared heritage
We bring about lasting change not by sending aid, but by working through volunteers and partners to empower communities in some of the world's poorest regions.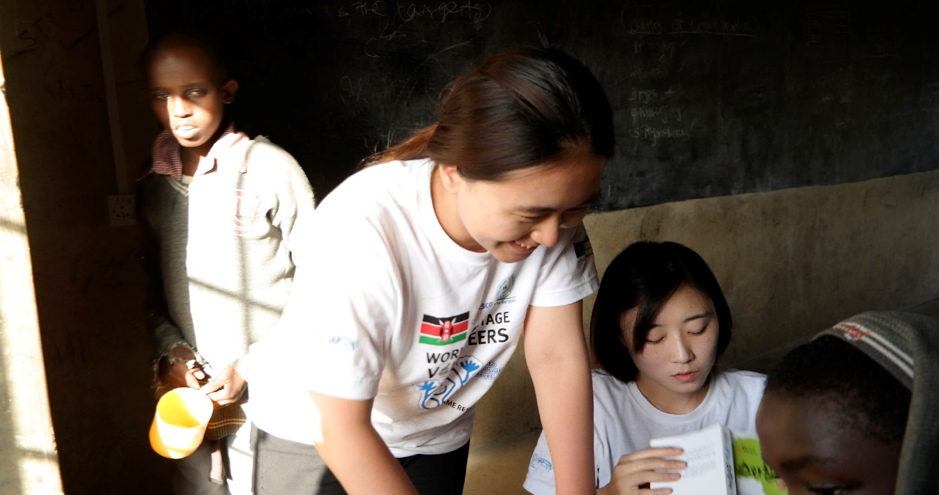 ---
Areas of work
Inclusive education
Making sure everyone gets the skills they need to live a fulfilled, dignified life.
Over the past years we have supported hundreds of  children to access the quality education they deserve.
---
Healthy communities
Improving health services for all and empowering the most marginalised to exercise their right to quality care.
Over the past  years we have helped hundreds of people access better healthcare.
---
Resilient livelihoods
Ensuring people have the skills and opportunities needed to support themselves and their families.
Hundreds of people have benefited from our work supporting livelihoods.
---
Summary of activities
GVDA provides training to youth groups on SDGss.
Counselling and sharing sessions
Resource mobilization from development partners
Orientation and induction sessions
Lobbying and advocacy on regulatory and administrative policies.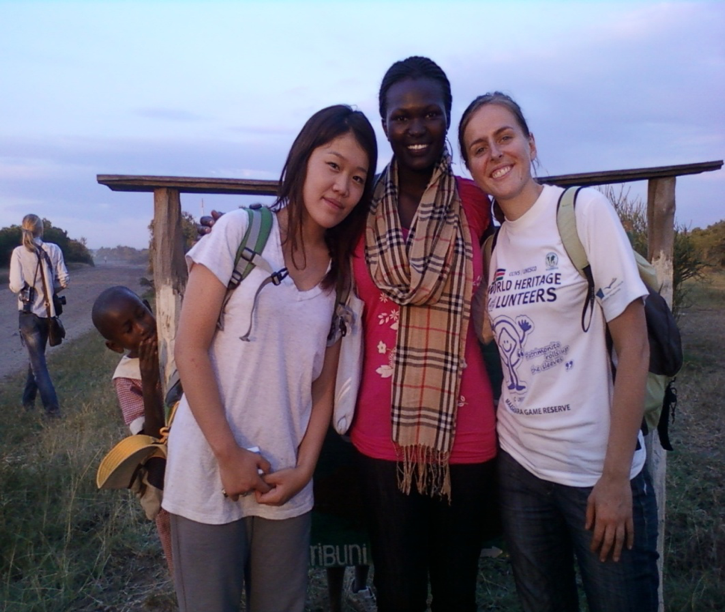 ---
Letter of Intent (with signatures)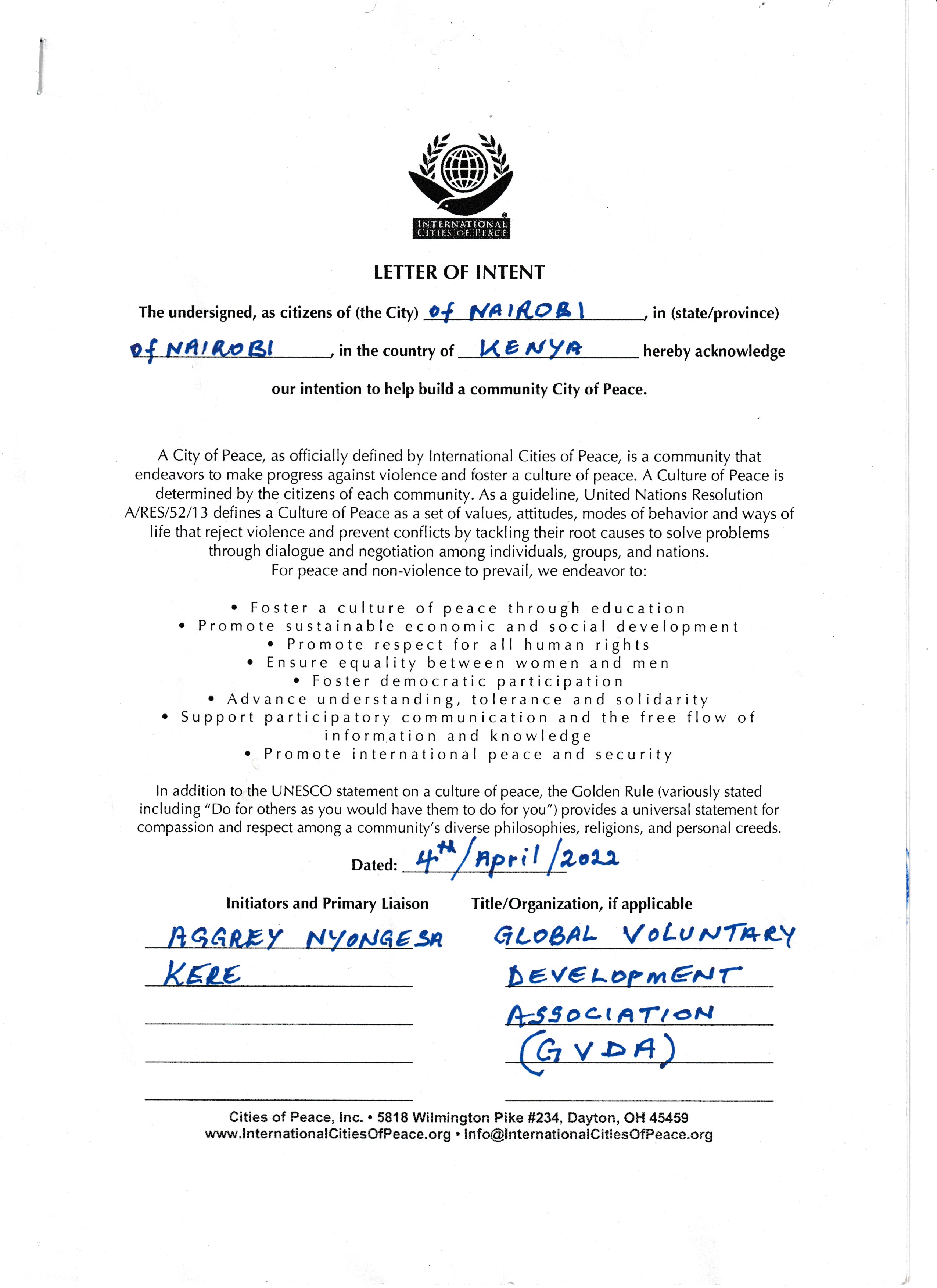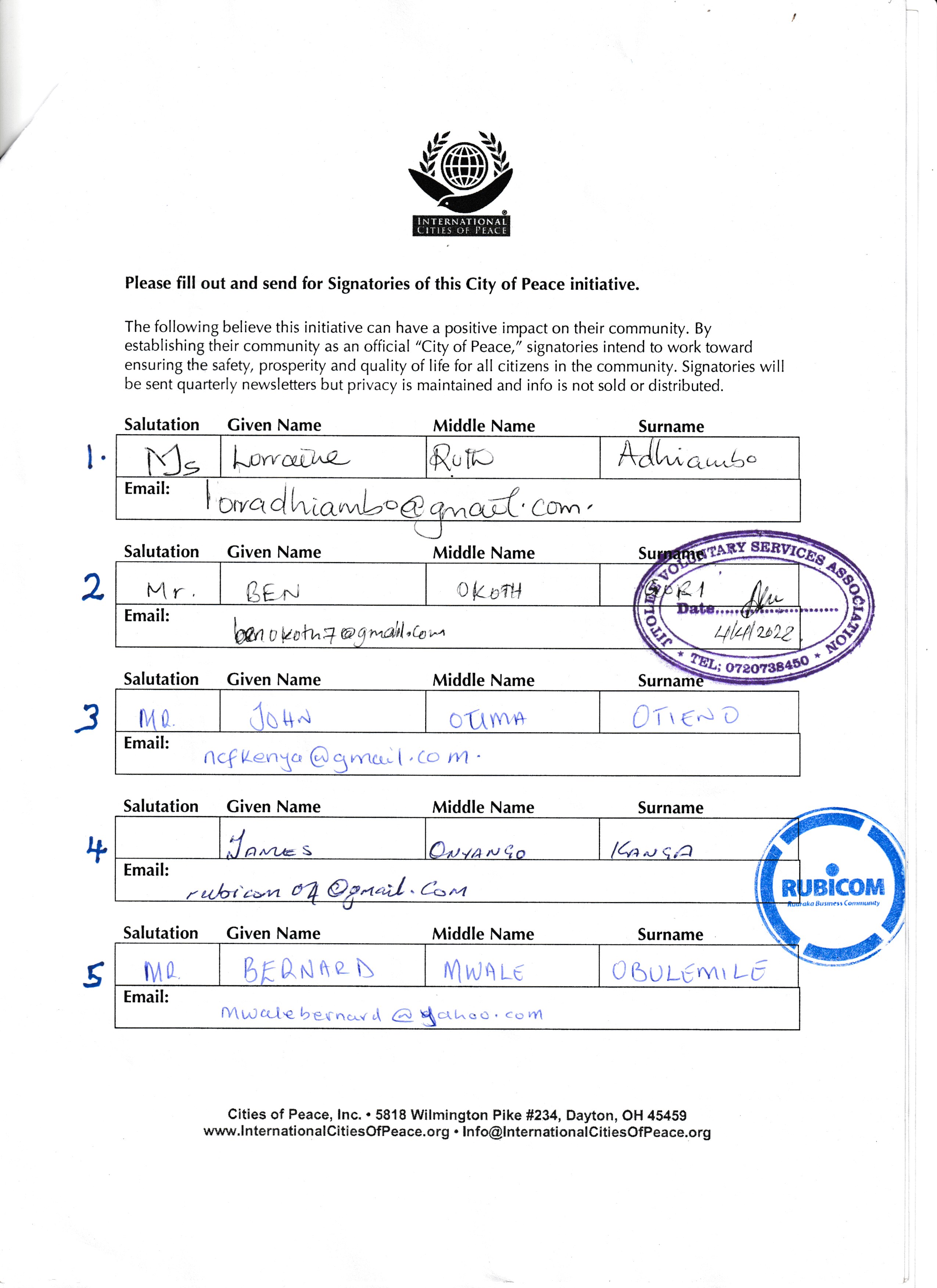 ---
ABOUT THE LIAISON
With this motivation letter, I would like to express my interest in this application for partnership and put forward our candidacy for the position.
I am very curious and delighted to find the opportunity to work with your reputable organization because volunteering in the society is a cause close to my heart. I am sure it would strongly enrich our future collaboration through sustainable community initiatives and propel leadership dynamics for a better world. As a leader; my leadership focuses on the ability to inspire and organize other people to achieve typically a shared goal; facilitate strong teams and to get tasks done efficiently.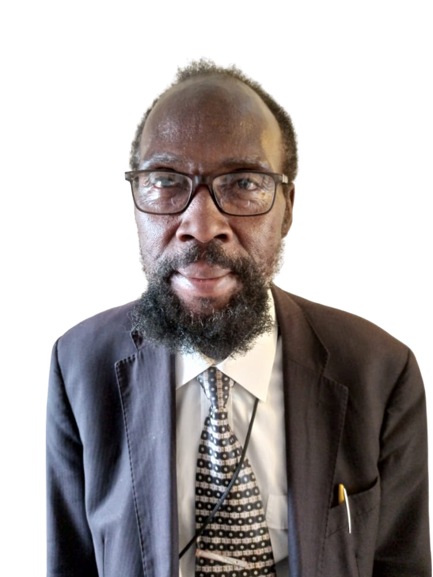 My leadership development started at a tender age helping other kids in class. Then I became a head boy in my early schooling and I quickly grew into the role of an influential leader to them. Throughout my love of volunteering life, I have fostered my passion in different ways. One organization that has grown close to my heart is Global Voluntary Development Association; the professional association for volunteer exchange programmes. I have volunteered with this organization in different capacities for many years, and I currently serve as the Executive Director. In addition to fueling my passion, my volunteer experiences have had a profound impact on accelerating my career growth.Volunteering has connected me with other leaders and people in the community
In my youth, I started my volunteering journey through affiliation with local professional networks. This gave me the opportunity to meet my peers, who are involved in addressing common issues and moving an agenda forward
The reasons of volunteering for peace is I always seek to address the underlying causes of conflict, helping people to resolve their differences peacefully and lay the foundations to prevent future violence.
I want to help people to give them hope and inspiration; showing people that there are others who care about them; and showing that there can be something good that comes out of an unfortunate situation.
Volunteering itself has enabled me to gain experience that I may not get elsewhere, such as building confidence and self-esteem. An attitude to learn and experience new things, and a willingness to share my experiences and knowledge is my volunteer passion.
Volunteering has helped me gain sound technical knowledge of relevant issues, helped me perfect my soft and tactical skills, gained confidence to make a good professional impact. Volunteering offered me the opportunity to extend my knowledge base, to influence the direction of Global Voluntary Development Association, to network with other professionals & business leaders.
I learned that the route to learning is to listen and absorb rather than talk and convey one's viewpoints. From these network associations, I learned about and acquired Fellow status in various professional associations that would help catapult my career and increase my professional visibility and credibility; and, perhaps most important, to have an impact on the next intercultural generations.
My reasons of volunteering have expanded to include the following:Travel opportunities, Sheer enjoyment of the work, Joy of working with a Group of talented professionals.Maintain relationships and making new friends, networking opportunities, keeping up with practice, giving back to the profession, making a difference, the joy of the work and, especially, the people we meet that sustain me in my quest of volunteer efforts.
In me I found a passion, a purpose, leadership in my volunteer work. Through this work, I derive a sense of well-being or personal satisfaction. In short, I have found my bliss. I have gained Leadership skills, such as agenda planning, delegating, strategic planning, decision making, and managing virtual teams. Collaboration and communication skills, such as brainstorming, negotiating, and developing presentations. Competitive advantage, by working on key issues facing the profession,Important connections, through professional networking.
Direct, hands-on experience, in a controlled, supportive environment and lastly Continuing Professional Development (CPD).The possibilities are endless.
A partnership with you is of great interest to us and I look forward to hear from you at your earliest convenience.Thanking you in anticipation. Please find attached my CV and application form for your perusal and consideration.
CONCLUSION
"If we have no peace, it is because we have forgotten that we belong to each other". — Mother Teressa
There is need to promote positive coexistence between the administration and the community.
Every single citizen has a responsibility towards maintaining peace at all levels. GVDA is consistent and focused in our community  to spearhead peace agenda.
---
CONTACT INFORMATION
To contact or support this initiative:
Aggrey Kere.
Executive Director
Global Voluntary Development Association (GVDA)
Mageso Chambers, 2nd floor
P.O BOX 1802-00100, Nairobi, Kenya
Mobile:+254722762950
---
ABOUT X (from Wikipedia)

Ruaraka Constituency is an electoral constituency located in Nairobi County, Kenya. It is one of seventeen constituencies in the County. The constituency has a population of 192,620 and covers an area of 7.20 km². It was formed for the 2013 election following proposals by the Independent Electoral and Boundaries Commission which sought to ease political tensions during elections. Ruaraka Constituency was formerly part of Kasarani Constituency.
Nairobi County is one of the 47 counties of Kenya. The third smallest yet the most populous of the counties, it is coterminous with the city of Nairobi, which is also the capital and largest city of Kenya.

Nairobi County was founded in 2013 on the same boundaries as Nairobi Province, after Kenya's 8 provinces were subdivided into 47 counties. Since December 21, 2020, County Assembly Speaker Benson Mutura has served as also the acting Governor of Nairobi. This came just three months after the previous Nairobi County Assembly Speaker Beatrice Elachi resigned as well.
Kenya is a country in Eastern Africa. At 580,367 square kilometres (224,081 sq mi), Kenya is the world's 48th largest country by area. With a population of more than 47.6 million in the 2019 census, Kenya is the 29th most populous country in the world. Kenya's capital and largest city is Nairobi, while its oldest, currently second largest city, and first capital is the coastal city of Mombasa. Kisumu City is the third-largest city and also an inland port on Lake Victoria.
Other important urban centres include Nakuru and Eldoret. As of 2020, Kenya is the third-largest economy in sub-Saharan Africa after Nigeria and South Africa. Kenya is bordered by South Sudan to the northwest, Ethiopia to the north, Somalia to the east, Uganda to the west, Tanzania to the south, and the Indian Ocean to the southeast. Its geography, climate and population vary widely, ranging from cold snow-capped mountaintops (Batian, Nelion and Point Lenana on Mount Kenya) with vast surrounding forests, wildlife and fertile agricultural regions to temperate climates in western and rift valley counties and dry less fertile arid and semi-arid areas and absolute deserts (Chalbi Desert and Nyiri Desert).
Note: If information or photos used here are copyrighted, please contact us and we will immediately delete the copyrighted material.