SAKUBVA, MUTARE, ZIMBABWE: International City of Peace

We welcome Jussa M. Kudherezera who, along with his colleagues, have established Sakubva, a Suburb of Mutare, Zimbabwe as an International City of Peace. Jussa is Coordinator of the Manica Youth Assembly (MAYA), which seeks to organise and empower ordinary youth to actively and consciously participate in public affairs and proffer solutions. MAYA is non-profit-making, non-partisan and solution-centred.
Note: Introduction page with information primarily at the time of joining International Cities of Peace. For updates, please contact the liaison.
---
Climate strike action 20/09/19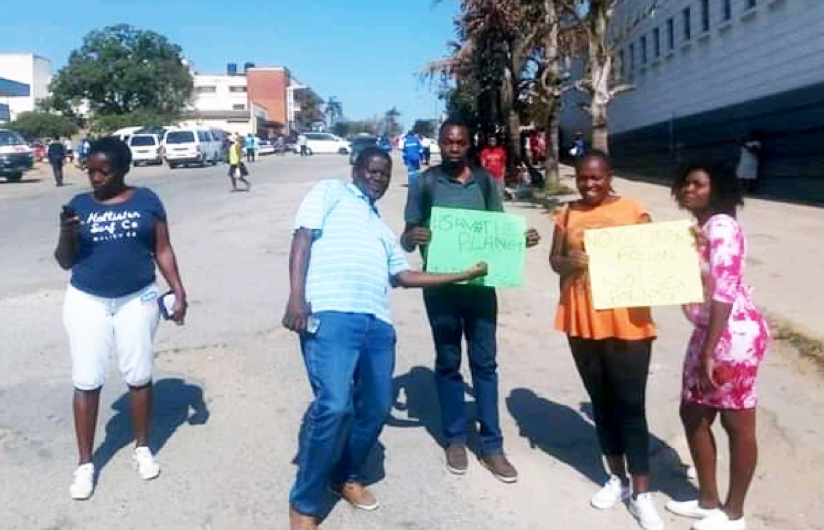 In light of the global or world climate strike action: millions to demand better climate laws, MAYA joined other fraternal organizations dotted across the world by organising a successful strike action which termed "speak out for climate justice now, we cant wait".  The event started off with a "street dash" campaign where Manica Youth Assembly-MAYA members carrying placards meeting and talking to people about climate change and the need for urgent action in Mutare Zimbabwe.
---
ABOUT MAYA
The Manica Youth Assembly (MAYA) is a non-profit, non partisan solution centred youth grassroots-based advocacy organisation which seeks to empower young people to actively and holistically participate in public affairs and proffer solutions. MAYA was established in 2018 after realising the exclusion of youths in public affairs, wanton destruction of the environment and the effects of climate change upon society especially young people who will carry the burden on their shoulders for a long time. MAYA harnesses the youth dividend in demanding social, political, environmental and climate accountability from duty bearers and stakeholders. MAYA recognises that social accountability remain the missing link in the developmental and political narrative in Zimbabwe and part of this is as a result of the exclusion of youths. MAYA capacitates young people to defend, Promote, protect and serve Humanity and the environment by proffering creative and sustainable solutions. We exist to create a just society based on promotion of, social, political, environmental and climate justice.
---
VISION
A peaceful society that values young people, protects, promotes and in active service and promotion of human rights, environment and climate justice with young people taking the lead.
---
Community Engagement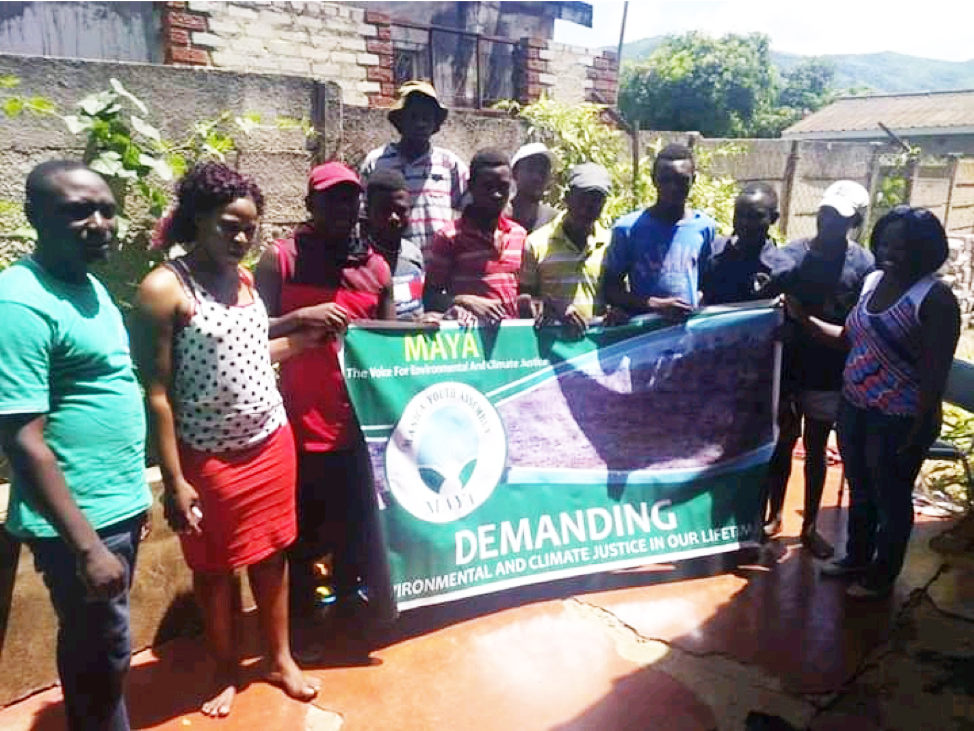 Engaging Chikanga youths in environmental awareness and climate justice. Raising youth voices on climate crisis and increasing youth participation to address climate change Zimbabwe Youth SDG's National Association of Youth Organisations.
MAYA Coordinator Jussa M Kudherezera donated water buckets in Chimanimani. Cyclone Idai ravaged Chipinge and Chimanimani districts in March last year, killing hundreds and destroying infrastructure worth over a billion dollars. It also destroyed food reserves and crops, leaving victims vulnerable and in urgent need of aid.
---
MISSION
Empowerment and engagement of youths to become holistic change agents and advocates for the achievement of social accountability in governance, environmental and climate justice through the involvement and participation of local communities.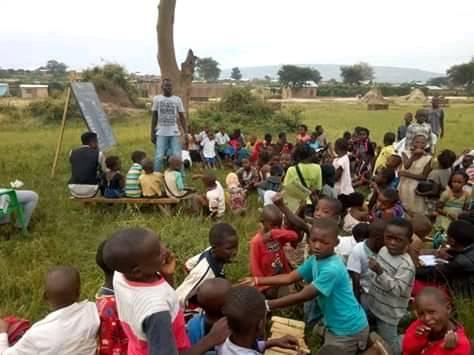 ---
GOALS
To promote youth engagement and participation in governance, peace, conflict resolution, environment and climate change.
To lobby and advocate for implementation of local, national and international policies and best practices in the area of environment and climate change.
To empower youths through relevant information generation and knowledge sharing, skills development and mentorship.
To create peace committees especially in rural set ups to cultivate a culture of tolerance and respect for diversity and freedom of choice.
To create opportunities for networking with other like-minded organisations to enable smooth, progressive and experimental learning and positive actions.
We are convinced that the young people can positively work for peace in an environment which values them and make them worthy members of society.
---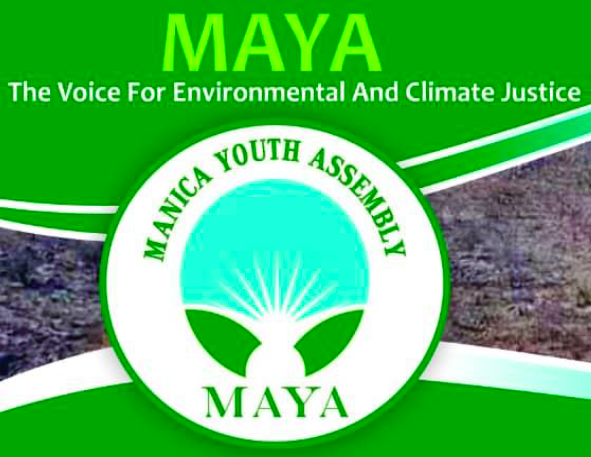 PROJECTS
MAYA continues to work in the community around Matare and beyond. A few of the projects to date are included below:
---
MAYA LAUNCHES MUTARE GREENING AND REFORESTATION PROJECT
The Manica Youth Assembly (MAYA) achieved a milestone when on the 6th December 2018 it successfully launched the Mutare Green and Reforestation Project at Murahwa Hills Primary School in Chikanga. The launch occasion was graced by His Worship the Mayor of Mutare Clr. Blessing Tandi and other Councilors. More significant was the attendance of five Mayors from, Bindura, Zvishavane, Hwange, Chinhoyi and Kariba.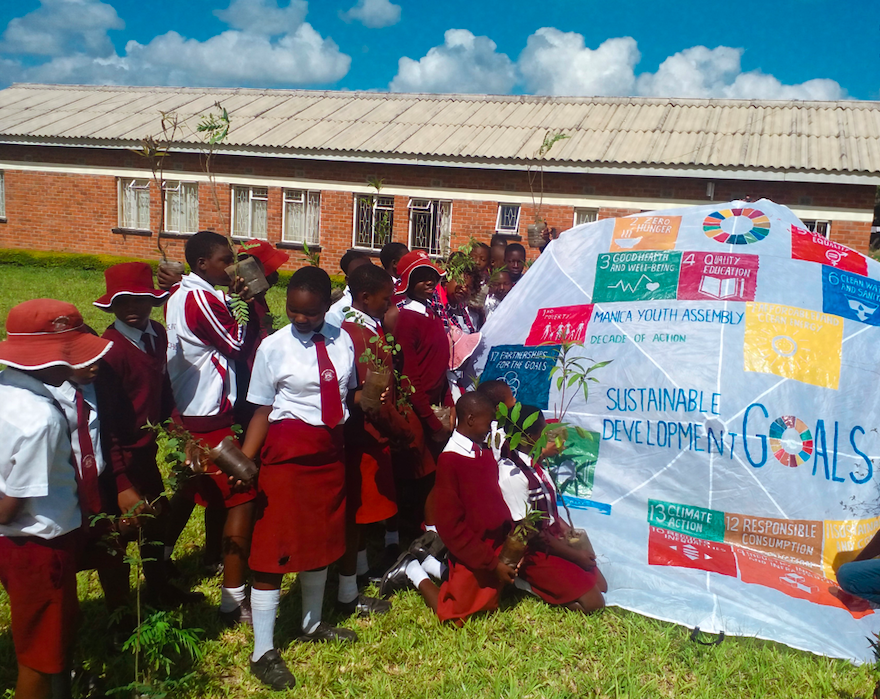 MAYA donated 100 trees and shrubs which were planted at Murahwa Hills Primary School. This event marked the genesis of MAYA's strategic Green and Reforestation Project aimed at planting 5000 trees in the following 12 months in Mutare and other parts of Manicaland. MAYA recognises the serious negative effects of climate change and environmental degradation on Mother Earth and has therefore taken the Green and Reforestation Project to be of great importance. Most of the southern African region is mostly affected by climate change resulting in negative impacts on livelihoods, food production, pollution, poverty and the spread of disease.
His Worship the Mayor of Mutare, Cllr. Blessing Tandi commended MAYA for complementing the council's vision and efforts for a clean and safe city ― a vision which is in line with the sustainable development goals. He mentioned the need, for continuous engagement and co-operation between the local authority and stakeholders for the betterment of Mutare city. Furthermore, the Mayor encouraged citizens to assist were ever they can to enhance service delivery and protect the environment.
---
PEACE DIALOGUE WORKSHOP
Hosted by the Zimbabwe Council of Churches
MAYA pledges to work tirelessly towards the attainment of sustainable peace and development in our society. However, as young people we noted that for the nation to enjoy peace there is need to invest on pro-poor, pro-people and youth-friendly and gender-sensitive social and economic policies especially in education and skills development in order to foster an inclusive society where human security is guaranteed for all. MAYA urges those entrusted by the citizens with power to always put the people first and to desist from diverting the agenda and the funding. MAYA encourages leaders to harness the huge mineral and human capital the country is blessed with for sustainable development and peace.
The church plays a significant role in the socialisation of society and is capable of playing a major part in promoting change for the better. The church must be able to transform word into deed and action in the areas where it matters, rather than to simply preach without meaningful result. Our ministers of religion should preach the gospel of peace and be a centre for mobilising society for the common good. MAYA will stand with the church in defending and nurturing peace because our lives depend on it. Sustainable peace has to be built from the building blocks of strong independent institutions which shun corruption, tribalism, nepotism, racism and other destructive ‗isms'. There should be respect for the rule of law, service to the people, inclusion of youths and women in decision making, bringing to an end the abuse of young people by unscrupulous politicians during election campaigns. Lastly, as MAYA, we are convinced that the young people can positively work for peace in an environment which values them and make them worthy members of society. Youth with nothing to lose is a danger and a threat to peace while socialized, skilled and employed youth with is an asset to society. 8
---
YOUTH CARE WEEK
21st‒ 28th FEBRUARY 2019
In February 2019, MAYA attended Youth Care Week in Mutare, an event sponsored by the Zimbabwe Council of Churches.
Youth Care Week is intended to bring all youth issues to the attention of policy makers and development stakeholders when national and local development narratives are being considered, in particular urban and rural planning, job creation, sexual and reproductive rights, and, of course, proper budgetary prioritisation to make sure that money is used for the most important problems first.
Youths in Manicaland feel strongly that they have been left out of the development process in Zimbabwe. In this regard, MAYA fully endorses the campaign being carried out by the Zimbabwe Council of Churches, but feels that it must not be limited to a few days but should be a 365 day programme. According to the national census, youth now forms 60% of the population ― it is the most strategic and potentially the most productive group in society.
Youth in Manicaland report the following challenges to MAYA, social exclusion, unemployment, sexual reproductive issues, crime, drug abuse, health, shelter, and education which is irrelevant to real needs. Youths feel left out in development and they feel like they are aliens in their Motherland, and that adults have adopted a scotched earth policy destroying everything, especially the economy, as they pursue politics of personal power.
People with nothing to lose become dangerous unto themselves and to society. MAYA is working to address this enormous problem.
In conclusion, MAYA pledges to work tirelessly with all organisations with a developmental agenda of which the Zimbabwe Council of Churches is an important one. We are striving for sustainable development goals and peace in our life time.
---
PUBLIC AWARENESS ON ENVIRONMENTALISM MUTARE
Manica Youth Assembly facilitated a community education and public awareness programme on environmentalism. As a progressive and vibrant youth movement, MAYA raises awareness on the need to educate both young and old on the need for sustainable development and in particular on the importance of all things green. The cultivation of a positive mindset and the encouragement of innovative ideas and hard work in achieving an improved environment are essential.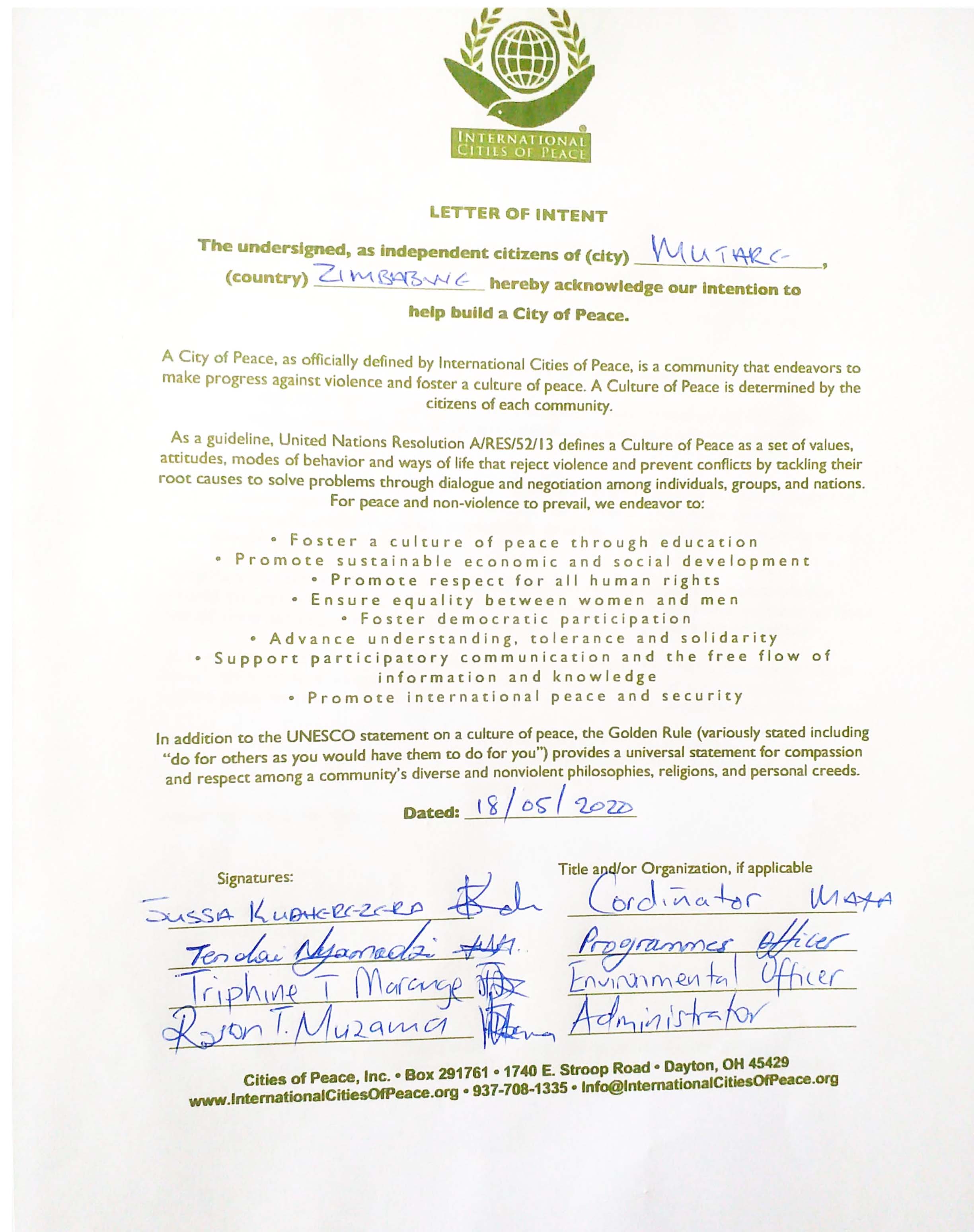 ---
MATIKA PRIMARY SCHOOL
16th JANUARY 2020
Manica Youth Assembly held a tree planting event in partnership with Matika Primary School in the Dora area of Mutare to help curb the problem of deforestation especially due to a high demand for firewood from nearby Mutare City. This event was held on the 16th January 2020 and attended by MAYA representatives and Matika Primary School staff and learners. MAYA's thrust is concentrated on being a voice for climate justice and hence tree planting is at the centre of our activity. It coincided with the beginning of the United Nations Decade of Action. MAYA is primarily concerned with Sustainable Development Goal 13 ―Act Now to Prevent Global Warming‖ a critical player throughout the year. We are encouraging people to keep the environment clean and safe both for this generation and for future generation.
Environment must be safe-guarded at all costs. Deforestation is a major problem that needs a combined effort. Partnership with primary schools such as Matika, is important in winning the hearts of minds of our people from an early age. MAYA is establishing vibrant environment clubs in schools to plant trees and establish other awareness activities, in particular to stop indiscriminate cutting down of trees without replacing them.
The trees that were planted include Tipuana tipu, Mexican ash, privet and jacaranda which can resist drought. If all the school clubs that have been established could follow the example, we will have thousands of trees grown every year to replace those that are being cut for firewood and domestic use. 12
---
VALENTINE'S DAY TREE PLANTING
14th FEBRUARY 2020
A greening event in which the Manica Youth Assembly held a Valentine's Tree Planting at Dangamvura High School, Mutare which saw 100 trees planted in the course of the day. Valentine's Day is regarded by many as a day to show love to partners, friends and family. MAYA chose a different and unique way to celebrate the same day by showing the same love to the environment by planting trees and at the same time raising awareness on the need to embrace the Sustainable Development Goals (SDGs). After planting trees MAYA went on to introduce the school's Environmental and Tree Planting Club. The club will take a big role in monitoring the watering and upkeep of the trees after the event and also for the Dagamvura High School Environmental and Tree Planting Club to work together with MAYA to organise more events at the school and in the community.
---
COMMUNITY AWARENESS PROGRAMME
6th MARCH 2020
Manica Youth Assembly participated in a community engagement meeting with the His Excellency, Mr René Cremonese, Ambassador of Canada to Zimbabwe. The meeting was hosted by United Mutare Residents and Ratepayers Trust primarily to raise awareness on environmentalism and the need to embrace the UN Sustainable Development Goals. The Ambassador urged the youth to value bio-diversity and the importance of living in harmony with nature. MAYA Programmes Officer Tendai Nyamadzi further challenged the youth to be the driving force in climate action and make more noise about the environment.
Manica Youth Assembly visited St Joseph's High School in Mutare on 10th March 2020 where they addressed students about the importance of bio-diversity, raising awareness among young people. MAYA is striving to inspire youth and future leaders to work for the sustainable use, development, management and conservation of our Mother Earth in order to build a healthy and safe society. In harmony with nature. Mr. R Mafundu a senior teacher at the school encouraged the students to embrace the sustainable use of both natural and manmade resources. 16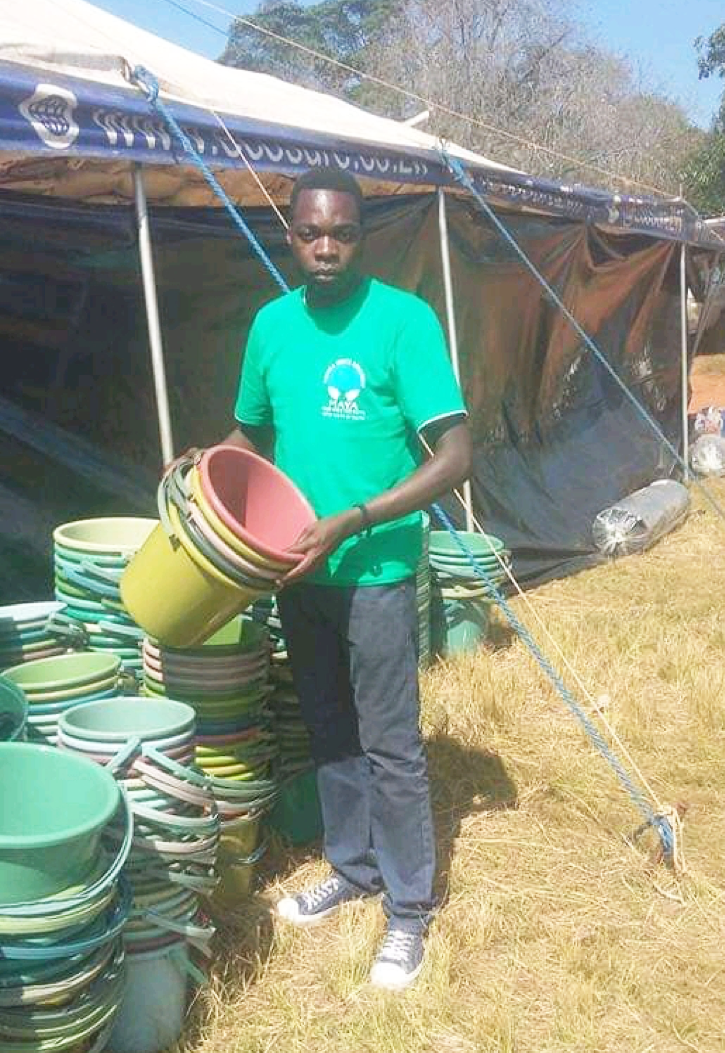 ---
NYAMAURU SECONDARY SCHOOL
20th MARCH 2020
Manicaland Youth Assembly closed its first phase of tree planting activities by planting 100 trees at Nyamauru Secondary School in Dangamvura at an event well attended by staff and students. The school headmaster Mr Chirenje and senior agriculture teacher Mrs Chiuyo thanked MAYA for their good gesture. A lecture was given on how trees play a paramount role in the mitigation of climate change. MAYA's environmental officer, Ms Tryphine Marange challenged other liked minded organisations and institutions to keep raising awareness on climate change. She also took the opportunity to raise awareness on the outbreak of the Coronavirus pandemic, urging students to practice social distancing as a practical method of preventing the spread of COVID-19 and to always seek correct information regarding it since there is a lot of false information circulating that may prejudice them. She said that MAYA has made great strides, planting over 2500 trees at schools, churches and public places and reaching out to over 10,000 people. She concluded: ―Thank you all for being environmentalist and for everything you do to support the places around you, from planting trees to washing your hands to being kind to others. While we wait this out, please continue to believe in our objectives. Communities coming together in times of crisis, whether to better our climate or to care for each other in times of need, ultimately strengthen all of us as people.
---
ABOUT THE LIAISON
Jussa Kudherezera is self motivated young  man who is very keen to  take up any challenging position in a community  development  environment. He is  a  champion of environmental initiatives  and advocacy at local,  regional and global level. He has worked to start and grow Manica Youth Assembly (MAYA) which  is a youth based  community based  organization advocating  for peace, environmental protection and  encouraging youths to  take up governance  issues.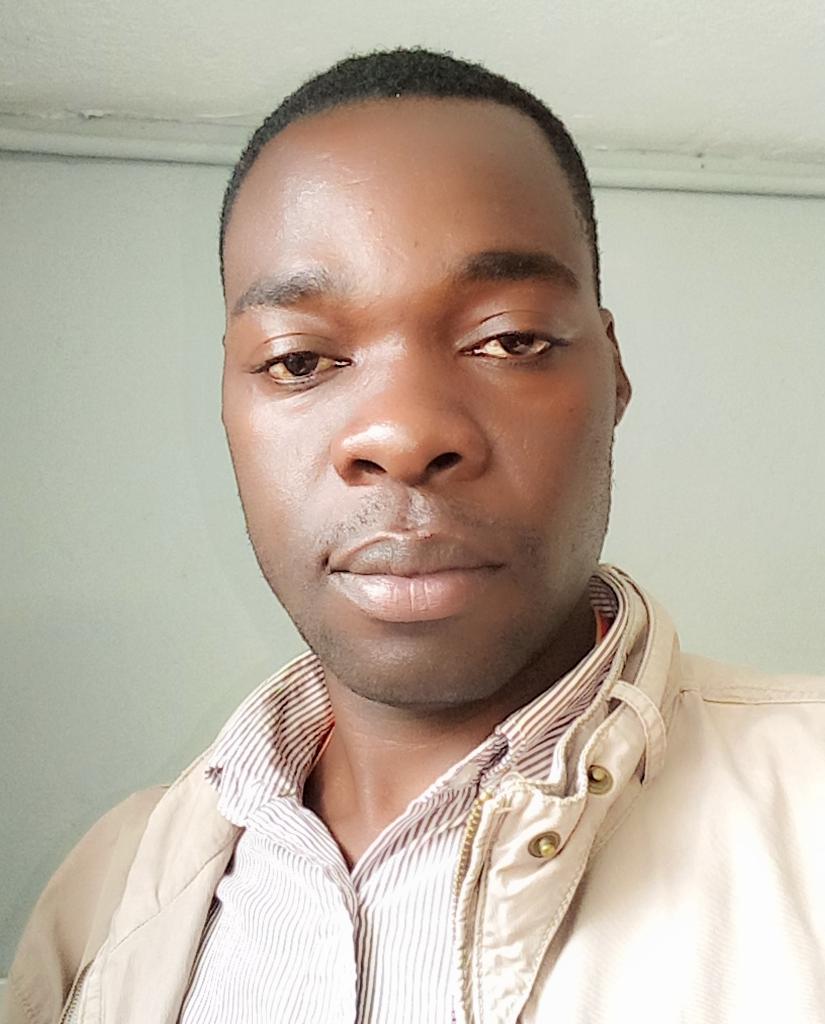 He grew up in  farming areas and got  interested in advocacy  and youth development which culminated in the  formation of Manica  Youth Assembly (MAYA)  in 2018. He has worked  with various youth  groups in Manicaland especially focusing on  youths empowerment, peace and humanitarian work. He is actively involved  with Zimbabwe Coalition on Debt and Development (ZIMCODD) as Board Member for the Eastern Region. He was heavily involved in the response to the cyclone Idai, March 2019 which ravaged Chimanimani  area especially Ngangu  and Kopa in mobilizing  support and relief  efforts.
---
CONTACT INFORMATION
To contact or support this initiative:
Email: manicayouthassembly@gmail.com Twitter:@manicayouthassembly Facebook: Manica Youth Assembly-MAYA Cell: +263786114827/ +263718855012 22
---
ABOUT SAKUBVA, MUTARE, ZIMBABWE (from Wikipedia or provided by liaison)
Sakubva township is a high-density suburb of the city of Mutare, Zimbabwe, which contains nearly a quarter of the population of Mutare despite an area of less than four square miles. It was the first high-density suburb (township) being established in Mutare. At that time, it was located in the Old Location section of Sakubva. It is the poorest of Mutare's suburb and its economy is centred on a large outdoor food and flea market.
Sakubva's most famous attraction is the Sakubva Market, also referred to as Musika Wehuku which means the 'Chicken market.' The market has the largest food and vegetable markets, traditional artwork, and a second-hand clothing market.
Significant portions of Sakubva's informal houses were destroyed by police and military forces during the operation Murambatsvina in May 2005.
Zimbabwe is a country in Southern Africa which gained  independence from colonial rule in 1980. It has a population of around 15 million 52% being females and 48% males. However Zimbabwe has a relatively young population made up of around 65% young people between ages 15 to 35. The country had a well developed agro based  economy at independence. It has a very well educated and innovative young generation who however are underutilised due to  failing and deteriorating socio and political conditions.
Zimbabwe in April 2020 marked 40 years of independence attained through a protracted liberation war that ended in 1980. However for the 40 years, the country has known only two leaders Robert Mugabe serving 37 years and Emmerson Mnangagwa who replaced Mugabe in December 2017 after pickpocketing power from Mugabe through a coup.
Throughout the years Zimbabwe has experienced low and high intensity conflicts such as 1981-87 Matabeleland civil war, 1989 -1999 structural adjustment program which caused untold suffering in the country, 2000 land invasions and political violence which has been the hallmark of  elections in Zimbabwe since independence. All the above factors have therefore made Zimbabwe very vulnerable to social unrest. With a 95% unemployment rate, violence, power outages and a ballooning domestic and external debt, Zimbabwe  offers little hope to the young generation who have left the country in droves in search of greener pastures.
The spiral of poverty and political violence has created a vicious cycle for youths all of them born and bred in a state of violence and know no other alternative. This raises legitimate fears that Zimbabwe can implode any time if no mitigatory measures meant to positively transform society through constructive resolution of conflicts that may arise.
Poverty and unemployment has multiplied to alarming levels due to multiple reasons  alluded to earlier such as poor governance, climate change induced weather patterns, imprudent policies and pervasive politics which have affected young people to a greater extent as they have been used and abused by political parties to perpetrate violence against fellow citizens. In short young people have been the  biggest losers in Zimbabwe as a result of the multifaceted socio, economic and political challenges. Because youths have been excluded from decision making platforms and spaces, there is a disconnect between young people and policy makers. Youths have thus become only useful during election periods where they are fed on cheap beer, drugs and other illicit substances. Zimbabwe has been at war with itself for the past 20 years. Most youths lack opportunities despite their education and thus become ready source of canon fodder for political parties.
---
Environment and Peace Initiative undertaken by MAYA
City of Mutare which is the capital of Manicaland province has a population of around 500000 people of which youths are the majority. The province has about 20000000 people and has experienced serious political violence in Zimbabwe due to its   knack for opposition politics. After the.  2018 elections, MAYA anticipated a spate in post election violence and decided to address the problem pro actively by mobilizing 50 youths from  different political parties such as the MDC Alliance , ZANU PF, MDC T and other parties in environmental activities that include tree planting in selected areas of Mutare, clean up campaigns and rehabilitating pits left by illegal miners involved in gold panning activities along Mutare river.
Gold panning activities are mostly done by youths because employment opportunities are closed. Between February and April 2020, more than 5000 youths had been arrested nationwide for illegal mining activities.
These youths now form the core group of MAYA environmental and climate justice activities. The objective was to reduce polarisation and create understanding and build positive relationships among youths. Secondly to demonstrate to broader society that through tolerance and respect for diversity people can coexist peacefully and work together for common good. Youths were and are exposed to peace building and conflict resolution methods and techniques, psycho social support and peer to peer counselling to improve their social and emotional well being. This has resulted in very few cases of political related violence in former hotbeds such especially in poor neighborhoods of Sakubva, Dangamvura, Chikanga and Gimboki.
By using the environment route, MAYA has managed to keep these youths together for two years and we will escalate the program for more youths to participate as the election cycle wheel turns towards 2023 when Zimbabwe will hold her next elections.
Note: If information or photos used here are copyrighted, please contact us and we will immediately delete the copyrighted material.