Kennedy Braden, Mayor Edna Jackson, Lynda Beam, Jan Durham (with the flag) at the signing of official papers to initiate Savannah as an International City of Peace.



Savannah, Georgia, U.S.A.: City of Peace
Welcome to Kennedy Hassett Braden and the members of the peace committee who are forming Savannah, Georgia: City of Peace.
Note: Introduction page with information primarily at the time of joining International Cities of Peace. For updates, please contact the liaison.
---
MISSION
1. To cultivate a culture of peace through dialogue, attitudes, principles, creative expression, equanimity
2. To foster respect and dignity for all human, animal and environmental rights
3. To advance understanding, inclusivity and inter-connectivity among all people and cultures
---
VISION
To create, build and sustain a culture of peace citywide and collaboratively, worldwide.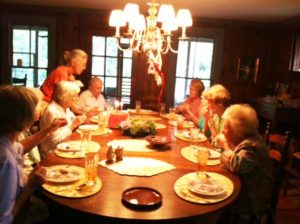 One of many Peace Feasts with the Savannah Peace Committee.
---
OBJECTIVES

Building Peace is the work of individuals, communities, businesses, organizations and institutions.
WE commit as a community joining with a global network of cities and citizens to promoting Peace in our world as everything is connected and to building the following *proven structures of Peace ongoing:

1-good relations with our neighbors, personal, national, global
2-acceptance of the rights of others
3-free flow of information4-sound business environment
5-low levels of corruption in the community
6-celebration of International Day of Peace on September 21 of each year as well as Summer of Peace from June 21-September 21 each year in concert with our global community creating a planetary PeaceWave

Peace Mandala by Chris Driggers

All goals belong to the collective community of Savannah,Georgia and all citizens as welcomed creative partners/participants.

(*Visions of Humanity Global Research)

---

Savannah  Business of Peace

Tom E Hassett Jr. COO and Jamie Smith Arkins of Coastal Home Care receiving Savannah Business of Peace.

Guerry Lumber with Peace ambassadors Lynda Beam and Suzie Williams.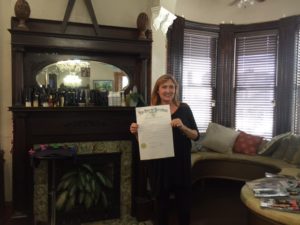 Monica McMasters, B Street Salon
---
COMMITTEE MEMBERS

KENNEDY HASSETT BRADEN

From PhD. level studies as far reaching as Stress and Energy Psychology, Depth Psychology, Neurocellular Hypnotherapy, New Physics, Shamanistic practice, to HeartMath, Art Therapy, Movement Therapy and Mind/Body Medicine, Kennedy Hassett Braden has developed powerful practices to create infinite possibilities of healing through the Truth of Connection and Oneness. She is the creator of The Evolutionary Heart and Infinite Fractals. Kennedy is dedicated to being a true healer of the heart, both individual and global, and a catalyst for peace.

Kennedy is a Resonance Project Emissary, ,International Peace Ambassador/mentor, active with the Global Coherence Initiative, and working collaboratively with Peace projects, including Dr. Abuelaish, Nobel Peace nominee, plus being a Master teacher of Dr. Robert Masters' Psychophysical Re-education model and the work of Dr.Jean Houston and licensed coach of institute of HeartMath.

She is one of the original named Female Visionary Authors for Brave Heart Women network and has assisted companies in Leadership from the Heart in a Connected Universe and creating coherency in the company culture. She serves as a founding board member of Circle of Original Thinking.

Kennedy has presented at national conferences in the field of new science as well as traveling and teaching globally in Technologies of the Heart and the Cosmology/Biology Resonance. She created FlightWave and has had the honor to collaborate with Emilie Conrad and the Global Deep Dive Peace Prayer, as well as being on Somatic Visionaries telesummit and PeaceWeek at the Shift network among others .

Kennedy is an award winning artist,poet/a speaker,dancer,writer and nationally published and author of 2 upcoming books/It's All Dots,All We for children and HeartWaves, transformational poetry.

Kennedy has been called by her colleagues "PhD of the Heart" and believes we are all evolutionary visionaries creating a new world together.

LYNDA G. BEAM

Lynda G Beam is a lead peace committee member and leader in the community including co-founder of Savannah Tree Foundation among many contributions. Lynda will serve as the primary liaison for Savannah: City of Peace.

---
SUZIE WILLIAMS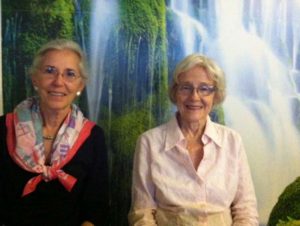 Lead Peace ambassadors Lynda G Beam (left) and Suzie Williams
Suzie Williams serves as an ambassador for the Savannah Peace Committe and is founder of the Savannah Tree Foundation along with Lynda Beam, who is also on the Savannah Peace Committee.
"I have been caring about and involved," writes Suzie, "in Conservation and Environmental Organizations for the last 55 years….ever since my first daughter was born…….and I could see that a lot had to be done if she and others were going to have a meaningful life. And now as things continue to worsen, I believe that all people should get involved in helping to turn our way of living around to a simpler and safer one. And I believe this is very difficult for many people whose lives are so desperate and so often violent. So I can see that turning our cities into Cities of Peace will be a blessing that will hopefully bring all people together to work for bettering and protecting the Earth and the people who live here before it is too late.
"My most important task is to do all I personally can to help in making a meaningful life for my children's and grandchildren's generations and those who come after them."
---
Laura Lawton
Laura C. Lawton was born in Savannah. She lives on the Vernon River on the same property where her great-great grandparents lived in 1854. Her great-great grandmother lived there during the Civil War and kept a diary which was later published as a book, Ebb Tide. Laura graduated from Sweet Briar College in Virginia where she majored in physics. Science has been her main interest for many years , working as director of the planetarium at Savannah Science Museum and teaching physics and physical science at Windsor Forest High School.

Laura is an author writing about local history with 2 books published: "Legendary Locals of Savannah" and "Savannah Guidebook" with co-author Polly Cooper.

Laura plays the clarinet in a music group called the World Famous Crabettes playing at many venues in Savannah. She has a horse named Maggie and a trail through the woods next to her house which they enjoy together.
---
JAN FULCHER DURHAM
Jan Fulcher Durham is an educator, author, and clergy member of the United Methodist Church. After starting an adult day center for families coping with dementia, she co-authored a manual on congregational respite care with the Georgia Department of Aging and the Georgia Alzheimer's Association.

Jan is also the author of After the Example of Christ, a model for servant ministry by and for older adults, for the UMC.
She is an advocate for inclusiveness and continues to work with persons with dementia and their caregivers. She is also an avid supporter of the Savannah VOICE Festival and their outreach program in schools.
---
Tricia Richardson, a leader in alternative healing in Savannah and trained by the Chopra Center, and Judy Macolly, an avid creator for peace and healing in individuals/communities, have joined with us in active strong solidarity with our founding committee. They offer invaluable expertise and experience.
---
CONTACT INFO
For more information please contact:

Kennedy Hassett Braden
evolutionaryheart@gmail.com

 
---
ABOUT SAVANNAH, GEORGIA (from Wikipedia)
Savannah is the oldest city in the U.S. state of Georgia and is the county seat of Chatham County. Established in 1733, the city of Savannah became the British colonial capital of the Province of Georgia and later the first state capital of Georgia. A strategic port city in the American Revolution and during the American Civil War, Savannah is today an industrial center and an important Atlantic seaport. It is Georgia's fifth-largest city and third-largest metropolitan area.

Each year Savannah attracts millions of visitors to its cobblestone streets, parks, and notable historic buildings: the birthplace of Juliette Gordon Low (founder of the Girl Scouts of the United States of America), the Georgia Historical Society (the oldest continually operating historical society in the South), the Telfair Academy of Arts and Sciences (one of the South's first public museums), the First African Baptist Church (one of the oldest African-American Baptist congregations in the United States), Temple Mickve Israel (the third oldest synagogue in America), and the Central of Georgia Railway roundhouse complex (the oldest standing antebellum rail facility in America).

Savannah's downtown area, which includes the Savannah Historic District, the Savannah Victorian Historic District, and 22 parklike squares, is one of the largest National Historic Landmark Districts in the United States (designated by the U.S. government in 1966).[3][a] Downtown Savannah largely retains the original town plan prescribed by founder James Oglethorpe (a design now known as the Oglethorpe Plan). Savannah was the host city for the sailing competitions during the 1996 Summer Olympics held in Atlanta.
DO YOU THINK YOUR COMMUNITY CAN BE A CITY OF PEACE? SEND AN EMAIL!

Note: If information or photos used here are copyrighted, please contact us and we will immediately delete the copyrighted material.