Scaletta Zanclea, Italy: International City of Peace

We welcome Maria de Luca and her fellow citizens who are establishing Scaletta Zanclea in Scily, Italy as an International City of Peace. Maria is associated with the famous Scaletta Castle and many socio-cultural events, of which she and her colleagues hope to organize more and bring a culture of peace to their community.
Note: Introduction page with information primarily at the time of joining International Cities of Peace. For updates, please contact the liaison.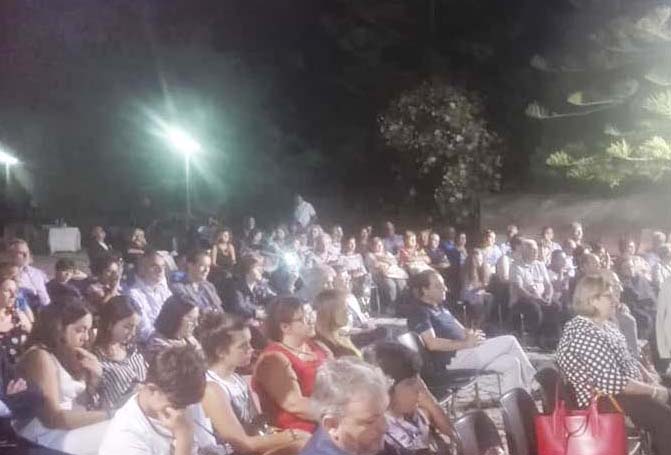 ---
ABOUT SCALETTA

SCALETTA IS A SMALL VILLAGE BETWEEN MESSINA AND TAORMINA, WET BY JONIAN SEA. THE AREA HAS BEAUTIFUL HILLS, WITH TWO LITTLE VILLAGES. IN ONE OF THESE VILLAGES THERE IS A CASTLE BUILT IN 1200 C.E., DURING THE "FEDERICIANA AGE".
INSIDE THE CASTLE AND ALSO IN THE VILLAGE, THE STAFF, WITH THE PRESIDENT OF ASMUDO ORGANIZATION, GLADYS MABEL CANTELMI, HAS ORGANIZEA MANY ARTISTIC,AND SOCIO CULTURALI EVENTS.
SCALETTA ZANCLEA'S CITIZENS HAVE GREAT RELATIONSHIP CAPABILITY. THEY COLLABORATE WITH THE VARIOUS ORGANIZATIONS IN THE TERRITORY.
"I WOULD LIKE," MARIA DE LUCA SAYS, "TO ORGANIZE OTHER MANIFESTATIONS LIKE ARTISTIC AND TEATRICAL LABORATORIES, BECAUSE I THINK IT IS A GOOD WAY TO CATCH THE ATTENTION OF YOUNG PEOPLE, TO INCREASE THE RELATION SHIP WITH ALL THE COMMUNITY AND A SENSE OF PEACE AND BROTHERHOOD  THAT CONNECTS SCALETTA'S PEOPLE."
---
GOALS
I would like to create in 3 days an event that bears the name of "peace and love through the eyes of children". The first day would be dedicated to a seminar for children on the vision of love and peace in the world. Perhaps bringing them together to understand that not everyone in the world is as lucky as they are, and to make them understand that sometimes one less whim for them, they can be important to others and also talk about the rights and sounds of children.
The second day, we will organize an art day so that everyone exhales in his own way and with his own eyes what he has understood about the world, about peace and love.
On the third day, an Awards Ceremony will be held for all participants and perhaps a fundraiser to be allocated to those in need or a fund for future events.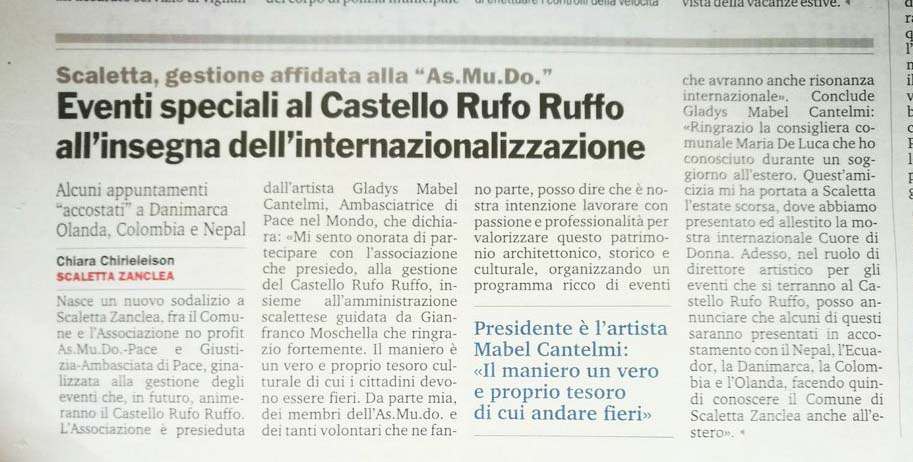 ---
Castle of Scarletta Zanclea
---
LETTER OF INTENT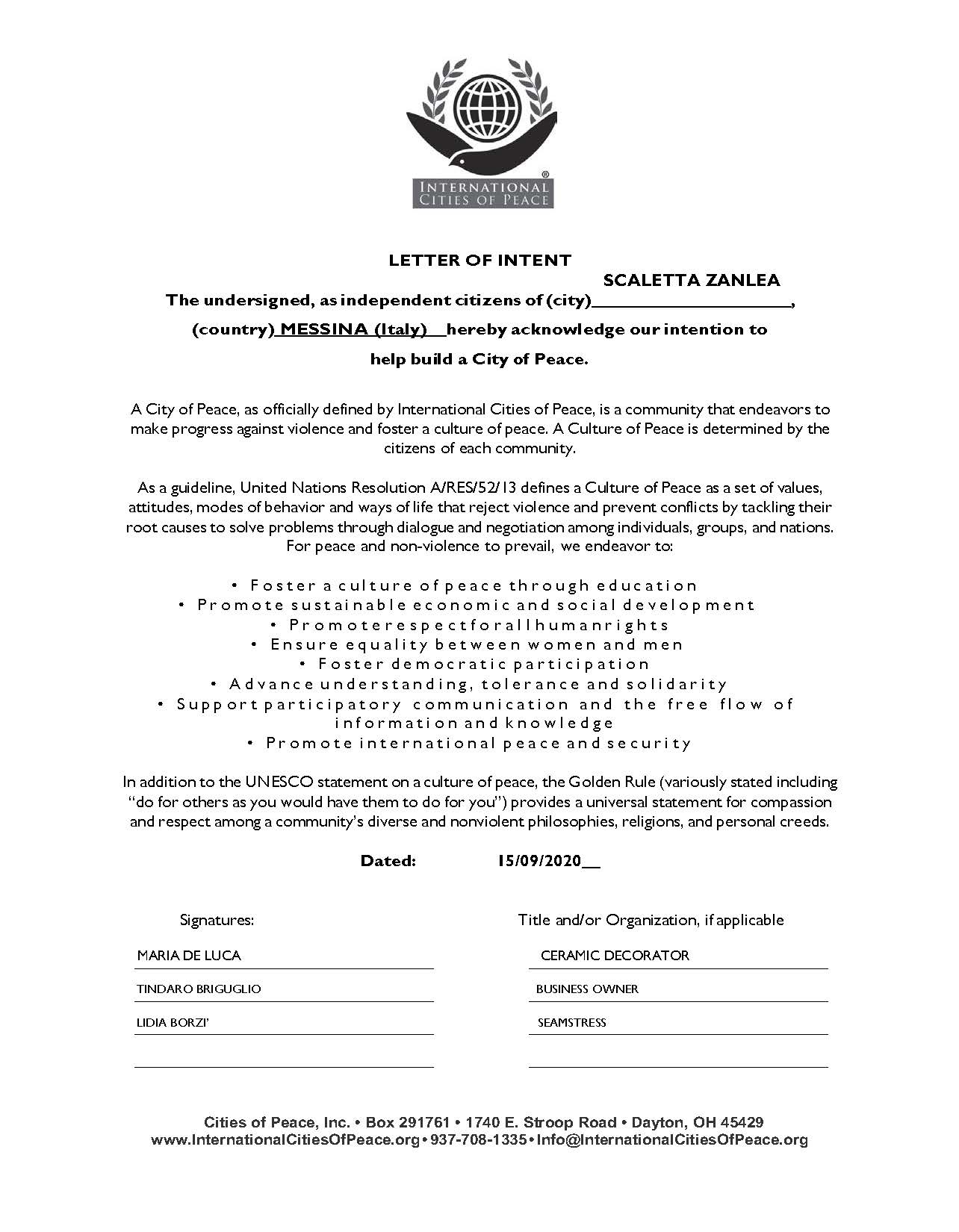 ---
ABOUT THE LIAISON
Maria de Luca
"My country is small but very nice. Rufo Ruffo Castle is everyone's pride, all cultural events take place there, from book presentations with the writer as a guest, to exhibitions, international events such as latin american art organized by asmudo, to charity events.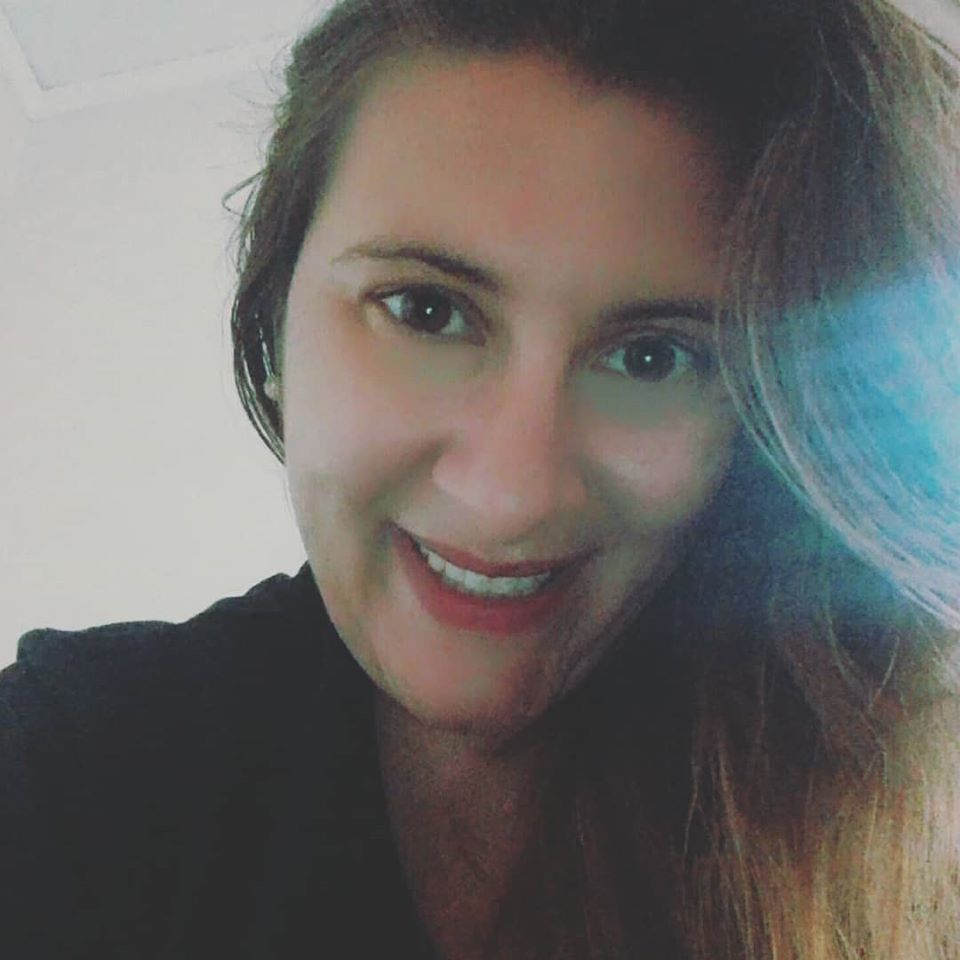 "Among the local traditions that have a long-lived history, the famous Scalettese Carnival with more than 50 editions.
"The events that I would like to organize in my country are many, but I would like to give life to a week of cultural exchanges with other people with other cultures, to stimulate the personal growth of each one and to bring each of us closer to the lives of others that can be more or less comfortable than ours.
"I would like an exhibition on peace where the only artists to exhibit are children, who see the world with another eye, with beauty, with love and without malice.
"I would like to unite and bring everyone together, not just for an hour, but forever!
Maybe I have some ideas that aim too high, but you will surely understand what person I am!"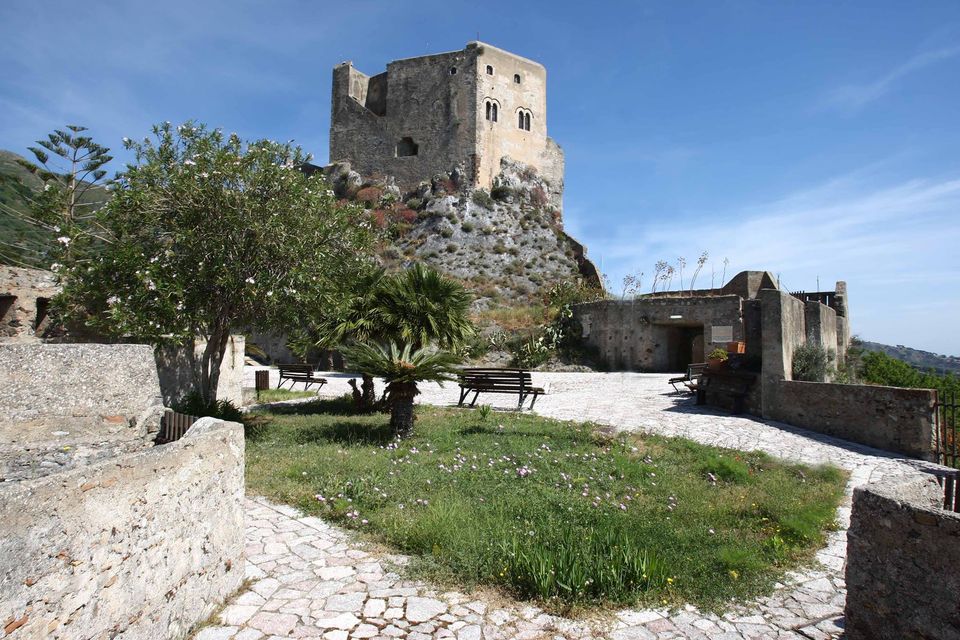 ---
CONTACT INFORMATION
To contact or support this initiative:
---
ABOUT SCALETTA ZANCLEA, ITALY (from Wikipedia)

Scaletta Zanclea is a comune (municipality) in the Metropolitan City of Messina in the Italian region Sicily, located about 180 kilometres (110 mi) east of Palermo and about 15 kilometres (9 mi) southwest of Messina. The comune suffered heavily in the mudslides which devastated the area in 2009.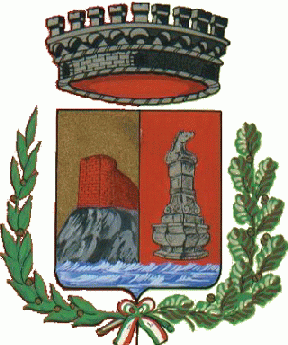 The Metropolitan City of Messina (Italian: Città metropolitana di Messina) is a metropolitan city in Sicily, Italy. Its capital is the city of Messina. It replaced the Province of Messina and comprises the city of Messina and other 107 municipalities (comuni). According to Eurostat in 2014,[2] the FUA of the metropolitan area of Messina had 277,584 inhabitants.
The nearby archipelago of Aeolian Islands also is administratively a part of Metropolitan City of Messina.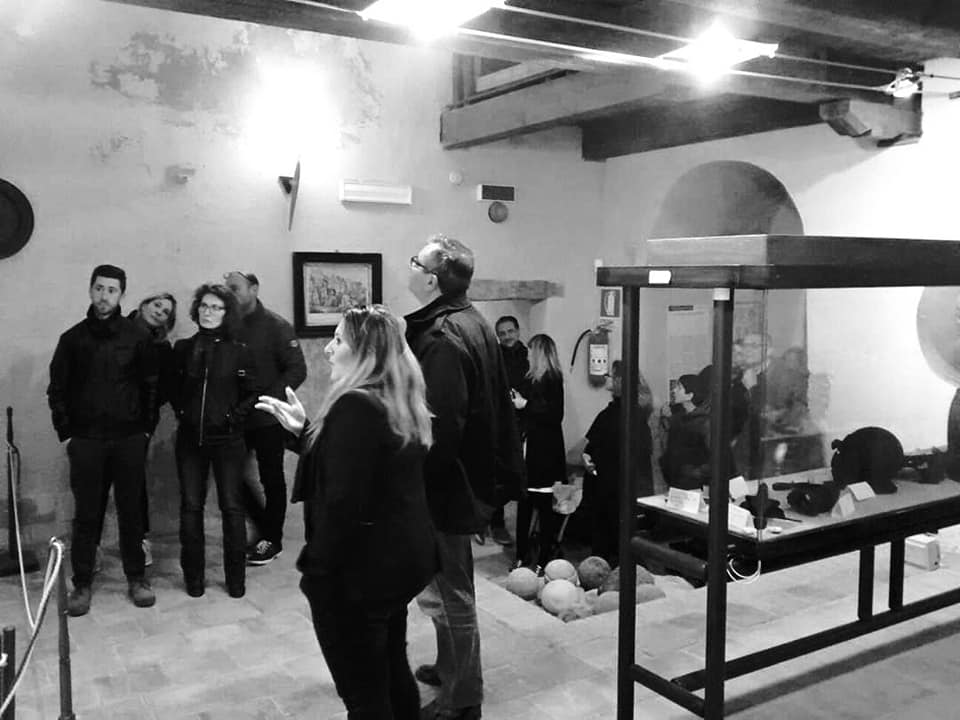 Guided tour of the Castle
Sicily is the largest island in the Mediterranean Sea and one of the 20 regions of Italy. It is one of the five Italian autonomous regions and is officially referred to as Regione Siciliana. The region has 5 million inhabitants. Its capital city is Palermo.
Note: If information or photos used here are copyrighted, please contact us and we will immediately delete the copyrighted material.