Soto de Luiña, Cudillero, Asturias, Spain: International City of Peace

We welcome Lidia Jaldo Suarez and Marisa de la Rúa Rico, Liaisons for the establishment of Soto de Luiña in Cudillero, Asturias, an autonomous community in Northern Spain. The town is along the famous pilgrimage route, Camino de Santiago.
"Soto de Luiña is a small village," writes Marisa. "The town depends administratively on Cudillero, where our town hall is located. Cudillero, is one of the counties or municipalities compounding Asturias, which is one of the states in Spain"
In Asturias there are three main cities, Avilés, Oviedo and Gijón, which have a population of approximately 78K-275 respectively.
Note: Introduction page with information primarily at the time of joining International Cities of Peace. For updates, please contact the liaison.
---
VISION:

Soto de Luiña is a town with a long history as a welcoming refuge for pilgrims since it is located on the cross country walking trail known as the Camino del Norte, Camino de Santiago. The town offered a hospital as early as the 15th century, and although it is no longer operational, that caring is still reflected in our community, which always welcomes newcomers, be they temporary or new neighbors.
Both the old Pilgrims Hospital, today the House of Culture, and the Holy Parish Church María de Soto de Luiña, were restored at the end of the 1980s thanks to the efforts and collaboration of the residents of the area, who were recognized with the Europa Nostra Award in 1987, and the Prince of Asturias Award for Exemplary Town, in 1992.
Currently, we continue to hold fairs and markets to improve and beautify the environment of the town, making donations to finance the activities and needs of the town, which maintains a public hostel for traveling pilgrims.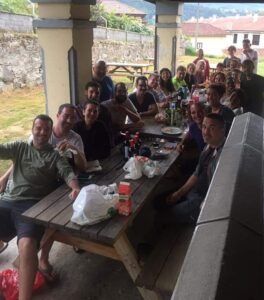 Pilgrims sharing dinner at pilgrims hostel.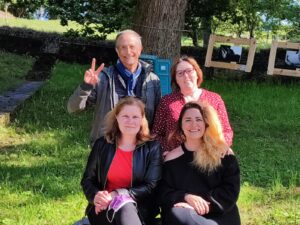 The Peace Team that helped establish Soto de Luiña as an International City of Peace: (Back) Tim Pluta and Patricia Pérez; (front) Marisa de la Rúa Rico and Lidia Jaldo.
---
MISSION:
Our mission in to foster a culture of peace and well-being along with cultivating a community that encourages both individual and collective level cohesiveness, interacting with other localities to expand knowledge and share experiences.
---
GOALS:
Organize information dissemination activities that facilitates mindfulness since peace is first a state of mind.
Organize activities that offer a personal experience of Objective # 1.
Organize initiatives for community interaction based on Goal # 2.
Open ourselves to interaction with other Cities of Peace, organizations and associations with similar objectives.
---
The general plan designed to cultivate and promote this culture of peace is divided into three pillars:
A) DISSEMINATION OF INFORMATION
  Presentation of the project and invitation to active participation.
  Talks on topics for the change of consciousness and personal development aimed at living better with oneself and therefore with those around us.
 Facebook as a general information channel.
---
B) CREATION OF PEACE EXPERIENCES
  World Peace Day Festival: September 21 – workshops, group dynamics, games, traditional music, cultural offerings, intergenerational activities.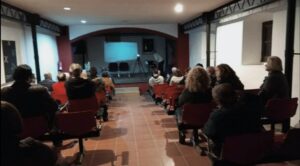 Charla Vespa Velutina: Speech and training on how to identify and protect bees from the invasive Asian wasp.
---
C) PEACEFUL INTERACTIONS & ALLIANCES WITH SIMILAR INTERNATIONAL ORGANIZATIONS
 Collaboration with the School (Ntra. Sra. De la Humildad, C.P. NSH), opening the door to exchanges of school projects with other cities of peace as well as talks and activities for the little ones to promote peace and dialogue in their regions and around the world.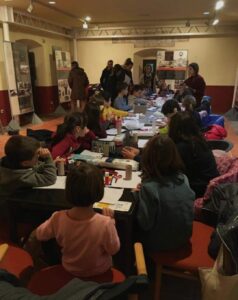 Christmas workshop for children in the community.
---
C) PEACE INTERACTIONS & PARTNERSHIPS WITH SIMILAR ORGANIZATIONS
Present the project to the school (Ntra. Sra. De la Humildad, C.P. NSH), and invite them to be part of the project and start a collaboration with it, opening the door to the exchange of school children projects with other cities of peace, and talks to promote peace and dialogue around the region and the world.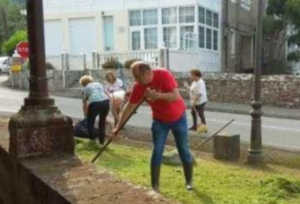 Residents of the town of Soto de Luiña cleaning the Camino de Santiago pilgrims trail.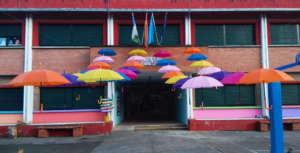 Soto de Luiña Elementary School, that is considering exchanges and workshops with other International Cities of Peace.
---
 LETTER OF INTENT AND SIGNATURES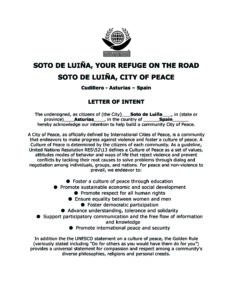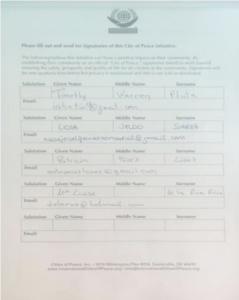 ---
ABOUT THE LIAISONS
Lidia Jaldo Suarez
Organizer of events, and body and transpersonal therapist, Lidia dedicates herself to accompany others on a path of growth and expansion of consciousness.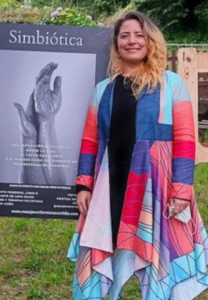 Her mission is to create in her life, and in the lives of those around her, a culture of physical, mental and emotional well-being.
Marisa de la Rúa Rico
Marisa's family instilled in her that getting involved in the social fabric in which she lives is the best way to achieve an environment of well-being.
Since she was young, Marisa has done just that, both as a student representative at her university, and currently as a leader of her neighborhood association in Soto de Luiña, promoting collaboration, trying to maintain traditions, and at the same time helping to assure that Soto de Luiña remains a place of welcome and vitality.
---
CONTACT INFORMATION
To contact or support this initiative:
---
ABOUT SOTO DE LUIÑA  (from Wikipedia)
For location, please Google "Cudillero".
Soto de Luiña is in Cudillero (Asturian: Cuideiru), a municipality in the Principality of Asturias, Spain. Nowadays, Cudillero's main economic activities are related to tourism, but it is also known for its fishing industry. A legend says that it was founded by the Vikings. In addition to Castillian some locals still speak a dialect called Pixueto. Usually, Spanish-media considers Cudillero as one of the most beautiful villages in Spain.
Asturias, officially the Principality of Asturias, is an autonomous community in northwest Spain. It is coextensive with the province of Asturias and contains some of the territory that was part of the larger Kingdom of Asturias in the Middle Ages. Divided into eight comarcas (counties), the autonomous community of Asturias is bordered by Cantabria to the east, by León (Castile and León) to the south, by Lugo (Galicia) to the west, and by the Cantabrian sea to the north.
Asturias is situated in a mountainous setting with vast greenery and lush vegetation, making it part of the Green Coast of Spain. The region has a sub-tropical climate. It receives plenty of annual rainfall and little sunshine by Spanish standards and has very moderated seasons, with temperatures averaging from 5 degrees C in the winter to 27 degrees C. Heatwaves are rare due to mountains blocking southerly winds. Winters are very mild for the latitude, especially near sea level.
The most important cities are the communal capital, Oviedo (Uviéu), the seaport and largest city Gijón (Xixón), and the industrial town of Avilés.
Note: If information or photos used here are copyrighted, please contact us and we will immediately delete the copyrighted material.