Celebrating earth day and promoting awareness at select city walk, South Delhi.
South Delhi, India: City of Peace
We welcome Rani Patel, Founder and President of Aarohan, who with her colleagues have established South Delhi as an International City of Peace. Aarohan is focused on underprivileged children as well as women, minorities and others who are under-served and in need of support.
Note: Introduction page with information primarily at the time of joining International Cities of Peace. For updates, please contact the liaison.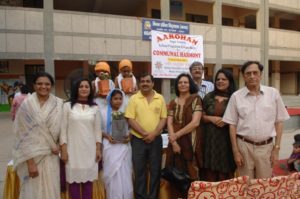 ABOUT AAROHAN
Aarohan is a non-governmental organization registered in 2005 under the Society Registration Act, 1860 of India. The Head Office is located in Malviya Nagar, South Delhi- which serves as epicenter of its programs and activities.
---
Philosophy
Empowered children through exercise of Rights- education, health, nutrition and dignified livelihood"
Vision
If a child cannot reach to the school, the school must reach the child!
Mission
Empowered children through exercise of Rights- education, health, nutrition and dignified livelihood"
---
AAROHAN is mainly working in the area of education for underprivileged children of the society, women and other community members living in difficult circumstances- children of -daily wage migrant labors, suffering from terminal diseases; from rural/tribal areas and also transgender community.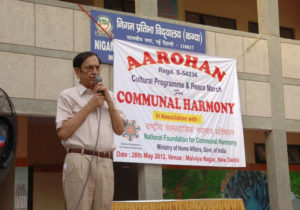 It focuses on Education, Nutrition, Health, Vocational training For women and youth. Co-curricular activities, advocacy and awareness building – child education, retention of child in school and skill training (supporting them to the logical end), girl child and gender issues being the core of its programmatic actions. Career counseling for holistic development and facilitating gainful employment is integral part of our programs. The organization's approach is different in the sense it takes upon it the parental responsibilities. It strives to provide support to their needs to complete their education till children become self-reliant. Mothers' literacy and empowerment (social, economic and financial) is critical to educating a child is accorded importance among organization's initiatives. Community sensitization and soliciting its cooperation is integral part of the program interventions.
---
GOALS
•  To undertake and promote educational programs that encompass bridge courses, nursery, remedial coaching.
• Promote transgender equality and carry out activities such as counseling, awareness creation, literacy drive and vocational training for alternate livelihood options. Women empowerment is important component of programmatic interventions of Aarohan. The approach involves awareness building, functional and financial literacy and sensitization on social issues, gender and women rights, child education and skill training.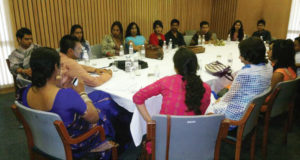 •  Undertake projects such as "Special Tutorial Education to Tribal children from local Primary School" to enhance the livelihood of tribal population.
• Vocational training helps children learn specialized skills, which can later become a source of livelihood for them. It helps making them confident and self-reliant. Aarohan aims to conduct more such training programs to enhance the living standards of the poor.
• Undertake health awareness campaigns and education activities.
• Promote peace and harmony in the society by improving the economic status of poor through its various programs and initiatives.
• Climate change and Global warming today has emerged as a burning problem. Through this project, we impart environmental education and training to students and teachers through camps wherein they carry out tree plantation and encourage forestation. We also aim to conduct studies on certain endangered species of wildlife and habitat which balances our environment.
---
INITIATIVES
See PDF materials:
Aarohan initiatives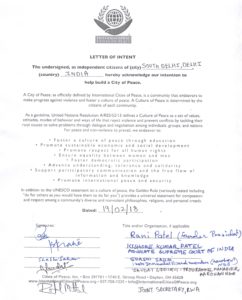 Letter of Intent
---
ABOUT THE LIAISON
Rani Patel, President and Founder, Aarohan
A seven year old child, apparently a rag picker, was caught stealing the wing-mirror of the car of a house wife, Mrs. Rani Patel. He was Rohan. To her utmost surprise, she found that Rohan was member of a group of street children between 7 to 13 years- picking rags and involved in small thefts. It made her think- thoughts going deep down, touching her emotionally! Instead of handing over these children to the police, she decided to work to improve the situation- prevent them from indulging in petty crimes and drug abuse; trying to correct them. Thus started the journey of voluntary actions (later to be named as Aarohan) – by the lady single handedly roping in a few like-minded friends. The first student enrolled for education, in the long journey of yet- to- be- formally- borne Aarohan, had been Rohan! She had decided to bring such children under education network and to the mainstream. Decided to bring them from street to school!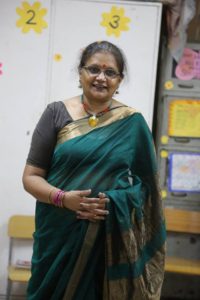 A visit to the nearby slum area called Jagadamba Camp (in Sheikh Sarai Phase I, South Delhi) was made by the lady along with her friends. They identified the children, who were not going to schools as well as those being school dropouts. Majority of the inhabitants (parents) have been migrants and illiterates and therefore considerable efforts followed to motivate them to send their children to schools. However, it was soon realized that mere sending these children to schools was not enough to attain goal as the problems faced by these children (in schools) prevented them to complete schooling successfully.
Subsequently, the voluntary action was formally registered. Aarohan came into existence in year 2005- getting registered as NGO under the Societies Registration Act, 1860. Since then it has continued to evolve by expanding its programmatic interventions in response toobserved and felt needs of children; and has now emerged as a matured stable non-governmental organization (NGO) in its tenth year of modest but meaningful existence.
Aarohan thus presents a live example, rather a case study, of self social sensitization!
---
CONTACT
Aarohan
B-127, Malviya Nagar,
New Delhi – 110017
Ph: +91-11-41007526
E-mail: aarohanngo@gmail.com
Website: www.aarohanngo.org
---
ABOUT SOUTH DELHI, INDIA (from Wikipedia)

South Delhi is an administrative district of the National Capital Territory of Delhi in India. It is bounded by the Yamuna River to the east, the districts of New Delhi to the north, Faridabad District of Haryana state to the southeast, Gurgaon District of Haryana to the southwest, and South West Delhi to the west.
South Delhi has a population of 2,258,367 (2001 census), and an area of 250 square kilometres (97 sq mi), with a population density of 9,034 persons per km² (23,397 persons per mi²). Administratively, the district is divided into three subdivisions, Saket, Hauz Khas, and Mehrauli.
A symbol of the country's rich past and thriving present, Delhi is a city where ancient and modern blend seamlessly together. It is a place that not only touches your pulse but even fastens it to a frenetic speed. Home to millions of dreams, the city takes on unprecedented responsibilities of realizing dreams bringing people closer and inspiring their thoughts. Just a century ago, the British moved the seat of their empire from Kolkata to Delhi. And it has been the Capital of India ever since.
Now a thriving, cosmopolitan metro, the city has much to celebrate as it has already reached the milestone of completing 100 years as a Capital. With a history that goes back many centuries, Delhi showcases an ancient culture and a rapidly modernizing country. Dotted withmonuments there is much to discover here. The seat of many powerful empires in the past, its long history can be traced in its many carefully-preserved monuments, ancient forts and tombs. All this is combined with the best features of a modern city such as a metro system, bustling markets and fabulous eating places.
The past and the present meld seamlessly together, making centuries-old monuments a part of the city's daily life. Delhi is very much a history's child. The story of the city is as old as the epic Mahabharata, when the town was known as Indraprastha, where Pandavas used to live. Over the centuries, eight more cities came alive adjacent to Indraprastha: Lal Kot, Siri, Dinpanah, Quila Rai Pithora, Ferozabad, Jahanpanah, Tughlakabad and Shahjahanabad. Many empires rose to the heights of their power and were destroyed here.
Among the prominent dynasties which made Delhi their capital were the Tughlaqs, the Khiljis and the Mughals. Even today, one can have a fascinating glimpse into the past in Old Delhi, with its labyrinth of narrow lanes, old havelis, and colourful bazaars. Rickshaws wind their way through this crowded, bustling capital of the Mughals, where life continues, much as it did hundreds of years ago. It is home to three World Heritage monuments—Qutub Minar, Red Fort and Humayun's Tomb that have survived many centuries, and give an idea of architectural wonders created by emperors in the past.
Central Delhi, with its tree-lined avenues, imposing structures and buildings such as the Rashtrapati Bhavan, Parliament House and India Gate, reflect Delhi's colonial past. A number of museums provide a glimpse into the country's fascinating history.
Lotus temple, a symbol of Peace is built in the shape of a lotus flower and is the last of seven Major Bahai's temples built around the world. Completed in1986 it is set among the lush green landscaped gardens. The structure is made up of pure white marble The architect Furiburz Sabha chose the lotus as the symbol common to Hinduism, Buddhism, Jainism and Islam. Adherents of any faith are free to visit the temple and pray or meditate.
Note: If information or photos used here are copyrighted, please contact us and we will immediately delete the copyrighted material.