St. Petersburg, Florida, U.S.A.: International City of Peace

We welcome Mayor Kenneth T. Welch and the citizens of St. Petersburg, Florida, U.S.A. as they continue their City's many initiatives and programs toward a growing Culture of Peace in their community. St. Petersburg Proclaimed as a City of Compassion as well as a City of Peace in order to recognize formally their intention and efforts to instill a peace culture for children and adults alike.
VISION: St. Petersburg will be a diverse, vibrant city guided by principled progress and intentional inclusivity, where innovation, partnerships and ingenuity create opportunity for all.
Note: Introduction page with information primarily at the time of joining International Cities of Peace. For updates, please contact the liaison.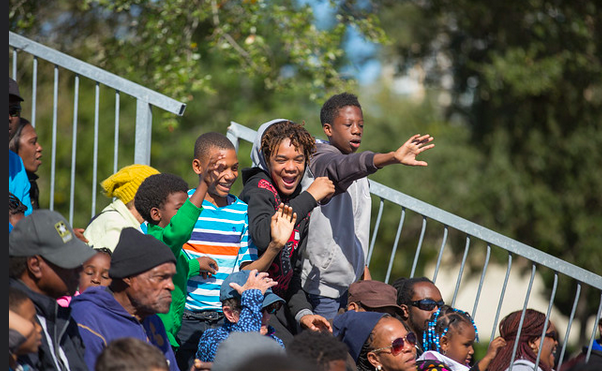 ---
ABOUT THE CITY'S PEACE AND COMPASSION INITIATIVES

St. Petersburg's mission is to be a city of opportunity where the sun shines on all who come to live, work and play. We will be an innovative, creative and competitive community that honors our past while pursuing our future.
In 2018 the City endorsed and joined the Charter for Compassion, advocating the Golden Rule and empathy as a city-wide value to be instituted at every level of government and services. In January 2019 the City proclaimed its commitment to establishing peace, fellowship, and equity for all its citizens and visitors. It has continued to work on the legacy of Peace in the community by working with residents and activist groups within the city to promote Health, Equity, and Opportunity.
---

PRINCIPLES FOR ACCOUNTABLE AND RESPONSIBLE GOVERNMENT
In-touch – our approach will be hands-on, active in the community, and collaborative with constituents
Inclusive – everyone will have a seat at the table, every constituent will be heard, and every employee will be valued
Innovation – we will embrace new technologies, new ideas, and creative partnerships to implement effective solutions and improve constituent services
Intentional Equity – we will incorporate equity into all policies, to ensure that our growth benefits our entire community
Informed Decision Making – we will be guided by best practices, facts, science and our city's history.
Community Impact – we will ask the question "will it improve the quality of life for the people of St. Petersburg?"
pillars For progress
Education and Youth Opportunities
We are focused on developing practical, real-world educational programs and youth opportunities leading to a better prepared and educated work force. The Mayor's Opportunity Agenda provides the roadmap to youth empowerment through mentorships, digital literacy and access, internships and skills training in practical arenas like construction, plumbing and auto repair.
Equitable Development, Arts and Business Opportunities
We are committed to inclusive and intentional economic development that improves the quality of life for every resident in every neighborhood. Equitable Development means everyone in the community is invested in the City's progress, not displaced by it. Every decision will be focused on creating new opportunities. Public-private partnerships, equitable funding for businesses and the arts, and City initiatives like the Community Benefits Program promote economic equity, attract innovative start-ups and entrepreneurs, and ensure our arts community continues to thrive in the diverse, vibrant atmosphere that is St. Petersburg.

Neighborhood Health and Safety
We aim to create safer and healthier environments by investing in communities most impacted by poverty, inequity and crime. Improving availability and accessibility to wholesome foods, health care and social services, while reducing crime, gun violence and fear will provide more secure neighborhoods where our citizens will have the opportunity to thrive.

Environment, Infrastructure and Resilience
Embracing innovation to help solve challenges to our environment is a guiding principle of our Administration. With St. Petersburg on a bullseye for sea level rise that will impact every resident of our city, our priorities are protecting and preserving our environment; upgrading aging infrastructure; and ensuring resiliency to rising seas and hotter temperatures through shoreline restoration and alternative energy; investing in environmental technology; and creating codes and regulations that protect the fragile eco-balance in Tampa Bay.

Housing Opportunities for All
Housing Affordability is a linchpin in our agenda. Better housing opportunities for all raises the level of daily living and pride among residents, creates strong neighborhoods and intentional equity, and creates a community – not just a place to eat and sleep. To purposefully impact the community, affordable housing programs provide greater incentives for qualified buyers to achieve first-time home ownership and encourage developers to construct more new housing for low- and moderate-income homeowners.

All photographs on the City's Flickr page are public domain and free to use.
https://www.flickr.com/photos/cityofstpete/
Some past events that the City has hosted promoting peace and unity: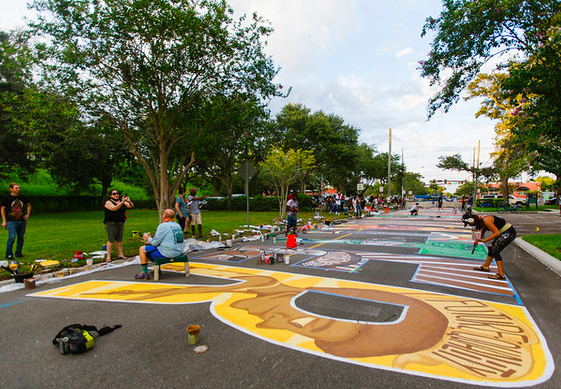 Painting of Black Lives Matter Mural
https://www.flickr.com/photos/cityofstpete/50063182493/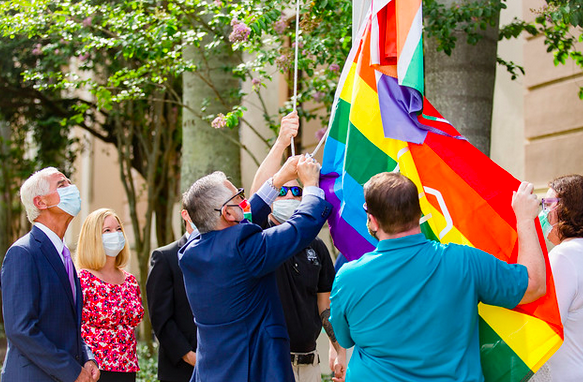 Raising of the Pride Flag:
https://www.flickr.com/photos/cityofstpete/50062773558/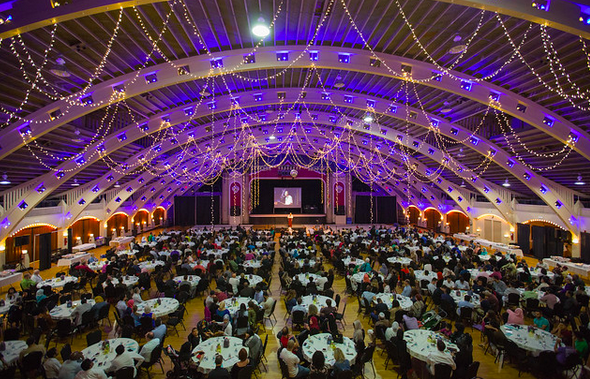 Iftar Dinner
https://www.flickr.com/photos/cityofstpete/41597318905/in/album-72157707360626715/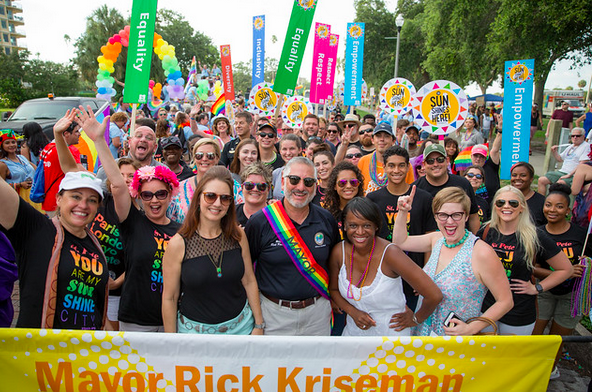 Pride Parade
https://www.flickr.com/photos/cityofstpete/42957106552/in/album-72157679351091318/
Carter G Woodson Flag Raising
https://www.flickr.com/photos/cityofstpete/49623085836/in/album-72157678588855186/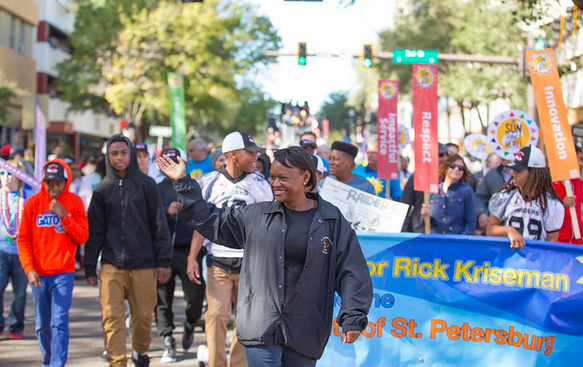 2016 MLK Parade
https://www.flickr.com/photos/cityofstpete/23874260254/in/album-72157691025906341/
---
LETTER OF INTENT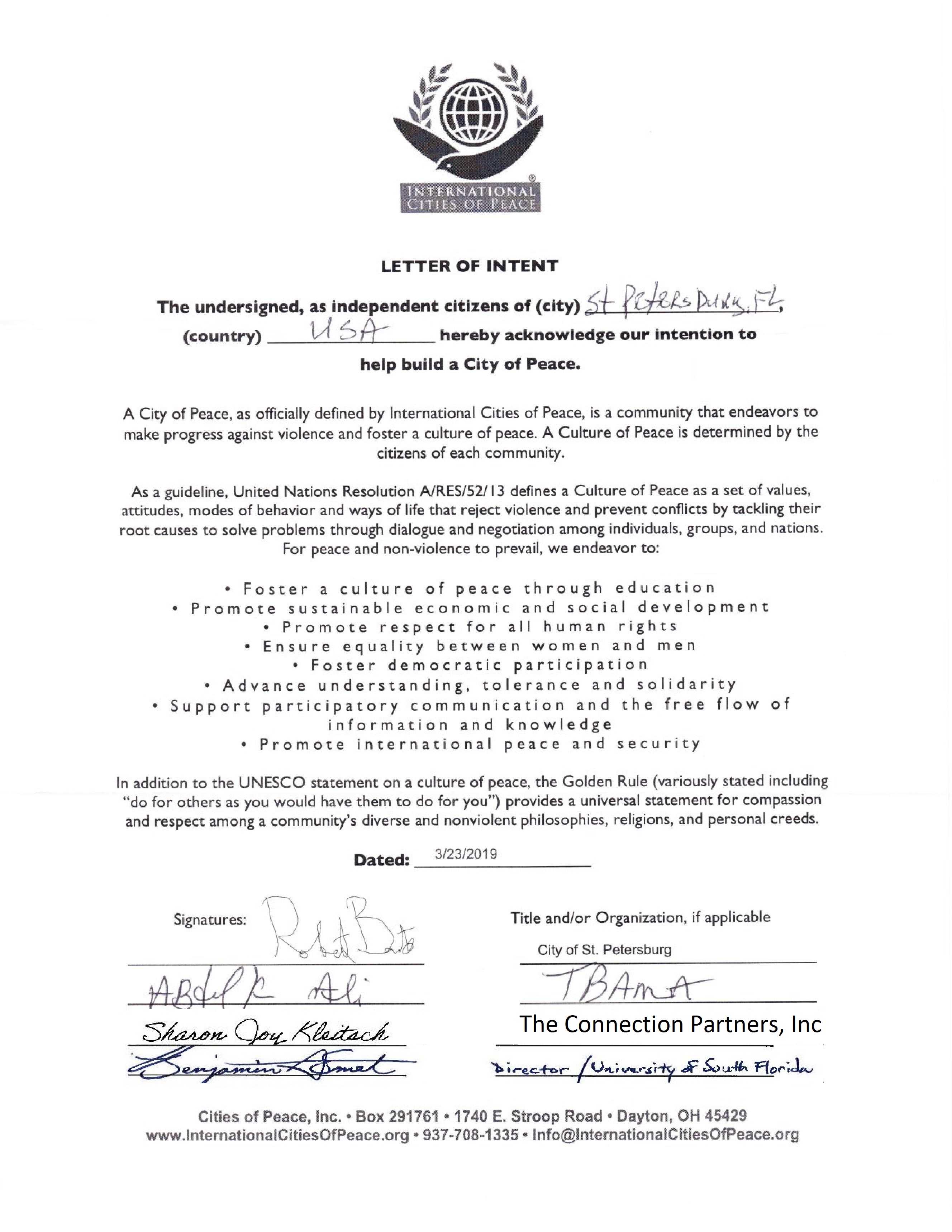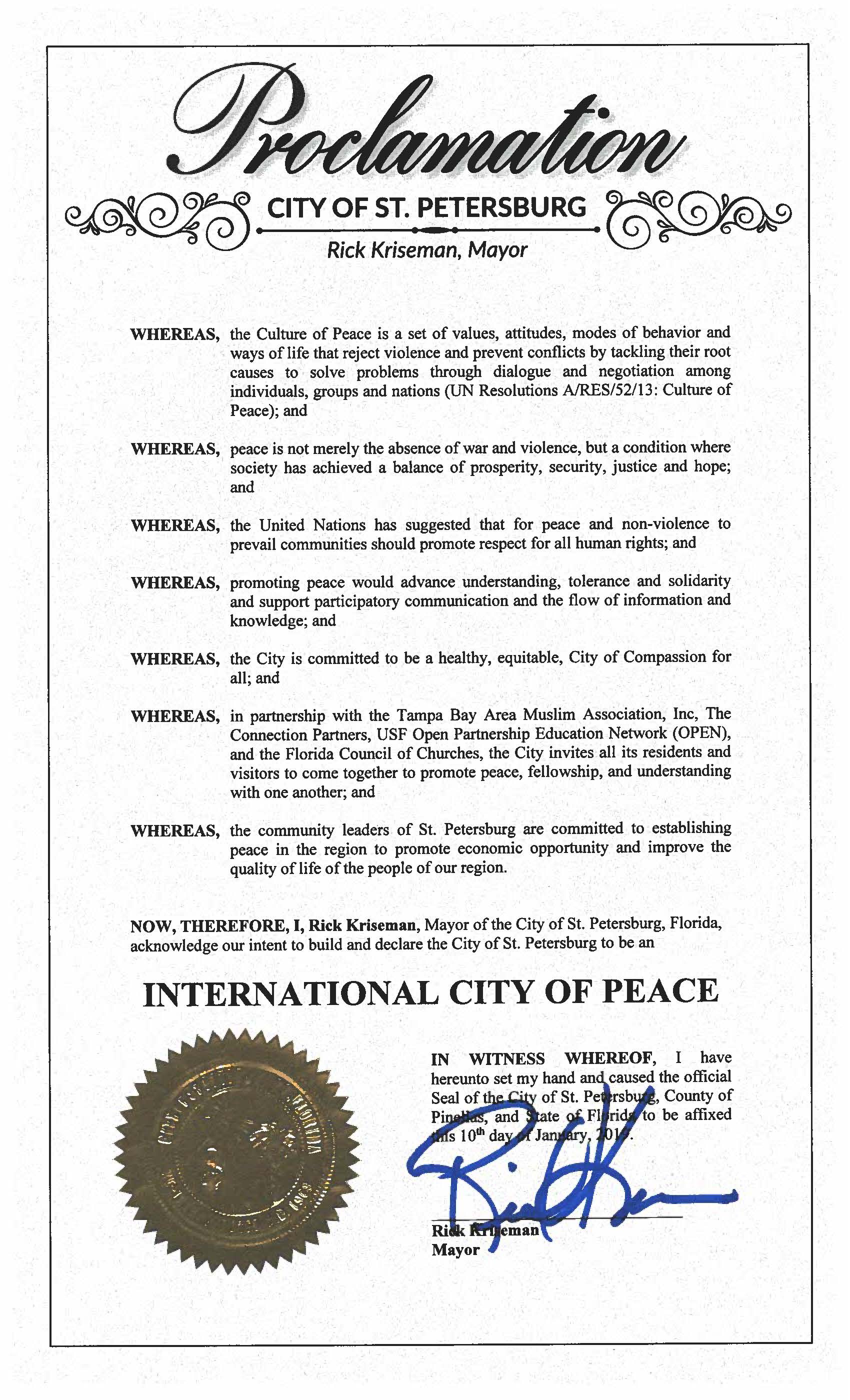 ---
ABOUT THE LIAISON
Kenneth T. Welch was sworn in as the 53rd mayor of St. Petersburg, Florida on January 2, 2014,
---
CONTACT INFORMATION
To contact or support this initiative:
PO Box 2842
St. Petersburg, FL 33731-2842
Office #727-551-3249
Susan Ajoc
Community Services Director
727-892-5141
---
ABOUT ST. PETERSBURG, FLORIDA (from Wikipedia)

St. Petersburg is a city in Pinellas County, Florida, United States. As of the 2019 census estimate, the population was 265,351, making it the fifth-most populous city in Florida and the largest in the state that is not a county seat (the city of Clearwater is the seat of Pinellas County).
St. Petersburg is the fifth-largest city in Florida and the second-largest city in the Tampa Bay Area, after Tampa. Together with Clearwater, these cities comprise the Tampa–St. Petersburg–Clearwater Metropolitan Statistical Area, the second-largest in Florida with a population of around 2.8 million. St. Petersburg is located on the Pinellas peninsula between Tampa Bay and the Gulf of Mexico, and is connected to mainland Florida to the north.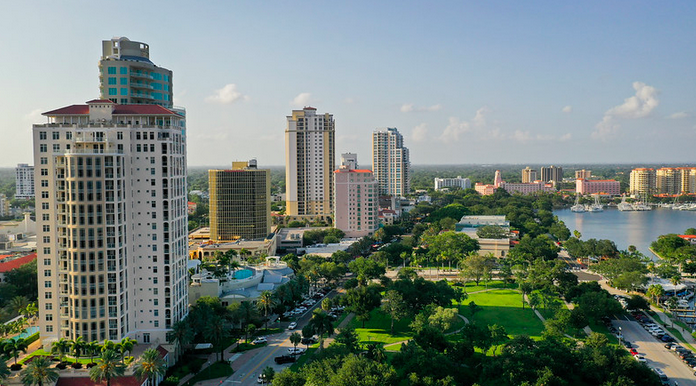 St. Petersburg was founded in 1888 by John C. Williams, who purchased the land, and by Peter Demens who brought the railroad industry into the area. A coin toss bet was held between Williams and Demens to name this newly-formed community. Demens won the bet and subsequently named the land after Saint Petersburg, Russia. Williams was then granted the right to name the first hotel built (which he named the Detroit Hotel). Both named their winnings after their personal hometowns.[13] St. Petersburg was incorporated as a town on February 29, 1892 and re-incorporated as a city on June 6, 1903.
The city is often referred to by locals as St. Pete. Neighboring St. Pete Beach formally shortened its name in 1994 after a vote by its residents. St. Petersburg is governed by a mayor and city council.
With an average of some 361 days of sunshine each year, and a Guinness World Record for logging the most consecutive days of sunshine (768 days between 1967 and 1969), it is nicknamed "The Sunshine City". Due to its good weather and low cost of living, the city has long been a popular retirement destination, although in recent years the population has moved in a much more youthful direction.[18] American Style magazine ranked St. Petersburg its top mid-size city in 2011, citing its "vibrant" arts scene.
Note: If information or photos used here are copyrighted, please contact us and we will immediately delete the copyrighted material.