St. Petersburg, Florida, U.S.A.: International City of Peace

We welcome Mayor Kenneth T. Welch and the citizens of St. Petersburg, Florida, U.S.A. as they continue their City's many initiatives and programs toward a growing Culture of Peace in their community. St. Petersburg Proclaimed as a City of Compassion as well as a City of Peace in order to recognize formally their intention and efforts to instill a peace culture for children and adults alike.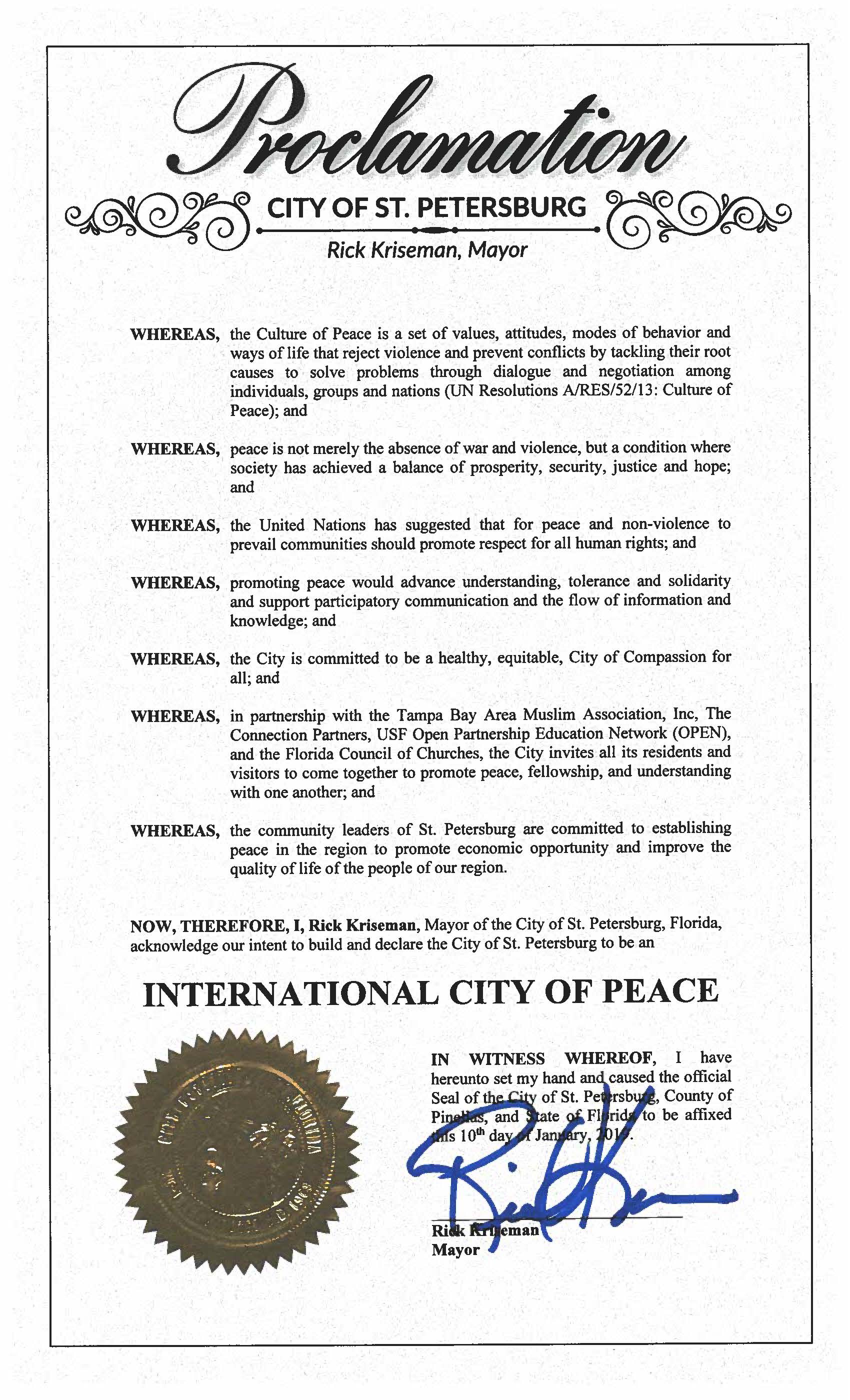 Note: Introduction page with information primarily at the time of joining International Cities of Peace. For updates, please contact the liaison.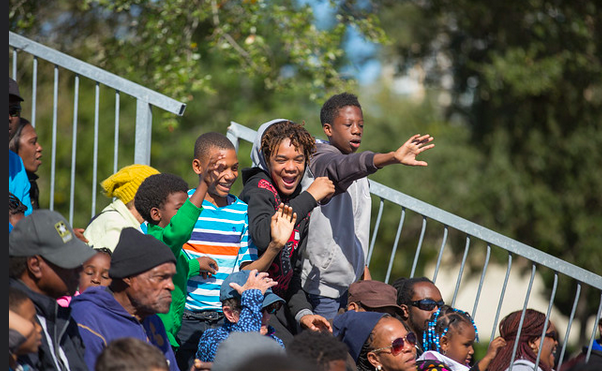 ---
ABOUT THE CITY'S PEACE AND COMPASSION INITIATIVES

St. Petersburg's mission is to be a city of opportunity where the sun shines on all who come to live, work and play. We will be an innovative, creative and competitive community that honors our past while pursuing our future.
In 2018 the City endorsed and joined the Charter for Compassion, advocating the Golden Rule and empathy as a city-wide value to be instituted at every level of government and services. In January 2019 the City proclaimed its commitment to establishing peace, fellowship, and equity for all its citizens and visitors. It has continued to work on the legacy of Peace in the community by working with residents and activist groups within the city to promote Health, Equity, and Opportunity.
Every year the City participates in the Somebody Cares Tampa Bay Carefest Day of Service. CareFest activities are part of St. Petersburg Mayor Rick Kriseman's I C.A.N. initiative (Involved Citizens Active in Neighborhoods), to help disseminate and support effective volunteer efforts throughout the city and throughout the year. St. Pete has been recognized by Somebody Cares as a City of Compassion year after year for gathering the most volunteers to assist projects in the community.
To provide relief to small businesses impacted by local COVID-19 orders, the City of St. Petersburg created the Fighting Chance Fund – an emergency grant for St. Pete's negatively impacted locally owned and independently operated small businesses.
The City has also been host to the longest-going peaceful protest for the Black Lives Matter movement, and continues to foster a dialogue and understanding between its police and its residents.
All photographs on the City's Flickr page are public domain and free to use.
https://www.flickr.com/photos/cityofstpete/
Some past events that the City has hosted promoting peace and unity: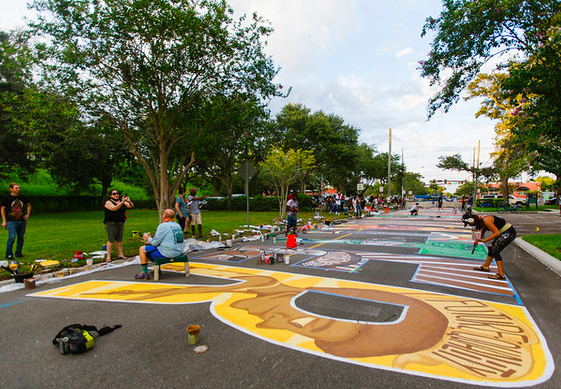 Painting of Black Lives Matter Mural
https://www.flickr.com/photos/cityofstpete/50063182493/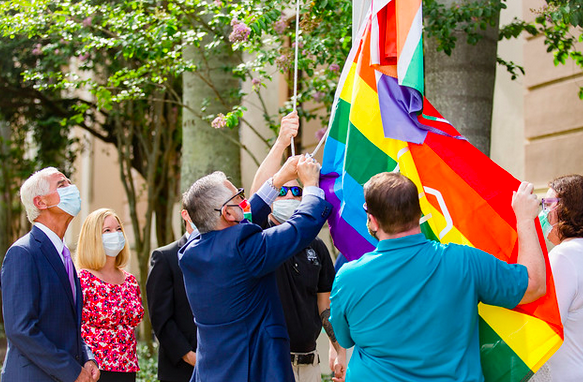 Raising of the Pride Flag:
https://www.flickr.com/photos/cityofstpete/50062773558/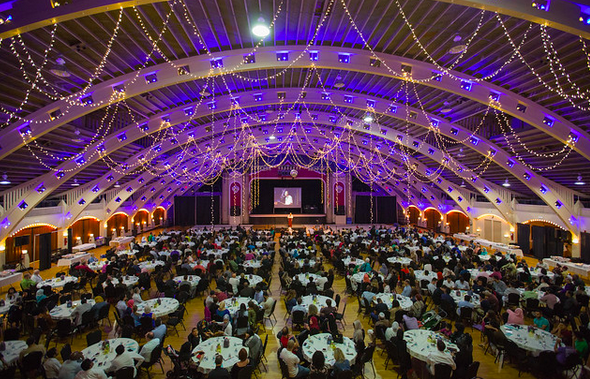 Iftar Dinner
https://www.flickr.com/photos/cityofstpete/41597318905/in/album-72157707360626715/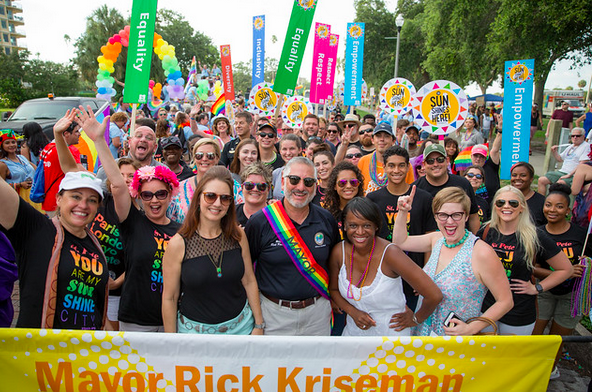 Pride Parade
https://www.flickr.com/photos/cityofstpete/42957106552/in/album-72157679351091318/
Carter G Woodson Flag Raising
https://www.flickr.com/photos/cityofstpete/49623085836/in/album-72157678588855186/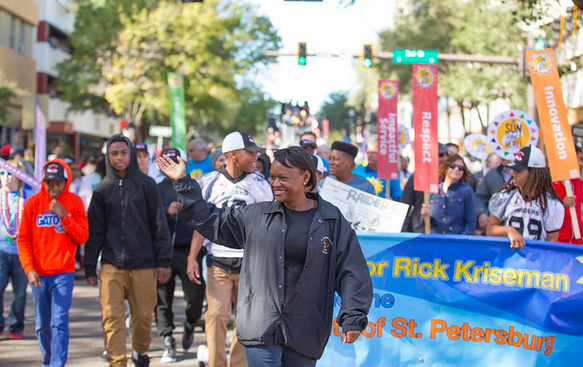 2016 MLK Parade
https://www.flickr.com/photos/cityofstpete/23874260254/in/album-72157691025906341/
---
LETTER OF INTENT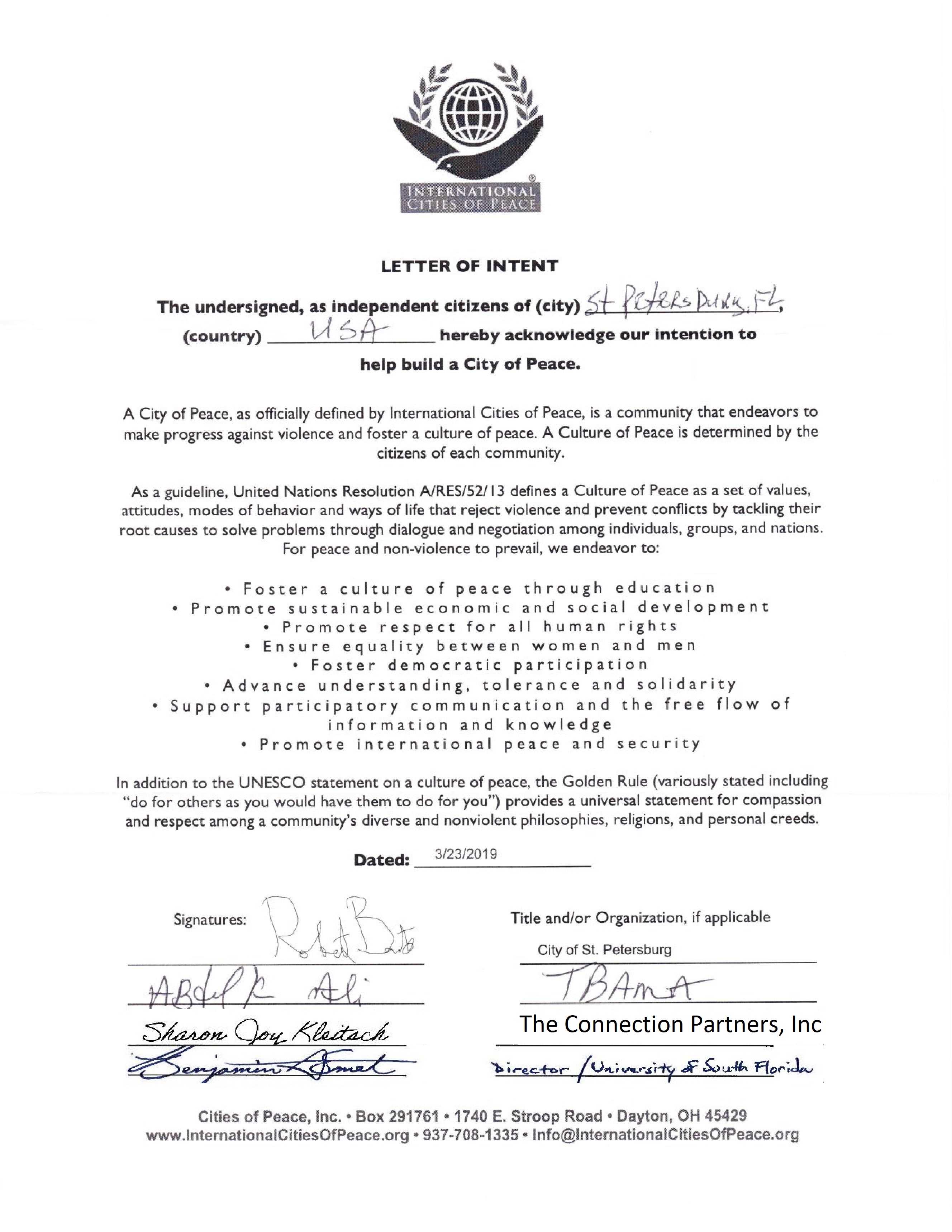 ---
ABOUT THE LIAISON
Kenneth T. Welch was sworn in as the 53rd mayor of St. Petersburg, Florida on January 2, 2014,
---
CONTACT INFORMATION
To contact or support this initiative:
PO Box 2842
St. Petersburg, FL 33731-2842
Office #727-551-3249
Susan Ajoc
Community Services Director
727-892-5141
---
ABOUT ST. PETERSBURG, FLORIDA (from Wikipedia)

St. Petersburg is a city in Pinellas County, Florida, United States. As of the 2019 census estimate, the population was 265,351, making it the fifth-most populous city in Florida and the largest in the state that is not a county seat (the city of Clearwater is the seat of Pinellas County).
St. Petersburg is the fifth-largest city in Florida and the second-largest city in the Tampa Bay Area, after Tampa. Together with Clearwater, these cities comprise the Tampa–St. Petersburg–Clearwater Metropolitan Statistical Area, the second-largest in Florida with a population of around 2.8 million. St. Petersburg is located on the Pinellas peninsula between Tampa Bay and the Gulf of Mexico, and is connected to mainland Florida to the north.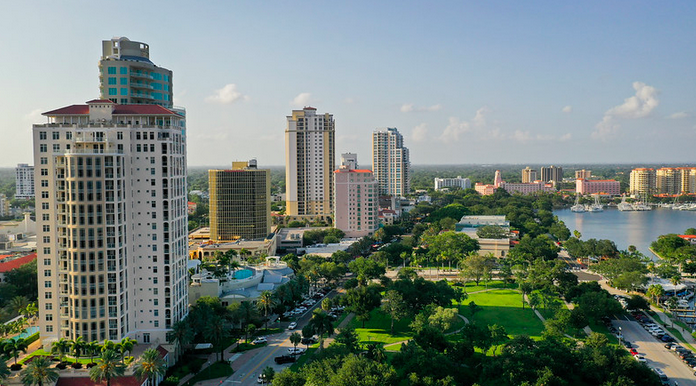 St. Petersburg was founded in 1888 by John C. Williams, who purchased the land, and by Peter Demens who brought the railroad industry into the area. A coin toss bet was held between Williams and Demens to name this newly-formed community. Demens won the bet and subsequently named the land after Saint Petersburg, Russia. Williams was then granted the right to name the first hotel built (which he named the Detroit Hotel). Both named their winnings after their personal hometowns.[13] St. Petersburg was incorporated as a town on February 29, 1892 and re-incorporated as a city on June 6, 1903.
The city is often referred to by locals as St. Pete. Neighboring St. Pete Beach formally shortened its name in 1994 after a vote by its residents. St. Petersburg is governed by a mayor and city council.
With an average of some 361 days of sunshine each year, and a Guinness World Record for logging the most consecutive days of sunshine (768 days between 1967 and 1969), it is nicknamed "The Sunshine City". Due to its good weather and low cost of living, the city has long been a popular retirement destination, although in recent years the population has moved in a much more youthful direction.[18] American Style magazine ranked St. Petersburg its top mid-size city in 2011, citing its "vibrant" arts scene.
Note: If information or photos used here are copyrighted, please contact us and we will immediately delete the copyrighted material.