The 2018 Peace March in conjunction with International Peace Day.
Traverse City, Michigan, U.S.A.: City of Peace
We welcome Tim Keenan, Robert Nichols and Veterans For Peace Chapter 50 who have led the initiative to establish Traverse City, Michigan as an International City of Peace. Traverse City has many organizations dedicated to working for safety, prosperity, and the highest quality of life for its citizens. The designation represents continuity and will, as Robert says, "recognize the efforts of all of these groups and provide incentive and resources to continue to cultivate a culture of peace."
Note: Introduction page with information primarily at the time of joining International Cities of Peace. For updates, please contact the liaison.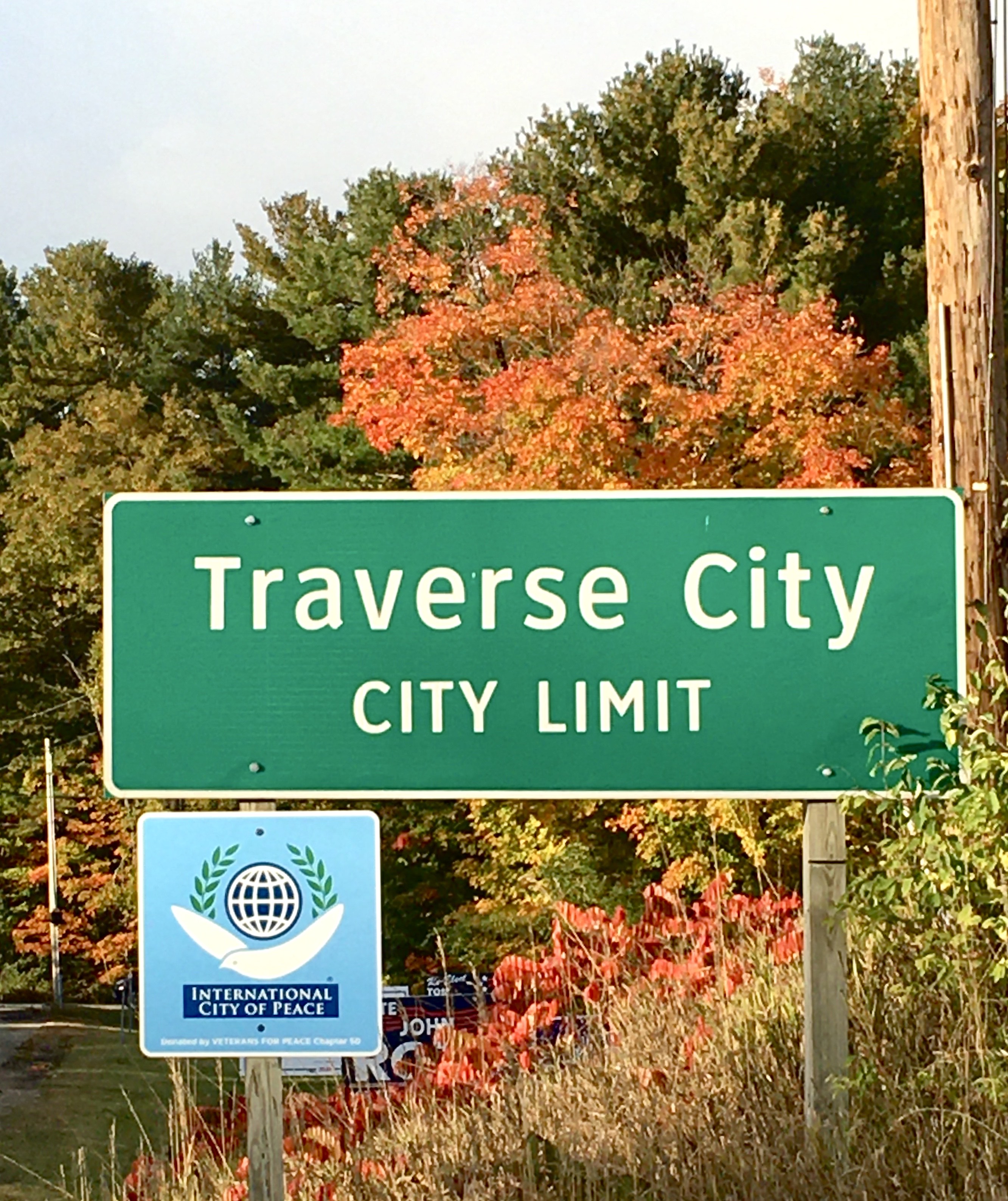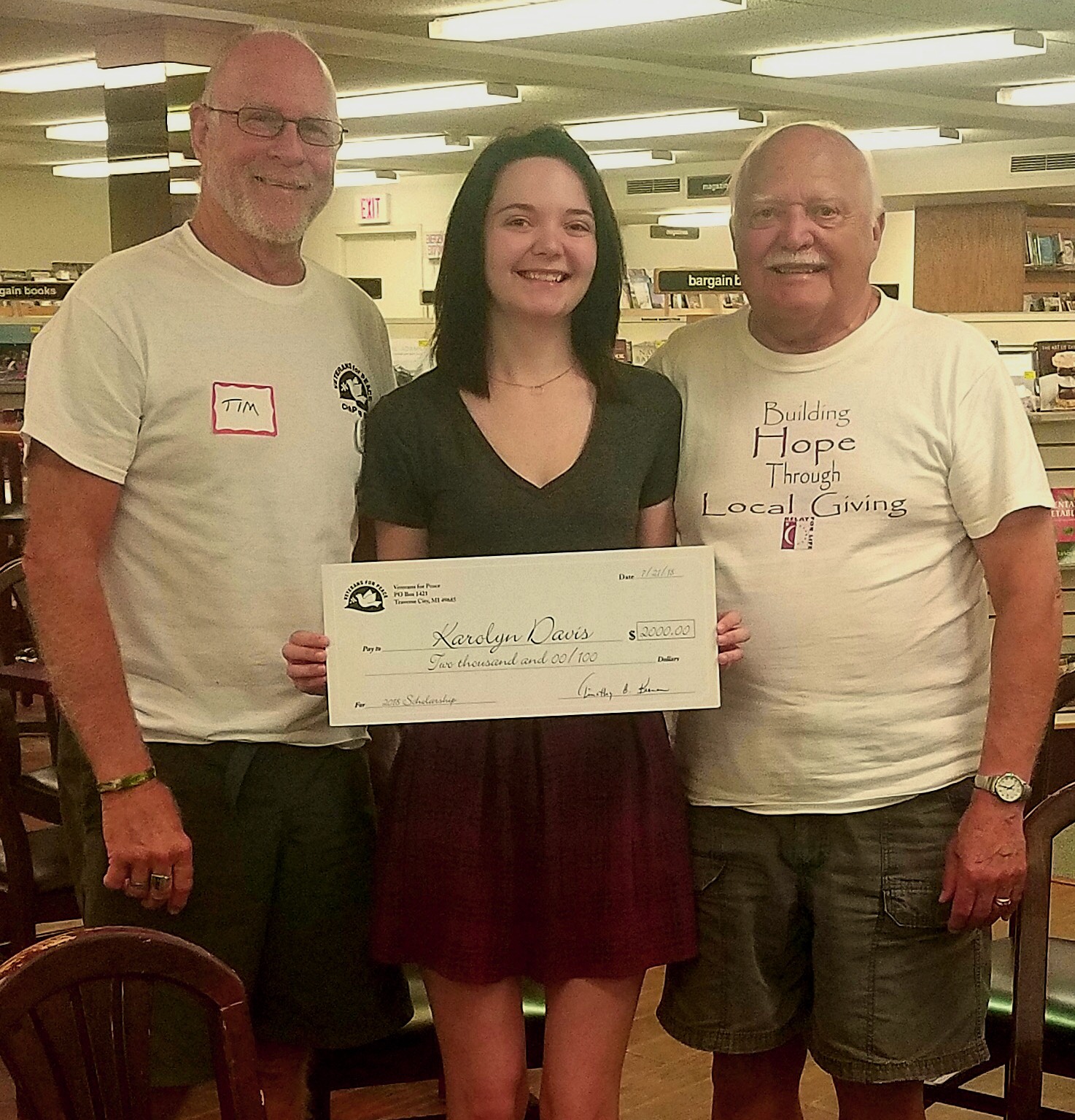 Photo above: The recipient of our annual scholarship to our local college (Northwestern Michigan College).  She is flanked by our president Tim Keenan on the left, and her grandfather who was a veteran.

---
VISION
To foster and advance a culture of peace in our community – in our homes, schools, businesses and government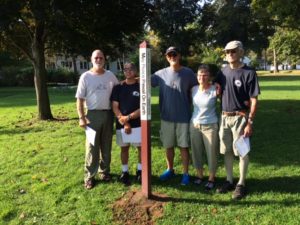 6th annual peace pole planting on International Peace Day 2016
---
MISSION
To promote a community where our residents know and respect its neighbors of all ages, backgrounds, abilities and beliefs. To inspire events, educational programs and services that will empower our community and residents in establishing an inclusive and enduring culture of peace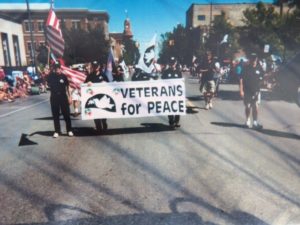 Marching for Peace in the National Cherry Festival parade
---
GOALS
1. to help network the many groups in the Traverse City area into a larger, more effective force for the promotion of peace, and a source of support for each other
2. to help provide resources to local peace groups and schools to aid the advancement of peaceful activities and to recognize individuals and groups that promote a culture of peace

3. to help provide our Community with a peaceful identity and platform to begin to build toward a culture of peace
4. to leverage our beautiful environment as an aid in becoming more peaceful in our lives and relationships
5. to demonstrate respectful behavior within our community , by listening openly so that an honest and respectful dialogue can take place

Letter of Intent
---
ABOUT TRAVERSE CITY, MICHIGAN, U.S.A.
Community Legacy
Traverse City is the regional hub of Northwest Michigan's lower peninsula. It is nestled among rolling hills, beautiful lakes and landscapes. The magnificent scenery of trees, farms, orchards and vineyards provides an amazing and peaceful backdrop to our daily lives. This natural beauty continues to attract new residents and our vibrant community is growing rapidly.
As an International City Of Peace, we share their consensus values of Peace – safety, prosperity and quality of life. In September 2017, this was endorsed by the Traverse City Human Rights Commission and City Commission.
Traverse City has a multitude of organizations currently working towards peaceful objectives and those consensus values. (Veterans for Peace, Northern Michigan Environmental Acton Council, Indivisible, Mideast Just Peace, Peace Builders, UpNorth Pride, NREC, SEEDS, ERACCE, Groundwork, Crosshatch, On The Ground, Disability Network, Retired Peace Corp Volunteers, St Francis Peace & Justice, Friends of the Light, Grace Episcopal Peace Fellowship, etc.). With Traverse City becoming an International City Of Peace, it will recognize the efforts of all of these groups and provide them incentive and resources to continue to cultivate a culture of peace here.
Traverse City is already a regional leader in so many ways. As an International City of Peace representative, Traverse City will have another way to promote the quality of life, environmentalism, the arts and all the other ways that we work for a peaceful existence. The children of Traverse City will know that their elders have chosen to emphasize safety, prosperity and quality of life in the context of a more peaceful future. Teachers will have a platform for teaching compassionate action and conflict resolution.
Our hope is that becoming an International City Of Peace will be a foundation for our community to build from, as we work with our neighbors to practice peaceful and respectful lives.
---
ABOUT TIM KEENAN
Tim Keenan was born and raised in Grand Rapids, MI. He relocated to Traverse City in 1980 after moving from place to place after his discharge from the Army in 1969.
Tim was the Community Corrections Manager of three counties in northern Michigan until his retirement in 2008. His passion was finding alternatives to jail and prison for non violent offenders, while keeping his community safe.

While in the army he fought as an infantryman in Vietnam in 1967/68. He still suffers from PTSD from the war, having an intense fear of the woods. He embarked on a 6 month hike of the entire Appalachian Trail to quell those fears in 2009, and wrote a book related to the trail and PTSD. The book is titled "The Good Hike".
Tim returned to Vietnam in 2014 to meet his "enemy" and remember friends lost. A documentary of his return can be viewed on you tube or on line. The name of the film is "naneek". Both the book and the film are Tims quest to find peace and make peace.
His hike raised over $9,000 for victims of domestic violence and for a scholarship fund for the child of a veteran in financial need. He joined the Veterans for Peace in 2001. He has believed in alternatives to war and violence since his battles in Vietnam. He has been President of Chapter 50 for over 10 years.
Tim is the proud father of 5 children and 5 beautiful grandchildren.
---
CONTACT INFORMATION
Tim Keenan <timkeenan1946@gmail.com>
Robert Nichols <bobnick515@gmail.com>
Note: If information or photos used here are copyrighted, please contact us and we will immediately delete the copyrighted material.