Tree planting on Mamitwa Day in Tzaneen, South Africa.
TZANEEN, SOUTH AFRICA: International City of Peace

We welcome Adri Kruger and her colleagues in Tzaneen, Limpopo Province, South Africa who have established their community as an International City of Peace.
From Dr Adri Kruger: "Being born and raised in Tzaneen and the Greater Tzaneen Area I have a passion to make a difference in the lives of others. My vision is a world where we all can recognize our differences and embrace them.  A world where we will take time to really care for one another, to protect one another, and advocate for all.  A world where we will share and distribute peace, love and resources with one another.  A world where every person will have a voice.  Being an entrepreneur, a businesswoman and being active in my community I am daily involved with the lives of others.  With that comes responsibility, which I do not take lightly."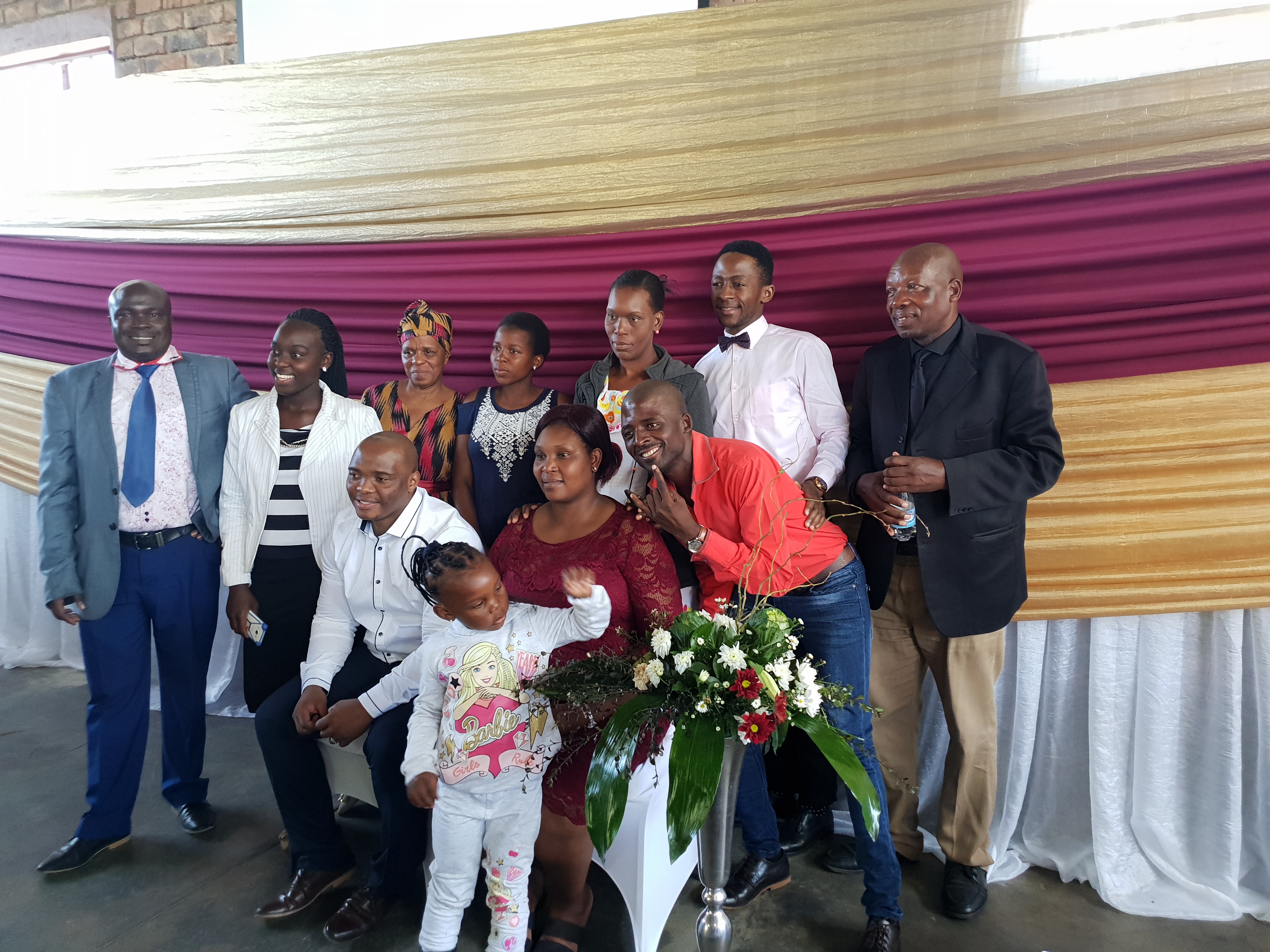 El Oam Community Center wedding
Note: Introduction page with information primarily at the time of joining International Cities of Peace. For updates, please contact the liaison.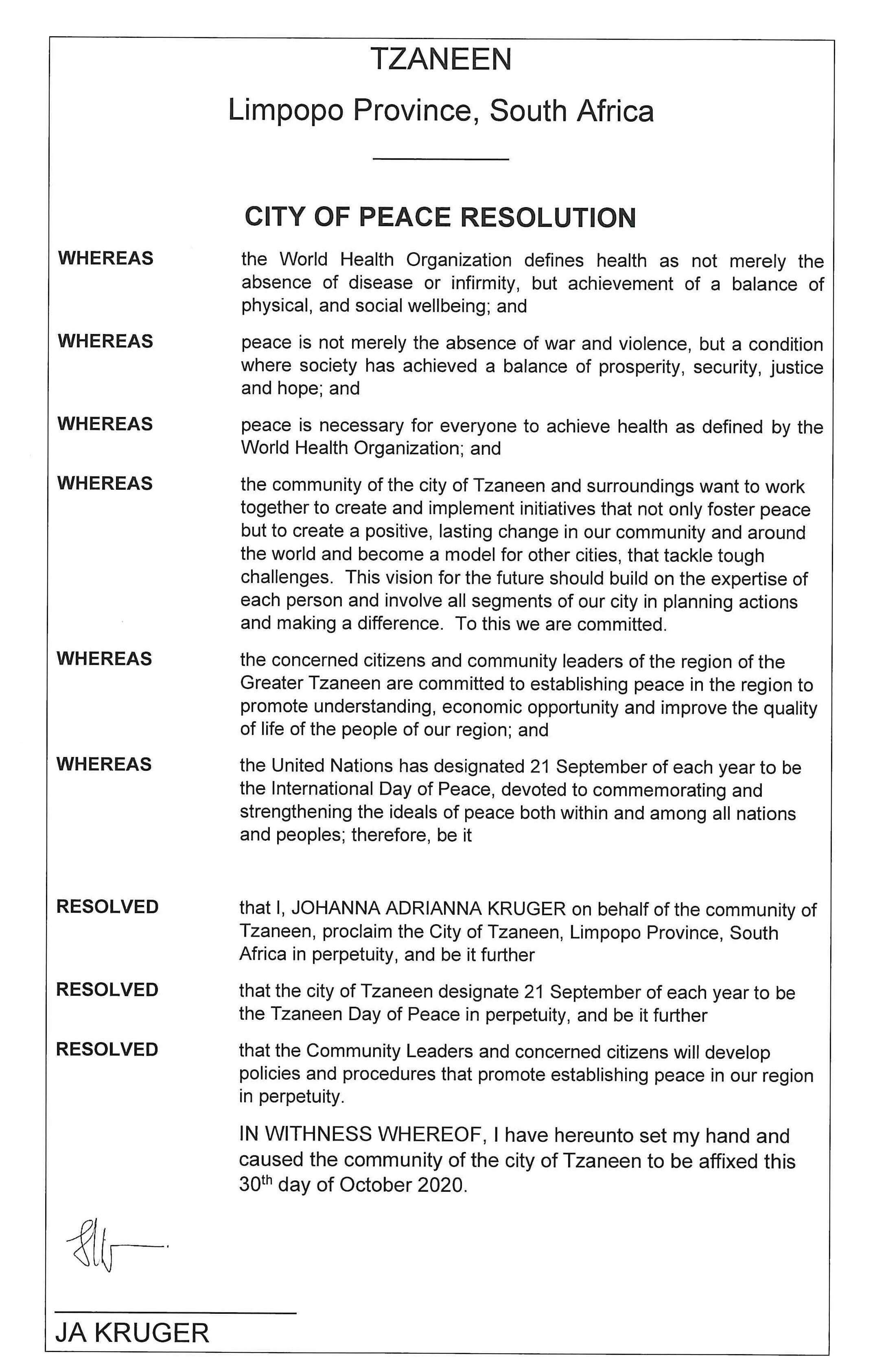 ---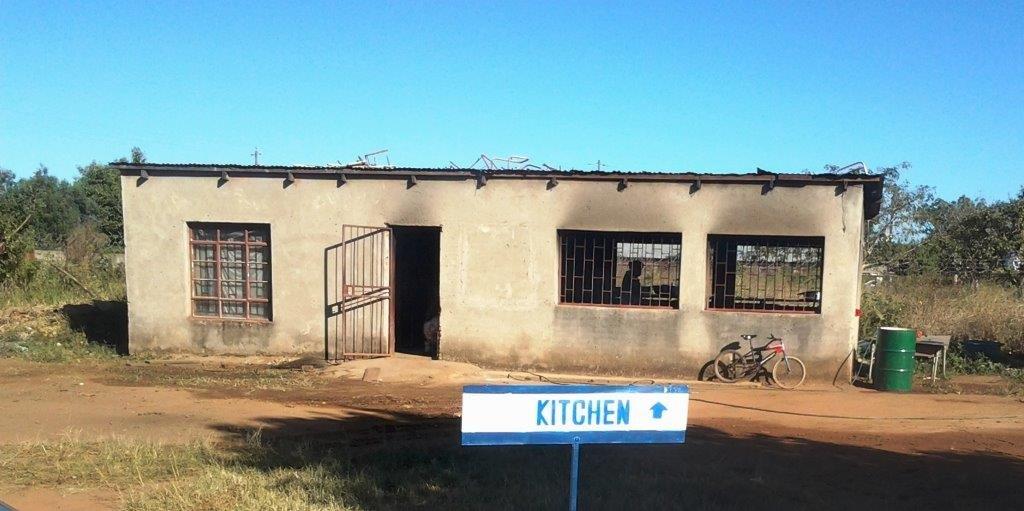 Outside of kitchen building, Masungulu School
---
COMMUNITY PROJECTS:
EL OLAM COMMUNITY CENTRE
El Olam Community Centre was started by Pastor Comewell Shayi and on his request I became involved with El Olam.  Through El Olam we have done Youth Camps, training of women, Aids Awareness and other valuable training.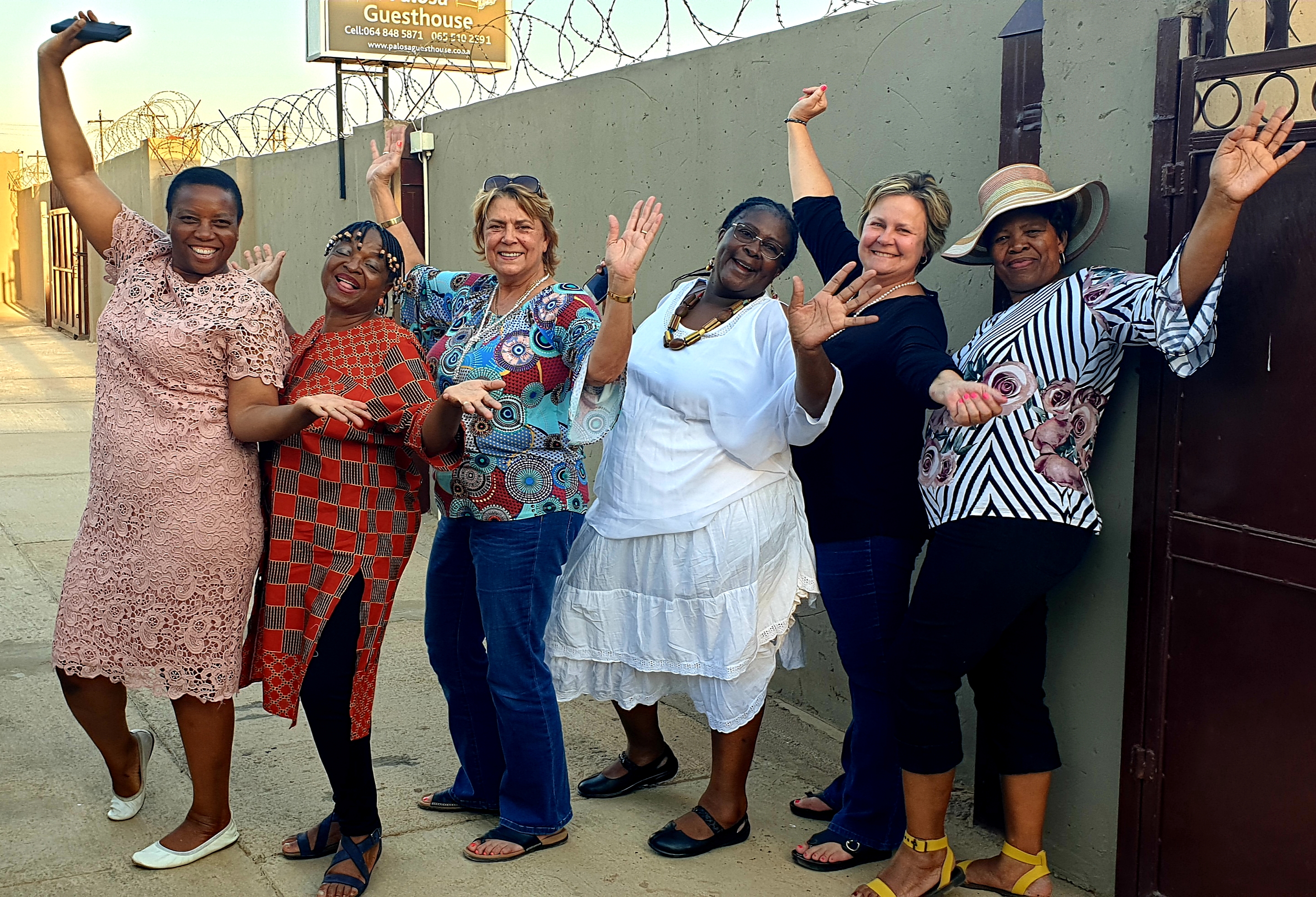 Women in tourism
---
MASUNGULU PRIMARY SCHOOL
Having met a teacher from Masungulu Primary School, I became involved in this primary school and then adopted the school.  We have built a playground for the school as there was no play area for the children to use during breaks.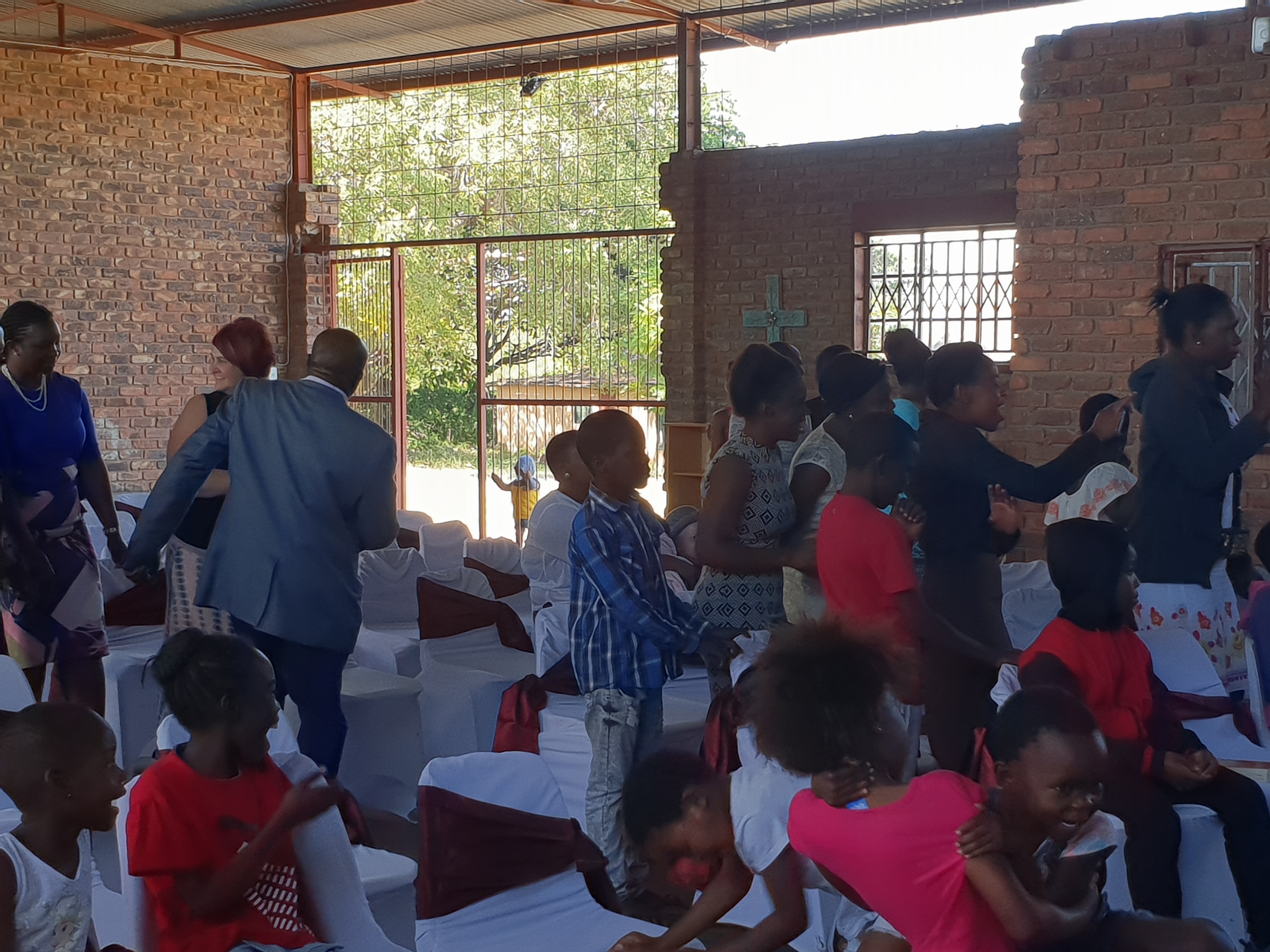 El Olam Community youth
DISTRIBUTION OF FOOD PARCELS DURING COVID-19:
I became aware of people battling with the dire situation of not having any income and therefor no food in the home, especially in the rural areas.  I made in my mission to deliver food parcels and hygienic items for women in the rural areas.  I also worked together with the local Lions Club who assisted with donations.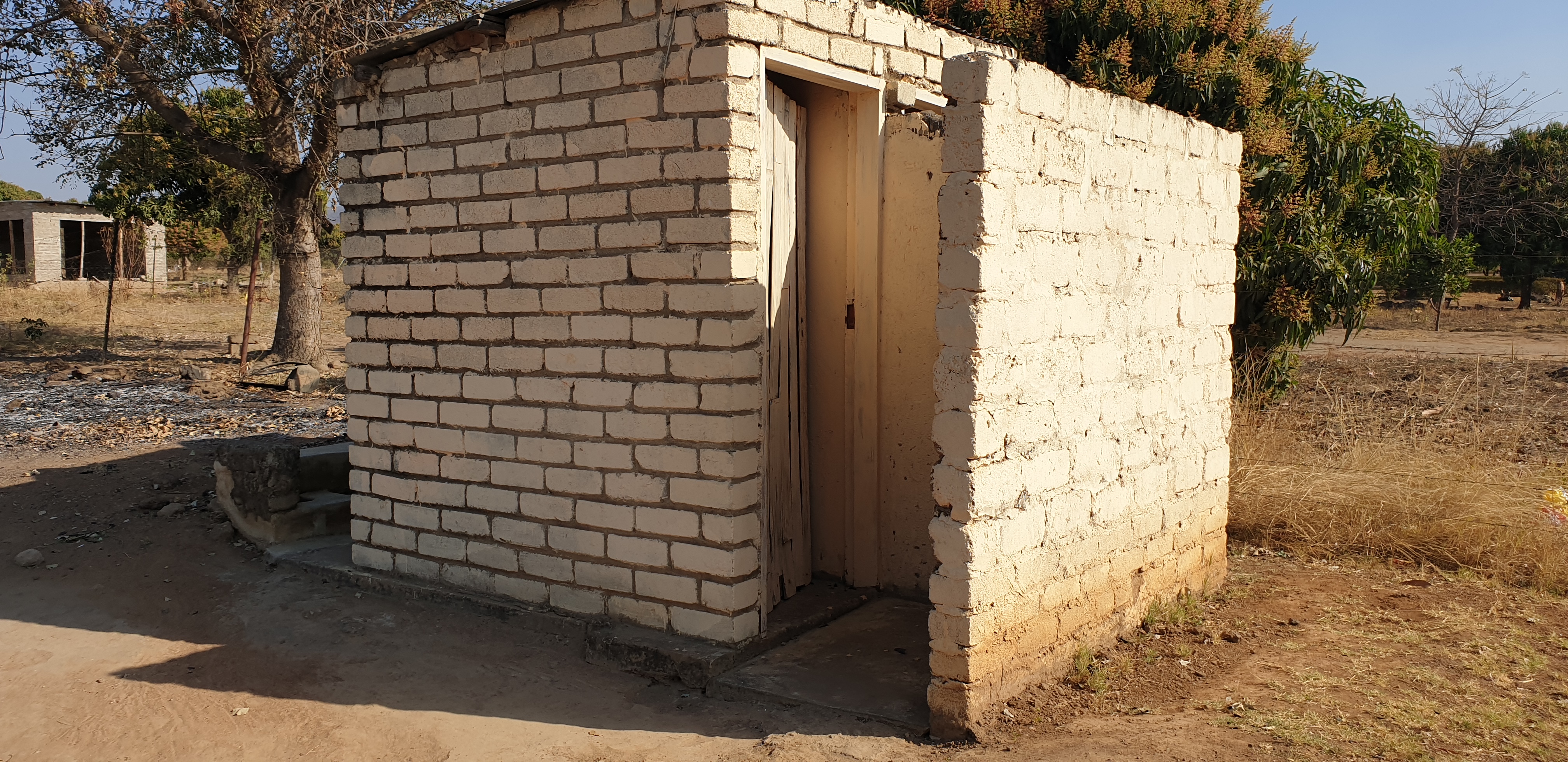 Work in progress
MY BIGGEST PASSION: CREATING JOBS
I have 215 staff members working for me.  They are mostly from the rural areas, and I have had huge success choosing them for attitude, and then training them.  In this way I have discovered a gem, Mr Isaac Selowa, who was an informal trader and today is Restaurant Manager of Tzaneen Country Lodge.  There are many such success stories.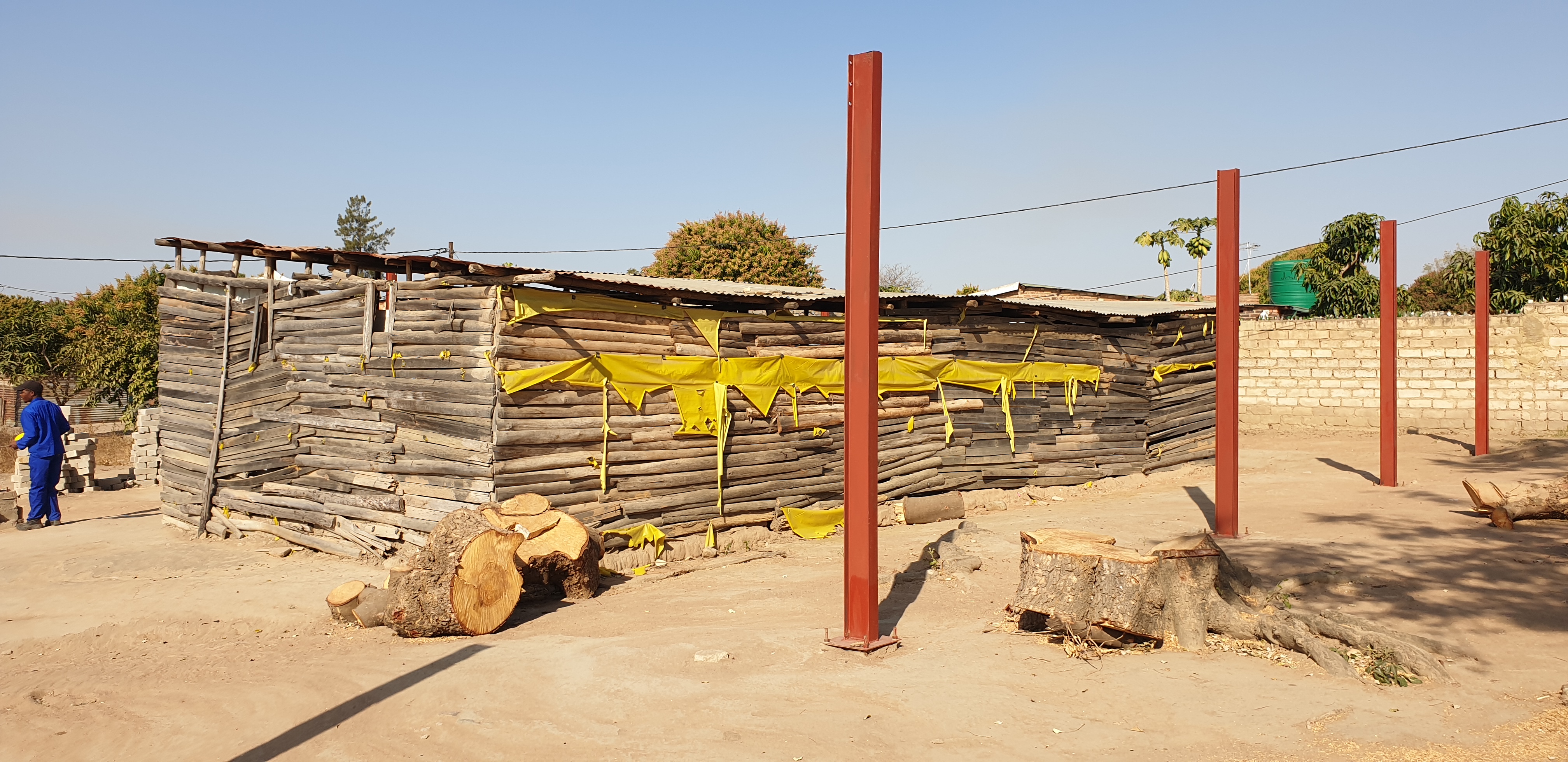 El Olam New

---
Letter of Intent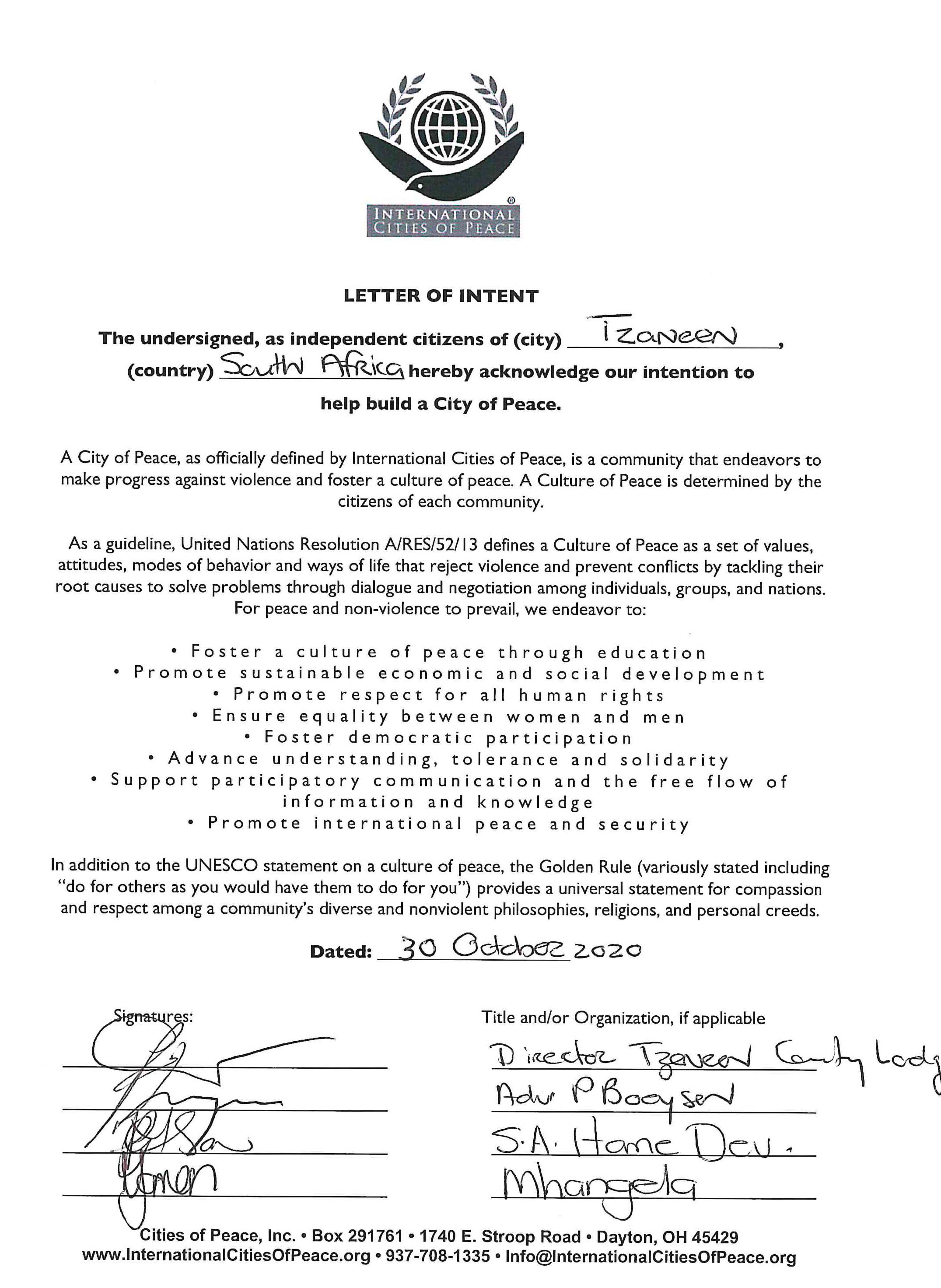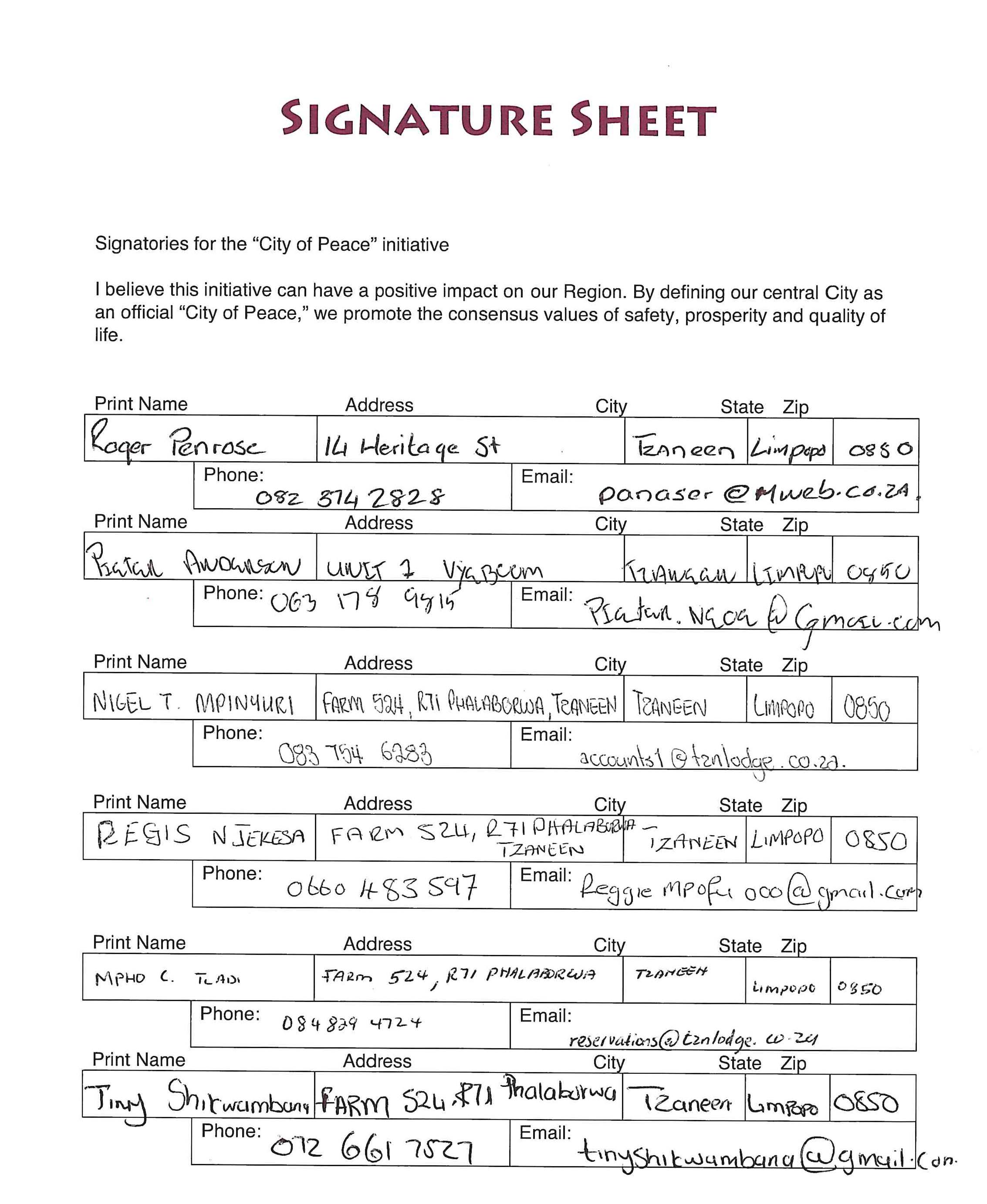 ---
ABOUT THE LIAISON:

Adri Kruger, Tzaneen, Limpopo Province, South Africa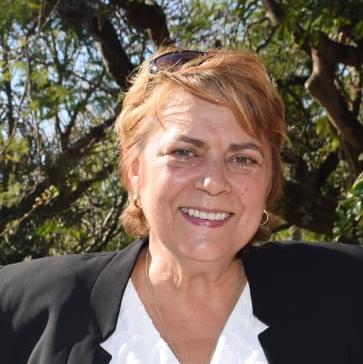 Peace through Business, Tourism & Community Outreach:
As an active member in the Greater Tzaneen Community I am a promotor of peace and reconciliation wherever I go for the last 20 years.
I am an award-winning businesswoman and a registered Life Coach and Counsellor.  Since I was a young adult, I had a heart for my community and especially since I have received a "voice" due to all my awards that I have won.  To have a "voice" in my community made a huge difference as people tend to listen to me.
Being born in Tzaneen and growing up in a rural area close to Tzaneen and then doing business, tourism & community work for the past 25 years in and around Tzaneen, gave me a passion for people.  I am connected not only through my business endeavours, but also through my work that I do in and around the community.  Peace is just part of who I am, and the message that I carried in my heart for many years now.
I am involved in the community and especially during the past few months helping people in dire need of food during the Covid-19 pandemic.  I am still delivering food parcels to those in need.  I ama natural strategist that works with people from all walks of life, carrying my message of peace wherever I go.
No man is an island, and I believe strongly that working together we can all make a difference.  My life motto is maybe not to change the whole world, but at least change the world around me.
I believe that I can make a difference as an Ambassador of Peace for the city of Tzaneen.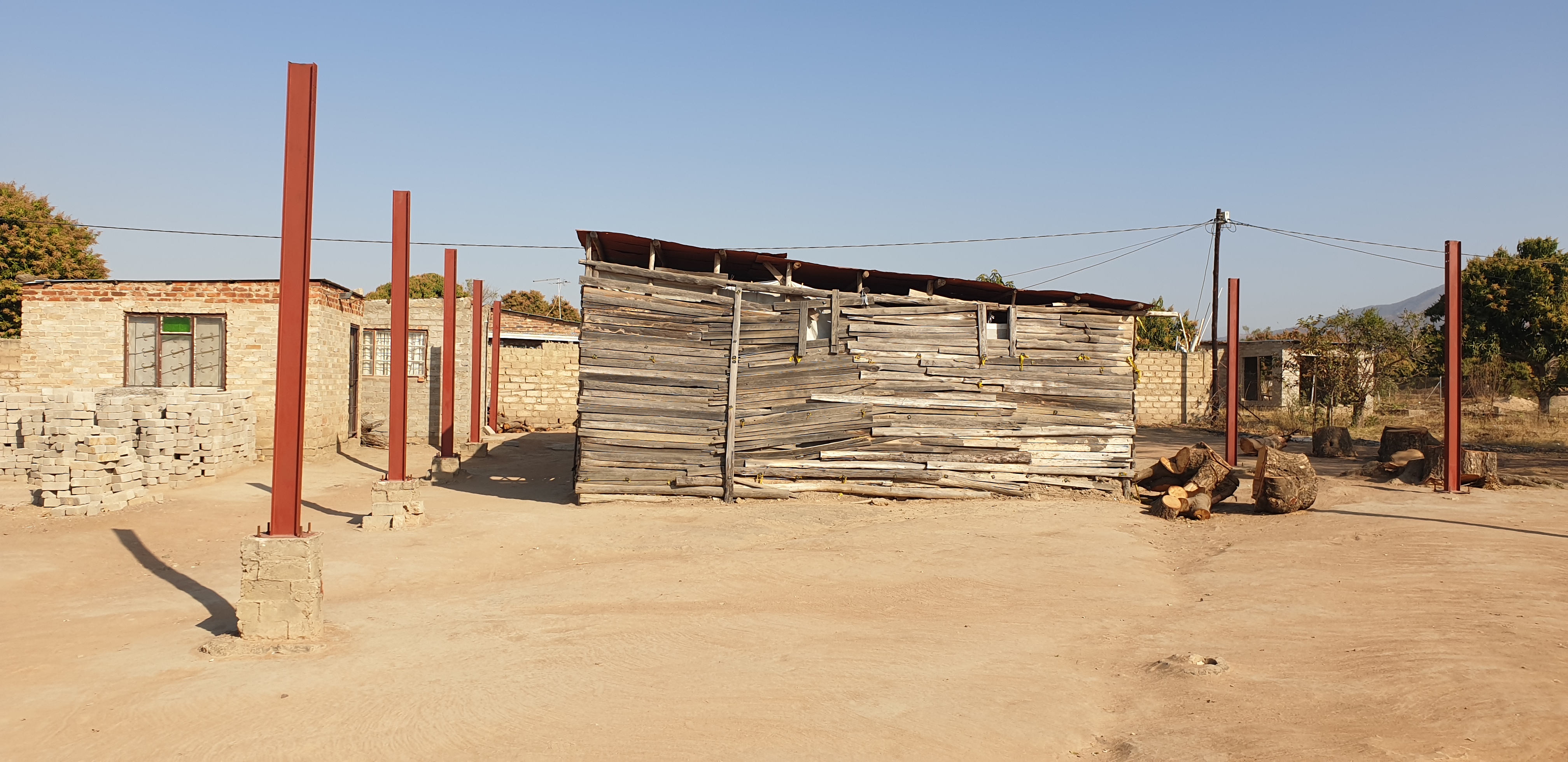 Mogolobutho El Oam
---
CONTACT INFORMATION
To contact or support this initiative:
TZANEEN COUNTRY LODGE
"the place to be"
[t]  +27 15 304 3290
[c]  +27 82 395 9507
[f]  +27 86 295 3031
[e]  adri@tznlodge.co.za
[w]  www.tznlodge.co.za
---
ABOUT TZANEEN, SOUTH AFRICA (from Wikipedia)

Tzaneen is a large tropical garden town situated in the Mopani District Municipality of the Limpopo province in South Africa. It is situated in a high rainfall fertile region with tropical and subtropical agriculture taking place in a 20,000 km2 region. It is Limpopo's second largest town after Polokwane.
About 475,000 people reside within a 30 km radius, with the town itself holding a population of around 30,000. Tzaneen is today a proud home of both the Tsonga people and Northern Sotho tribes. Approximately 225 000 Northern Sotho of BaLobedu, BaNareng, Batlou, Bathlabin and BaKgaga calls Tzaneen their home. Equally so, approximately 220 000 Tsonga people of Shiluvane-Nkuna clan under Hosi Muhlaba-Shiluvane (132 000 people/subjects) and Valoyi clan under Hosi Nwamitwa-Valoyi (91 000 people/subjects) makes the same claim that Tzaneen is also their native land, thereby making the Tsonga-Sotho ratio at Tzaneen a 50:50 outcome.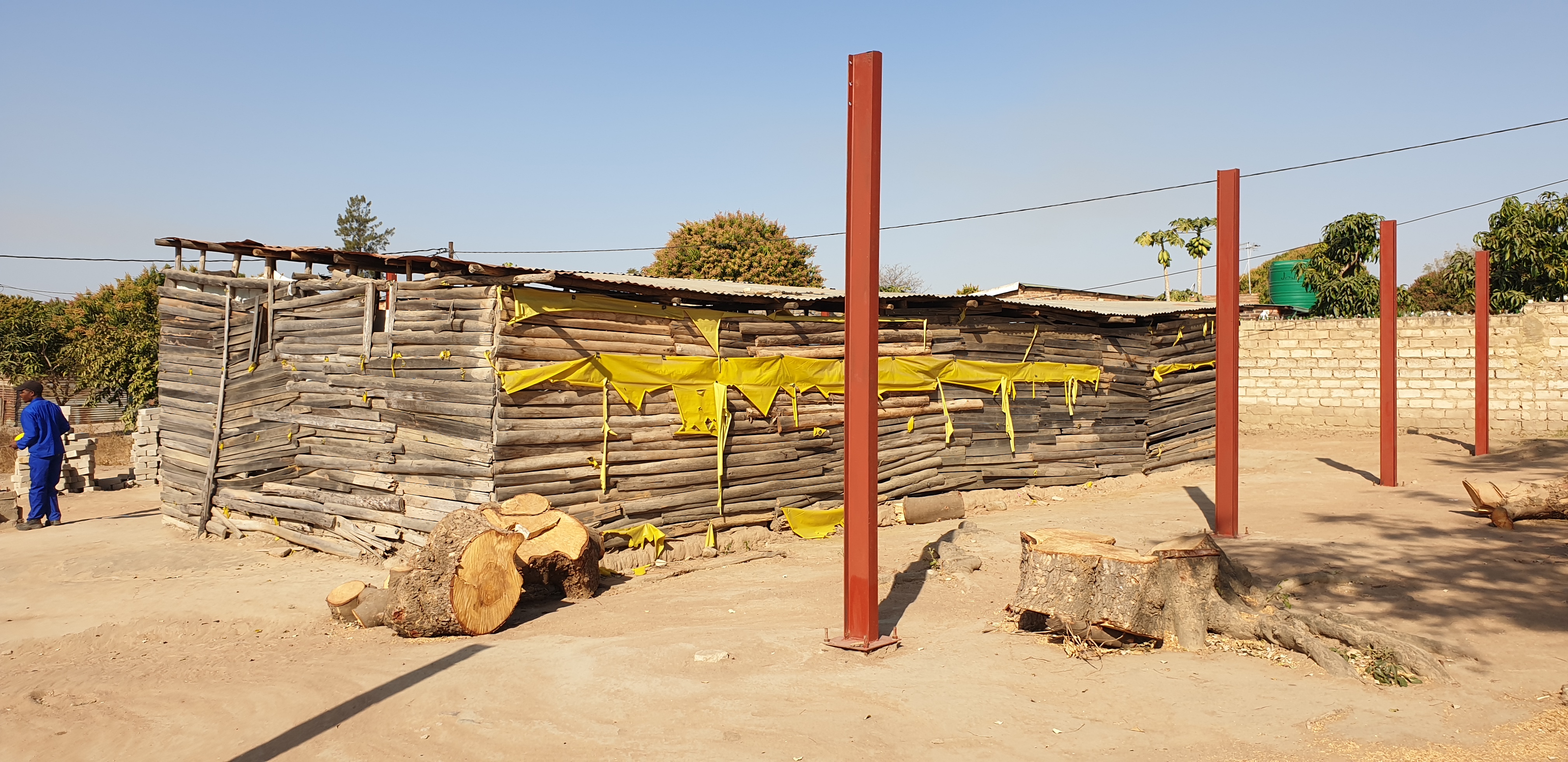 Both the Tsonga and the Northern Sotho communities goes beyond Tzaneen and are also found in large numbers in nearby towns of Bushbuckridge and Hazyview respectively, which are 191 km south-east of Tzaneen and they also live peacefully with one another in this part of the lowveld. The White population is around 25 000, which consists mainly the Afrikaner people and a very small minority of English, Portuguese, Scottish, Irish, Jewish and German. The Afrikaner people constitute more than 90% of the white population in Tzaneen. The distance from Tzaneen to Johannesburg is approximately 420 km, or 261 miles.

Note: If information or photos used here are copyrighted, please contact us and we will immediately delete the copyrighted material.