Seminar in the Library in Verejeni, Moldova.
Verejeni, Moldova: City of Peace
Welcome to Mrs. Tatiana Baltag and her colleagues in Verejeni, Moldova: City of Peace. Mrs. Baltag is director of the library for children and is committed with the citizens of Verejeni to fostering a culture of peace in Moldova.
Note: Introduction page with information primarily at the time of joining International Cities of Peace. For updates, please contact the liaison.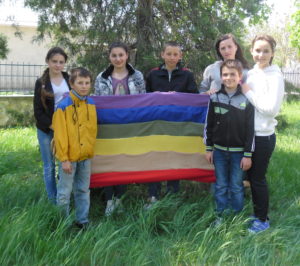 "Elevii de la Verejeni – simbolizează flagul păcii" and "Pupils from Verejeni – flag symbolizes peace".
 

VISION

·      Verejeni – a city of peace, prosperity, growth, acceptance and understanding.
·      Verejeni – a city of peace, which encourages and develops a peaceful society, with a strong perspective of the world.
·      Verejeni – a city known for innovation, opportunity, education, culture and a business community.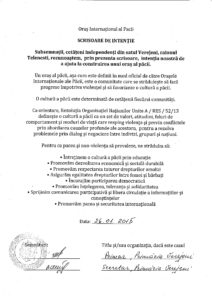 Letter of Intent
VIZIUNE
·      Verejeni – un oraș de pace, prosperitate, creștere, acceptare și înțelegere.
·      Verejeni – un oraș de pace, care încurajează și dezvoltă o societate pașnică, cu o perspectivă puternică în lume.
·      Verejeni – un oraș cunoscut prin inovație, oportunitate, educație, cultură și afaceri în comunitate.

 

Festival pascal
Easter Festival

MISSION

·      To nurture a culture of peace in the human mind and spirit.
·      Create a strong identity of Verejeni villagers as peaceful, healthy, hardworking, wise, rich and innovative people.
·      Building a future of hope, stability, confidence, self-determination, respect and responsibility.
·      Verejeni – a community with ties and respect towards neighbors, regardless of boundaries, religion, nationality, or customs.

MISIUNE
·      De a nutria o cultură a păcii în mintea umană și spirituală a cetățenilor.
·      Crearea unei identități puternice a locuitorilor satului Verejeni, cu oameni pașnici, sănătoși, gospodari, înțelepți, înstăriți și inovatori.
·      Construirea unui viitor de speranță, stabilitate, încredere, auto-determinare, respect și responsabilitate.
·      Verejeni este o comunitate cu legături și respect față de vecini, indiferent de hotare, religie, naționalitate, și obicee.

 
Pace între săteni. Peace among villagers.
GOALS

·      To make Verejeni village, from Telenesti district, the second "city of peace" designated in the country of Moldova.
·      To make Verejeni village the second "city of peace", from the area known to be part of the former Soviet Union.
·      To be a community that leads to peace and promotes peace.
·       Organizing a "Peace Day"celebration on September 21st every year.

GOLURI
·      Pentru a face satul Verejeni din raionul Telenești al doilea ,,oraș al păcii", desemnat în țara Moldovei.
·      Pentru a face satul Verejeni al doilea ,,oraș al păcii", indicat de țările și zonele cunoscute, ca făcînd parte din fosta Uniune Sovietică.
·      Pentru a fi o comunitate care conduce în pace și promovează pacea.
·       Organizărea sărbatorii ,,Ziua Păcii" la 21 septembrie, in fiecare an.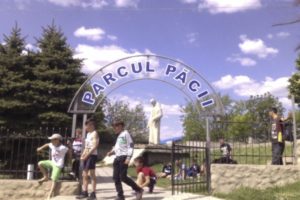 La monumentul,,Ostașul necunoscut", de 9 mai – concert despre pace. The "Unknown Soldier" monument – concert about peace.

 

9 mai 2015 – denumirea parcului ,,Parcul Păcii" 9 May 2015 – park named "Peace Park"
---
ABOUT TATIANA BALTAG
Mrs. Tatiana Baltag was born in Verejeni, Moldova, August 24, 1960.
She graduated from the College of Arts in the city of Soroca.
She is the director of the library for local children.
She is married and she has three children and three grandchildren.

Despre liderul, Baltag Tatiana

Baltag Tatiana născută în Verejeni, Moldova, la 24 august 1960.
A absolvit colegiul de arte din orașul Soroca.
Ea este director la biblioteca pentru copii din localitate.
Este căsătorită și ea are trei copii și trei nepoți.

De la stînga la dreapta sunt Doamna Sofroni Maria, Doamna Baltag Tatiana (liderul) și Doamna Cazacu Iulia.
From left to right are Mrs. Maria Sofroni, Mrs. Tatiana Baltag (the leader), and Mrs. Iulia Cazacu

 
---
CONTACT INFO
For more information please contact:

Mrs. Baltag

 

 
---
ABOUT VEREJENI, MOLDOVA (excerpted from Wikipedia)
Moldova, officially the Republic of Moldova (Romanian: Republica Moldova pronounced [reˈpublika molˈdova]), is a country in Eastern Europe, landlocked between Romania to the west and Ukraine to the north, east and south. The capital city is Chișinău.


Moldova declared itself an independent state in 1991 as part of the dissolution of the Soviet Union. A new constitution was adopted in 1994. A strip of Moldovan territory on the east bank of the river Dniester has been under the de facto control of the breakaway government of Transnistria since 1990.

Unire și pace în familie
Majoritatea cetăţenilor din Verejeni sînt de religie creştin ortodoxă. Bărbatul şi femeia îşi unesc destinele prin credinţă, cununîndu-se la biserică.
Unity and peace within the family
The majority of citizens in Verejeni are Christian Orthodox. The man and woman unite their destinies by faith, crowns to the church

 

As a result of a decrease in industrial and agricultural output since the dissolution of the Soviet Union, the relative size of the service sector in Moldova's economy has grown to dominate its GDP and currently stands at over 60%.

 

Moldova is a parliamentary republic with a president as head of state and a prime minister as head of government. It is a member state of the United Nations, the Council of Europe, the World Trade Organization (WTO), the Organization for Security and Cooperation in Europe (OSCE), the GUAM Organization for Democracy and Economic Development, the Commonwealth of Independent States (CIS) and the Organization of the Black Sea Economic Cooperation (BSEC) and aspires to join the European Union.

 
DO YOU THINK YOUR COMMUNITY CAN BE A CITY OF PEACE? SEND AN EMAIL!
 Note: If information or photos used here are copyrighted, please contact us and we will immediately delete the copyrighted material.