Victoria, British Colombia, Canada: City of Peace
Welcome Saul Arbess, Penny Joy, and those in the inititative for the Candian Department of Peace who have created an International Cities of Peace organization in Victoria, British Columbia, Canada.
Note: Introduction page with information primarily at the time of joining International Cities of Peace. For updates, please contact the liaison.
---
EVENTS INFORMATION
Celebration, September 21
On Sept 21st celebrate the UN International Day of Peace and Global Ceasefire in Victoria with a proclamation by the Mayor, the Getting' Higher Choir, Unity flags, a Peace Pole ceremony, displays and poetry created for the day by Linda Rogers and others. People around the world will be joining in celebrating of peace, many recorded through PeaceDay TV to which we will be contributing. Sponsored by the Canadian Department of Peace Initiative (www.departmentofpeace.ca) and the Victoria 150 committee, this free event takes place in the antechamber of Victoria City hall from 5 – 7 p.m. Join and share ideas, thoughts, poems – a family affair – everyone welcome! Refreshments provided. For more information contact Penny Joy at pjoy@shaw.ca or Tel. (250) 383 5878.
Talk, September 27th: Building a Global Culture of Peace
On Sept. 27th the Canadian Department of Peace Initiative (www.departmentofpeace.ca) is sponsoring a visit to Victoria by renowned international Peace Builder, James O'Dea. Former Washington Office Director of Amnesty International, James has worked in Rwanda, Israel, Palestine and Northern Ireland. His talk Building a Global Culture of Peace will be held in the Sanctuary at the First Metropolitan United Church, Quadra at Balmoral from 7-9 p.m. $10 admittance at the door.
Workshop, September 29th: Cultivating Peace – From the Inside Out
On Sept 29th the Canadian Department of Peace Initiative (www.departmentofpeace.ca) is sponsoring a workshop with James O'Dea, at the James Bay New Horizons, 234 Menzie St, from 9am to 5pm. James O'Dea (<www.jamesodea.com>) is a renowned figure in international social healing whose work has led him to Rwanda, Israel/Palestimne and Northern Ireland. His soulful but practical voice of experience strikes deep chords of optimism even while addressing the heart of darkness in conflict situations.
Registration $75 (limited capacity). To reserve please contact Penny Joy at pjoy@shaw.ca or tel. 250 383 5878
Celebration Oct 2: "Be the change you want to see in the world …"
On Oct 2, in celebration of the birthday of Mahatma Gandhi and the International Day of Non-violence, several members of Victoria's spiritual communities, including Shoshana Litman, Margo McLoughlin, Ali Hemani and others, will explore, through storytelling, some of the many paths to peace. The evening will encourage discussion on making Victoria a City of Peace. This free community event is sponsored by the Canadian Department of Peace Initiative (<www.departmentofpeace.ca>) and Victoria 150 Anniversary. 7-9pm at the 1st Metropolitan United Church Chapel, 932 Balmoral Ave. Everyone welcome!
For further information contact Penny Joy at pjoy@shaw.ca or tel. 250 383 5878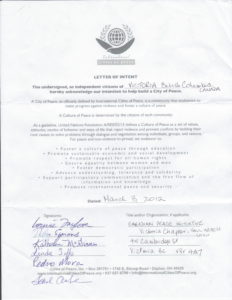 Letter of Intent
BACKGROUND INFORMATION
MISSION : A MINISTER FOR PEACE FOR CANADA
TO IMPLEMENT A CULTURE OF PEACE
Given the escalation of violent conflict, the increased threat of nuclear annihilation and lawlessness across our world today, there has never been greater urgency or a better window of opportunity to promote this initiative in Canada. The department would develop a coordinated and coherent paradigm for a sustainable peace across all government departments. The Minister would advance an agenda for a new architecture of peace by supporting and establishing activities that promote a culture of peace and assertive non-violence in Canada and the world.
Drawing inspiration from those countries that have ministers of peace – Nepal, Costa Rica and South Sudan – and working with more than 30 other countries, we anticipate that the Canadian Minister of Peace's mandate would include the following objectives:
Develop early detection and rapid response processes to deal with emerging conflicts and establish systemic responses to post-conflict demobilization, reconciliation and reconstruction.

Lead internationally to abolish nuclear, biological, chemical weapons, to reduce conventional weapon arsenals and to ban the weaponization of space

Implement the UN Declaration and Programme of Action on a Culture of Peace (1999) to safeguard human rights and enhance the security of persons and their communities

Implement UN Resolution 1325 on the key role played by women in the wide spectrum of peacebuilding work

Establish a Civilian Peace Service that, with other training organizations, will recruit, train and accredit peace professionals and volunteers to work at home and abroad, as an alternative to armed intervention

Address issues of violence in Canada by promoting nonviolent approaches that encourage community involvement and responsibility such as Restorative Justice, Nonviolent Communication (NVC) and Alternate Dispute Resolution (ADR)

Support the development of peace education at all levels including post-secondary peace and conflict studies

Promote the transition from a war-based to a peace-based economy.
We are dedicated to generating the political will for this initiative by reaching out, not only to politicians, but to the broad spectrum of our citizens including peace and justice organizations, faith communities, artists, choirs, healthcare professionals, teachers, service clubs, cultural communities and businesses. 12 chapters presently exist across Canada. Canada is a founding member of the Global Alliance for Ministries and Departments of Peace, www.mfp-dop.org, of over 30 countries promoting departments of peace.
In pursuing this initiative, we recognize that the crisis facing humanity is not only social, political, economic and environmental, but also spiritual in nature. We believe that creating a culture of peace is an ongoing and longterm process but it is our intention to turn the tide in our generation working closely with Canadian youth.
"Conflict Transformation by Peaceful Means"
SOME RECENT ACHIEVEMENTS:
1.    Bill C-373, a Bill to Establish a Department of Peace, passed First Reading in the House of Commons in November 30, 2011
2.    The NDP Federal Caucus and the Green Party have supported the initiative; support has also been received by members of the Liberal Caucus
3.    Parliament acknowledged September 21 as the International Day of Peace & Global Ceasefire to bring attention to non-military solutions to conflict.
4.    Three Pan Canadian conferences were convened with renowned speakers, members of Parliament and community leaders, and a parliamentary reception on the initiative was hosted for MPs in May 2010.
5.    Our list of supporters, individuals and groups continue to grow, with our supporters now representing two million Canadians.
6.    Media covered the topic, including CBC, Canwest papers nationwide, YouTube and on local radio.
Leadership is provided by a National Board, made up of the 12 chapter chairs, who are responsible for local initiatives. Among these is the Cities of Peace Initiative led by Ottawa and Hamilton. Victoria is pursuing the concept in connection with the 150th Anniversary of the founding of Victoria, 2012. The city will proclaim September 21 as the International Day of Peace in Victoria and we will be convening events at City Hall that day and another event on October 2 – the International Day of Nonviolence – with expressions of the teachings on nonviolence and peacebuilding in the traditions of local faith groups.
---
About Saul Arbess:
Saul Arbess and Penny Joy are Co-founders of the Victoria City of Peace Project. Saul is Director of the Canadian Department of Peace Initiative (CDPI) Board and Director of theGlobal Alliance for Ministries of Peace Board. For more information, go to:
www.departmentofpeace.ca
Go to: http://www.gopetition.com/petitions/department-of-peace/sign.html to download,sign and circulate the petition for a Department of Peace
Email: Saul Arbess <saul.arbess@departmentofpeace.ca>
---
About Victoria, British Columbia, Canada (from Wikipedia):
Victoria is about 100 kilometres (62 miles) from BC's largest city of Vancouver on the mainland. The city is about 100 kilometres (62 miles) from Seattle by airplane, ferry, or the Victoria Clipper passenger-only ferry which operates daily, year round between Seattle and Victoria and 40 kilometres (25 miles) from Port Angeles, Washington by ferry across the Juan de Fuca Strait.
Named after Queen Victoria of the United Kingdom and of the Dominion of Canada, Victoria is one of the oldest cities in the Pacific Northwest, with British settlement beginning in 1841. The city has retained a large number of its historic buildings, in particular its two most famous landmarks, the British Columbia Parliament Buildings (finished in 1897 and home of the Legislative Assembly of British Columbia) and the Empress hotel (opened in 1908). The city's Chinatown is the second oldest in North America after San Francisco's. The region's Coast Salish First Nations peoples established communities in the area long before non-native settlement, possibly several thousand years earlier, which had large populations at the time of European exploration. Victoria, like many Vancouver Island communities, continues to have a sizable First Nations presence, composed of peoples from all over Vancouver Island and beyond.
Known as the "City of Gardens," Victoria is an attractive city and a popular tourism destination with a thriving technology sector that has risen to its largest revenue producing private industry.[4] The city has a large non-local student population, who come to attend the University of Victoria, Camosun College, Royal Roads University, the Sooke Schools International Program and the Canadian College of Performing Arts. Victoria is also popular with retirees, who come to enjoy the temperate and usually snow-free climate of the area as well as the usually relaxed pace of the city.
DO YOU THINK YOUR COMMUNITY CAN BE A CITY OF PEACE? SEND AN EMAIL!
Note: If information or photos used here are copyrighted, please contact us and we will immediately delete the copyrighted material.