Voinjama, Lofa, Liberia: City of Peace
Welcome to Swaliho M. Fofana and his colleagues from the organization PeaceWin Lofa as they create a city of peace in Voinjama, Liberia. The need for peacebuilding in Liberia, especially for Lofa County, is cardinal toward sustaining genuine peace and security as the UN peacekeeping forces draw down its mission finally in 2016.
Note: Introduction page with information primarily at the time of joining International Cities of Peace. For updates, please contact the liaison.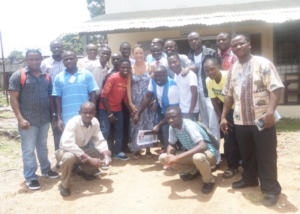 Group photos of Young Peace Ambassadors and Community Volunteers
Lofa County has been characterized by series of violent incidents as the result of misunderstanding among locals. As Fofano comments, "For example, in 2010 a 22 year old 11th grade student, Korpo Kamara in Konia was murdered and body mutilated and said body was placed around a religious center according to reports. This fueled violent situation in Lofa and resulted in the destruction of properties and burning of religious centers. There have been many violent incidents that have occurred in Lofa over the last 10 years more than any county in Liberia emanating from misunderstanding, land disputes, ethnic and religious cleansing."
PeaceWin Lofa
PeaceWin Lofa is a community based Peacebuilding and Advocacy Non-Governmental Organization operating in rural communities in Lofa County which is headquartered in Voinjama City working on community healing and peacebuilding activities. PeaceWin Lofa programs focus on advocacy, peacebuilding education, conflict transformation and empowerment for local youth and women in four districts (Voinjama, Koluhun, Quardu-Gboni and Zorzor). PeaceWin Lofa trains its Young Peace Ambassadors (YPAs) and Community Volunteers (CVs) on leadership, ICT, SGVB/HIV-AIDS, conflict management and community healing in order to work with schools and communities in project areas.

With the establishment of PeaceWin Lofa and the creation of a City of Peace in Lofa County, our efforts and interventions building sustainable peace among citizens will go long way in achieving stability and security. This will be achieved because all of PeaceWin Lofa executives on the leadership structure are represented by members of the various ethnic and religious groups and this is success story for us and a clear picture of coexistence.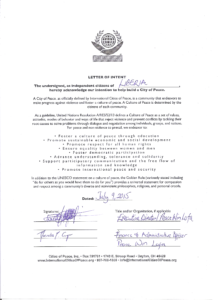 Letter of Intent
---
VISION

PeaceWin Lofa future plan is to see an integrated community and society where the culture of oneness and coexistence of citizens in Lofa County will contribute toward the promotion of rights, justice and security.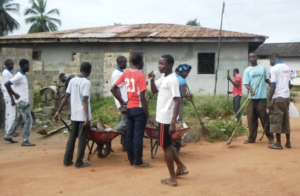 MISSION
Through peaceful coexistence among citizens of Lofa County, PeaceWin Lofa hopes to ignite efforts to combine all individuals of Lofa under one umbrella irrespective of ethnicity, religion and political affiliations, color, race, traditional beliefs, social, educational and economic statuses.
GOALS

1. Make peaceful and prosperous community/society along with making better life for children, youth and women

2. Work for just, accountable, self-sustained and equitable society along with enhancing citizens participation in decision making processes

3 Draw policy makers and key stakeholders attentions, especially the Government of Liberia toward the promotion and building sustainable peace in our schools, communities as well as at county and national levels with needed funding.
---
ABOUT SWALIHO FOFANA
Swaliho M. Fofana, born on March 3, 1988 in Voinjama City is a passionate and multitask young professional. Swaliho is one of the founders of PeaceWin Lofa where he currently serve as an Executive Director of PeaceWin Lofa and his role is to provide leadership guidance to all of PeaceWin Lofa's programs, projects and additional activities.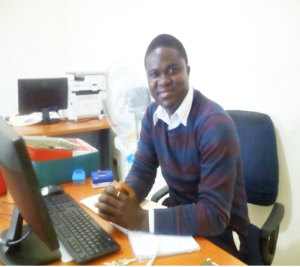 Swaliho holds a bachelor degree in Business Administration (major in Accounting) from the University of Liberia in 2013 and in 2014; he graduated from the Liberia Institute of Public Administration-LIPA with a certificate in Project Planning and Management. Swaliho have achieved many capacity building certificates in Business and Financial plans development, budgeting and grants proposal development for CSOs, youth leadership and gender mainstreaming, civic and voter education, HR management and IT Skills.

For the last 4 years, Swaliho have successfully managed and led YouthAid-Liberia; a national accredited youth focused NGO working with young people across Liberia with funding from the International Foundation for Electoral System Liberia Program Office and Population Service International Liberia Office.
---
CONTACT INFO
For more information please contact:

Swaliho M. Fofana
Executive Director
Emails: swal459yal@gmail.com OR peacewinlofa@gmail.com
Skype: swal459

 

 
---
ABOUT VOINJAMA, LIBERIA (from Wikipedia)
Voinjama is a small city that serves as the capital of Lofa County, Liberia and is located in the hilly, far northern part of the country near the Guinean border. As of the 2008 national census, the population stood at 26,594.

Before the Liberian civil war it was a busy crossroads town, with a large weekly market. The population was principally from the Lorma and Mandingo tribes, with other ethnic groups from surrounding areas also present. It boasted a number of schools, including the public Voinjama Multilateral High School, as well as Saint Joseph's Catholic school under the direction of Sister Joan Margaret Kelly, and private schools run by Swedish missionaries and other groups. The Voinjama airport, outside of town on the road to Zorzor, featured a grass landing strip and flight service several times a week from Monrovia through the national carrier, Air Liberia.

The city had an electric generating station (with power in the evening) and a water treatment plant that supplied running water for most of the town. There were numerous general goods stores on the main road and a large parking station in the central plaza where one could catch a ride on a public car south to Zorzor, Gbarnga and Monrovia, west to Kolahun, Foya and Sierra Leone, or north to the Guinean border, four miles away.

Voinjama featured numerous churches of many different denominations as well as a mosque situated in the predominantly Muslim area of town known as the Mandingo Quarter. As capital of the county, it served as a government headquarters housing county officials and offices as well as being home to numerous international development projects, including the Lofa County Agricultural Development Project. It is served by a number of US Peace Corps Volunteers (Tarnue and Akoi) and Japan Overseas Cooperation Volunteers.

Subsistence rice farming was the principal occupation of most of the population. The rice generally grown in Liberia is dryland rice, on ground cleared through slashing and burning of the abundant forest land, and not paddy rice as in other parts of the world. Other prominent crops grown in the Voinjama area were cassava, potato greens, collard greens, and palm nuts, from which the popular red palm oil was extracted. "Palm wine" harvested from certain palm trees was also popular.
DO YOU THINK YOUR COMMUNITY CAN BE A CITY OF PEACE? SEND AN EMAIL!
 Note: If information or photos used here are copyrighted, please contact us and we will immediately delete the copyrighted material.