Wakiso Town, Central Region, Uganda: International City of Peace
We welcome Mr. Wasswa Samuel Gyagenda, the new Liaison for Wakiso, Uganda's City of Peace initiative. He is the founder of the Peace Justice and Equality Foundation (PJEF), a non government foundation/organisation, non-sectarian, non-partisan, nonprofit foundation, which promotes an innovative, values-based approach to peace, justice and equality building.

Note: Introduction page with information primarily at the time of joining International Cities of Peace. For updates, please contact the liaison.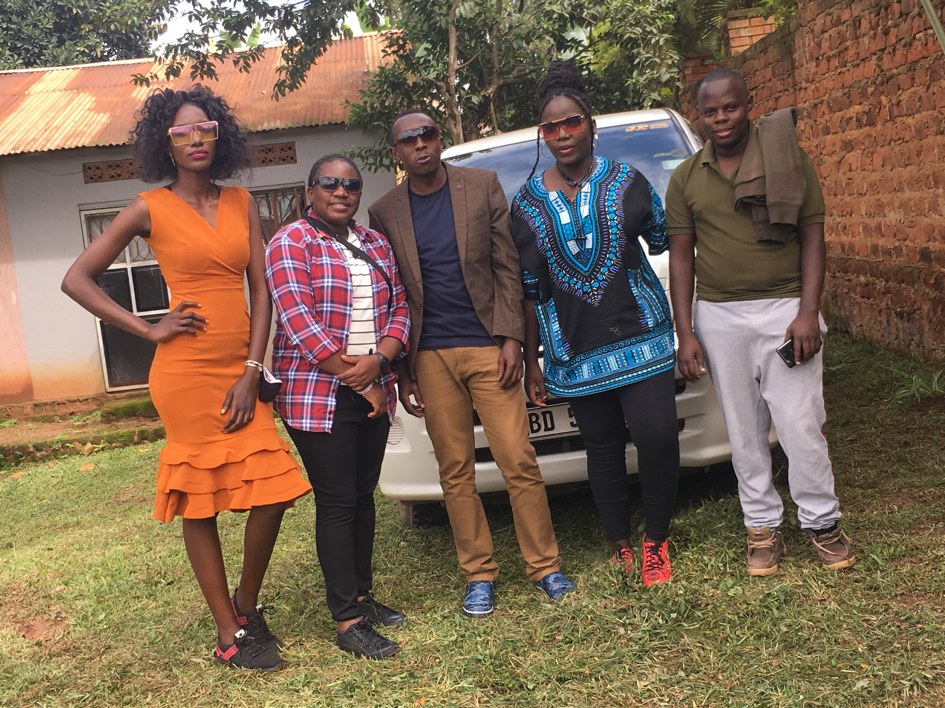 Starting from left Peace Justice and Equality Foundation: Administration team:  Ms. Namaga Sandra (Secretary) Ms. Nakiraga Mery (Regional Coordinator) Mr. Mutebi George Stephen (Programs Director) Ms. Ndagire Teddy ( Treasure)  Mr. Wasswa Samuel AKA Haggai Samuel (Director)
---
VISION:
A world where peace, justice, equality and human rights is highly respected.
---
MISSION:
To promote a tradition of peace, justice and equality at all generations of life.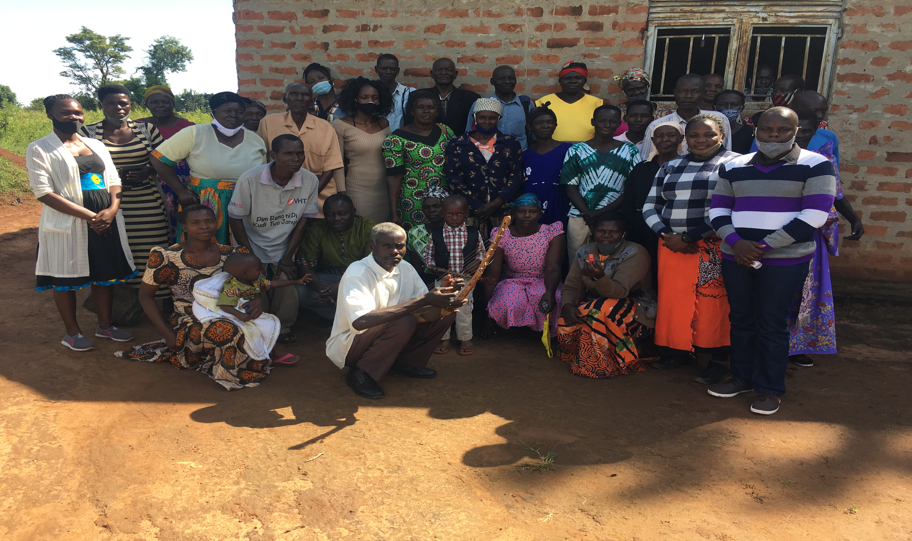 ---
CORE VALUES:
To empower youth, women and men, through political, social and economic means under their communities, organization and institutions to transform their life effectively, fight poverty and promote respect, peace and harmony at all levels.
---
PURPOSE:
– Creating peace clubs at all levels of education in Uganda (Secondary Schools/high schools, Primary Schools, Universities and in vocational institutions). This is done to ensure that young generation gets know their responsibilities when it comes to their rights especially children rights and peace keeping in their communities and country at large.
– Training in conflict prevention, management and resolutions: this has been implemented through connecting and get involved in Local Council 1 (village/zones) leader programs of conflict resolutions.
– Research, documentation and information dissemination on peace, justice, equality and human rights.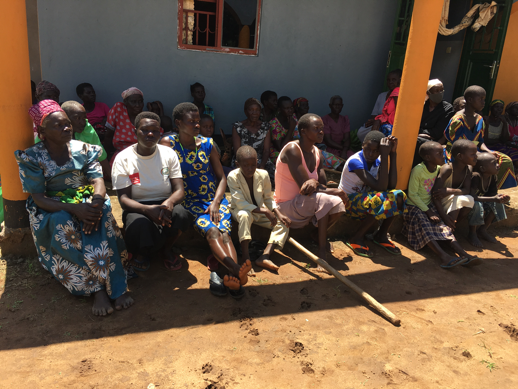 ---
PROGRAMMES:
– A world without wars or conflicts
– Professional integrity
– Equal opportunities for all persons
– Transparency and accountability in government agencies
– Respect of personal opinions
– Team work and collaboration
– Having a generation that respect and understands human rights
– Observing peaceful and democratic elections at all levels of leadership.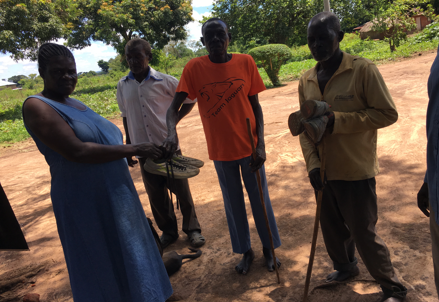 ---
BRIEF OF SOMEONE OF THE ACTIVITIES
– Donation of clothes and shoes to the people of Lira (01/11/2020)
– Opening of Peace clubs in academic institutions, this has been done in over 30 schools around Uganda for example Bulenga Parents, Seeta Complex, Ebenezer high school, Pride college school etc
– Coordinating with local village councils to resolve community conflicts
– Donation and supporting of children of Bushenyi district with back to school shows and education scholastics and supporting them with school fees payments (since Jan/2019 to date)
– Empowering of women with vocational skills (Districts covered so far include Wakiso, Buddaka, Kampala and Mukono)
– Donation of Maize Milling machine to the local area of Budaka eastern Uganda.
---
Peace Justice and Equality Foundation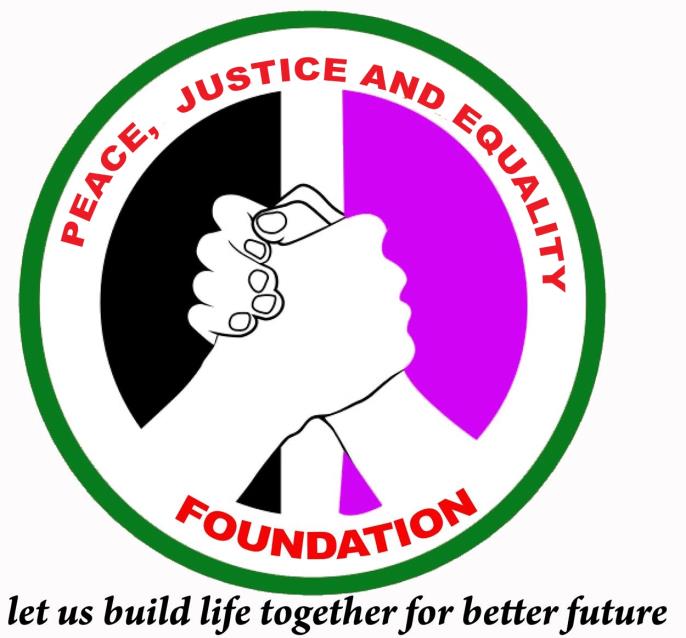 BACKGROUND:
Founded in 2016, Peace Justice and Equality Foundation (PJEF) is a non government foundation/organisation, non-sectarian, non-partisan, nonprofit foundation, which promotes an innovative, values-based approach to peace, Justice and Equality building, guided by the vision of One Family under God. PJEF engages and organizes a public and private sector partners who develop community, national, and regional peace, Justice and Equality building models as the foundation for ethical and cohesive societies development on ethics, humanitarian and moral basis.
---
LETTER OF INTENT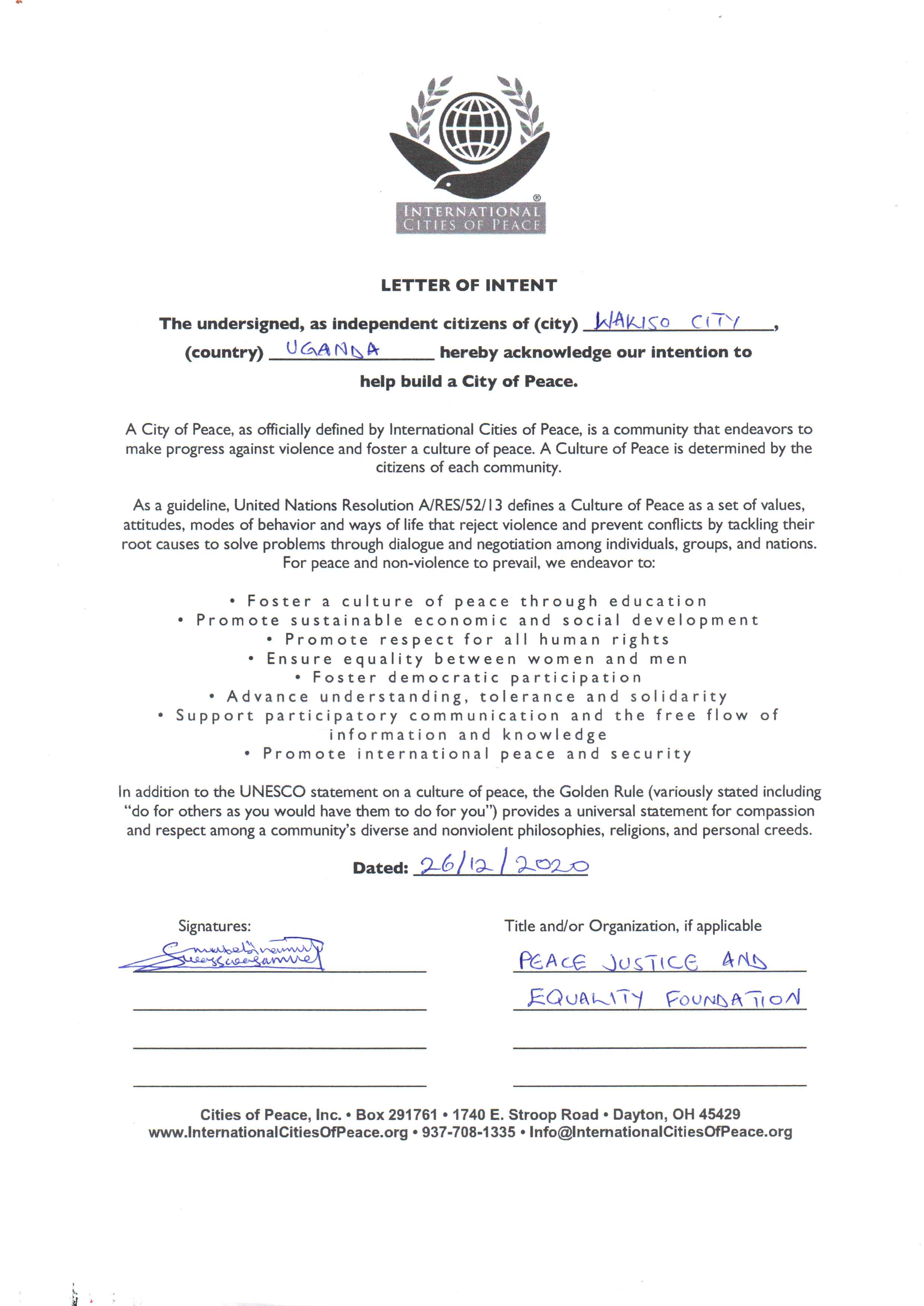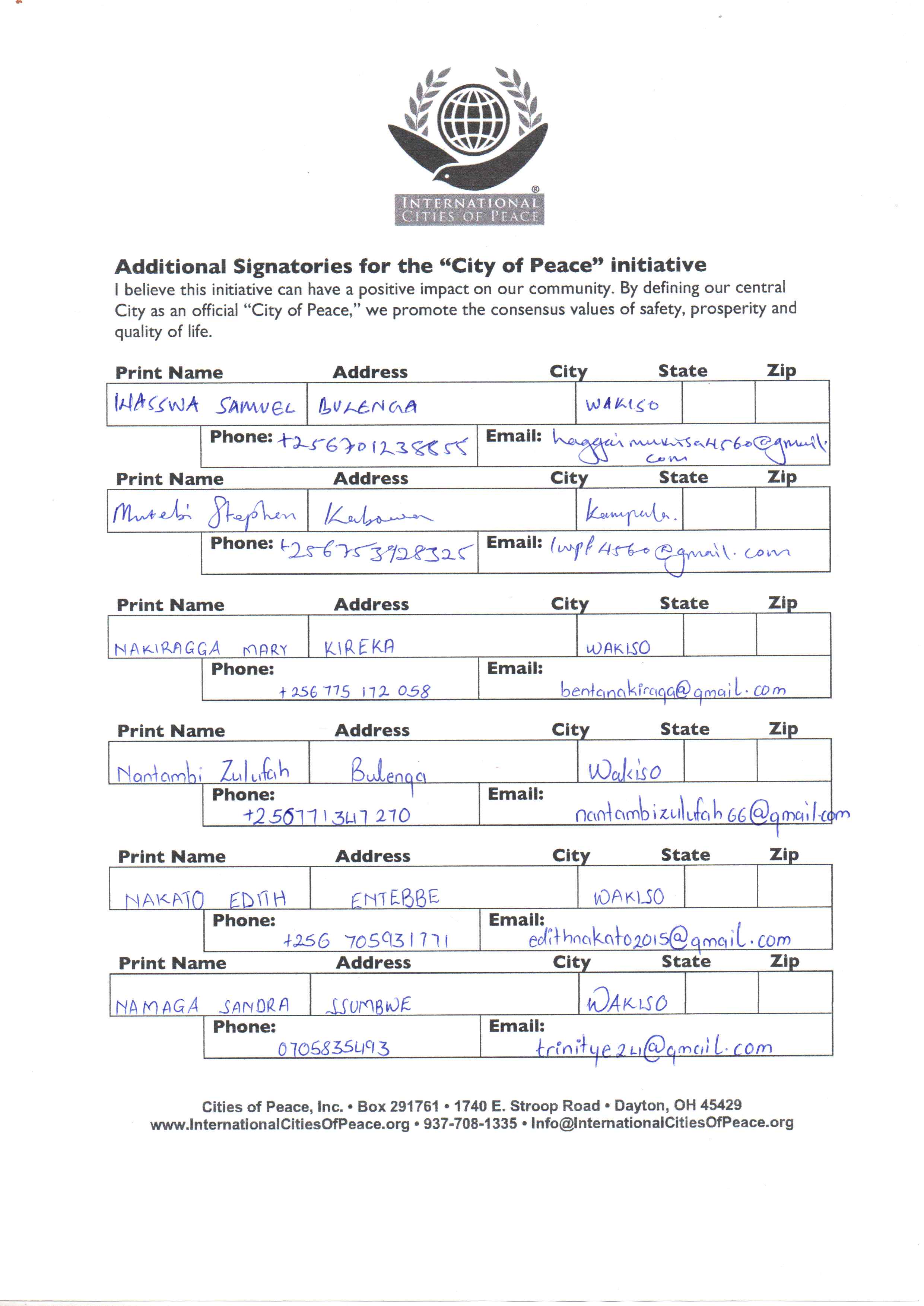 ---
ABOUT THE LIAISON
Mr. Wasswa Samuel Gyagenda (aka Haggai Samuel)
Nationality: Ugandan by Nationality and
Born: 1989.
Education Background: Bachelors Degree (Bachelors of Arts with Education) from Makerere University. Master of Arts with Geography (Makerere University) Certificate in Graphics and Web Designing (Aptech Education Institute India). A-Level and O-level/Uganda Advanced Certificate of Education and Uganda Certificate of Education (Noahs Art Secondary School)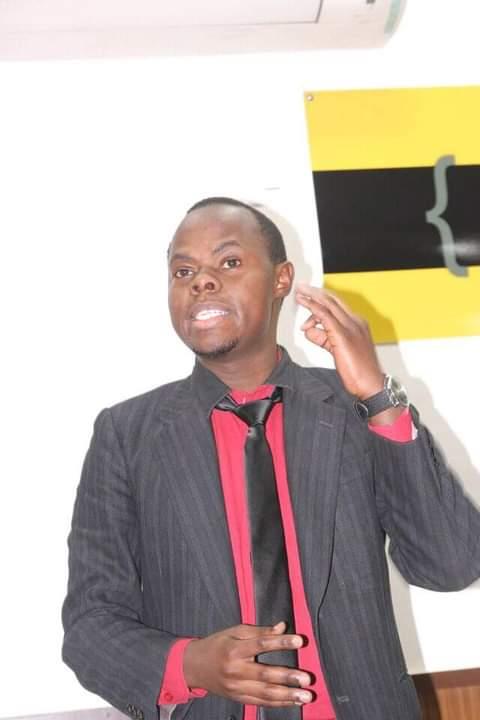 Mr. Wasswa Samuel Giving memorial lecture at Makerere University on May 24/2019
PROFESSIONAL BACKGROUND
– CEO: Peace Justice and Equality Foundation (2016 – Up-to-date)
– Founder of Save Environment Save the Future
– Member of One Young World (International)
– Pro/Web manager: Africa Arts Association (2019 – Up – t0 – date)
– Head of Geography Department: Bulenga Parents (2014 – Up to-date)
– Teacher of Geography Subject at secondary level (both levels)
– Head Teacher Bass Hill Secondary School (2015-2017)
– Member of Uganda Geography Association (2014 – Up to date)
– External Coordinator: Uganda Geography Society (2012-2014)
---
PREVIOUS LIAISON: HENRY KIBALAMA
Henry Kibalama is the founder and acting President of YEAFRD (YOUTH EMPOWERED ACTION FOR FREEDOM AND RURAL DEVELOPMENT). Henry was born on the 11th-May-1989 and was raised in the slums in Wakiso districts. He is now a student in a Criminal Justice program.

---
CONTACT INFO
For More Information Please Contact:
TEL: +256- 701- 238855 or +256- 777884620

 Email: pjef4560@gmail.com
---
ABOUT WAKISO, UGANDA (from Wikipedia)
Wakiso District is a district in Central Uganda that encircles Kampala, Uganda's capital city. The district is named after the town of Wakiso, where the district headquarters are located. Wakiso Town is a metropolitan area in Central Uganda. It is the headquarters of Wakiso District, an administrative unit under the Uganda Ministry of Local Government. The district is named after the town.

Uganda, is a landlocked country in East Africa. It is bordered on the east by Kenya, on the north by South Sudan, on the west by the Democratic Republic of the Congo, on the southwest by Rwanda, and on the south by Tanzania. Uganda is the second most populous landlocked country. The southern part of the country includes a substantial portion of Lake Victoria, shared with Kenya and Tanzania, situating the country in the African Great Lakes region. Uganda also lies within the Nile basin, and has a varied but generally equatorial climate.

Uganda takes its name from the Buganda kingdom, which encompasses a large portion of the south of the country including the capital Kampala. The people of Uganda were hunter-gatherers until 1,700 to 2,300 years ago, when Bantu-speaking populations migrated to the southern parts of the country.

Beginning in the late 1800s, the area was ruled as a colony by the British, who established administrative law across the territory. Uganda gained independence from Britain on 9 October 1962. The period since then has been marked by intermittent conflicts, most recently a lengthy civil war against the Lord's Resistance Army, which has caused tens of thousands of casualties and displaced more than a million people.

The official language is English. Luganda, a central language, is widely spoken across the country, and multiple other languages are also spoken including Swahili. The current President of Uganda is Yoweri Kaguta Museveni, who came to power in a coup in 1986.

Lake Victoria is the largest lake in Africa and the second largest fresh-water lake in the world. The lake is a prime spot for leisure activities. Water sports available on the lake include: (a) Sport Fishing (b) Water Rafting (c) Canoeing (d) Cruising and (e) Sailing.
DO YOU THINK YOUR COMMUNITY CAN BE A CITY OF PEACE? SEND AN EMAIL!
 Note: If information or photos used here are copyrighted, please contact us and we will immediately delete the copyrighted material.