Wobulenzi, Uganda: City of Peace
Welcome to Bishop James Lubega Banda and Junior Twongyelrwe who are working to care for children in Wobulenzi, Uganda: City of Peace. The Divine Liberty Centre Ministries proposes to establish facilities and training for disadvantaged young people who have been placed in a dangerous situation by years of war and violence.
Note: Introduction page with information primarily at the time of joining International Cities of Peace. For updates, please contact the liaison.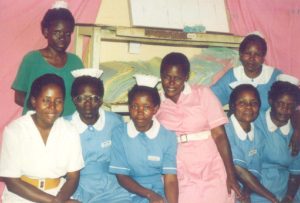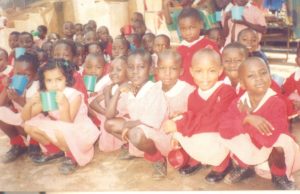 Some of the children the church helps with simple scholastic materials and career guidance. Here they are taking their breakfast at the project center.
The 1981-86 guerrilla war that brought the current political establishment of the National Resistance Movement (NRM) into political power was fought in Luweero district. The outcome of the war were orphans, widows, poverty, disputes, hunger, unemployment, school drop outs and general retardation in peoples' morality and development. Though it is now almost thirty years since the war ended, Luweero district has failed to recover.
In consideration of the prevailing situation, the Divine Liberty Centre Ministries proposes to establish a child development centre to address these problems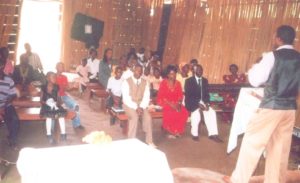 Bishop Banda, who will be the overseer of the project, is shown here conducting a peace advocacy seminar in the community.
The Divine Liberty Center Ministry is a Christian religious organization based in Wobulenzi Town Council, Luweero District in Uganda. The ministry carries out various activities that include but are not limited to:

• Church ministering
• Counseling
• Community development
• Mentoring youths into productive and ethical human beings
• Sharing basic life skills with the community
• Giving aid to orphans and other underprivileged members of the community

The Ministry's major targets are the discriminated, HIV/AIDS youths, orphans, school dropouts and the unemployed young adults. Needy children/youths in the age group of 5-18 years, including discriminated groups, orphans, school dropouts, street children, etc. The second target group is teenagers (13-19). Both groups are important and essential to this project. It is expected that significant effect training will take place for both groups.

These are the volunteer screening teams for the children, refugees, pregnant young single mothers, elderly, and those affected by social injustice.
VISION
A peaceful community where there is equality for all the people; children and youths as well are holistically developed to turn into adult christian servant leaders.

Letter of Intent

MISSION
To transform children and youths from poverty, diseases, and ignorance into adult self sustainable christian servant leaders and advocate for general human rights and equality among all the people.

MOTTO
Together We Transform Lives.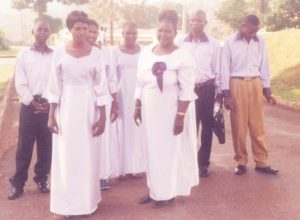 The peace advocacy music band in the Church
and community.
GOALS
• To improve spirituality; health and morality of the children and youths as well as the community at large
• To promote self help development oriented skills among the youths in particular
• To improve overall health and decrease teenage pregnancy and sexually transmitted disease rates amongst youths and children
• To increase the employability and economic future of youths
• To inspire hope for young people facing harassment,discrimination and violence e.g LGBT community.
• To advocate for children rights and human rights in general to ensure a peaceful community.
• To act as an umbrella for children and youths social net works.
• To offe relief and aid to the internally and externally displaced children and youths

OBJECTIVES

• to offer spiritual mentoring sessions
• To conduct sensitization and training sessions in form of seminars and workshops
• To organize sensitization and interactive trips
• To offer sponsorships and education programs
• To love and advocate for discriminated youths

ACTIVITIES

• Child sponsorship activities
• Human rights and peace advocacy campaign
• Resource mobilization
• Educating individuals and the community at large about HIV/AIDS and provide holistic care to those already infected and their families.
• Curbing all forms of injustices in the community
• Offering shelter and hospitality to the homeless.
---
ABOUT BISHOP BANDA
Bishop James Lubega Banda is a founder and the Presiding Bishop of Divine liberty cenhtre minnisies  in Wobulenzi Town Council Uganda East AFRICA.He was born in 1967 and grew up on the sreet due to the fact  that his young parents had abandoned him.He currently lives in Wobulenzi 45 km form Kampala city in Uganda where the ministry headquarters are based.

         He has acquired an advanced diploma in Pastoral leadership from AFMIN leadership Institute of South AFRICA AND ADIPLOMA IN NEW LIFE CORRESPONDENCE COURSE OF NORWAY.He worked with Wobulenzi Town council as a deputy speaker for the last ten years,he is a country director of ALC-streching far and wide Global project.
        It is due to the fact that he suffered much when growing up on the street that he is taking a heart to fight and advocate for peace,Human Rights and Equality for all Ugandans and south Sudanese.He is doing this through mainly grooming young needy and orphan children or youths and refugees from neighboring countries facing instabilities who will save tomorrow"s Uganda,Africa and the entire generation.
---
CONTACT INFO
For more information please contact:

Offices
Divine Liberty Church
Bukalas L.S.I., Wobulenzi town
Counci, Luweero District, Uganda

Bishop James Lubega Banda
0777-080930
divinelibertycentre@gmail.com

 
---
ABOUT WOBULENZI, UGANDA (from Wikipedia)
Uganda, officially the Republic of Uganda, is a landlocked country in East Africa. It is bordered to the east by Kenya, to the north by South Sudan, to the west by the Democratic Republic of the Congo, to the southwest by Rwanda, and to the south by Tanzania. Uganda is the world's second most populous landlocked country after Ethiopia. The southern part of the country includes a substantial portion of Lake Victoria, shared with Kenya and Tanzania, situating the country in the African Great Lakes region. Uganda also lies within the Nile basin, and has a varied but generally equatorial climate.


Wobulenzi is located approximately 51 kilometres (32 mi), by road, north of Kampala, Uganda's capital and largest city, on the highway to Karuma.[2] The road is a busy, all-weather tarmac highway.

In Wobulenzi or near the town there are several points of interest, including the following:

• The offices of Wobulenzi Town Council
• Wobulenzi Central Market
• A branch of Centenary Bank
• The Kampala-Masindi Highway passes through the middle of town.
• The Wobulenzi-Kasawo Road – The road makes a T-junction with the Kampala-Masindi Highway at Wobulenzi and continues east, through Bamunanika, Ziroobwe and Kasawo, before it joints the Kampala-Kayunga Road at Kikwanda.

Uganda takes its name from the Buganda kingdom, which encompasses a large portion of the south of the country including the capital Kampala. The people of Uganda were hunter-gatherers until 1,700 to 2,300 years ago, when Bantu-speaking populations migrated to the southern parts of the country.
DO YOU THINK YOUR COMMUNITY CAN BE A CITY OF PEACE? SEND AN EMAIL!
 Note: If information or photos used here are copyrighted, please contact us and we will immediately delete the copyrighted material.