zogbedji kegue, maritime, togo: International City of Peace

We welcome Boukari Bedi Taouvik and his colleagues who have established Zogbedji Kegue, which is five kilometers of Lome City in Maritime, Togo, as an International City of Peace.  The larger plan is to bring other communities in Maritime, Togo, into the network of International Cities of Peace. Each community will have one or two Liaisons (leaders) for two-way communication with the association of International Cities of Peace and form peace teams to plan, implement, and measure success on peacebuilding. Zogbedj Kegue is the first an these, upon completion of the process will follow:
Aneho (TBD)

Lome (TBD)

Tabligbo (TBD)

Tsevie (TBD)

Vogan (TBD)

This initiative for establishing Cities of Peace in Maritime, Togo is a mentoring program of Mr. Boukari Bedi Taouvik.
Note: Introduction page with information primarily at the time of joining International Cities of Peace. For updates, please contact the liaison.
---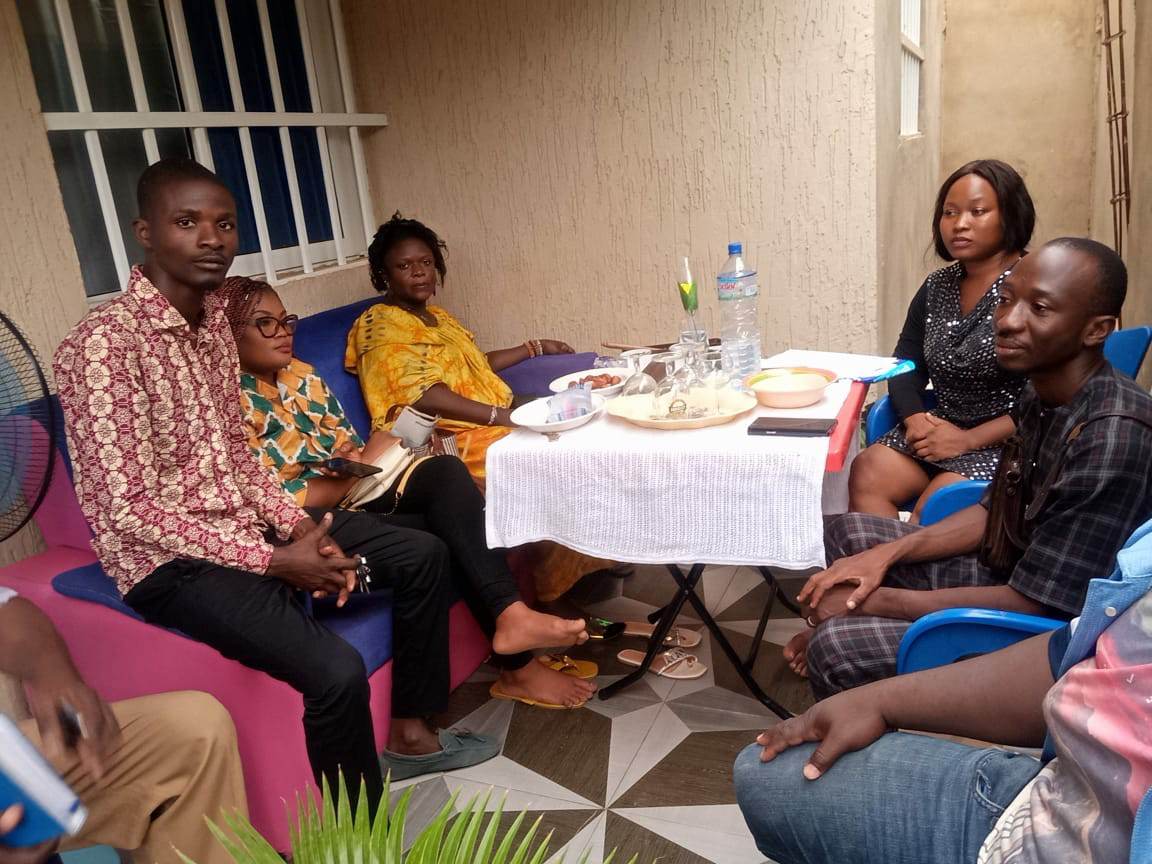 VISION
A community without violence, where human rights and compassion are the primary interest of every person.
---
MISSION
To help stabilize societies after an external or internal violent conflict, to maintain peace or to build the foundations for a durable peace., bring peace everywhere from my house, my area my village to everywhere in the world.
---
GOAL
to move a violent conflict into non-violent dialogue, where differences are settled through conflict transformation processes.
---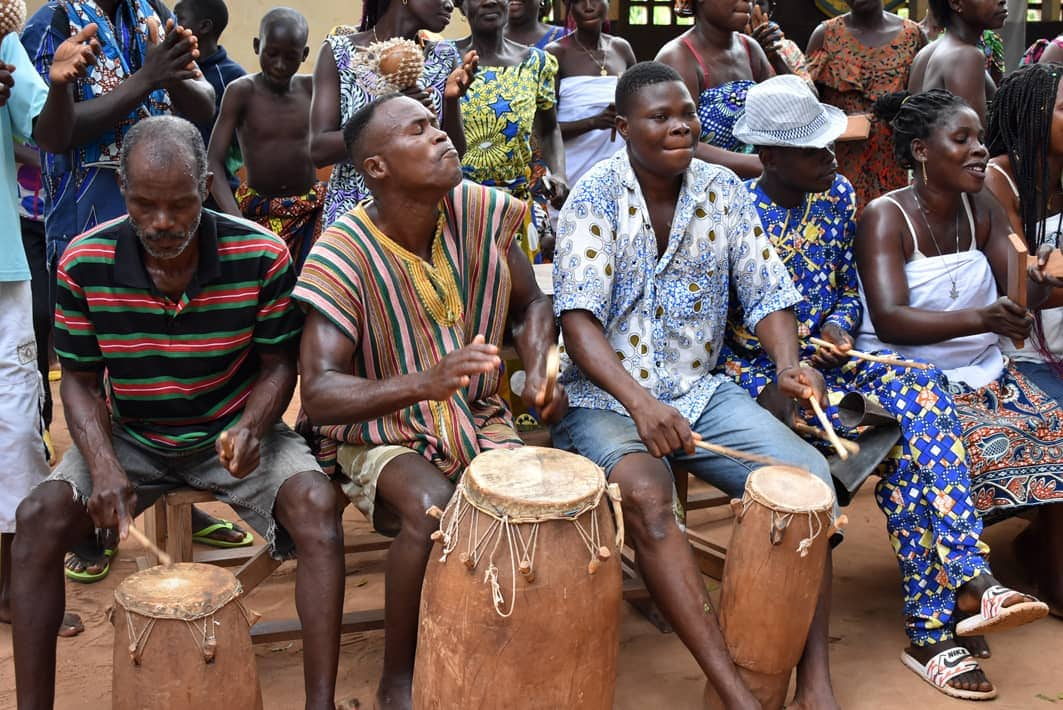 ---
Background for Community Peace (education, work, ideas for peace)
What are the ideas for the peace project?
My area's community can go to another community to help clean up a campground, or local market,  or a school.
Assist with a shoreline-restoration project.
Collect and dispose of household chemicals, batteries, and plant native trees in along the streets or roads
Search and teach peace songs to children and adults
Support all artists who work or do things for peace
Appreciate the Concept of Peace.
This objective is met by studying the arts and humanities as they relate to peace.
Have a peace flags in each house
Provide Information about security
Safaty for all communities
Develop intercultural understanding
We are all of the same blood
Love others like we love ourselves
Organise community dinners of 100 to 200 persons with words (peace forever in french is la paix pour tous et pour toujours)
Empathy is very important
The capacity to understand another person's thoughts or feelings
Accept them even if they are not as you would want
Nourish students' physical and mental well-being
Introduce compromise, cooperation, and conflict resolution
Foster inclusive attitude in classrooms and in the marketplace of the villages and areas
What are examples of peacebuilding activities?
Peacebuilding includes early warning and response efforts
Violence prevention
Advocacy work
Civilian and military peacekeeping
Military intervention with humanitarian assistance, ceasefire agreements, and the establishment of peace zones.
We will always support and help and join others for peace
Always  spread a positive message of peace
Teach children through peace Coloring.
Make a Peace Pledge in all villages and comminties
Peace Artwork in the villages and schools
Share peace Mala Bracelets to all communities
Be the change you want to see in your community, village, or city
Establish trust and loyalty.
In the my city, we must be aware of other people's needs
---
LETTERS OF INTENTS (with signatures)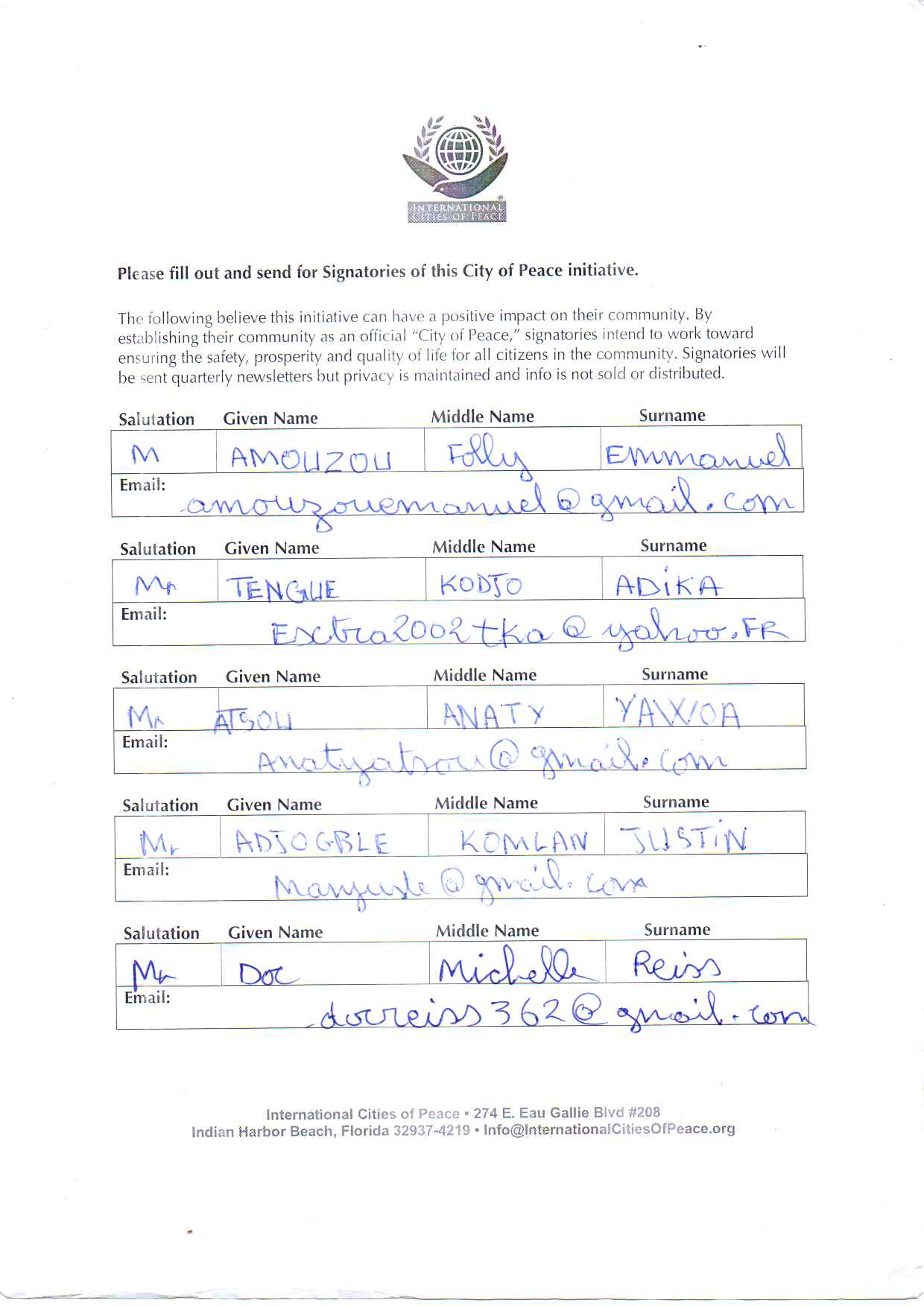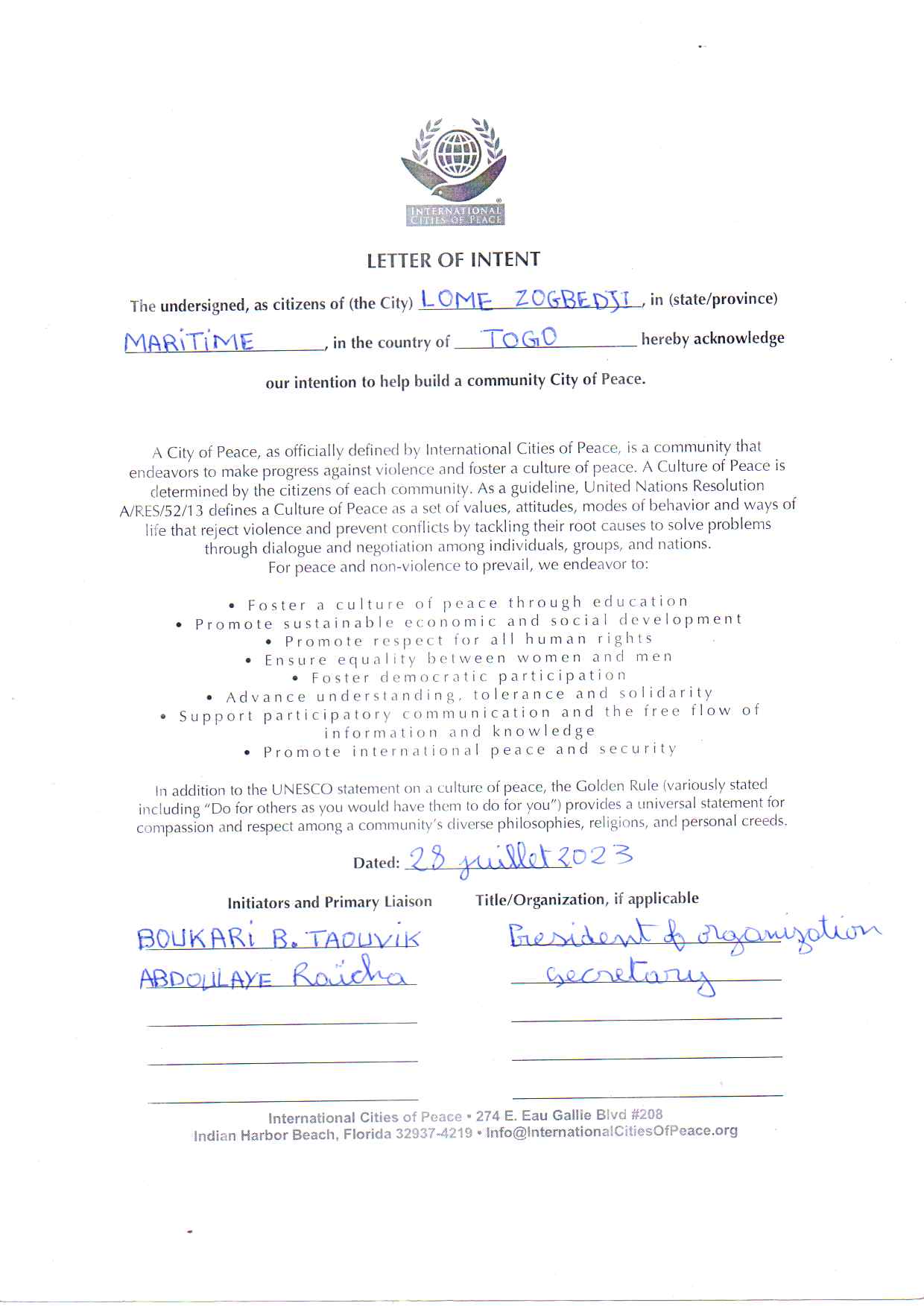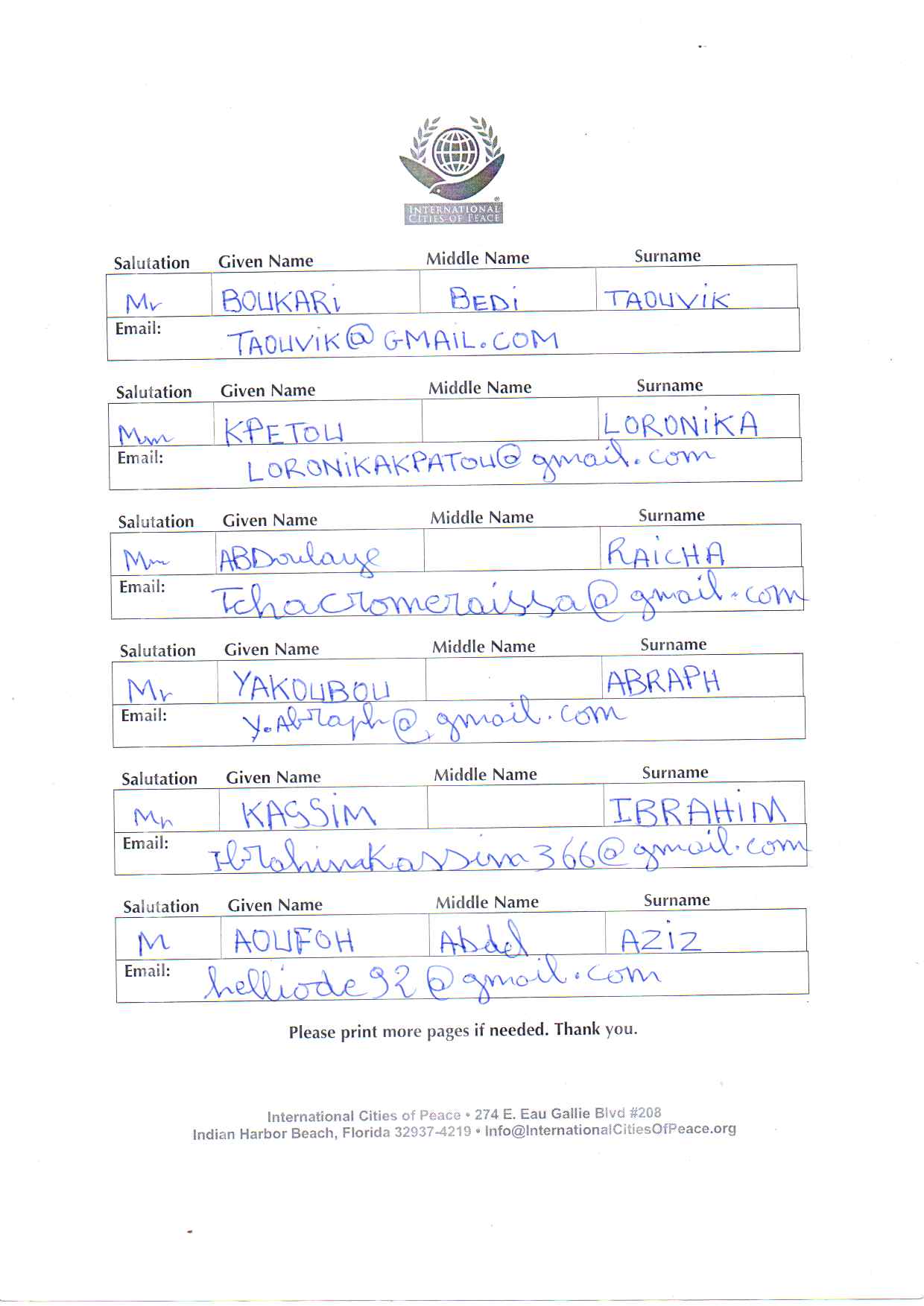 ---
ABOUT THE LIAISON
BOUKARI Bedi Taouvik is from TOGO:
I am married, a member of NGOs  president of our loal Kiwanis  i speak Frech and English.  I work for peace in my village and in my area with my teammates in Kegue Zogbedji, near Lome, TOGO. We often organise many activities such as:
How to respect the other
Fostering intercultural encounter
Encourage the relationship rather than conflict
Foster integration
We all therefore have a valuable contribution to make in favour of peace. This begins by opening a path of peace in his daily life. Self-control: Cultivating the Spirit of Peace; Solidarity and harmony with others; fight against any spirit of division contains.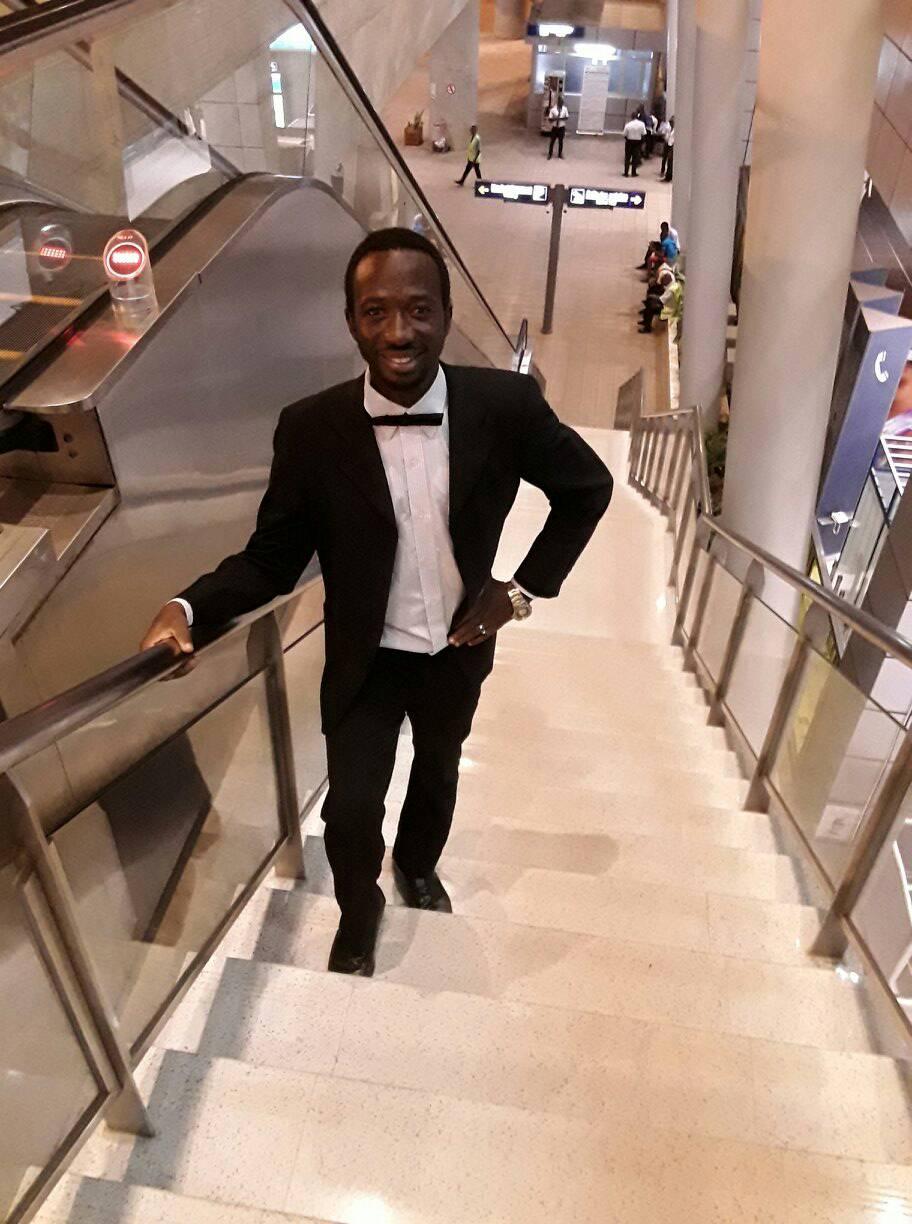 Self-control' means resisting these tendencies and seeking to see and encourage the qualities of people. This is the first step towards peace. Always building trust and mutual understanding; building trust and mutual understanding.
If we allow ourselves to be locked in an ideology, an ethnic group or a religion, if we are overwhelmed by the spirit of abstraction, we will be at the mercy of the currents and we will fail in the depths of history, unable to progress.
Conversely, if we seek to overcome the arbitrary, simplistic labels and if we enter into a dialogue of equals that creates spontaneous and profound exchanges of heart and mind, we can bring about deeper currents, slower, which ultimately shape human history.
With this conviction, I have actively engaged in dialogues with leaders and intellectuals to have many solutions for peace in my village.
---
CONTACT INFORMATION
To contact or support this initiative:
---
ABOUT MARITIME, TOGO

Maritime is the southernmost of Togo's five regions, with the country's only shoreline on the Bight of Benin. Lomé serves as both the regional and national capital. It is the smallest region in terms of area, but it has the largest population.
Other major cities in the Maritime region include Tsévié and Aného.
Maritime is divided into the prefectures of Avé, Golfe, Lacs, Vo, Yoto, and Zio.
Maritime is located south of Plateaux Region. In the west, it borders the Volta Region of Ghana, and in the east, it borders two departments of Benin: Kouffo farther north, and Mono farther south.
Note: If information or photos used here are copyrighted, please contact us and we will immediately delete the copyrighted material.