ZZANA, Kampala, Uganda: International City of Peace
Welcome to Namanya Wilberforce and his colleagues in Zzana, Uganda, International City of Peace (ICP). Zzana is located in the Bunamwaya division, which is under the Makindye Ssabagabo municipality, Wakiso district in central Uganda.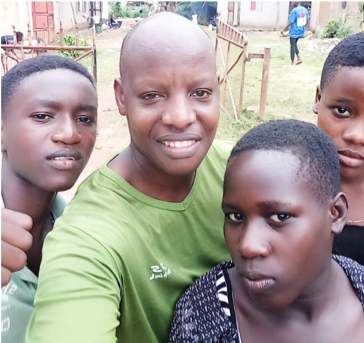 Team members Wilberforce and Drogoba & Hadijia,  Zana Social Development Organisation
It is approximately 6 kms from Entebbe, on the Kampala-Entebbe high way. The community is bordered by Lubowa, Bunamwaya, Namasuba and Ndejje.
Wilberforce is a victim of the civil war of 1981-86 which claimed his both parents and displaced him together with his siblings, hence he witnessed the instabilities in the community.
"When I later settled in Zzana, in the early 2000's, I realized the post war violence, child marriages, child labour, street kidding, domestic violence, life in slums, poverty among others, which gave me the courage to start Zzana ICP to avoid the reoccurrence of the former atrocities," Wilberforce said.
He saw it so relevant and necessary to apply peace instruments in his town in order to unite the community and regain back pride as well as dignity as their neighbors, that he took the project, offered by the Zana Social Development Organisation (website: zanasocialdevelopment.org), to establish Zzana ICP with both hands.
http://zanasocialdevelopment.org/
Note: Introduction page with information primarily at the time of joining International Cities of Peace. For updates, please contact the liaison.
---
VISION
To promote peace as a unison value in Zzana City and beyond.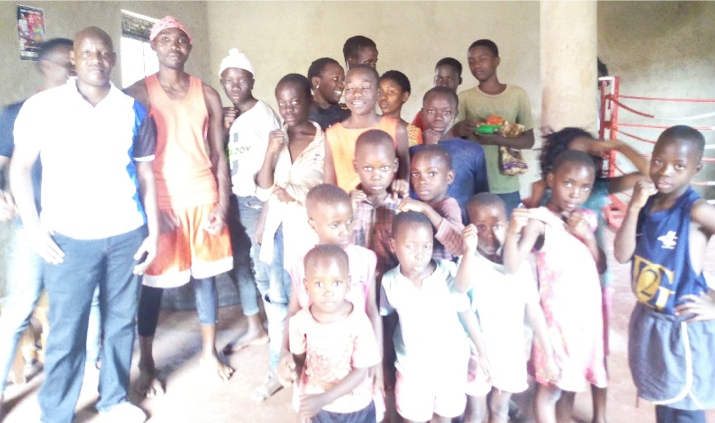 Team members Wilberforce, Stanley and community members in the Social Development Centre
---
MISSION
To interconnect, encourage, document and provide resources and information for leaders and organization's working to make peace a consensus value through Global cities of peace initiatives.
To promote togetherness in building the value of co-existence among the community members.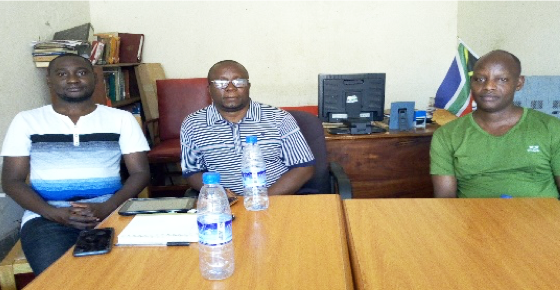 Wilberforce and Erick Kiggundu & Edward Ssonko: Zzana ICP team members.
---
OBJECTIVES
To liaise and partner with other organizations working for peace.
To foster national and international relations and peace in addressing social problems and challenges in Zzana and beyond.
To provide practical tools for powerful living such as skills and methods for conflict resolution and violence prevention.
To harness commitment and expertise including the experience of our elders and the vitality of our youth.
To provide a strong platform based on research and sound infrastructure for the educational, community, national and international activities.
To change people's mindsets in relation to their problem solving, team work etc. irrespective of gender, age and status.
To embrace and provide therapeutic assistance to the stigmatized, unprivileged and vulnerable communities.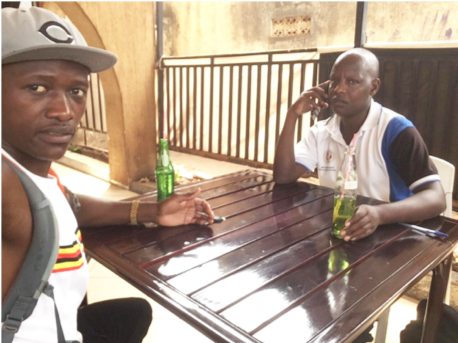 Team members Stanley and Wilberforce in the Social Development Centre
---
LETTER OF INTENT (signed July 25th. 2020)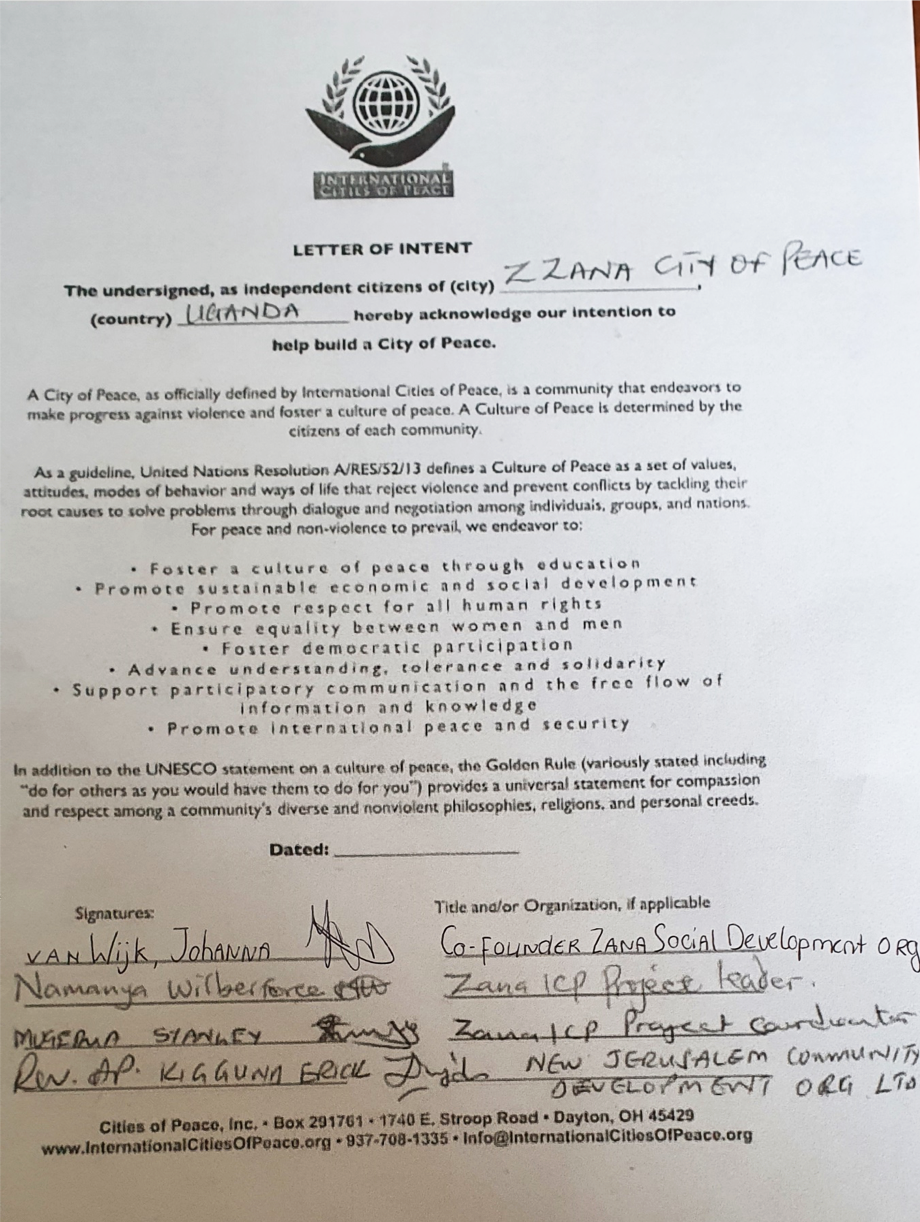 "Our mind must make peace with our hearts before we can witness peace in the world." That's according to Diego Villene.
Wilberforce: "We should learn how to settle disputes and misunderstandings amicably, to avoid violence in communities, this should be through sports like football, boxing, netball, music, dance and drama, inspirational movies etc. "
---
ABOUT THE LIAISON
WILBERFORCE NAMANYA
Wilberforce Namanya, 35 years old, is a Ugandan, teacher by profession, social worker and a patriot. Wilberforce started school at Rwemikoma Primary School from P.1 to P.4, went to Magondo Primary School from P.5 to P.6, and later went to Rwomugina Primary School for primary seven (P.7), where he became the head boy of the school before he completed P.7 in the year 2000.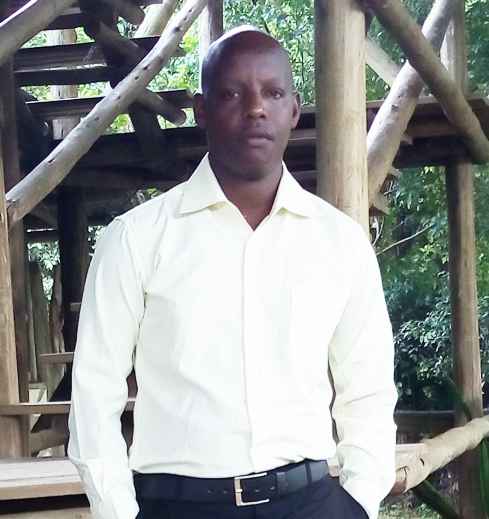 He later joined Lake Mburo Secondary School for his secondary education from senior one (S.1) to senior six (S.6) between 2001-2006. While at L. Mburo S.S, he served in various positions in school such as Time keeper (S.1), Health prefect, chairperson Pan African Club, chairperson debating club among others.
He proceeded to Kampala International University (K.I.U) for the university education between 2007-2010 and graduated with Bachelors of Arts with Education (Hons).
He has since worked in different roles with different organizations like L. Mburo S.S as a teacher, Trans delta international Industries as a Security Supervisor, Arcadia lodges Uganda as a Tourism Hotel Manager, and now acting as a Manager of the Zzana International City of Peace project and of Zana Social Development Organisation.
---
MENTOR
Our special appreciation goes to Ms. JOLANDA (J.H.M.) VAN WIJK of The Hague the Netherlands International City Of Peace (and inspirator for, a.o., Nateete Uganda International City of Peace). We will always be grateful to you for your support and kindness. It would be impossible to count on all the ways that you have helped us in our journey to the establishment of Zzana ICP.
Thank you so much for all that you have done. Thanks for being a good mentor and guiding us on the right path.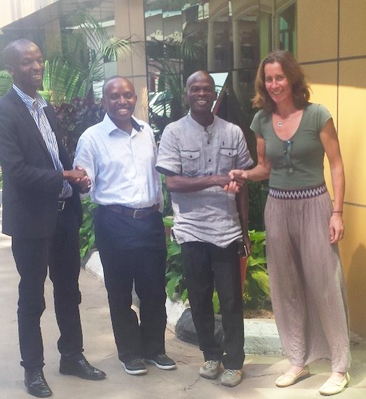 (Jolanda in Kigali, Rwanda, meeting with Congolese ICP leaders)
---
NOTE OF APPRECIATION
Our sincere appreciation goes to our dear leader (the founder) of International Cities Of Peace. Mr. FRED ARMENT. Thank for your initiative to promote global peace. This has not only changed people`s mindsets in this world but a fundamental generational change of behavior globally.
Thank you so much sir, may God continue to protect you and guide you with more wisdom.
---
CONTACT INFORMATION
---
ABOUT ZZANA, UGANDA (from Wikipedia and other sources)

Zzana city is located in Bunamwaya division, which is under Makindye Ssabagabo municipality, Wakiso district central Uganda. Its approximately 6km from Kampala (the capital city of Uganda) on Kamapala_Entebbe highway.
Zzana boarders with Lubowa in the South, Namasuba in the North, Makindye in the east and Ndejje in the west. The geographical coordinates of Zzana are 0`15'52.0N, 32`33'26.0E (Latitude: 0.264444; Longitude: 32.557222)
Historically, Zzana, like any other cities of Uganda experienced a turbulent period of Political Instabilities, Insurgencies, Civil Wars, Tribal Wars etc. Since Uganda's independence of 1962. The post-independence wars in Uganda such as the 1966 political war, the 1971 President Amin war, the 1981-1986 President Museveni liberation war, left the untold suffering to the people of Zzana.
These sufferings among aothers included displacement of people, death, Tribal conflicts etc. which later resulted to early marriages, of young girls, child labour, street kids, etc.
However, with the end of wars in 1986, Zzana community has since healed physically, economically, emotionally, and socially. As of today, Zzana boasts high rate business growth which includes a host of hotels like Millennium Hotel, Florida Hotel, Front Page Hotel etc.
Factories such as Movit petroleum products, East African Roofings etc. have been established.
The community also has Multi-Religious Centres Such as Mosques, Churches and other religious beliefs. Prominent churches in Zzana include Omega healing church, Life church, New Jerusalem church, Nankinga church of Uganda etc.
Zzana city also has a host of recreational centres such as Lufuka playground, Nasser´s Junior Boxing Academy, among others. These all help the youth in development of skills and nurturing of their talents.
Supermarkets, Agricultural markets, weekly markets, Banks, Microfinance centres among others are other economic progresses of the community.
On education, many schools in the area have done more than enough in promoting education for the wellbeing of not only Zzana community but Uganda at large. Some prominent schools in the area include Standard High School Zzana, Bridges Schools, Green Light Schools among others.
All these are testimonies of the legacy of Peace for the Zzana community.
As a cultural diversity community, Zzana looks forward to promoting the everlasting peace among community members and the neighborhood for the betterment of our dear country, which is why it is decided to form Zzana ICP.
Note: If information or photos used here are copyrighted, please contact us and we will immediately delete the copyrighted material.