YOU CAN INSPIRE AND EMPOWER HUNDREDS OF PEACE LEADERS.
1. ENSURE FREE DYNAMIC, REAL-TIME WEB PAGES
FOR 400 CITIES OF PEACE.
2. HELP BUILD ESSENTIAL CAPACITY TO ACHIEVE
1000 CITIES OF PEACE BY YEAR 2025.
Cities worldwide are jumping on board at an accelerated rate to be in our growing 13-year network of International Cities of Peace. With almost 400 cities in 2022 we are heading towards 1000 by the end of 2025!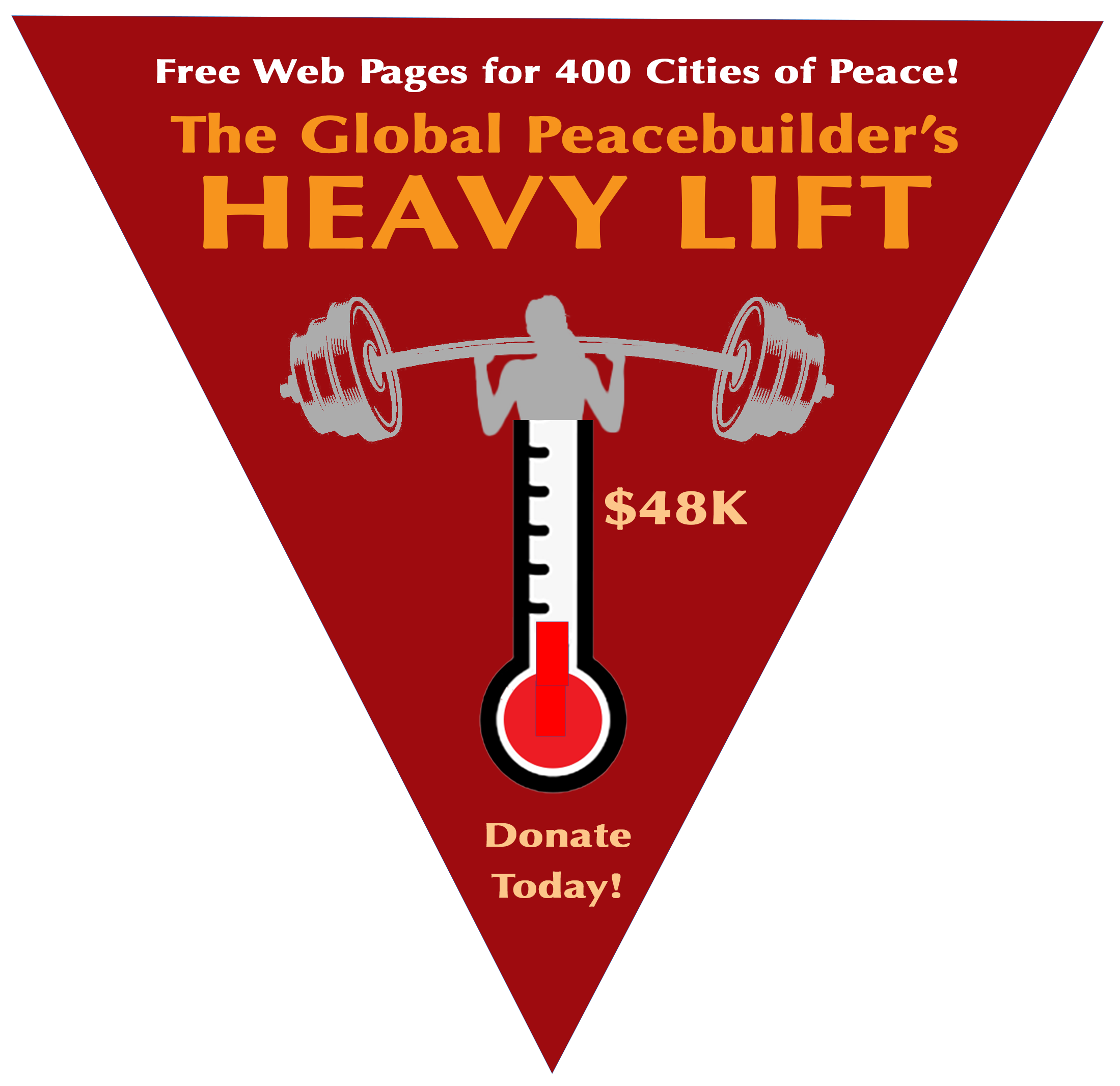 Together, We Can Inspire Peace™
• WE need simple, relevant, dynamic, and interactive technology to meet the varied needs of our diverse cities.
• We need more capacity in web-based automation technology to facilitate hundreds of municipalities applying, establishing, and ultimately engaging in our network in this urgent need to transform their communities. We need easy-to-use automated technology enabling a careful and swift application process and web-page presence.
International Cities of Peace is successfully working to ensure everyone's right to safety, prosperity, and quality of life through a scalable network of on-the-ground teams committed to peace building that parallel their local needs. This means peace of mind; peace within families and neighborhoods; peace within organizations and engaging activities fostering peace. We are localizing a culture of peace to prevent, resolve, manage and transform the ravages of violence and divisiveness – seen and unseen permeating the core of our communities.
Our cities range from countries with citizens at great risk, such as Uganda, Nigeria, Gaza and Columbia, while cities in North America, Asia and Europe are implementing programs that dissolve hate, prejudice, and stereotypes. We encourage partnerships with organizations so that there is greater participation. City of Peace teams have partnered with the Rotary Clubs, Libraries, City Government, Faith Groups, Businesses, Veteran Groups, Arts and Wellness Organizations and First Responders.
• We are nurturing the next generation of leadership – we need to build our infrastructure and capacity that matches today's world – Technology is KEY!

---
---
JOIN THE ICP INSPIRE PEACE™ MEMBER CIRCLES
An inspirational path to support the good work
of International Cities of Peace. The following are suggested donations.
1. Inspire Peace™ Family Circle                  $25-$100+
Individual and Family Memberships
2. Inspire Peace™ Community Circle       $1000+
Peace Teams; Community Foundations
3. Inspire Peace™ Partnership Circle       $1500+
Organizations; Founder's Club members
4. Inspire Peace™ Legacy Circle                  Gifts/Bequests
Ask about joining: donate@internationalcitiesofpeace.org
We need your financial support NOW – we are ready to go with the design and implementation of needed technology NOW.
---
---
P.S. "It" means global peace and security. Donate now!

Donate Online: www.internationalcitiesofpeace.org/donate
Check or money order: Cities of Peace, 5818 Wilmington Pike #234, Dayton, Ohio 45459
PayPal: info@internationalcitiesofpeace.org
THANK YOU SINCERELY!
Cities of Peace, Inc. is a 501(c)3 nonprofit
and your donation may be tax deductible.
DOWNLOAD THIS PRESENTATION TO "ASK" YOUR FRIENDS.
CLICK HERE TO DOWNLOAD PDF PRESENTATION
Donate by CQR Code on your cell phone!