Your support will contribute directly to world peace.
MEMBERSHIPS START AT ONLY $25 PER YEAR.
HELP LAUNCH THE NEXT GENERATION OF LEADERS AROUND THE GLOBE. PLEASE JOIN TODAY!
As a member of International Cities of Peace, you are helping build a Global Community that is rising above fear toward safety, prosperity and higher quality of life.
Think of it… 1000 cities of peace by year 2025! For this movement to continue, we need the support of good people like you.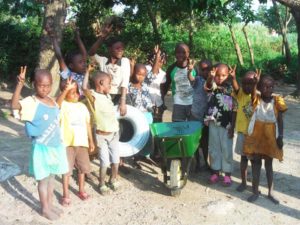 A wheelbarrow donated by donors of International Cities of Peace to help build a school in D.R. Congo.
Where your donation goes…
1. Outreach: creating new cities of peace
2. Communication: sharing their stories of success
3. Sustainability: keeping the organization strong
4. Global Family Project: small donations support school fees for at-risk children, critical medicine for women in need, safe housing for victimized families, and seed money for budding peace entrepreneurs.
All of those working with International Cities of Peace are volunteers and do not receive monetary compensation. Your donation goes directly to peace initiatives.

---
SPECIAL OFFER!
One of the most important benefits is that YOU will be invited to a special Facebook page FOR MEMBERS only. "The Fearless Community" Member Support Center will ensure you'll be the FIRST to receive news about the good work being done in cities of peace on five continents. You'll have input into the organization and be connected to the global movement. Donations are tax deductible.


Click on the button below and help keep the International Cities of Peace movement strong!
---
FOR THOSE WHO WANT TO HELP MORE… PLEASE JOIN THE "ONE HUMAN HEART" MEDALLION CLUB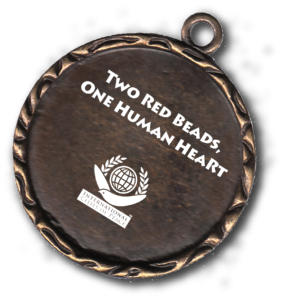 BECOME A MEMBER OF THIS COALITION OF COLLEAGUES BY MAKING A DONATION OF $1 PER DAY — LESS THAN THE PRICE OF A CUP OF COFFEE AND MUCH SWEETER! DONATIONS ARE TAX DEDUCTIBLE. PLEASE DO IT NOW WHILE YOUR HEART IS OPEN. THANK YOU FROM THE CITIZENS OF ALL OUR OUR CITY INITIATIVES!

---
 Send to: info@InternationalCitiesOfPeace.org
ANOTHER OPTION: MAIL YOUR DONATION
If you prefer, mail check or money order made out to "International Cities of Peace" to the address below. All work is done by volunteers. The organization is a 501(c)3 so your donations are tax deductible.
Payable to: International Cities of Peace
5818 Wilmington Pike #234
Centerville, OH 45459 U.S.A.
Questions? Contact a volunteer today. Thank you!
info@internationalcitiesofpeace.org