The women of Burundi have been abused and ostracized by their families. The donors of International Cities of Peace have provided funds for leasing land for gardens, tools for growing vegetables, medical attention and fees for sending their children to school. All through the Global Family Program.
Bujumbura, Burundi: City of Peace
We welcome Furaha Soleil, President of the Women's Union for Peace in Burundi, to the ICP Advisory Council as leader of Bujumbura: City of Peace. Furaha and her colleagues lay out a practical vision for their community.
Note: Introduction page with information primarily at the time of joining International Cities of Peace. For updates, please contact the liaison.
ANNOUNCING A PILOT FUNDRAISING PROGRAM FOR THIS INITIATIVE: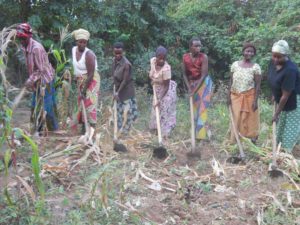 The Women's Union for Peace in Burundi was started in 2009 by Furaha and her colleagues. The female organization's missionis to promote peace in Burundi and has the following objectives:
– Work for peace and security of peoples of the land 
– Fight against all forms of violence against women 
– Seek the welfare of women through income generating activities
– Make the right of women to peace building sustainable and integral development 
According to Rebecca Ganbe, who works with the group in Chad, "The network of the Women's Union for Peace grew out of the 1995 UN Women's Conference in Beijing. There was so much violence that women couldn't take it anymore. On April 12, 1997 the Union was officially recognized by the government. Its main objective is to raise women's awareness of conflict resolution and nonviolence. We work in the areas of peace education, especially in schools; culture of nonviolence; and conflict resolution.
Taking into these objectives, we held four seminars across the country to peace, have materially assisted 24 women raped and four women's groups have started to self-sufficiency.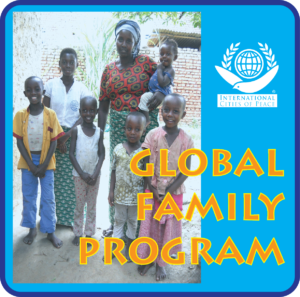 OBJECTIVES.
– Create 15 peace clubs in secondary schools in Bujumbura and animate them.
– Organize a day of reflection on the role of women for peace (50 women from all backgrounds will be invited) 
– Organize a peace march in the northern suburbs of Bujumbura (Kamenge Ngagara, Cibitoke and Kinama) 
– Advocate for vulnerable women in poor neighborhoods of Kinama and Buterere 
– Develop a table to help abused women to seek treatment and attend court proceedings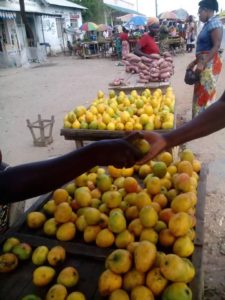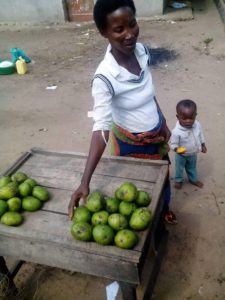 Some Latest Work
In collaboration withe other women's organization in the region, we participated on March 8, 2012 in Uvira (DR Congo) at International Women's Day. The parade was to protest against the rapes committed against women in Eastern DR Congo.
We just created two peace clubs in two secondary schools in Bujumbura : Lycée de Ntahangwa and Lycée de la Paix.
These clubs are designed to educate young people to promote peace in the the City of Bujumbura.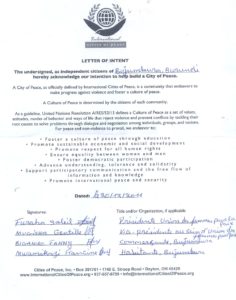 Letter of Intent
About Furaha Soleil
Furaha Soleil is a committed young woman born on November 25th, 1982 in Bujumbura. She graduated in business studies and worked in a food company Bujumbura (Laiterie Centrale) as secretary-accountant. Leaving the company, she is now devoting herself to the NGO of Women Union for Peace in Burundi (in 2009).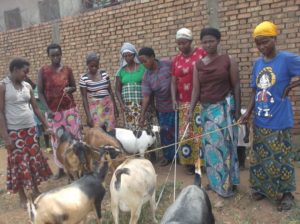 Contact Person: Furaha Soleil
President, Women Union for Peace, Burundi
furaha.soleil@yahoo.fr
---
About Bujumbura, Burundi (from Wikipedia):
Bujumbura is the capital and largest city and main port of Burundi and ships most of the country's chief export, coffee, as well as cotton, skins, and tin ore. It is located on the northeastern shore of Lake Tanganyika.
Bujumbura grew from a small village after it became a military post in German East Africa in 1889. After World War I it was made the administrative center of the Belgian League of Nations mandate of Ruanda-Urundi. The city's name was changed from Usumbura to Bujumbura when Burundi became independent in 1962. Since independence, Bujumbura has been the scene of frequent fighting between the country's two main ethnic groups, with Hutu militias opposing the Tutsi-dominated Burundi army. Bujumbura today stands as an undeveloped city, but remains to develop along with its country.
DO YOU THINK YOUR COMMUNITY CAN BE A CITY OF PEACE? SEND AN EMAIL!
Note: If information or photos used here are copyrighted, please contact us and we will immediately delete the copyrighted material.