Hargeisa, Somalia: City of Peace
Welcome to Omar Ali and his colleagues who have created Hargeisa, Somaliland: City of Peace. Hargeisa is the second largest city in Somalia after Mogadishu. Hargeisa serves as the capital of Somaliland, a self-declared republic that is internationally recognized as an autonomous region of Somalia.
Note: Introduction page with information primarily at the time of joining International Cities of Peace. For updates, please contact the liaison.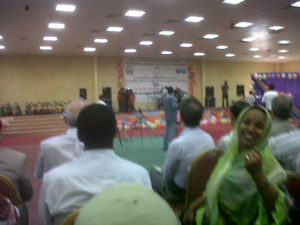 VISION:
Our Vision Is To Work For A Society In Peace, Free Of All Forms Of Abuse, Violance And Devious Behaviour.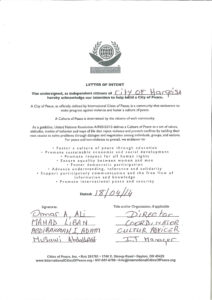 Letter of Intent
MISSION:
We Seek To Cooperate With Other's In Order To Create A Positive Organisation Of Work That Honors Distinction, Sustainable Development And Partnership With Different Sectors Of The Community For The Purpose Of Providing Peace And Understanding.
GOALS:

• Our Aims Is To Keep Peace And Development In Focus.
• Tackle Problems Emerging From Violance And All Forms Of Abuse.
• Providing Social And Legal Aid To Women Who Are Exposed To Abuse.
• Promote Peace, Social Development, Education And Innovation.

VALUES:

• Credibility
• Distinction
• Cooperation
• Partnership Whit Community
• Development
---
ABOUT OMAR ALI
Mr Omar A. Ali was borni in HARGEISA and grew up in Djibouti. He went to elementary and secondary school in Djibouti. Moving to France in the early 1980s, he went to high school in Saint Expery College In Toulouse. From there, he moved to Swede in 1990 and after three years of intensive Swedish Language education, he applied for University

Mr. Omar Ali gratuated in 1998 with an International Relation Degree and gratuated in 1999 With a Social Behiviour Degree. From working with Disabled People and Youth with Learning Difficulty In Sweden, he moved to the UK in 2003 and was working in Marketing and Child Protection. His is now working in other countries in Africa as a Child/Youth Strategy Adviser. Mr. Omar Ali speaks fluent:
-Somali
-French
-Swedish
-English
---
CONTACT INFO
For More Information Please Contact Omar Ali at:
Oma262001@yahoo.co.uk

 
---
ABOUT HARGEISA, SOMALIA (excerpted from Wikipedia)
Hargeisa is a city in the northwestern Woqooyi Galbeed province of Somalia. It is the second-largest city in the country after Mogadishu, the national capital. Hargeisa serves as the capital of Somaliland, a self-declared republic that is internationally recognized as an autonomous region of Somalia.
During the Middle Ages, Hargeisa was part of the Adal Sultanate's domain. The city later succeeded Berbera as the capital of the British Somaliland protectorate in 1941. In 1960, the protectorate gained independence as the State of Somaliland and united as scheduled days later with the Trust Territory of Somalia (the former Italian Somaliland) to form the Somali Republic.

After the collapse of the Somali central government and the start of the civil war in 1991, SNM secessionists in the northwestern part of the country unilaterally declared independence. A slow process of infrastructural reconstruction subsequently began in Hargeisa and other towns in the region.

Since 1991, Hargeisa has undergone a large-scale facelift. The renovations have been largely financed by local entrepreneurs, as well as Somali expatriates sending remittance funds to relatives in the region through some of the various Somali-owned money transfer operators. Most of the destroyed residential and commercial buildings have since been reconstructed, with many newer structures erected. Single storey buildings downtown are also progressively giving way to multi-storey edifices and high-rises.

 
DO YOU THINK YOUR COMMUNITY CAN BE A CITY OF PEACE? SEND AN EMAIL!

Note: If information or photos used here are copyrighted, please contact us and we will immediately delete the copyrighted material.