Lilongwe, Malawi: City of Peace
Welcome to Hastings Phiri and his colleagues at Peace Ambassadors Malawi in Lilongwe: City of Peace. The Peace Ambassadors Integration Organization (PAM) is a Malawi non-governmental Organization that specializes in promoting peace and cohesion, community harmony and mutual coexistence, and respect for one another.
Note: Introduction page with information primarily at the time of joining International Cities of Peace. For updates, please contact the liaison.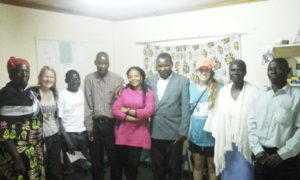 The Peace Ambassadors first annual meeting heald in Mzimba on 20-25 july 2014 outside Mzimba town hall.
VISION

To emerge as a leading organization of national and international preeminence on the peace front

Letter of Intent

 

MISSION

To build, promote and strengthen peaceful interactions within the society through empowerment, character education and imparting essential social skills for a satisfied coexistence

Photo taken on 19 july in the evening after meeting and briefing officials from Coaches Across Continents CAC Peace day Award partnership launch by Nora Dooley an official from CAC in USA. The training was conducted from 20-24 july in the town of Mzimba in northern Malawi. The training was supported by Word Vision Malawi.

 

MAIN OBJECTIVE

To build the capacity of communities for peaceful interactions by enhancing commitment to peaceful relations, ethical behavior and respect for one another

SPECIFIC OBJECTIVES

• To promote awareness on peaceful coexistence among the citizens across the republic of Malawi through outreach programmes
• To train and educate individuals and communities on the need for peace, mutual coexistence and conflict resolution mechanisms
• Research, Document and Disseminate information necessary in discovering, integrating, articulating and generating mitigations to societal conflicts and challenges
• To facilitate the establishment and coordination of effective community structures for peace promotion in the country
• To advocate for local accountability and an appropriate legal framework for effective national cohesion and integration
• To promote youth engagement in peace processes and development through the utilization of their skills, ideas and talents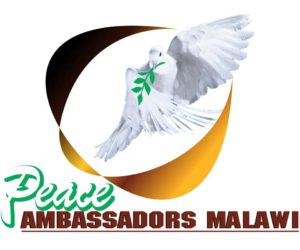 CORE VALUES

The Organization and its members shall abide by the following core values:

• Peace
• Equality
• Complete Justice for Everyone

 

Below fom left: an official from Coaches Across Continents Nora Dooley, Chrissie Chilima PAM national programmes director, CAC Volunteer Mike and CAC volunteer Sara.

ABOUT PEACE AMBASSADORS MALAWI

The Organization seeks to unite the nation and achieve a point where citizens will view diversity in ethnicity as a positive aspect of the country. It seeks to strengthen the spirit of brotherhood and nationhood among the citizens across the republic of Malawi. It also aims at mobilizing, organizing and engaging youth skills, talents and ideas in peace building and sustainable community development.

Such aims, as prescribed above shall be achieved via the following activities;

i. Peace Advocacy;
ii. Inter-Ethnic/Cultural Exchanges;
iii. Charity Drives (to persons in need of such charity);
iv. Promotion of health matters
v. Public Character Education and Crime Reduction;
vi. Education Capacity Development activities;
vii. Gender and Human Rights Promotion activates;
viii. Youth Empowerment Activities;
ix. Protection and Conservation of the Environment

And any other activity that the group shall think fit to employ provided the activity promotes Peace, Equality and a sense of Community Everywhere across the nation.

After the launch of Peace Ambassadors Malawi activities at Mzuzu university campus where we we had a day long workshop with Mzuzu university students. Second from right front line is Hastings Phiri and fouth from right is the vice chancellor of Mzuzu university Dr Robert Ridley.
---
ABOUT HASTINGS PHIRI
"I am aged 45 and a teacher by profession, holding a degree in education. I am also a founder for Peace Ambassadors Malawi. I am a Malawian by nationality."

Hastings Phiri with Programme Director Chrissie Chilima and a Peace Ambassador in Malawi during peace day award training partnership in Mzimba.
---
CONTACT INFO
For more information please contact:

Postal Adress,
The Executive director,
Peace Ambassadors Malawi,
P.O. BOX 14,
Mzimba, Malawi.
Email, director@peaceambassadormw.com
Or hastingsphiri34@yahoo.com
hastingsphiri34@gmail.com
Phone: +265888138183
+265885816568

Programmes director:
Chilimachris@gmail.com
Phone: +265888607788.
+265 999 48 46 96

Youth development director:
Email: stalin_mary@yahoo.co.uk
Phone: +265888510137

 

 

 
---
ABOUT LILONGWE, MALAWI (from Wikipedia)

Lilongwe is the largest and capital city of Malawi with an estimated population of 1,077,116 for 2015. The city is located in the central region of Malawi, near the borders with Mozambique and Zambia, and it is an important economic and transportation hub for central Malawi. It is named after the Lilongwe River.

Malawi, officially the Republic of Malawi, is a landlocked country in southeast Africa that was formerly known as Nyasaland. It is bordered by Zambia to the northwest, Tanzania to the northeast, and Mozambique on the east, south and west. The country is separated from Tanzania and Mozambique by Lake Malawi. Malawi is over 118,000 km2 (45,560 sq mi) with an estimated population of 16,777,547 (July 2013 est.). Its capital is Lilongwe, which is also Malawi's largest city; the second largest is Blantyre and the third is Mzuzu. The name Malawi comes from the Maravi, an old name of the Nyanja people that inhabit the area. The country is also nicknamed "The Warm Heart of Africa".

Lilongwe had existed for centuries as a small fishing village on the banks of the Lilongwe River. During British Colonial Rule, the settlement became an administrative center due to its strategic location. Formally founded in 1906 as a trading post, Lilongwe was officially recognized as a town in 1947. After gaining independence, it increasingly developed into an important trading center in Malawi's central region. Its growth was encouraged when the country's former head of state, Hastings Kamuzu Banda, established it as Malawi's new capital city in 1975. The last government offices have been relocated to Lilongwe in 2005. The city's population is increasing rapidly, with an annual growth rate of 4.3%.
DO YOU THINK YOUR COMMUNITY CAN BE A CITY OF PEACE? SEND AN EMAIL!

Note: If information or photos used here are copyrighted, please contact us and we will immediately delete the copyrighted material.