nyawera, bukavu, South kivu, d.r. congo: International City of Peace

We welcome Ms. Bahozi Chance, a young woman in the district of Nyawera in the City of Bakavu in the Democratic Republic of Congo. Ms. Bahozi and her colleagues and family have established Nyawera in Bukavu in the South Kivu Princince as an International City of Peace in order to bring safety, prosperity, and quality of life through the City of Peace vision.
Note: Introduction page with information primarily at the time of joining International Cities of Peace. For updates, please contact the liaison.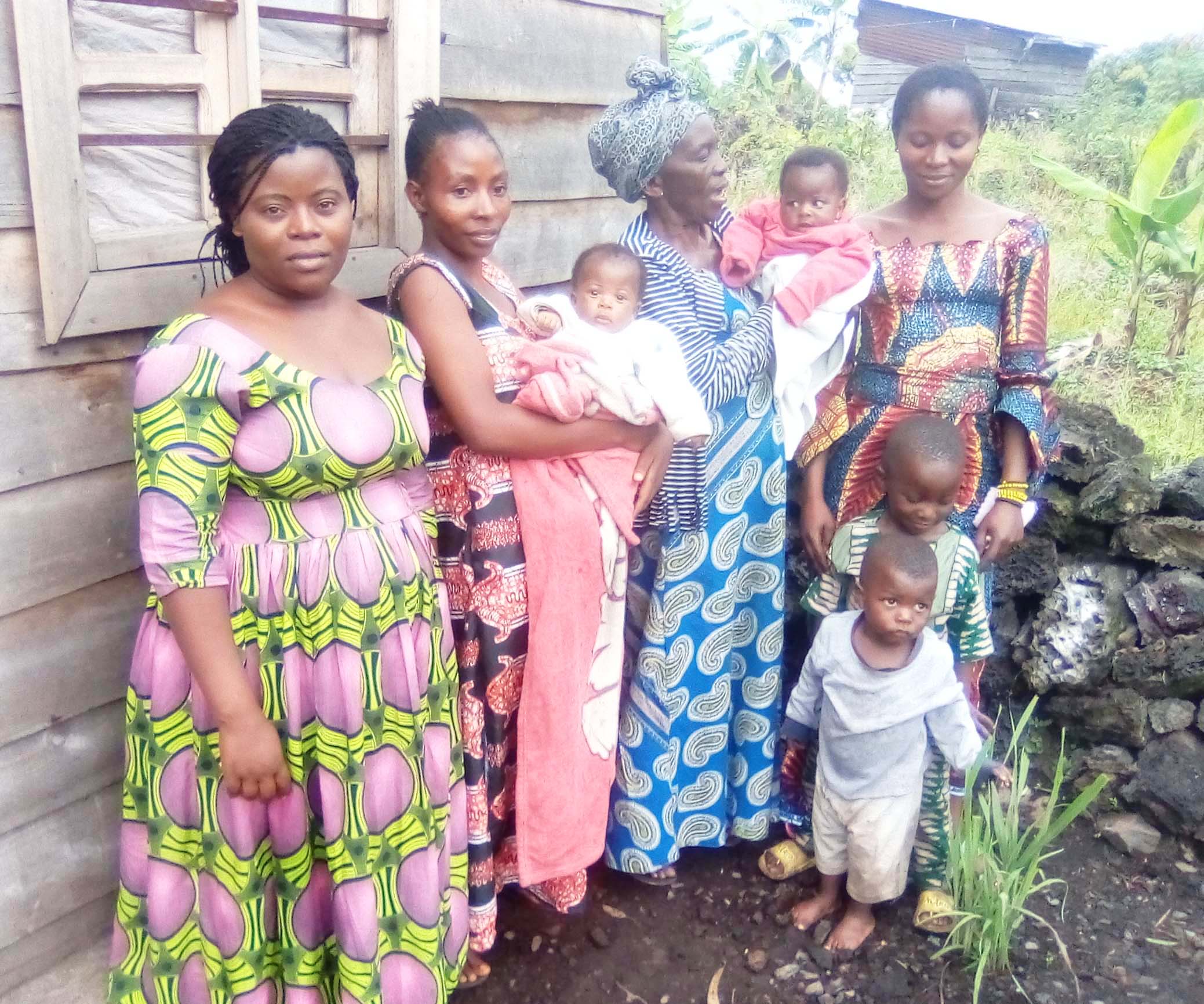 ABOUT NYAWERE CITY OF PEACE

We work together with the women of Bukavu in the Nyawera district to promote social equality to help us progress in all areas of women's lives to help build peace in Bukavu and throughout the Democratic Republic of the Congo,
We are working together to broaden our knowledge of great mental well-being to come out in the humanitarian crisis in our community.
We do mikopo to increase the income of women in difficult situations to access the economy to reassure family protection.  We have difficulty accessing funding to help women de-stress.
---
VISION
Our vision is to establish peace in Bukavu and help young girls find employment to help families.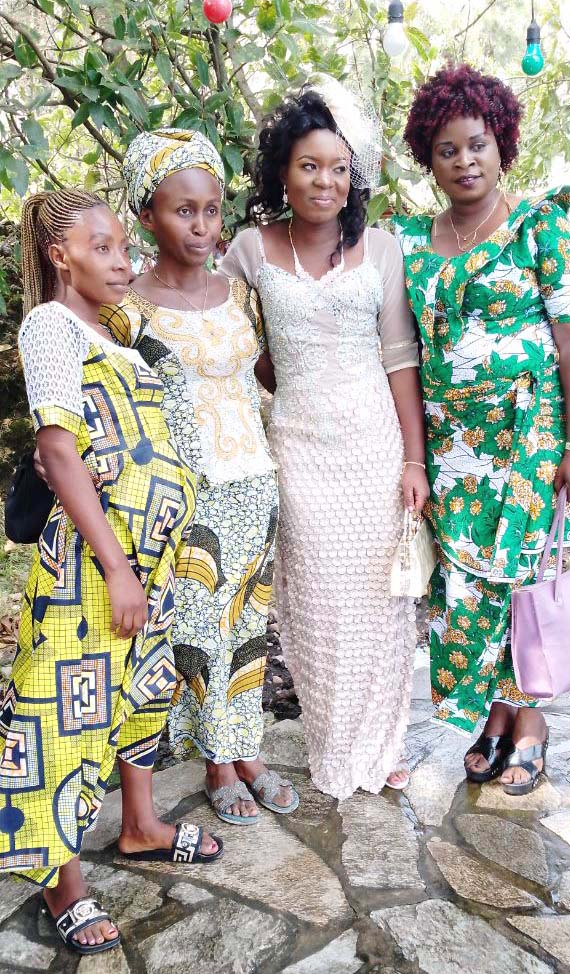 ---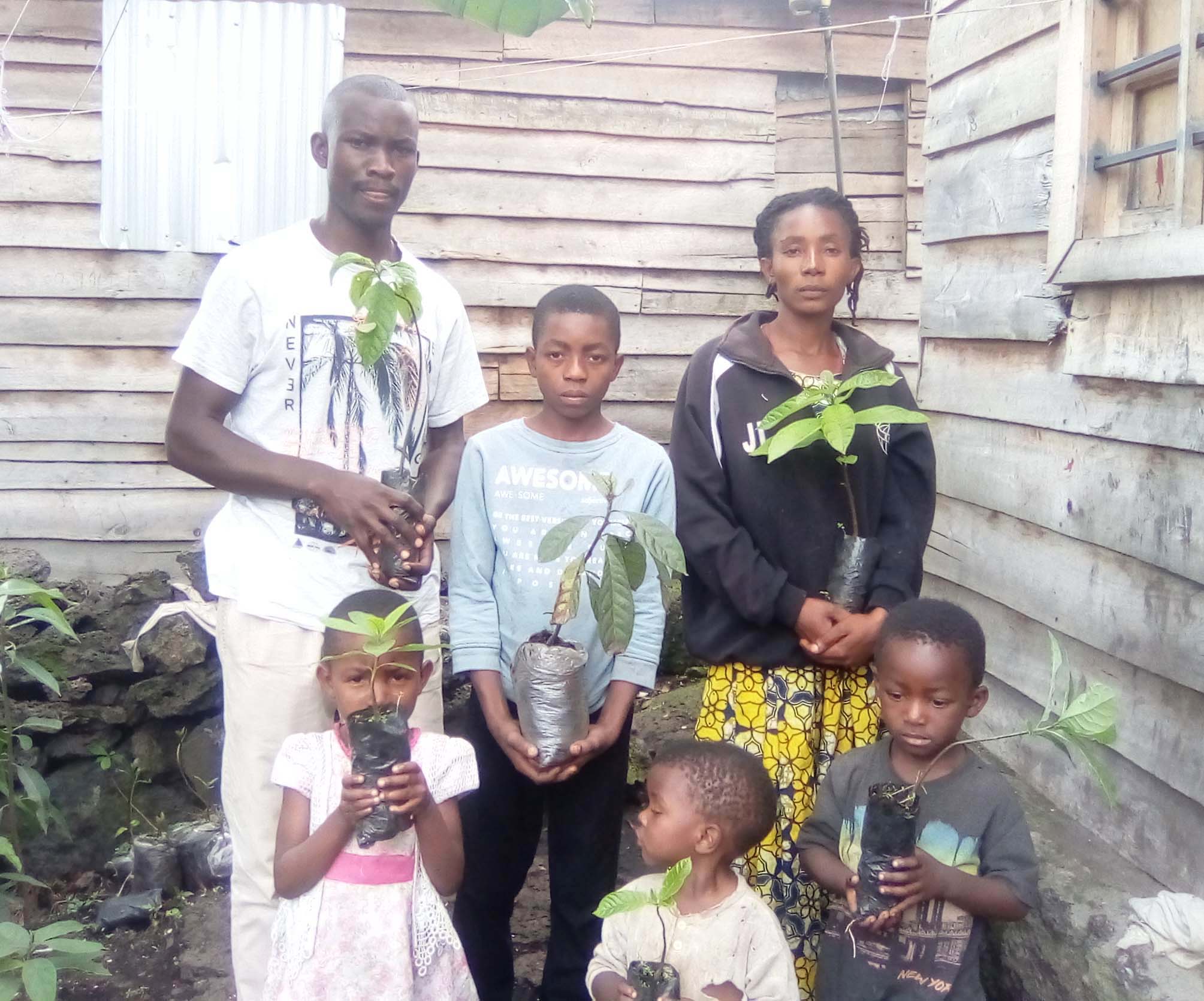 We planted fruit trees and Agro forestry to overcome the problem of natural disasters, erosion and floods in the city of Bukavu and live with nature.
---
LETTER OF INTENT WITH SIGNATURES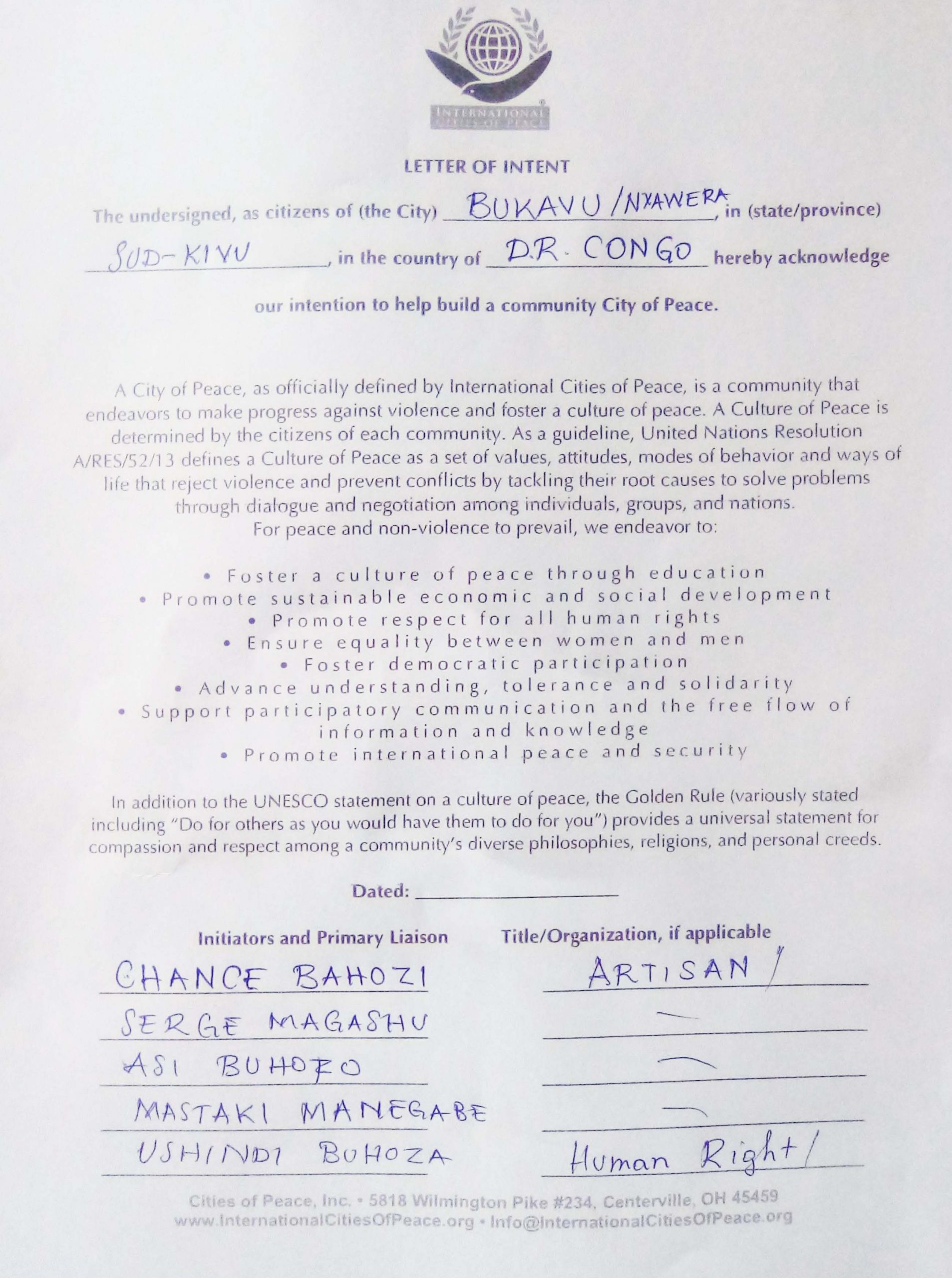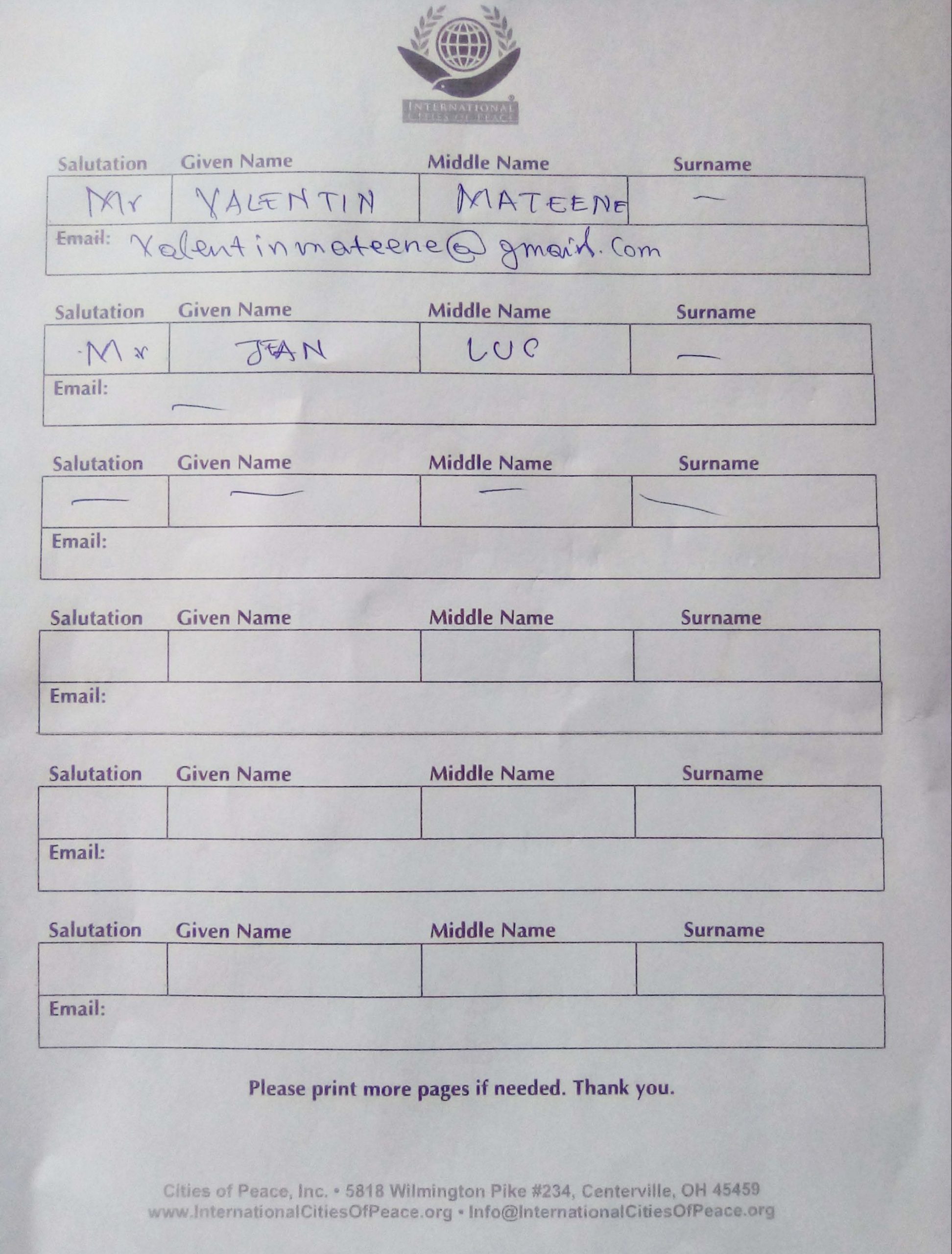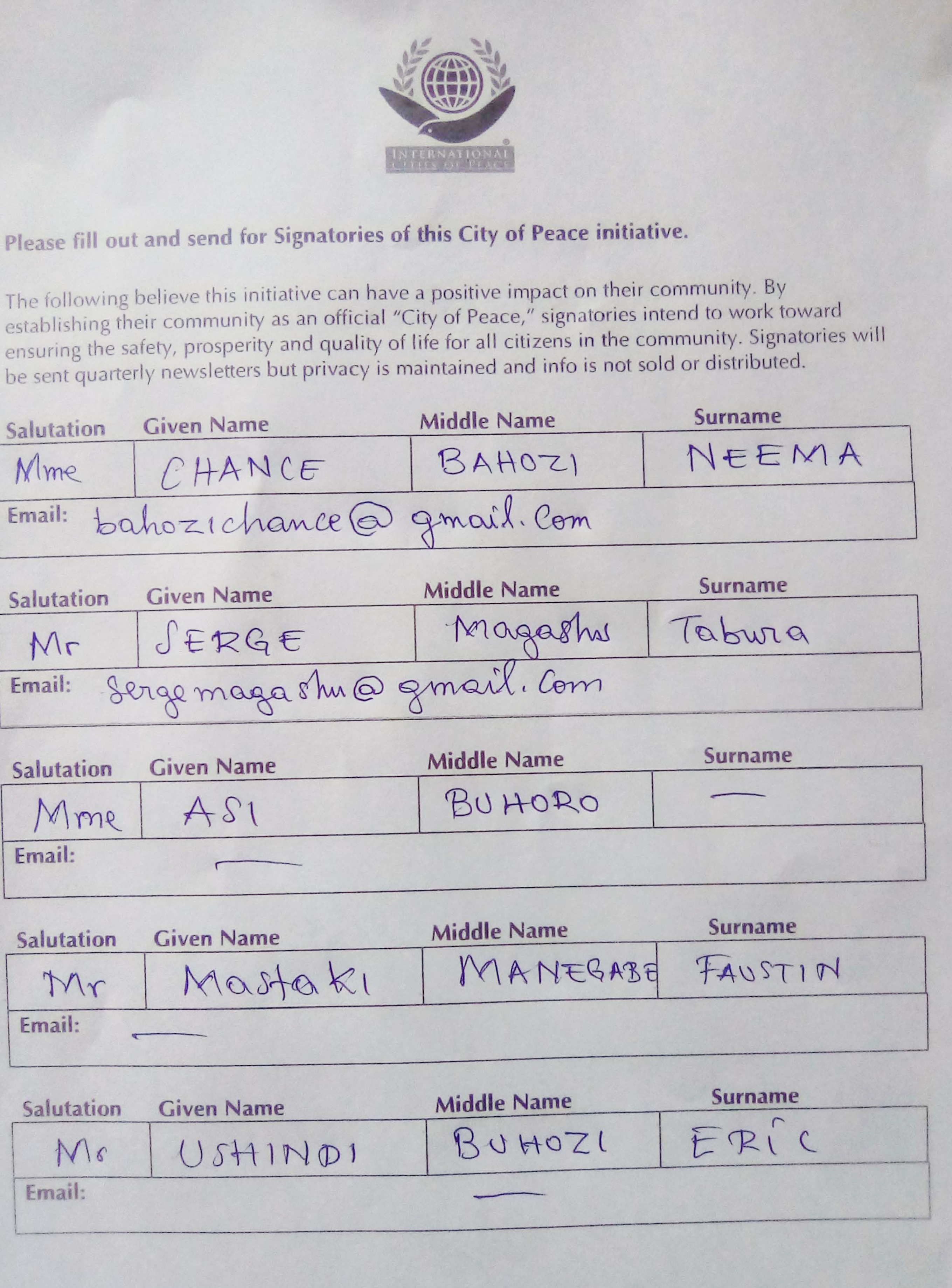 ---
ABOUT THE LIAISON
Ms. Bahozi Chance is 25 years old and is dedicated to fight for peace in her city of Bukavu and for parity between men and women.
---
CONTACT INFORMATION
---
ABOUT Nyawere, Bukavu, D.R. Congo (from Wikipedia)

Nyawere is a community with a marketplace in Bukavu, a city in eastern Democratic Republic of the Congo (DRC). Bukavu is at the extreme south-western edge of Lake Kivu, west of Cyangugu in Rwanda, and separated from it by the outlet of the Ruzizi River. It is the capital of the South Kivu province and as of 2012 it had an estimated population of 806,940.
In 2021 Bukavu has an estimated urban population of 1,133,000.
Note: If information or photos used here are copyrighted, please contact us and we will immediately delete the copyrighted material.