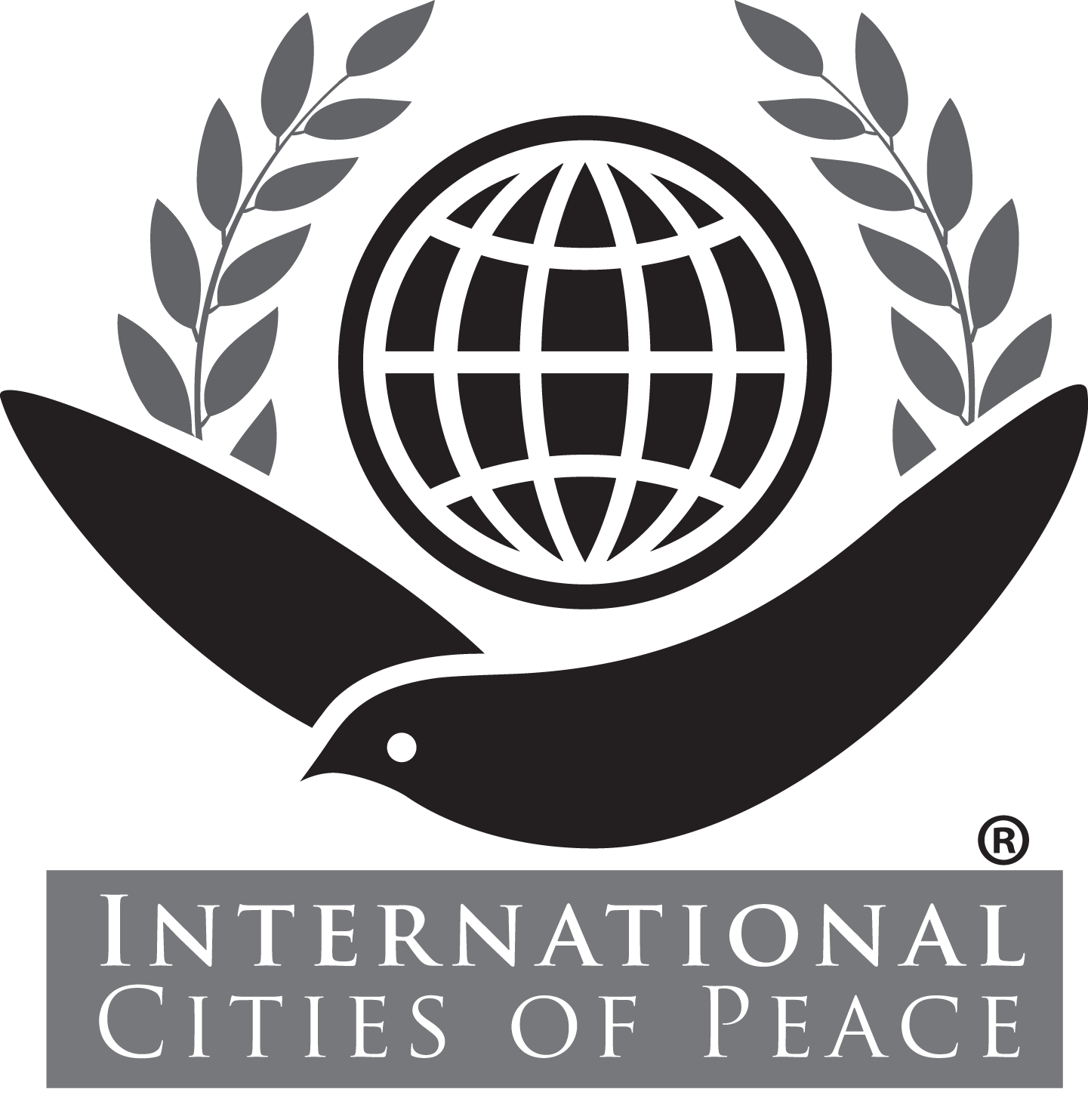 Global

Newscast
April, 2021
LATEST UPDATE!
Since its founding in 2009, International Cities of Peace has achieved much success in both growth and impact. Last year, the Association of peace cities exceeded membership of 300 Cities of Peace in over 60 countries and the growth has accelerated.
A practical platform that empowers peacebuilding in each independent City of Peace, the ICP Association is an ecosystem of ideas, collaborations, and tools for community leaders to build a strong base of volunteers. Member Cities of Peace are introduced to an extensive global network yet the true value in the Association is in providing peacebuilders with the credentials and authority to build peace in their community. Below is the latest news!
STRATEGIC PLAN: VISION 1000! JUST APPROVED!
Organizational icon Marshall Goldsmith said, "What got you here, will not get you there." Getting "there" for International Cities of Peace is a huge challenge: to put in motion a tipping force for world peace by helping establish Cities of Peace across the globe.
History shows us that the dream of world peace is illusive. Violence and injustice continue, seemingly, unabated. The global Cities of Peace movement has potential to change that dynamic yet we must be highly innovative, committed, and organized for sustainable growth.
The newly developed ICP Strategic Plan is intended to do the following:
• Clarify and communicate the essential nature of International Cities of Peace
• Ensure the organization is sustainable over time
• Limit the liability that plagues large organizations
• Organize to achieve our Growth Goal by Year 2025
Please download and read this document, approved by the Cities of Peace Board of Directors, and you will learn about the essence of our member association. If you have questions, comments, ideas, or especially the desire to volunteer for this monumental and historic goal, please know that we need you. Send an email describing your thoughts on peacebuilding to: info@internationalcitiesofpeace.org
NEW CITIES OF PEACE THIS QUARTER!
Zhijiang Dong Autonomous County, one of China's five Dong autonomous counties, is a historical city receiving the surrender by the Japanese invaders to China. On 21 August 1945, representatives of the Japanese troops in China signed a document surrendering to the Chinese people unconditionally in the town, an occasion historically known as "acceptance of Japan's surrender in Zhijiang". In this connection, Zhijiang has emerged as a witness to the shift from war to peace. Hence, Zhijiang has embarked on building itself as an international city for peace.
As a state protected cultural heritage site, the former site of the Weihsien Courtyard of the Happy Way and Concentration Camp is one of the historical and cultural heritages of Weifang with significant influence. After having been heavily renovated, the Weihsien Courtyard of the Happy Way and Concentration Camp Museum was reopened to the public on September 3, 2020, the 75th anniversary of the End of World War II. CCTV News Broadcast, Xinhua News Agency, and other national and provincial media ran special reports on the museum, which captured people's attention. The call of "remembering history, cherishing peace" aroused strong social response once again.
George W.S. Masafu and his colleagues have extensive experience in community policing and George is driven to increase the safety and quality of life of his City. Having gained experience in making observation, surveillance and reporting when in the KK, this gives me courage to mobilize my colleagues in community policing. "Many youths and elderly are drug and alcohol addicts, inducing them being murderers and thieves, so I emphasize to the youth to participate in sports, choir competitions and encourage them to be God fearing and learn to forgive always."
Mrs. Farhiyo Hussein and her colleagues at Manaal Relief Foundation that  operates on a non-profit basis with core values, principles and philosophy of peace, security and sustainable development aimed at effective and sustainable community transformation in the Nugaal Region of  Somalia (also called Puntland). Garowe is also called Garoowe. The group has been successful in conflict resolution with many achievements, such as those below:
Results of Our Conflict Prevention and Peace-building work:
600 youth engaged in actions to build peace and prevent conflicts.
3000 citizens accessed conflict resolution and reconciliation services.
7000 people gained increased access to justice.
 Two laws, policies/strategies and plans are under development to build dialogue spaces for conflict resolution.
Khaneh Sarbaz Solh Iran, "The House of Iran's Peace Corps", was formed with the mindset of an NGO that has a deep insight into peace and friendship, and at the same time puts the use of the ancient experiences of wartime soldiers at the forefront of its work and strives to develop and spread peace to Further development of this border and environment has helped to create a wide horizon beyond peaceful thinking. "Our history and our glorious literature," writes Liaison Ali Akhaghi, The CCO of Sarbaz Solh, "are full of stories about peaceful characteristics of the Iranian nation but we are sad to say that none of them are highlighted in international arena."
Sari becomes the second City of Peace in Iran dur to, among others, the work of Ali Damadi, the local representative of Khaneh Sarbaz Solh Iran (The House of Iran's Peace Corps). The first Iranian ethnic festival for "Nowruz and Peace" was held in Sari by the local office of Sarbaz Solh with the participation of several Iranian traditional groups with the motto of national peace, regional solidarity and peace for all human beings. According to the United Nations data, Nowruz marks the first day of spring and is celebrated on the day of the astronomical vernal equinox, which usually occurs on 21 March. It is celebrated as the beginning of the new year by more than 300 million people all around the world and has been celebrated for over 3,000 years in ancient Iran including the Balkans, the Black Sea Basin, the Caucasus, Central Asia, the Middle East and other regions.
ICP IDENTITY GUIDELINES
Cities of Peace, Inc., parent company of the association named International Cities of Peace®, is contributing to the historical work of laying the foundations for world peace. The "identity" of International Cities of Peace is the result of the many ways volunteers communicate information about the Association to the world.
Elements of identity gives a sense of the culture of the organization. In providing a consistent identity, we can ensure that our mutual work in peacemaking will be recognized, remembered and supported. Therefore, in order to do justice to peace and increase our peacemaking endeavors, we must consistently present ourselves and the organization with integrity and dignity.  Download here:
Consistent, ethical, and sophisticated use of our logo, wordmarks, trademarks, color palette, and other visual and written elements provide a way to communicate our deep respect for the mission of global peace. It is a responsibility we share. We hope that all volunteers take good care to follow the guidelines expressed in this Identity Manual.
The Third Harmony Movie
This powerful and inspiring 45 minute documentary, created by the Metta Centerhttp://www.mettacenter.org and distributed by http://www.bullfrogfilms.com, tells the story of nonviolence, humanity's greatest and most overlooked resource. It is an extremely well crafted film that will inspire you to live your life as nonviolently as possible.
The Daily Peacemaker
Many Liaisons are starting blogs, websites, and other means of communicating the many facets of peace, the latest is Frank Thacker, Liaison for the City of Peace in Westerly/Pawcatuck in the U.S. . Frank has founded the Dailypeacemaker website
http://www.dailypeacemaker.com
on the belief that if we are to create a lasting culture of peace in which the inherent worth and dignity of all beings are respected and honored it must come from the bottom up and be based on the  principles of nonviolence.
The Gift of Listening
"Deep listening is miraculous for both listener and speaker.
When someone receives us with open-hearted,
no-judging, intensely interested listening,
our spirits expand."
— Sue Patton Thoele
Getting along with others includes understanding and respecting who they have become as a result of their environment, culture, and experience. Compassionate listening, listening from the heart and suspending judgement is an essential tool for peace-building and a gift we can offer anytime. It will benefit both, the listener and speaker, as it feeds our instinctual need for connection and belonging. We humans are social creatures, after all. We need community to survive, to thrive and grow.
Compassionate listening is an act of respect and intimacy. When you let go of your need to be heard or to be right, you become curious and hear the truth of the other. You learn what the speaker is holding and protecting, what they value, and how they are affected by your compassion and empathy. This is expansive and leads to meaningful potential.
Compassionate listening helps to free the speaker from blocked emotions, traumatic experiences or outdated beliefs and conditioning. It can be deeply healing. You might be surprised as feelings of separation, disconnection and loneliness dissolve in a compassionate atmosphere. When we listen with an open heart, our brain and heart actually "synch up" with the other's brain and heart. In other words, the listener and speaker feel the same heartache, surprise, or joy. It unites us in our quest to overcome suffering and blaming the other. It bridges the past with the present and leads to greater inner peace. The sense of disconnection eases and we feel comforted by the compassion and truth that we are all connected.
Whom would you like to offer the gift of compassionate listening?
Or do YOU need to be listened to and would you like to ask someone to listen to you? Take the challenge to invite a community listening circle. Practice non-judgmental listening, and experience the gift of compassionate listening.
Brian and Lisa Berman • http://www.AwakeningPeace.org
MESSAGE FROM THE CHAIR
I have a confession. Over the last few months, I stopped focusing on helping establish new Cities of Peace. I came to believe we were ill prepared for our growth goal of 1000 Cities of Peace by Year 2025. Adding new Cities was becoming a "list" rather than a "transformation", a standard peace organization rather than a movement. We went to work.
As an organization, we went back to basics. We remembered that the central association of International Cities of Peace will not bring peace to the world. It is up to you, to all of us, in fact. It is to those who are working hard each day in their communities that know the challenges, that know the solutions, and can implement those solutions if they are empowered. That's the essence of International Cities of Peace..
Now, I can say without reservation or fear for the future, we are ready and on our way. Each new City of Peace this quarter are transformational Cities of Peace, stepping forward to self-proclaim their dedication to transforming their community.
In addition, armed with our new and innovative Strategic Plan, we have a stable and sustainable association of Cities of Peace focused on what matters. Human progress. Evolution. Compassion and empathy for humankind. The Consensus Values of Peace — freedom to be Safe, freedom to be Prosperous, freedom to have the Quality of Life — is the human right of every single one of our nearly 8 billion companions. We all deserve a chance to thrive.
I have two questions for you: Do you believe global peace is possible?  Does everyone deserve a peaceful life? That is the vision of International Cities of Peace. That is our ultimate goal: a community-by-community transformation toward a secure, prosperous, and more purposeful world.
Are you with me? Let me know.
Onward and upward, my friends.
J. Fred Arment,
Chair, Lead Facilitator
International Cities of Peace
arment@internationalcitiesofpeace.org
Website with City of Peace pages: https://www.internationalcitiesofpeace.org
Facebook Member page for City of Peace Liaisons to tell their stories: https://www.facebook.com/groups/internationalcitiesofpeace/
Facebook Public Interest page: https://www.facebook.com/International-Cities-of-Peace-108517430819679
LinkedIn for Business Opportunities : http://www.linkedin.com/company/3565355
The progress we've made is extraordinary. Please help keep the momentum for world peace at a rate that expresses the needs and challenges of humanity. We need you. Thank you.